Subscribe/Access
Advertisements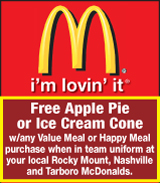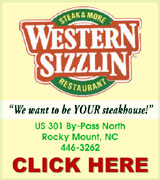 Sections
Member Options
Back
Nash County to rename building
The Nash County Administrative Building will soon have a new name, as the Board voted to name the building after its chairman Claude Mayo, Jr.
Commissioner Robbie Davis brought the item before the board prior to the close of the meeting. Davis said Mayo had contributed 27 years of service to the county, 18 of which were served as Chairman of the Board. More ...
By Amanda Clark, Graphic Staff Writer
Lending a hand to the library
Town of Nashville employees lent a hand to the library on Monday afternoon. Employees with Public Works and Public Utilities came out to help put together the last of shelving for the library. The library is expected to open in the next few weeks, as soon as the last shelves are put together. Pictured (L-R) Lee Owens and Chris Aycock work on putting together a book shelf. More ...

Council approves Pedestrian Plan
Nashville's Town Council approved a plan last week that could eventually help make the town more pedestrian friendly.
Nashville's Pedestrian Plan aims to improve the town's pedestrian system over the next 20 to 25 years. Its purpose is to improve and encourage pedestrian transportation throughout the community. According to Dennis Patton, of the Upper Coastal Plain Council of Government, the plan will serve as a guide the town can use when looking at pedestrian facilities. More ...
By Amanda Clark, Graphic Staff Writer
Bullock, Jenkins to lead N-RMS board
Evelyn Bulluck and Bob Jenkins, were unanimously elected for a one-year term as chairman and vice chairman, respectively, during Monday night's Nash-Rocky Mount Schools (N-RMS) board meeting.
"Thank you for your support," smiled Bulluck. "I promise I will serve as chair to the best of my ability. I look forward to working with you for the betterment of this school district." More ...
By Michele A. Cruz, Graphic Correspondent
Hall receives service award
There's rarely a day when local 4-H agent Sandy Hall doesn't have something on her calendar. From 4-H livestock shows to the annual Heritage Days event, Hall stays busy. In October, Hall was recognized with a Distinguished Service Award for her dedication to Nash County 4-H.
Hall was recognized at the state level but also received recognition at the national level. The Distinguished Service Award is given by the National Association of Extension 4-H Agents. The award recognizes those with seven years or more of service to the extension and honors agents for their professional attitude, extension work and responsibility,professional improvement, professional accomplishments, program improvements and personal community participation. Hall has been a 4-H extension agent since 1998. More ...
By Amanda Clark, Graphic Staff Writer
Town signs off on '04 drainage project
A drainage project that began in 2004 is now officially complete.
Mike Stocks of Stocks Engineering, came before Nashville's Town Council last week asking that they approve closing the drainage improvement plan.
Stocks said the last outstanding issue from the improvement plan had been completed. More ...
By Amanda Clark, Graphic Staff Writer
Car jacking suspect is sought
A carjacking suspect is on the loose after carjacking two Florida residents on N.C. 581 in Spring Hope on Friday.
According to the Lt. Pat Joyner, of the Nash County Sheriff's Office, Cynthia Masgo, 40, of Coconut, Florida, and Leonardo Debarros, 34, of Tomtano, Florida, met up with 25-year-old David Ulloa of Bailey and were traveling on N.C. 581 near Spring Hope when Ulloa allegedly pulled a gun on Masgo and Debarros. Ulloa made Masgo pull her 2007 Escalade over and made the two get out of the vehicle. He then demanded money before he fled. More ...
By Amanda Clark, Graphic Staff Writer
Burning ban lifted in NC
The burning ban in effect since August was temporarily lifted Friday afternoon in all 100 counties.
Recent rainfall is cited as the reason for the temporary lift and officials say the rain is sufficient enough to make carefully tended open burning safe to reduce the amount of dry forest debris. More ...

Police offer reward for information
Rocky Mount Police are offering a $5,000 reward for information leading to an arrest in the double homicide that occurred on December 21.
The murder occurred at 1247 Compass Creek Drive in Rocky Mount. Police found the bodies of Leona Johnson and Deborah Scriven after Johnson failed to show up for her job at the police department. Scriven's son, Devin, was also found with shotgun wounds but survived the incident. He is recovering at Pitt County Memorial Hospital. More ...

ANNIVERSARY
Michael and Ella Flora of Rocky Mount celebrated their 35th Wedding Anniversary on December 9, 2007 at Fenner on the Falls with a dessert and coffee social hosted by their children. The couple were married on December 8, 1972 in Chesapeake, VA. Mrs. Flora is the former Ella R. Humphrey. The couple have two children, Michell Ams and Chris Flora, both of Rocky Mount and three grandchildren; Cooper and Gabriella Ams and Peyton Flora. More ...

BIRTH ANNOUNCEMENT
Chris and Lea Anne Flora of Rocky Mount announce the birth of a son, Peyton Michael Flora, on Nov. 27, 2007 at 8:59 p.m. at Nash General Hospital. He weighed 8 pounds, 13 ounces and was 21 1/2 inches long. More ...

Mt. Zion FWB Church News
12/30/07–For the call to worship, our choir sang "Emmanuel/His Name Is Higher." Hymns of worship were "To God Be the Glory" and "Onward Christian Soldiers." After the offering and offertory prayer, we all sang the Doxology in praise to God. More ...
By ROSALENE BASS
Beulah Community News
Happy New Year to everyone! As we enter into the new year, I hope you will all be successful in keeping your new year resolutions. When I make new year resolutions, I feel I'm really telling myself a "little white lie" so I just don't make them anymore! But I do pray you will all have a happy and healthy new year. May God bless you all through the year. More ...
By WILMA ENROUGHTY
Red Oak Community News
Congratulations to Margo Ennis who graduated from UNC-W on Dec. 15 with a B.S. degree in biology. She will begin the MAT program in biology education this month. Margo is the daughter of Jim and Jackie Ennis and granddaughter of Charlotte Strum and Reda Ennis. More ...
By SUZY PEARCE
Castalia Baptist & Community News
Happy 2008! May your new year be filled with many good times with family and friends.
Castalia Baptist is looking forward to a great year and plans are already underway for many new events and activities. We finished 2007 with a Watchnight service filled with fun and games. Christmas at CBC was very memorable with the cantata and youth dramas. Our Christmas offering for Lottie Moon is doing well and will continue thru January. Help us meet our goal. More ...
By KATHY FREEMAN-ROBLES
Peachtree Community News
The New Year brought many blessings to the folks at Peachtree. Among these are the good reports from eye surgeries of Frances Blanchard, Pastor Whitehouse and Diane Bunn. On Sunday Pastor Whitehouse chose as his sermon topic "Make a Joyful Noise unto the Lord" based on the scripture passage from Psalm 146:1-2. More ...
By BARBARA HARDISON
Ephesus Community News
Travis Alford presented a special trumpet solo "He is Born" as the prelude on Sunday. Also during the offertory, Travis and Lauren Alford presented a special "Away in a Manger" as a trumpet and flute duet. More ...
By LOTTIE LOU DICKENS
What it takes to be Democrat or Republican
"The Democrats seem to be basically nicer people, but they have demonstrated time and again that they have the management skills of celery. They're the kind of people who'd stop to help you change a flat, but would somehow manage to set your car on fire. I would be reluctant to entrust them with a Cuisinart, let alone the economy. The Republicans, on the other hand, would know how to fix your tire, but they wouldn't bother to stop because they'd want to be on time for Ugly Pants Night at the country club."
~Dave Barry More ...
Mike Brantley
Looking forward to 2008 in Nashville
Two thousand and eight should be an exciting year for the Town of Nashville.
This month, the town's library should reopen in its new location on Church Street. The 6,000 square foot facility will give the public way more room to wander about and scope out books. Private meeting rooms will give kids a chance to study and local organizations a place to hold meetings and the larger location will give the library the chance to house six additional computers. The library will also be able to house more children's programs. Though a date has not officially been announced, the town is crossings its fingers that come this month, the facility will receive the finishing touches and the doors to the Harold D. Cooley Library will open. More ...
Amanda Clark
Medicare Part D recipients should take advantage of new ChecKmeds program
Dear editor:
A GRAND opportunity awaits every senior in North Carolina, however very little information has been dissemanated to those who can benefit most. The program is called ChecKmeds NC. This is a Medication Therapy Management program offered to all seniors in North Carolina who are currently enrolled in a Medicare Part D Prescription Drug Program. This program is FREE to all seniors and should be taken advantage of by everyone. More ...
Letter to the Editor:
NC's RED-HOT KITCHEN
ROCKY MOUNT - Ryan Kitchen felt plenty of heat before his final match -- the outcome of which was going to determine the winner of a team wrestling meet last Thursday between Kitchen's Nash Central Bulldogs and visiting Louisburg.
Kitchen, a veteran in the 152-pound weight class, showed savvy under pressure, scoring a 10-1 decision over LHS' Mohamed Camara.
Thanks to Kitchen's three points, the Bulldogs were able to secure a narrow 38-36 victory over the Warriors in a non-conference mat event. More ...
By Geoff Neville, Graphic Sportswriter
NC Boys Notch Another Pool Victory
ROCKY MOUNT -- New year, same old strong result for the Nash Central High boys swimming squad.
After sending out 2007 in style, the Bulldogs rang in 2008 with yet another NEW-6 Conference team victory last Saturday at the Rocky Mount YMCA.
Central, which has yet to lose in league action this season, racked up 143 points to outlast Wilson Fike. More ...
By Geoff Neville, Graphic Sportswriter
Nashville signups scheduled
NASHVILLE -- The Nashville Recreation Department will conduct Babe Ruth Baseball/Softball signups on the following dates:
• Feb. 11-15 from 1-4 p.m. • Feb. 16 from 9 a.m.-noon
Registration will be held at the Glover Park Fieldhouse. More ...
From Staff Reports
Gryphons wrap up tournament crown
ROCKY MOUNT -- Montrell Battle and Dyonna Battle were the only Rocky Mount basketball players who had ice treatments Friday (Dec. 28) before hitting the court for their respective tournament championship game.
Both, as it turned out, put their opponents on ice, literally, as they each went on to garner MVP honors as Rocky Mount swept the boys and girls championships of the annual Nash County Christmas Tournament at Rocky Mount High. More ...
By Charles Alston, Graphic Sportswriter
Area schools in hunt for the Wachovia Cup
CHAPEL HILL -- Solid performances during the fall sports season have put Rocky Mount and Nash Central's sports programs in the top 13 among 3-A high schools according to the latest release from the N.C. High School Athletic Association.
Wachovia Bank N.A., along with the NCHSAA, announced last week the standings for fall sports in the Wachovia Cup competitions for the 2007-2008 academic year. More ...
By Charles Alston, Graphic Sportswriter
Hoops titans duel at RMHS
ROCKY MOUNT -- Rocky Mount High has hosted some classic basketball duels over the years.
And when it came to guards, few can say they saw two better players in the venerable gym than Durham Hillside's John Lucas and Rocky Mount's Phil Ford when they hooked up for a two-year period in the early 70s. More ...
By Charles Alston, Graphic Sportswriter
Players selected for All-State squad
KANNAPOLIS -- Rocky Mount senior defensive back Jacobi Jenkins and junior offensive lineman Whit Barnes have been selected to the 2007 NCPreps.com 3-A All-State Football Team.
The preps website released the team last Friday. More ...
By Charles Alston, Graphic Sportswriter
NCWC's Boykin an All-American pick
ROCKY MOUNT -- In a year marked by tremendous success on the gridiron, the North Carolina Wesleyan football team recently added another feat to its growing list of accomplishments when sophomore LeeRon Boykin was tabbed the program's first All-American.
A native of Warsaw and an Honorable Mention selection at defensive lineman, he qualified for All-American status when he was named a First Team All-South Region performer by D3Football.com. Boykin, in fact, was one of four Blue & Gold players to earn All-Region status. More ...
From Staff Reports
ERNEST HAMPTON COLLINS
Ernest Hampton Collins, 60, died Saturday, January 5, 2008. He was born on October 29, 1947 in Rocky Mount. He is preceded in death by his parents, Hampton "Eugene" and Eva Collins. More ...

CARL J. SWANSON
Carl J. Swanson, 83, passed away, January 2, 2008. He was born October 15, 1924 in Galesburg, Illinois. More ...

VIRGINIA BRIDGERS LUCAS
ELM CITY – Virginia Bridgers Lucas, 83, died Sunday, Jan. 6, 2008 at Nash Grove Manor in Nashville. Funeral services will be conducted today (Wednesday, Jan. 9) at 4 p.m. in the chapel of Shingleton Funeral Home by Elder Johnny Ray Gardner. Interment will follow in Rocky Mount Memorial Park. More ...