Subscribe/Access
Advertisements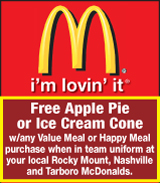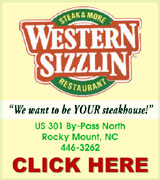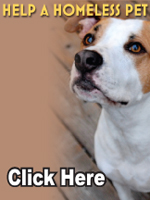 Sections
Member Options
Back
DOT investigates site of fatal crash
The Department of Transportation has finished its investigation into an accident that killed a truck driver last weekend.
The accident, which occurred on Highway 64 at the Nashville overpass, is the fourth accident in that same spot. Three of the accidents occurred within the last few months and the fourth, another fatality, occurred a few years ago. More ...
By Amanda Clark, Graphic Staff Writer
Bowling murder trial is on hold
The murder trial of Mark Bowling is on hold until the State Bureau of Investigation releases its reports, attorneys for Bowling told Superior Court Judge Quentin Sumner last week in court.
Two weeks ago, Bowling's attorney's Tommy Moore and Tom Sallenger filed motions requesting additional discovery. They said they needed the SBI's reports before any additional pre-trial motions are filed. More ...
By Amanda Clark, Graphic Staff Writer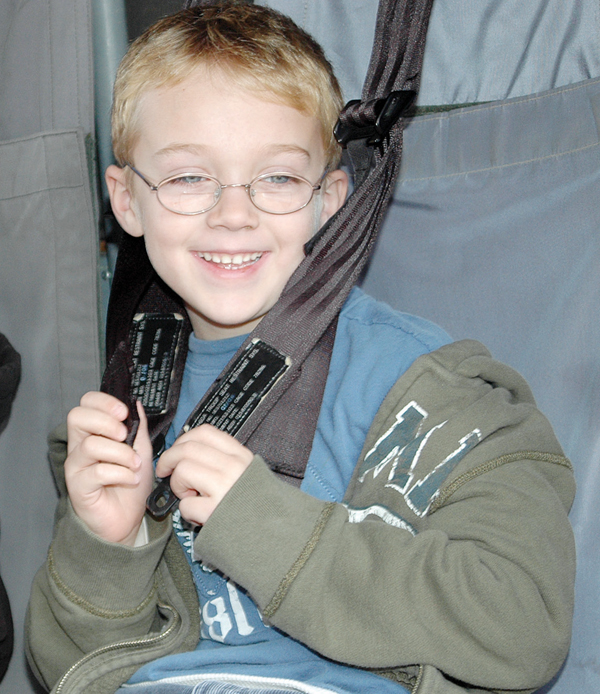 LANE PRICE

Nashville Elementary experiences STARBASE
A Black Hawk helicopter landed at Nashville Elementary School last week for an important mission; to teach fifth-graders science and math.
The helicopter was part of the STARBASE Program, sponsored by the North Carolina Air National Guard and was one of many popular activities enjoyed by students throughout the week. More ...
By Amanda Clark, Graphic Staff Writer
Fawn Electronics opens in Nashville
Fawn Electronics has officially opened its doors in a 47,000 square foot facility in Nashville's Business Park.
Fawn Electronics originally began operations in Nash County in Elm City. A fire destroyed the facility in December 2005 and operations were relocated to a temporary facility in Wilson. The company decided on Nashville when looking for a place to build its new facility. More ...
By Amanda Clark, Graphic Staff Writer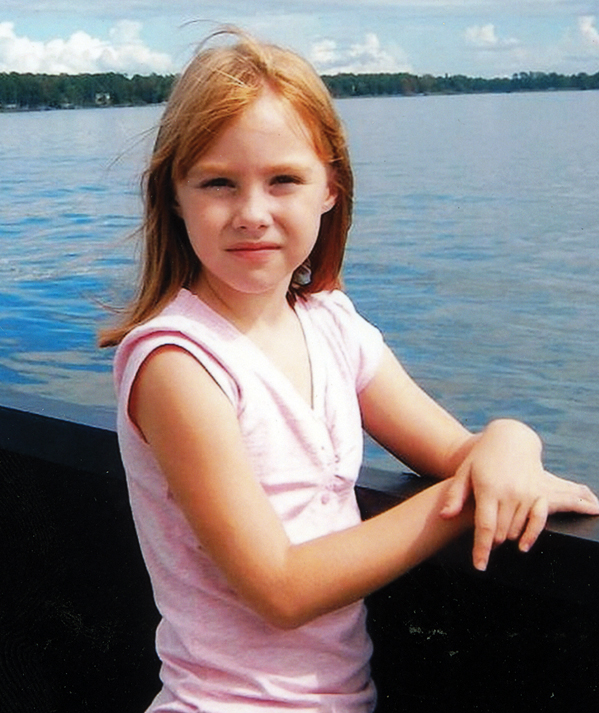 Makayla Maloney, 7, is at Pitt Memorial Hospital recovering from an automobile accident. (Contributed photo)

Coopers Elementary student continues to recover after automobile accident
A Coopers Elementary student is on the path to recovery and a local man is credited with saving her life after a car accident on the way to school.
Tracy Maloney was taking her daughter, Makayla, and a neighbor's daughter to school on Friday, December 7 when their vehicle hit a patch of ice and began sliding across the yellow line. The vehicle collided with a truck. More ...
By Amanda Clark, Graphic Staff Writer
Thieves steal Christmas gifts
A family had their Christmas presents stolen after a breaking and entering last week. No one was home at the time of the incident.
According to Investigator S.J. Weeks, of the Nash County Sheriff's Department, a family left their home on Stoney Hill Church Road around 8 a.m. on December 11. When they returned that afternoon, their home had been broken into and several items, including several Christmas presents, had been stolen. Weeks said the presents were for the couple's five kids and nine grandkids. More ...
By Amanda Clark, Graphic Staff Writer
Voters say yes to county water bond referendum
Though a small number came out to vote, the majority voted yes for a $23 million bond referendum.
The referendum was held to give voters the chance to decide whether the Central Nash Water and Sewer District should borrow up to $23 million in general-obligation bonds. The money will be used to help fund the county's proposed $18 million Nash Central Water and Sewer Project. More ...
By Amanda Clark, Graphic Staff Writer
Chewning named CEO at Nash Health Care
Larry H. Chewning has been named president and chief executive officer of Nash Health Care. The appointment was announced to Nash employees on Tuesday. Chewning will start his new position on January 28, 2008. He replaces former CEO, Rick Toomey, DHA who left in November to assume the CEO duties at Beaufort Memorial Hospital in Beaufort, SC. More ...

Local physician to mentor third-year clerkship student
As a clinical assistant professor, Dr. Broderick Bello will take on the role of faculty for the Area L AHEC/The University of North Carolina at Chapel Hill School of Medicine family medicine clerkship. For six weeks, each third-year student from the UNC-CH School of Medicine is taught in a community setting as a required part of their medical training. From Jan. 2 to Jan. 25, Amanda Allen will be working with Bello at Boice-Willis Clinic in Nashville. The UNC-CH Department of Family Medicine and Area L AHEC thank the community of Nashville for contributing to this student's medical education. More ...

Cross completes basic training
Navy Seaman James Cross, son of Linda T. and Richard C. Cross of Rocky Mount, recently completed U.S. Navy basic training at Recruit Training Command, Great Lakes, Ill. More ...

Letters to Santa
Dear Santa Claus Please bring me some Barbies and some makeup. I love you. Love, Laken 6 years old

Dear Santa Claus How are you? I am fine. I want to see you at school so I can shake your hand. Please bring me a black power wheels truck. Love, Jason 5 years old More ...

Another family's faith saved my Christmas
Christmas is less than a week away and still, I have yet to do anything to prepare.
It seems that in losing someone you love, you tend to want to skip, or even ignore, the holidays.
My best friend died in March and the remaining part of 2007 has been a bit of a blur to me. Special occassions have come and gone and I've managed to ignore the significance of most of them. But Christmas is just one holiday you can't ignore. More ...
Amanda Clark
Christmas is about Christ, like it or not
"Bah, humbug!"
As an American, it is just as much your right to say that phrase this time of year as it is my right to say, "Merry Christmas!"
Seems simple enough. However, about 4% of the people in America have managed to gain such a voice as to endanger the rest of us in our right to publicly enjoy Christmas. More ...
Mike Brantley - 1 opinion posted
Bridge improvements should be high priority
Four accidents have occurred in the same spot at the bridge on Hwy 64 East at the NC 58 interchange, all involving tractor trailers, two of them were fatal.
According to a NC Department of Transportation Engineer, the bridge has been investigated and the DOT plans to make some improvements to the area such as widening and straightening out the shoulder and putting additional reflective markings to illuminate the bridge. More ...
Jo Anne Cooper
IT TAKES TWO!
BUNN -- Nash Central's boys and girls basketball squads experienced a bit of role reversal last Wednesday night at Bunn.
But both came away with key road victories.
Two weeks earlier, the NC girls had easily defeated the Ladycats at home -- soaring to an early lead and never looking back. More ...
By Geoff Neville, Graphic Sportswriter
All NEW-6 clubs are released
ROCKY MOUNT -- It stands to reason that the two most successful teams in the NEW 6 Conference this past season would dominate the league's first-team All-Conference offensive and defensive teams.
Such was the case last week when the conference's head football coaches met to vote on the NEW 6's All-Conference squads. More ...
By Charles Alston, Graphic Sportswriter
Prep pool powers meet at Rocky Mount YMCA
ROCKY MOUNT -- A record-setting performance from Rebecca Johnson helped spark yet another strong team outing for Nash Central during Monday's NEW-6 Conference Swim Meet at the Rocky Mount YMCA.
The talented Johnson set a new school mark in the Girls 200 Freestyle with an impressive effort of 2:15.42. More ...
By Geoff Neville, Graphic Sportswriter
County clubs pick up wins
ROCKY MOUNT -- East Chapel Hill High made its first-ever varsity basketball trip to Rocky Mount last Wednesday evening.
But the Gryphons weren't very nice hosts to the black and silver-clad Wildcats. They swept both the boys and girls contests. More ...
By Charles Alston, Graphic Sportswriter
NC Wesleyan picks up win
ASHLAND, VA. -- Senior guard Lenny Hall poured in a game-high 29 points on Monday night, leading his North Carolina Wesleyan men's basketball squad to a 76-72 win over Arcadia University in the consolation game of the Randolph-Macon Briggs Elliot Classic. More ...
From Staff Reports
NADEJA LUCAS
SIMS – NaDeja Sharay Lucas, 6, died Wednesday, Dec. 12, 2007. Funeral services were held on Dec. 17 in the chapel at William Toney's Funeral Home in Spring Hope. Interment was in the Rocky Chapel Baptist Church cemetery in Louisburg. More ...

MARGARET BRASWELL
ROCKY MOUNT – Margaret Lofton Braswell, 68, died Monday, Dec. 10, 2007. Funeral services were held on Dec. 15 at Mount Vernon Baptist Church in Nashville. Burial followed in the Oakland Cemetery, Nashville. More ...