Subscribe/Access
Advertisements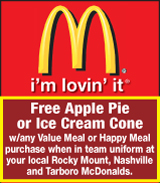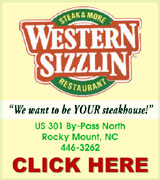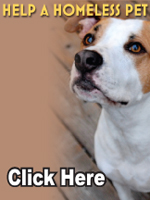 Sections
Member Options
Back
Street assumes role of mayor
Former Nashville Mayor Warren Evans hit the gavel one last time to begin the council's meeting on Tuesday night before asking for approval of previous minutes. He then handed it over to Donald Street who took charge of his first meeting as Nashville's mayor.
"Motion's so ordered and I'm gone," Evans said before stepping down. "I appreciate all the things the town has done for me. I appreciate the opportunity to serve the town for 16 years. I've done my best." More ...
By Amanda Clark, Graphic Staff Writer
First look at Santa
Five-month-old Caleb Glass gets his first look at Santa Claus during Nashville's Christmas celebration on Saturday afternoon. Glass is the son of Kimberly Thorpe and Wayne Glass of Rocky Mount and the grandson of Michael and Linda Thorpe of Nashville. More ...

Red Oak applies for sewer grants
Red Oak Commissioners are pursuing grants for the installation of a future water and sewer system despite the fact that Rocky Mount has not yet agreed to provide these services. At Monday's regular monthly business meeting, commissioners signed several resolutions for a grant package to apply for grants from the Clean Water Management Fund in time for the December 17 application deadline. According to the grant application, Red Oak plans to provide for sanitary sewer services to its two local schools and the downtown area. More ...
By Amelia Harper, Graphic Correspondent
N-RMS ranks second for teacher retention
NASHVILLE — Nash-Rocky Mount Schools (N-RMS) ranks second best for teacher retention among the seven surrounding counties according to the state's report on 2006-07 teacher turnover released recently.
Out of the N-RMS system's 1431 teachers last year, 192 left. A total of 36 of the 192 who left were tenured. More ...
By Michele A. Cruz, Graphic Correspondent
Local UNC student receives scholarship
A local UNC student was the first recipient of a scholarship that honors a girl killed in a June accident.
Mary Leigh Lucas, a graduate of Nash Central High School now attending the University of North Carolina at Chapel Hill, was honored at a football game in November with the first ever Danielle Elizabeth Liotta Scholarship. More ...
By Amanda Clark, Graphic Staff Writer
Park groundbreaking celebrated
In as little as six months, the Red Oak-Dortches park could be up and running.
A ground breaking ceremony was held Friday morning for the park, now officially dubbed the W.B. "Bill" Ennis Jr. Memorial Park.
Red Oak Mayor Alfred Wester and Dortches Mayor Kirby Brown were on hand for the celebration, as were several representatives from Nash County and members of the Red Oak and Dortches Community. More ...
By Amanda Clark, Graphic Staff Writer
House fire injures one
A local National Guardsman is lauded with helping save the life of a Salem man during a fire this weekend.
According to Salem Fire Chief Worth Packer, Brandon Woodring, who is assigned to the 1132nd Military Police Company in Rocky Mount, was driving down Straight Gate Road in Salem when he noticed a double-wide mobile home on fire. Woodring turned around and called 9-1-1 and then noticed a man trying to get out of the double wide mobile home. Packer said the man had health problems and Woodring got him out of the house and to safety. The man was taken to the hospital with burns. More ...
By Amanda Clark, Graphic Staff Writer
Deans' case is dismissed
The case against a former Nash-Rocky Mount Schools teacher was dropped in Nash County Superior Court just two years after he was charged with allegedly raping a 14-year old boy. More ...
By Amanda Clark, Graphic Staff Writer
Interchange study is presented
The Nash County Planning Board got a preliminary peak at an interchange study that should be complete the first of 2008.
The study looks at four interchanges in the county and looks at aspects such as zoning, land use, environmental constraints and proximity to utilities to determine the marketability of the interchanges. More ...
By Amanda Clark, Graphic Staff Writer
School board announces plan to address drop-out prevention
Assistant Superintendent Leorita Hankerson announced the details of a new local initiative for dropout prevention to the Nash-Rocky Mount (N-RMS) board of education during their work session in November.
"Our focus for the year, in addition to achievement, is on our graduation rate and on dropout prevention. We're doing a great job transitioning Pre-K students to Kindergarten," she said. "But we know that dropouts begin in elementary school and by the time they're in middle school, they're far gone." More ...
By Michele A. Cruz, Graphic Correspondent
Water bond referendum set for Tuesday in county
Voters will take to the polls on Tuesday, December 11 to consider a $23 million bond referendum.
Qualified voters in the county will vote in the referendum, which if passed, will help fund the county's proposed $18 million Nash Central Water and Sewer Project. The project will be implemented in four phases, with the first two phases being implemented simultaneously. More ...
By Amanda Clark, Graphic Staff Writer
County approves scope of Highway 58 water project
Nash County's Board of Commissioners unanimously approved an agreement on the scope of an emergency water line project that will run along Highway 58.
Patsy King, Nash County Services and Grants Director, told board members that the agreement was between the City of Rocky Mount, City of Wilson and Nash County and had informally been agreed upon by the three entities. More ...
By Amanda Clark, Graphic Staff Writer
County replaces leaky roof on Nash Arts facility
Leaks in the Nash Arts roof led the county to replace the roof with a heavy shingle that should last 50 years. The new roof will now pave the way for other repairs inside the Arts building.
According to Assistant County Manager Wayne Moore, the roof began leaking after Floyd and the county got someone to do some repairs. Recently, the roof began leaking again and the county found the funding to go ahead and replace it. More ...
By Amanda Clark, Graphic Staff Writer
Tyson receives American Degree at FFA convention
INDIANAPOLIS – Stephan C. Tyson, the son of Danny and Jane Tyson, received the American Degree at the 80th National FFA Convention held on Oct. 27.
The American Degree is the highest degree awarded by the National FFA Organization and recognizes the recipient's demonstrated leadership abilities and outstanding achievements in agricultural business, production, processing and service programs. Tyson was one of 3,168 to be recognized this year. More ...

BIRTHS
Amanda Crisp and Terry C. Robinson announce the birth of a daughter, Sunny Avery Robinson, on Nov. 12, 2007 at Nash General Hospital. She weighed 6 pounds, 1 ounce and was 19 inches long. More ...
1 opinion posted
Traveling Science Learning Lab visits Northern Nash
Excited students from Tom Bartik's honors physical science class had a chance to experience state-of-the-art science equipment and laboratory procedures first-hand in the DESTINY Traveling Science Learning Laboratory. This lab on wheels travels from the coast to the mountains visiting over 60 counties in North Carolina annually. More ...

M.B. Hubbard honor rolls
Principal Robin May recently announced the M. B. Hubbard Elementary School honor rolls for the first six-weeks grading period of the 2007-08 school year. More ...

Toilet Tunes and elephant poo-poo paper
Procrastinating shoppers, take comfort ... once again, your friendly hometown newspaper is here to save the day.
If you're having trouble finding the right gift, you don't really have time to shop or you're just lazy and just not very creative, the Soapbox has compiled its annual Christmas Gift Giving Guide. More ...
Mike Brantley
When did Santa have to become politically correct?
I hope people in Sydney, Australia are ready for this holiday season because this year, Santa's greeting will be a little different.
According to Westaff, a U.S. based firm, Santa's traditional "ho ho ho" greeting is offensive to women and the firm has asked that Autralian Santa's refrain from using the term, instead saying "ha ha ha." More ...
Amanda Clark - 1 opinion posted
Boy, you're gonna carry that weight
BUNN -- Apparently, the Nash Central Bulldogs were in a hurry to get home last Wednesday night from their scheduled road wrestling matchup at Bunn.
The Bulldogs, whose mat fortunes continue to improve, wasted little time in defeating the Wildcats by a 60-21 margin in non-conference action at the Bunn Dome. More ...
By Geoff Neville, Graphic Sportswriter
Schools swing into swim season
ROCKY MOUNT -- Before this season, the Nash Central High Bulldogs had never defeated area power Wilson Fike in the team standings of a NEW-6 Conference Swim Meet.
The Bulldogs have now gotten the job done twice this year, and the campaign is only two weeks old. More ...
By Geoff Neville, Graphic Sportswriter
Bulldogs take two from BHS
ROCKY MOUNT -- Last Friday night's season-opening boys basketball matchup between Nash Central and Bunn featured plenty of first-game jitters from both of the traditional area powerhouses.
At times, the contest appeared to be a battle of attrition as the clubs struggled in their initial outings of the 2007-08 campaign. More ...
By Geoff Neville, Graphic Sportswriter
Wesleyan a winner at Taylor
ROCKY MOUNT -- Behind a team-high 33 points from sophomore guard Jarmel Arrington (Northern Nash), the Battling Bishops of North Carolina Wesleyan were crowned champions of the 2007 Roger Taylor Invitational last Saturday after posting an impressive 101-83 victory over defending title holder Piedmont College. More ...
From Staff Reports
High School Grid Scores
CHAPEL HILL -- Listed are last Friday's results from regional action in the North Carolina High School Athletic Association State Football Playoffs: More ...
From Staff Reports
STATE FOOTBALL PLAYOFF PAIRINGS
CHAPEL HILL -- Here is the schedule for this Saturday's North Carolina High School Athletic Association State Championship Football Playoff Games: More ...
From Staff Reports
Gryphons eliminated in state football playoffs
ELON -- Last year, Western Alamance was a two-headed monster -- quarterback Donald Britt and running back Levon Curtis.
This season, it grew another head -- in the guise of receiver Kenneth Lindsay. The 6-foot-4 senior caught nearly everything thrown near him in the Western Alamance's 50-36 victory over the Gryphons in the NCHSAA 3-A East finals last Friday. More ...
By Charles Alston, Graphic Correspondent
County hoops teams on the hardwood
ROCKY MOUNT -- Super sophomore Tashawn Mabry had a shaky start in Rocky Mount's basketball home opener last Tuesday night with J.H. Rose.
In fact, the 6-foot-5 forward didn't even score in the first period. More ...
By Charles Alston, Graphic Correspondent
CLASS 3-A ENROLLMENT FIGURES
CHAPEL HILL -- Here are the latest Class 3-A enrollment projections for the North Carolina High School Athletic Association's realignment schedule for the 2009-13 calendar years: More ...
From Staff Reports
3-A CONFERENCE PROJECTIONS
CHAPEL HILL -- Listed is the preliminary conference realignment plan for the North Carolina High School Athletic Association's Class 3-A Schools from 2009-13: More ...
From Staff Reports
Meteor shower visible December 13-14
Weather permitting, the Geminid meteor shower will put on a display of celestial fireworks, visible from the Rocky Mount area and peaking on the nights of Thursday and Friday, December 13 and 14, 2007. More ...

Holiday jazz at Nash Arts
Nash Arts will be hosting a very special holiday concert presented by the Nash Central High School Jazz Band on Saturday December 15th at 7:00 pm. Nash Arts is located at 100 E. Washington Street in Nashville. This group of talented high school music students under the direction of Mr. Leo Nieves will be presenting swing and jazz band arrangements of many familiar Holiday and Christmas songs. Tickets are $7 (at the door) and $5 (in advance). Please call Nash Arts at 459-4734 for more information. More ...

Former Nashville Graphic columnist passes away
MARY ELIZABETH HILLEY HIGH
Mary Elizabeth "Betty" Hilley High passed away November 29, 2007. She was born March 24, 1920 in Wilson where her father was president of Atlantic Christian College and from which she graduated Magna Cum Laude. She also attended Randolph Macon Women's College and did post graduate work at Pratt Institute of Art and Technology in New York. She received her Med from ECU in 1972. She married Larry High in New York in 1940, lived in Richmond, Va. where he attended medical school and she worked for the Quartermaster General. They then lived in Trinidad, BWI and Jacksonville, Fla. while he served in the Navy Medical Corp. They then moved to Nashville, NC where they lived and raised her family. More ...

CLYDE PURVIS SR
ROCKY MOUNT – Clyde "Jack" Purvis Sr., 84, died Friday, November 30, 2007. A funeral service was held Dec. 3 at Wheeler and Woodlief Funeral Home with the Rev. Jody Wright officiating. Burial followed at Rocky Mount Memorial Park. More ...

JOHN W. SILVER
SPRING HOPE – John Willard Silver, 73, died Friday, November 30, 2007. Funeral services will be held on Wednesday, December 5 at 2 p.m. at the Bunn Chapel Baptist Church with the Rev. Wayne Hines officiating. Burial will follow in the Silver family cemetery. More ...

RUBY GRIFFIN HENDRICKS
Ruby Lorene Griffin Hendricks, age 86, died on Friday, November 30, 2007. Funeral services were held Sunday, December 2, at Johnson Funeral Home, 226 S. Barnes St., Nashville. Relatives and friends were welcome at the funeral home from 2:00 until 3:00 p.m., followed by the service at 3:00 p.m. More ...

ELLA JANICE DANIEL
Ella Janice Daniel passed away November 30, 2007. She was born September 8, 1938 in Nash County. She was the daughter of the late Clifford and Helen Glover Sanders. She was preceded in death by two brothers and two sisters. Survivors include her husband, Bobby Daniel, one son, Keith Daniel and wife Teresa of Wilson, one daughter, Karen Glenn and husband Buddy of Wake Forest, and three grandchildren. More ...