Subscribe/Access
Advertisements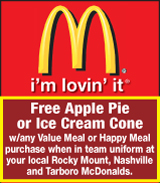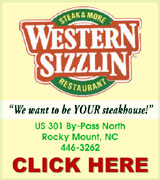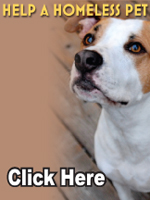 Sections
Member Options
Back
D.A. seeks death penalty against Holiday
The Nash County District Attorney's Office announced it will seek the death penalty against Tommy Lee Holiday in the murder of Deborah Kornegay. The announcement was made during Holiday's first court appearance on Tuesday morning.
Holiday was arrested Friday morning after stabbing two Meals on Wheels workers, one fatally, at Lakeside Baptist Church last Thursday morning. More ...
By Amanda Clark, Graphic Staff Writer - 1 opinion posted
Locks of Love
Nine-year-old Briana Brantley had 11-inches of her hair cut off on Friday afternoon to donate to Locks of Love. Brantley donated the hair in honor of her Aunt Maris Ashley, a cancer survivor who was diagnosed with breast cancer in September 2001. Sheila Hinton, of Sheila's Beauty Shop in Momeyer, cut Briana's hair. More ...
1 opinion posted
Park to be named for Coach W.B. Ennis
Red Oak Commissioners voted Monday night, October 22, to name the park formerly known as the Red Oak-Dortches Park after long-time area educator and coach W.B. (Bill) Ennis. The park, currently in the bidding stage, will be formally named the "W.B. (Bill) Ennis, Jr. Memorial Park," though commissioner Barbara Tyre suggested that it may become more commonly known as Ennis Park. More ...
By Amelia Harper, Graphic Correspondent
NRMS gives report on yearly progress
Nash-Rocky Mount Schools (N-RMS) assistant superintendent Leorita Hankerson gave the school board an extensive report on the system's initiatives and strategies to promote student achievement at the board's work session last Monday night at Nash Central High School. These strategies for student success in all grades are intended to impact the schools'ABC and Annual Yearly Progress (AYP) results as evaluated by the state. She also gave a report on schools not meeting AYP, broken down by the student subgroups that are not meeting the goals. More ...
By Michele A. Cruz, Graphic Correspondent
Comprehensive Plan Task Force seeks citizen input
Members of the Nashville Comprehensive Plan Task Force will soon begin their focus group meetings and is encouraging stakeholders to get involved.
The Comprehensive Plan Task Force first began meeting in November of 2006 to outline its goals and objectives. The task force consists of 10 members, eight from the community and two council members representing the board. More ...
By Amanda Clark, Graphic Staff Writer
Hazel Valentine inducted into Hall of Fame
There are many stories one could tell of Ms. Hazel Valentine. From her involvement with Nash Arts to the conception of the Coastal Plains Arts and Crafts Fair to her run through downtown Nashville holding the Olympic torch in 1987, Ms. Valentine was a go-getter. If she had an idea, she made it happen.
On November 15, Valentine will be honored for her contribution to the Town of Nashville and Nash County with her induction into the 2007 Twin County Hall of Fame. More ...
By Amanda Clark, Graphic Staff Writer
Halloween tips from local police
Children 12 and under will take to the streets next Wednesday night for trick-or-treating in Nashville.
Nashville Police Chief Bill Creech said he doesn't anticipate any problems this Halloween but encouraged citizens to take heed of the rules for the town on Halloween night. More ...
By Amanda Clark, Graphic Staff Writer
County begins antifreeze recycling program
Nash County has added antifreeze to its list of items that can be accepted at convenience centers in the county.
According to Matthew Richardson, Solid Waste Manager, Site Seven on Duke Road in front of the Landfill, is now accepting antifreeze. Richardson said if the idea is well received, he hopes to have containers at each of the nine sites throughout Nash County. More ...
By Amanda Clark, Graphic Staff Writer
TOWN OF NASHVILLE - 2007 ELECTION
Two seats are open on Nashville's Town Council in this year's municipal election and residents will have seven choices come election day on November 6. Nashville's mayor seat is also up for grabs, with two vying for that seat.
Incumbent council members Louise Hinton and Frank Wright will be on this year's ballot with Chuck Lewis, James McBride, Charles Taylor, Larry Taylor and Chet Osterhoudt also running for the two seats. More ...

Southern Nash graduate named National Agri-Entrepreneur by FFA
Robert Glover, 18, of Bailey, N.C., is one of 10 students from across the country who will receive a National Agri-Entrepreneurship Award and $1,000 during a ceremony at the 80th National FFA Convention in Indianapolis, Ind., Oct. 26. The award program recognizes young people who start or are planning to start businesses. Robert, the son of Robert and Sheila Glover, owns and operates RG Plants, an enterprise that raises certified, micro-propagated, virus-indexed strawberry plants that are free from disease and insects. He offers strawberry plugs in a 50-cell plastic tray, as well as tips, which are plants that have been cut from the field but are not rooted. More ...

Ephesus Community News
We welcomed Wayne and Nina Blemins into the Ephesus Christian fellowship on Sunday during the worship hour. We are glad to have them join us in serving our almighty God. More ...
By LOTTIE LOU DICKENS
Beulah Community News
Everyone had a great time Saturday at the Fisher Pumpkin Farm. Dorothy Fisher told me the pumpkin cooking contest was a great success and enjoyed by all. Jo Anne went by and made pictures so I am sure there will be other news coming soon on this event. Five days a week, children from many schools go by the pumpkin farm, see the animals, get a chance to ask questions about them, go on a hayride through the pasture to see more animals, and get to pick out a pumpkin to take home with them. It is a trip they will always remember and is very educational. More ...
By WILMA ENROUGHTY
Mt. Zion FWB Church News
There were 90, including three visitors, in Sunday school today. We discussed several thoughts in our Sunday school class: committed love, reaping what you sow, deception is wrong, all our actions have consequences, waiting on God and many others. Ina Jones was our teacher. More ...
By ROSALENE BASS
Peachtree Community News
On Sunday Morning the altar flowers in Peachtree Church were grown and arranged by Melba and Jerry Hobgood. Pastor Whitehouse chose as his sermon topic,"It is Finished" based on the scripture passage John 19:30. The choir sang "My Jesus, I Love Thee" accompanied and directed by Jane May, Music Director. Beverly Wilson led the children's sermon on the topic, "The Skin I'm in". The observance of the "Lord's Supper was held to conclude the worship service. More ...
By BARBARA HARDISON
Red Oak Community News
Welcome to new members Miranda and Renee Griffin, Megan Webb and Jessica Woodburn who recently joined Red Oak Baptist Church and were baptized on Oct. 13! More ...
By SUZY PEARCE
MILITARY NEWS
James A. McLaughlin has joined the United States Army under the Delayed Entry Program. The program gives young men and women the opportunity to delay entering active duty for up to one year. More ...

If it's good to you, it's likely bad for you
If you don't think the world is designed against fat people — then trying being one for a little while.
Sale at the department store? Ha! Only if you're a Large or smaller. The Extra Beefy Big Boy sizes are either gone or on a nearby rack at full price. You might say, if it takes a lot more material to make it ought to cost more. By that logic, the clothing made for teenage girls these days would be free. More ...
Mike Brantley - 1 opinion posted
Subpoenaed citizen ends up in jail during recent trial
When you go to court on a subpoena, you should not be treated like a common criminal.
When I was held in contempt of court by Judge Toby Fitch, no one even had the common sense to put in the paper or on the TV why this happened. More ...
Letter to the Editor: - 3 opinions posted
Moore should have had the right to defend his family
As should be, everyone is appalled by the murder of Debbie Kornegay in Rocky Mount. I believe that although the same public that is grieving over and appalled by this murder would not wish death on any person, we would prefer that someone had been able to save Mrs. Kornegay from that violent animal even if it meant his death. More ...
Letter to the Editor: - 1 opinion posted
SouthWest Sweep
NASHVILLE - For all of the festivities, two things were missing last Saturday when the Nashville Hornets hosted SouthWest Edgecombe for their annual homecoming football ceremonies.
A varsity victory.
And a junior varsity victory. More ...
By Geoff Neville, Graphic Sportswriter
SN coach declines E-W post
GREENSBORO - Southern Nash head football coach Brian Foster has decided not to participate as an assistant coach for the 2008 North Carolina Coaches Association East All-Star Football team.
The NCCA has announced Foster's replacement -- Wayne Inman of Terry Sanford High School in Fayetteville. More ...
From Staff Reports
North Carolina Wesleyan a big winner at home
ROCKY MOUNT -- North Carolina Wesleyan continued its offensive dominance in USA South play last Saturday afternoon, picking up a 41-9 football victory over visiting Shenandoah at the Rocky Mount Athletic Complex.
Sophomore Teron Bush scored two touchdowns, one rushing and one receiving, to pace the Blue & Gold offensively. More ...
From Staff Reports
RM shuts out mistake-prone NC
ROCKY MOUNT -- Turnovers ruined Nash Central's chance at beating Rocky Mount last year. Last Friday night, they bit the Bulldogs' tail again.
They suffered through four of them including three key fumbles that helped Rocky Mount post a 17-0 shutout in their NEW 6 Conference first-place showdown at the Rocky Mount Athletic Complex. It was the second consecutive year that RMHS had held Nash Central scoreless. The Bulldogs fell 47-0 last season. More ...
By Charles Alston, Graphic Correspondent
Area clubs compete in volleyball playoffs
ROCKY MOUNT -- After Rocky Mount head volleyball coach Debbie Webb retired from teaching last spring, she had to be coaxed into coming back to coach the team again this season. More ...
By Charles Alston, Graphic Correspondent
Gryphons wrap up NEW-6 soccer championship
ROCKY MOUNT -- The Rocky Mount boys soccer team took to the pitch against the Nash Central Bulldogs last Wednesday with hopes of winning the NEW 6 Conference regular season championship. More ...
By Rick Adams, Special to The Graphic
The Entertainment Scoop
NOVEMBER 5-6 Nash County's Got Talent auditions - Bring your talent to Nash Arts Center, auditions are November 5 and 6 at 5:30 p.m.; callback rehearsal will be held November 13 at 5:30 p.m.; finals will be November 16 and 17, 2007 at 7:30 p.m. More ...