Subscribe/Access
Advertisements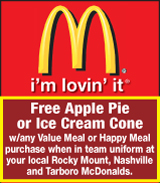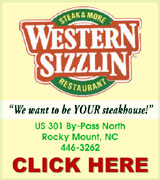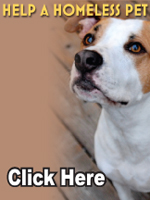 Sections
Member Options
Back
Candidates speak up on issues
Handling Nashville's growth was the main focus for candidates during the first of two candidate forums.
The forum, sponsored by the Brooklyn Community Watch organization, featured the seven candidates for town council as well as the two candidates for mayor. More ...
By Amanda Clark, Graphic Staff Writer
Council approves sign, flag design
Nashville's Board approved the design for the town's entrance sign and flag during its regular board meeting on Tuesday night.
The entrance sign design presented to the board had "Welcome to the Original Nashville" and "Formed 1780." Councilwoman Louise Hinton said she felt formed should be changed to "founded" or "established." "I don't think you form a town," Hinton said. Board members agreed to change "formed" to "established." Board members also unanimously approved the Town of Nashville entrance sign design. More ...
By Amanda Clark, Graphic Staff Writer - 1 opinion posted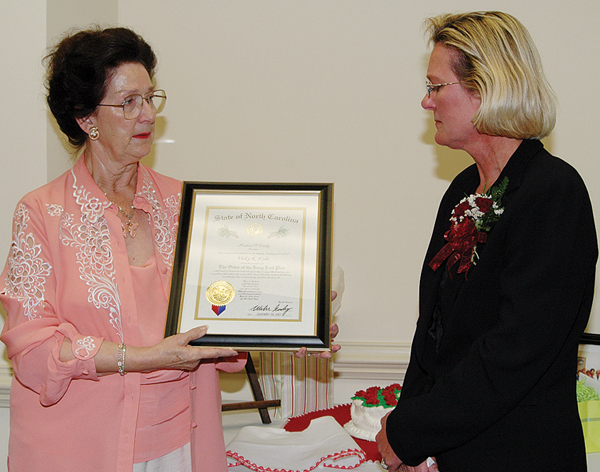 Clerk of Court Rachel Joyner (at left) presents the Order of the Long Leaf Pine Award to Vicky Hyde (at right) during her retirement party on Friday afternoon.

Local woman retires after 31 years as Deputy Clerk
This week, Vicky Hyde is adjusting to a new schedule. After 31 years, Hyde retired as Deputy Clerk from Nash County's Clerk of Court's Office. Now, the Momeyer resident will have some much needed free time on her hands.
Co-workers, friends and family spent Friday afternoon sending Hyde off with a formal goodbye. A retirement party was held in her honor and Clerk of Court Rachel Joyner presented Hyde with North Carolina's most distinguished service award: the Order of the Long Leaf Pine. More ...
By Amanda Clark, Graphic Staff Writer
County sets May 6 for advisory vote
Nash County's Board approved May 6, 2008 as the date for holding an advisory referendum on imposing a quarter-cent sales tax. The referendum will give commissioners the chance to see what citizens think about the quarter-cent sales tax. More ...
By Amanda Clark, Graphic Staff Writer
Bailey police officer deployed to Iraq
Bailey Police Corporal George Perry will wear a different uniform over the next year as he prepares for deployment to Iraq.
Perry, of Black Creek, is no stranger to the military. He spent several years in the Air Force and decided in 2002 to reenlist into the Navy Reserve. More ...
By Amanda Clark, Graphic Staff Writer - 1 opinion posted
Man faces sex crime charges
A Rocky Mount man is facing multiple sex charges after a recording device with pictures of young kids was turned over to police.
Danny Ray Batts, 41, of Champion Way, Rocky Mount is being held in the Nash County jail under an $180,000 bond. He faces 25 charges ranging from indecent liberties with a minor to first degree sex offense. More ...
By Amanda Clark, Graphic Staff Writer - 1 opinion posted


K. Whitley

Bailey couple arrested on drug charges
A Bailey couple was arrested for the alleged distribution of cocaine after a four-month joint investigation by several law enforcement agencies.
On Wednesday, September 26, the Nash County Sheriff's Office, the State Bureau of Investigation and the North Carolina Highway Patrol arrested 52-year-old Kenneth Rex Whitley, of 6501 Frazier Road in Bailey, and his wife, s Gwendolyn Thompson Whitley. More ...
By Amanda Clark, Graphic Staff Writer - 1 opinion posted
Work to soon start on Red Oak-Dortches Park
Red Oak Commissioners recessed the regular business meeting on Monday night, October 1, and will reconvene on October 22 to consider bids for construction of the Red Oak- Dortches Park. Bids are due in by October 11th and will be reviewed by Site Solutions who will be overseeing park construction. Site Solutions will make a recommendation for a construction firm to the Town of Red Oak, which will award the bid at the October 22 meeting. More ...
By Amelia Harper, Graphic Correspondent
Castalia to hold public hearing on water, sewer
The Town of Castalia will hold a public hearing on Thursday, October 11, 2007 in order to help determine the fate of the town's infrastructure. The meeting will be held at 7:00 p.m. at the Town Hall and the public is invited to attend. More ...
By Amelia Harper, Graphic Correspondent
MILITARY NEWS
Army Pvt. Tavaris J. Harper has graduated from basic combat training at Fort Jackson, Columbia, S.C. More ...

Locals win big in NC lottery
Three Nash County residents have won big in the North Carolina Lottery over the past two weeks, including two Nashville residents. More ...
By Amanda Clark, Graphic Staff Writer
Local students attend Governor's School
Five Nash-Rocky Mount Public Schools students were chosen from a select group of outstanding candidates across North Carolina to attend Governor's School this summer. The Governor's School of North Carolina is the oldest statewide summer residential program for academically or intellectually gifted high school students in the nation. Students were recognized for their achievement by the Nash-Rocky Mount Public Schools Board of Education. More ...

Edwards, Strickland wed
Meredith Brooke Edwards and Steven Russell Strickland were united in marriage on Sept. 15, 2007, at Nashville Baptist Church. The Rev. Hoyle T. Vinson Jr. officiated the 5:30 p.m. ceremony. More ...

Hucks, Winstead marry
Jessica Marilyn Hucks and John Thomas Winstead II were united in marriage on Sept. 1, 2007, at Samaria Baptist Church in Middlesex. The Rev. Butch Gordon officiated the 5 p.m. ceremony. More ...

ENGAGEMENT
Mr. and Mrs. Craig Harper of Spring Hope announce the engagement of their daughter, Hilary Ann Harper of Greenville, to Brett Jeremy Haselden of Greenville. More ...

CITIZEN OF THE YEAR
The Reverend Dr. Thomas L. Walker, pastor of Ebenezer Baptist Church, received the Shaw University Alumni Association, Rocky Mount/Kelly Bryant Chapter Citizen of the Year Award at the annual Shaw University Heritage Banquet in April. More ...

Deborah Joyner-Battle and Pastor Mack Earl Battle wed
ROCKY MOUNT - Deborah Joyner-Battle and Pastor Mack Earl Battle were married at 2 p.m., July 7, 2007, at Englewood Baptist Church. Dr. Cornelius Battle of Durham, brother of the groom, performed the ceremony. Other ministers assisting with the ceremony were Dr. Duwayne Battle of Elizabeth, N.J., cousin of the groom; Dr. Edmond Ray Bynum of Wilson, friend of the bride and groom; the Honorable Addie Rawls of Smithfield, sorority sister of the bride; and Dr. Michael Cloer of Rocky Mount, pastor of the bride and counselor to the couple. More ...

Bailey kicks off centennial year
Horse drawn carriage rides and tours, hay rides, face painting, horse rides, live entertainment, tours of the Country Doctor Museum and demonstrations such as pottery and quilting are just a few things you experienced if you visited Bailey's kick off to its centennial Saturday. The event coincided with The Country Doctor Museum's 40th anniversary. More ...

2007 Rocky Mount Fair Livestock Show Results
The 2007 Rocky Mount Fair Livestock Show was held Friday, September 28. The Livestock Director was Linda Fisher, and juding this year's event was Justin Fix, a North Carolina State University PhD student of Swine Genetics. More ...

Beulah Community News
This week we have several announcements to remind you of. This Friday, Oct. 5, is our monthly fish fry at the Beulah Annex Building on Reges Road. It will be held from 5-8 p.m. You may take out plates or stay and eat with us. We always look forward to seeing our friends at this event. Please come and join us Friday night. We have good food and good fellowship. More ...
By WILMA ENROUGHTY
Peachtree Community News
It was a glorious Homecoming Day at Peachtree. The weather was gorgeous. The fellowship was cordial. The food was plentiful and delicious. It was a wonderful time of renewing old acquaintances and making new friends. The Homecoming Committee is to be commended. Those serving on that committee are Patricia Wood, Melba Hobgood and Drew Griffin. More ...
By BARBARA HARDISON
Mt. Zion FWB Church News
We at Mt. Zion had an excellent speaker, Rev. Jerry Stephenson, as evangelist for our revival services last week. I'm going to give a brief summary of those messages for the benefit of those who did not attend. More ...
By ROSALENE BASS
Ephesus Community News
Rev. Cecil Wilkes was guest speaker at Ephesus Church on Sunday morning. His message concerning the cross was taken from Matthew 27, a very important passage to have knowledge of. More ...
By LOTTIE LOU DICKENS
Red Oak Community News
The North Roanoke Baptist Association fall meeting was held on Sept. 25 at Salem Baptist Church. The Salem Baptist Church choir provided special music. The moderator, Rev. Paul Arnold, called the meeting to order. Rev. Rucker Burnette of Red Oak Baptist Church brought a great message on unity, unity in the association and the importance of working together as Christians to share the gospel. More ...
By SUZY PEARCE
Philadelphia Community News
Sunday morning, Albie Brice, taught from the book of James, Ch 1 vs: 9-18, 'You have to know God, to truly be able to get thru trials.' We finished our collection for the Children's Ministry for the month of September, gathering personal items, and are now collecting for toys in October. Thank you all so much for giving. More ...
By PEGGY FREEMAN AND DEBBIE MARKS
Wonder why I look tired? Here's a few reasons
One of my friends asked me the other day why I hadn't done such-and-such.
Of course, I gave my standard response of, "I have a job and three kids — two of whom are under 30 months old."
A smart man would have left it at that, accepted my polite response, and looked past the crazy in my eyes. More ...
Mike Brantley
Three big events, five really incredible people
This past week, I had the opportunity and privilege to attend three big events, all of which celebrated numbers that most people don't get to.
The first was a retirement party for Vicky Hyde. Ms. Hyde has worked 31 years in Nash County's Clerk of Court Office. That's a long time to stay in one place. More ...
Amanda Clark
Ruritan National Vice President supports park idea in Coopers community
Ruritan members have served America's communities since 1928, and like other communities throughout the country, Nash County has benefited from their efforts. These hard-working citizens work hard to earn dollars through various projects (e.g. barbecued chicken suppers, Brunswick stew sales, pancake/sausage suppers, etc.) and then they return these dollars back to their community as well as the community at large. More ...
Letter to the Editor:
It's time to enjoy those fall festivals in Nash County
October has quickly rolled around which means it's time for the Spring Hope Pumpkin Festival and The Rocky Mount Down East Festival.
Spring Hope planners have announced the festival will indeed have a carnival this year filled with rides and games for visitors of the festival. It will be located in the same area as in the past. More ...
Jo Anne Cooper
Pirates shipped
ZEBULON - Nashville's Hornets invade the home ship of the Corinth Holders Pirates in Wake County and came away with an impressive pair of victories last Saturday in Coastal Plain Football League action.
The varsity Hornets started the festivities with a convincing 53-13 conquest that featured plenty of offensive heroics. More ...
By Geoff Neville, Graphic Sportswriter
Rocky Mount "Bulldogs" Nash Central
ROCKY MOUNT -- The Rocky Mount boys soccer team traveled west Monday to take on the Nash Central Bulldogs and returned with a 6-2 NEW 6 Conference victory.
The Gryphons are alone atop the league standings at 5-0 (8-2-2 overall). Nash Central is now 6-7 overall to go with a 2-3 league mark. More ...
By Rick Adams, Special to The Graphic
Nash Co. falls in a grid game
STANHOPE -- Fans were treated to a defensive battle for most of the game at Southern Nash High School last Saturday as the Nash County J/V Football team was beaten 27-6 by a pesky Rocky Mount squad. More ...
From Staff Reports
A Big Season For Bulldogs
ROCKY MOUNT -- Nash Central High School is on the verge of making girls tennis history this fall for veteran coach Susan McCarthy.
The Lady Bulldogs headed into the final week of regular season action with an 8-7 record. Nash Central, with two matches remaining, has never had an overall winning mark in school history. More ...
By Geoff Neville, Graphic Sportswriter
NC Wesleyan waltzes to a homecoming victory
ROCKY MOUNT -- North Carolina Wesleyan jumped out to a 28-0 lead and did not look back en route to a 51-20 gridiron victory over Maryville College on Homecoming last Saturday at the Rocky Mount Athletic Complex. More ...
From Staff Reports
Fired-Up Firebirds
STANHOPE -- Northern Nash, from beginning to end, put up its best effort of the season last Friday night in its NEW 6 Conference football opener at Southern Nash Friday evening. More ...
By Charles Alston, Graphic Correspondent
NCWC men still unbeaten
ROCKY MOUNT -- The North Carolina Wesleyan men's soccer team remained undefeated last Saturday afternoon, downing Methodist University by a 2-0 score at Scalf Field. More ...
From Staff Reports
The Entertainment Scoop
Nash Arts welcomes Will West and Adam Stone in concert October 6, two great singer-songwriters who are natives of Nash County.
Showtime is Saturday, October 6 at 8 p.m. with a reception at 7 p.m.. Tickets are $12 general admission and $10 for Nash Arts members. Nash Arts is located at 100 E. Washington Street in Nashville. More ...

MORE ENTERTAINMENT NEWS
252-459-4734, 100 East Washington Street, Downtown Nashville; www.nasharts.org
October 6 - Will West and Adam Stone; a reception will be held at 7 p.m., showtime is 8 p.m.; admission $10 Nash Arts members, $12 for general public (www.willwestmusic.com) More ...

Connections exhibit starts Oct. 5 at Wesleyan's Mims Gallery
Connections is a group exhibition featuring four women artists from Wilson, North Carolina: Lu Glover, Pat Montgomery, Promila Sen, and Phyllis Simpson. Opening at Wesleyan's Mims Gallery at 7 p.m. Friday, October 5 with live piano music by Wilson's own Butch El-Ramey, the four talented women will personally welcome community art lovers, friends and art collectors. More ...
Contributed
Antique Tractor, Car and Truck Show is Saturday, Oct. 6
The Pilot Lions Club will present its annual Fall Festival and Antique Tractor/Classic Car and Truck Show Oct. 6 at the Pilot Lions Park located on NC 39 about four miles north of Five County Stadium, home of the Carolina Mudcats, and about 17 miles south of Louisburg. There is no admission charge. More ...