Subscribe/Access
Advertisements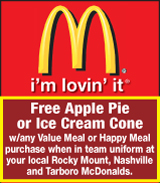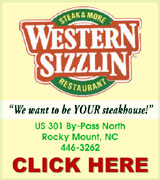 Sections
Member Options
Back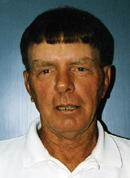 Tommy Rogers

Seven file for seats on Nashville Council
Nashville residents will have seven choices for Town Council in this year's municipal elections. Only two seats are up for re-election.
Incumbents Louise Hinton and Frank Wright filed on opening day of filing. Nashville's Larry Taylor filed a week later and on Friday, the last day for filing, Chuck Lewis, James McBride, Charles Taylor and Chet Osterhoudt filed for the two open council seats. More ...
By Amanda Clark, Graphic Staff Writer - 1 opinion posted
Nashville man charged with first degree murder
A Nashville man was charged with first degree murder after allegedly shooting a Rocky Mount man during a fight.
Rodney Antoine Alston, 20, of 536 Indian Trail, Nashville was arrested and placed in Nash County Jail under no bond. Alston was charged with first degree murder over a fight that broke out during a party at 1316 Green Tee Lane. More ...
By Amanda Clark, Graphic Staff Writer - 1 opinion posted
Castalia explores park options
Castalia commissioners hosted at a public meeting last Thursday, July 19, in order to explore the possibility of building a park for the Castalia community. The move came in response to desires expressed at the recent Vision sessions in which local citizens expressed the desires that they had for their community. More ...
By Amelia Harper, Graphic Correspondent
SNHS grad donates painting to Nash County Courthouse
Upon entering Courtroom Three in Nash County's Courthouse, one can't help but notice the bright red, white and blue painting. To most, the painting represents America but to Nash County Clerk of Court Rachel Joyner, it represents much more. This painting represents the youth of Nash County.
Ashley Fabrizio, a Spring Hope resident and recent graduate of Southern Nash High School, donated the patriotic painting to the courthouse after Joyner set out looking for more local decor to add to the courthouse. More ...
By Amanda Clark, Graphic Staff Writer
Spring Hope home destroyed by fire
A fire demolished a home in Spring Home last week, leaving a woman with burns on her arms.
According to Scott Rogers, of Nash County Fire Marshal's Office, the call came in around 9:30 p.m. at a home at 9651 Edgerton Road in Spring Hope. More ...
By Amanda Clark, Graphic Staff Writer
N-RMS wins eminent domain case against Life United Church
N.C. Superior Court Judge, Milton "Toby" Fitch, Jr., overruled and dismissed all defenses brought by Poyner and Spruill attorneys on behalf of Life United Pentecostal Church last week in the Nash-Rocky Mount Schools' eminent domain case. More ...
By Michele Cruz, Graphic Correspondent
Youth Day draws over 100 kids
Nashville's Second Annual Youth Day brought out over 100 kids to the fun filled day. Kids played a variety of sports and were also treated to hot dogs and ice cream. Pictured left, Charles Penny, Jr. and Anthony Coley, both Boys and Girls Club members, compete in a game of basketball Saturday. More ...

CIE seeks families
The Council on International Educational Exchange (CIEE), a worldwide leader of international education and student exchanges, is looking for families to open their hearts and homes and welcome an international exchange student into their community. More ...

Nash Health Care plans to open wound care center
ROCKY MOUNT – Nash Health Care Systems announced plans to open the Nash Wound Care Center. Located on the campus of Nash Health Care Systems, directly behind Nash General Hospital at the intersection of US HWY 64 East and I-95, the center is scheduled to open on July 31st and will specialize in the treatment of non-healing wounds, a significant and often debilitating problem which is becoming more prevalent due in part to the aging of America's population and recent growth trends in diabetes incidence. More ...

Why my summer vacation was so interesting
Last week, I was lucky enough to take 1 3/4 days off from work for a long weekend of a vacation. Of course, Kristi and I took the three kids, so I actually worked harder than I do at work.
This year, we decided to do something totally different and try our first bluegrass music festival. This one was in Mineral, Virginia, a little town with a commercial district only slightly larger than Momeyer — but able to draw some of the biggest names in the business like Rhonda Vincent, Ralph Stanley and Doyle Lawson. More ...
Mike Brantley
Citizen urges support against banquet halls
There is a Nash County Commissioners meeting August 6, 2007 at 10 a.m. This meeting will take place in the Commissioner's room on the third floor of the Administrative Building in Nashville. More ...
Letters to the Editor:
Williams signs with NC Wesleyan College
LOUISBURG -- Just give him a chance.
That's been Buddy Williams' motto throughout his career as a basketball player. When he was at Southern Nash, Williams was considered too small (at 6-foot-3) to compete with some of the tougher post performers in his conference. More ...
By Geoff Neville, Graphic Sportswriter
Nash trio revel in East Victory
GREENSBORO - Rocky Mount's Nazir Levine, Kendall Noble and Southern Nash's Malcolm Moses are the only Nash County football players who can comfortably say that they won their last high school football game. More ...
By Charles Alston, Graphic Correspondent
Post 58 season ends with Wayne County sweep
ROCKY MOUNT - Nash County Post 58's second game of its first-round American Legion Area 1 East baseball playoff series with Wayne County Post 11 was washed out last Tuesday. More ...
By Charles Alston, Graphic Correspondent
Gryphs to scrimmage in Wake Forest event
WAKE FOREST - For the second straight season, Rocky Mount High's sole football scrimmage will come at the 2nd Annual Friday Night Pigskin Kickoff on Friday, Aug. 10 at Wake Forest-Rolesville High's spacious Trentini Stadium. More ...
By Charles Alston, Graphic Correspondent
Local youth to showcase drawings at Nash Art Center through July 31
Nash Arts will feature the work of an 11-year-old local artist in his first solo exhibition July 23-31.
Keshun Richardson, a rising sixth grader at Red Oak Middle School, will showcase his pencil drawings through Tuesday, July 31. Keshun is the youngest artist to present a solo exhibit in Nash County. More ...
By Amanda Clark, Graphic Staff Writer
THOMAS MELTON "TOM" CORBETT
NASHVILLE - Mr. Tom went home on Monday July 23rd with his children and grandchildren by his side. He was born on February 7, 1919 in Echlos County Georgia. He was the son of Thomas Jefferson and Katie I. Corbett. More ...

GARY WINIFRED JONES
Gary Winifred Jones, 57, passed away July 21, 2007. Graveside services were Tuesday, July 24, at 11:00 am at Foresthill Cemetery in Nashville. Arrangements are entrusted to Johnson Funerals and Cremations, 226 S. Barnes Street, Nashville, NC 27856. More ...

WILLIARD LEE PARRISH III
Williard Lee Parrish, III, 63, passed away July 22, 2007. Visitation will be Wednesday, July 25, 2007 from 7:00 to 8:30 at Johnson Funeral Home on Sunset Ave. Graveside services will be at 11:00 am Thursday, July 26, 2007 at Pineview Cemetery with Rev. Bill Grisham officiating. More ...