Subscribe/Access
Advertisements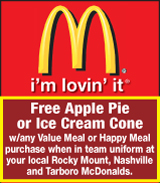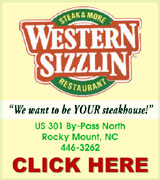 Sections
Member Options
Back
Council discusses CVS Pharmacy
Nashville's Town Council discussed the sale of property on Washington Street last Tuesday afternoon at a called meeting. Council members were all in agreement to move forward with selling the property, though no action was formally taken. More ...
By Amanda Clark, Graphic Staff Writer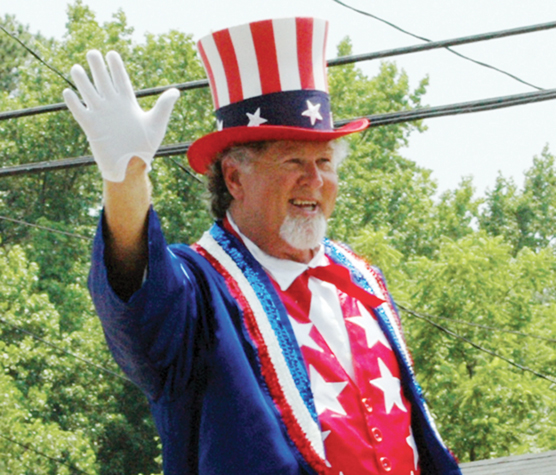 Uncle Sam waves to the crowd during Castalia's July 4th parade last Wednesday. The parade was one of the largest Castalia has had, with 100 units participating.

Castalia celebrates July 4th
Castalia was the place to be this Fourth of July, as event organizers boasted this year's July Fourth celebration as one of the best yet.
"The overwhelming consensus is, it was one of the best ever," said Ken Rice, of the July Fourth Committee. "People were here from all over. The fireworks were exceptionally nice this year." More ...
By Amanda Clark, Graphic Staff Writer
Red Oak ready to discuss sewer
At the regular July business meeting on July 9, Red Oak Commissioners received the final draft of the Sanitary Sewer Feasibility Study prepared by the Wooten Engineering Company, setting the stage for future discussions of sewer service availability from Rocky Mount. According to Mayor Alfred Wester, Red Oak now plans to contact Rocky Mount and set up meetings to further explore Rocky Mount's willingness to allow service to Red Oak and discuss details of sewer service costs. More ...
By Amelia Harper, Graphic Correspondent
County purchases downtown property
Nash County's Board authorized the purchase of two more properties in downtown Nashville following a closed session last week.
The two properties, owned by Tim Freeman, sold for $240,000. The properties did house the locations of My Sister's House and C2 Printing and Designs. My Sister's House recently moved across the street to the former law office of Ed Davenport. More ...
By Amanda Clark, Graphic Staff Writer
Street, Rogers file for mayor of Nashville
Nashville council members got off to an early start Friday, where four had already filed to run for election by the end of the day. Two council members filed to run for mayor.
Council members Donald Street and Tommy Rogers both filed on Friday to run for Mayor of Nashville. Current Mayor Warren Evans has announced he will not seek re-election for the seat he's held for 16 years. As of Tuesday morning, only Street and Rogers had officially declared their intentions to run for mayor. Council members Louise Hinton and Frank Wright also filed, both seeking re-election for their council seats. More ...
By Amanda Clark, Graphic Staff Writer
Annual Youth Day set for July 21
Area kids will be at Glover Park for the second annual Nashville Youth Day on Saturday, July 21 and organizers say they hope to eventually make the event a week-long camp. More ...
By Amanda Clark, Graphic Staff Writer
Mt. Pleasant stops EMS service
Mt. Pleasant will no longer offer rescue services in the southern part of the county, Brian Brantley, Nash County Emergency Services Director told county board members last Monday morning. More ...
By Amanda Clark, Graphic Staff Writer
NUI and N-RMS win national award
NASH COUNTY — Novell Users International Group (NUI) recently presented the Outstanding Community Service Project Award for 2007 to Triangle Novell Users Group and Nash-Rocky Mount Public Schools for their efforts in producing "A Parents Guide to Keeping Kids Safe on the Internet". Over 4,000 copies of this outstanding Internet safety video have been distributed throughout eastern North Carolina to area school systems and churches. More ...

Breedlove, Wiggins wed
Jamie Renee Breedlove and John Patrick Wiggins were united in marriage in an afternoon ceremony June 16, 2007, at Rock Creek Baptist Church in Nashville. The Rev. David Pope officiated the 3 p.m. ceremony. More ...

Watson makes honor roll at Phillips Academy
ANDOVER, Mass. – Julia A. Watson, of Rocky Mount, a member of the Class of 2007, has been named to the honor roll at Phillips Academy for the spring term. To be named to the honor roll, students must maintain at least a 5-point grade average on a 6-point scale. More ...

Golden Leaf gives $3 million to school computer projects
The Golden LEAF Foundation, which assists economically-distressed and tobacco-dependent communities with economic development projects, has made two grants totaling more than $3 million to provide laptop computers to six high schools in North Carolina. More than 2,500 students will benefit from the computers when schools open in August. More ...

Paper Rock Scissors – a league sport?
Maybe you've recently had the summertime blues, been down in the dumps or have had a creeping suspicion that you don't have a life.
Well, dear readers, cheer up the way today's society would have us cheer up — by making fun of others. More ...
Mike Brantley
Concerned citizens should attend county meeting; planners to look at amending ordinance to allow rural banquet halls
To all builders, Realtors, residents and homeowners with interests in Nash County, a proposal to amend the Nash County Unified Development Ordinance to allow rural banquet halls in the R-40 zoning district pursuant to a conditional use permit is under consideration and will either be denied or approved by the Nash County Planning Board. This first step to change R-40 to R40C could and more than likely would become the beginning of a nightmare for all concerned if approved. More ...
Letters to the Editor:
Citizen applauds local efforts, making a difference in the future of area children
My first experience with W. L. Greene was on June 7, 2007. As I walked in the auditorium, I noticed the carefully placed decorations and posters, showing the pride of the dedicated teachers. It was plain to see that a team effort of planning had been brought forth. I realize that many of the teachers are very determined professionals; regardless of the fact that some are underpaid, unappreciated and not given enough cooperation needed to successfully do their job. However, with all of the obstacles in front of them, their hard work can be seen in the attitudes of the students. I believe these teachers have touched the lives of every student who could have been left behind in this public school system. More ...
Letters to the Editor:
Join the fun at Nashville's annual Youth Day July 21st
This year, Glover Park will play host to the second annual Nashville Youth Day. It's a day set aside for kids to come out and have fun without worrying about the presence of gangs, drugs or alcohol.
Youth day will certainly not solve the world's gang problem. However, it does offer youth between the ages of 5 and 19 an alternative. Sometimes, that's all a kid really needs. More ...
Amanda Clark
Two Up, Two Down
WINTERVILLE -- Two up and two down was Nashville's story at the Cal Ripken District 5 12s Tournament.
As has been the case in recent years, the Nashville All-Stars were competitive, only to be unable to get past two strong contingents from Pitt County. More ...
By Geoff Neville, Graphic Sportswriter
Post 58's campaign continues
ROCKY MOUNT -- Doubleheaders have been confounding to Nash County Post 58 head baseball coach Lance Peck. His American Legion squad has swept them, been swept and pulled off a split in twinbills this summer.
In their fourth and final doubleheader of the season -- all at home, his crew was lucky to even get a split as Apex Post 124 got an 8-4 victory in the opener Sunday at Rocky Mount Academy's Benny Alexander Field. Then, Post 58 stole the nightcap 9-8 in its final at-bat. More ...
By Charles Alston, Graphic Correspondent
Nash Rec stops Birchwood for 2nd straight week
NASHVILLE -- For the second straight week, Nash Rec came away with a team victory over next-door neighbor Birchwood in local youth swimming action.
Host Nash Rec tallied 520 points, compared to 339 for Birchwood. More ...
By Geoff Neville, Graphic Sportswriter
Carolina defeated by Suns
ZEBULON -- Alberto Concepcion hit for the cycle as Jacksonville clubbed Carolina 12-7 before 5,572 fans at Five County Stadium on Saturday night in a Class AA Southern League baseball matchup.
Concepcion, who homered in his fourth at-bat against reliever Matt Yourkin, became the first Suns player since 1998 to bat for the cycle. More ...
From Staff Reports
Joyner, Gay named All-State
RED OAK -- Great performances are often followed up with great rewards. That's what two of Northern Nash's baseball players received recently.
Senior first baseman Jason Gay and sophomore pitcher Tyler Joyner were selected to the North Carolina High School Athletic Association 3-A All-State Baseball Team by the N.C. Baseball Coaches Association. More ...
By Charles Alston, Graphic Correspondent
Post 58 displays sparkling stats
ROCKY MOUNT -- Nash County Post 58's American Legion baseball team is having one of its most successful seasons in years -- sporting a 14-4 overall record going into last week's break. More ...
By Charles Alston, Graphic Correspondent
Dickerson umpiring in Israel
Kenny Dickerson, who area high school sports fans may know as a fine volleyball, basketball and baseball official, is calling baseball games this summer.
No surprise there. But he's doing it far away from his native Nash County. Try the Middle East! More ...
By Charles Alston, Graphic Correspodent
Country Pride Showdown is July 19 at Nash Arts Center
Seven finalists from last year's first annual Nash County's Got Talent show will showcase their talents a second time at a special "Country Pride Showdown" at Nash Arts on Thursday, July 19.
The "Nashville Country Pride Showdown" will highlight just a few of Nash County's talent, with more set to perform later in the year at a Gospel event. More ...
By Amanda Clark, Graphic Staff Writer