Subscribe/Access
Advertisements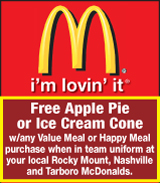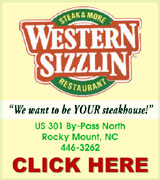 Sections
Member Options
Back
Sheriff's Department nabs eleven for drugs
The Nash County Sheriff's Department arrested 11 Nash County residents last Thursday after a seven-month undercover drug operation.
The Narcotics Division began the undercover campaign in October 2006. The operation targeted street level suppliers of crack cocaine, powder cocaine and marijuana. More ...
By Amanda Clark, Graphic Staff Writer - 5 opinions posted
Council studies town budget
NASHVILLE - Nashville's Town Council discussed the town's proposed $6.6 budget last week, making no major changes to what Town Manager Preston Mitchell had recommended. More ...
By Amanda Clark, Graphic Staff Writer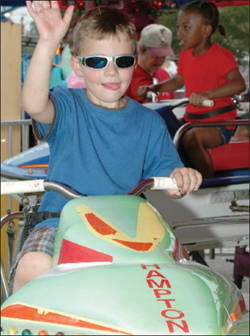 Five-year-old Logan Ricks of Nashville enjoys a ride on the jet skis at the Nashville Blooming Festival's carnival. (Graphic photo by Amanda Clark)

Annual festival draws thousands to Nashville
NASHVILLE - Despite the rain Saturday afternoon, the 11th Annual Blooming Festival was a success, festival organizers said.
From early counts, around 20,000 attended this year's event, with a huge turnout on Friday night.
"I think Friday night was wonderful," Crystal Hyman, Nashville Chamber President said. "We had a wonderful turnout."
The Breeze Band took the stage a little late on Friday night. Festival Co-Chair Cindy Puckett said the band had some car troubles but still made it out to Nashville's Festival. "They were worth the wait," Puckett added. More ...
By Amanda Clark, Graphic Staff Writer
Council studies town budget
NASHVILLE - Nashville's Town Council discussed the town's proposed $6.6 budget last week, making no major changes to what Town Manager Preston Mitchell had recommended. More ...
By Amanda Clark, Graphic Staff Writer
Spring Hope okays rec plan
SPRING HOPE - After much discussion, Spring Hope's Board unanimously approved adopting Nash County's Recreation Plan. The decision was contingent upon the board meeting with Recreation Director Sue Yerkes to work out some additional details of the plan. More ...
By Amanda Clark, Graphic Staff Writer
N-RMS named national Energy Star Leader
NASHVILLE—In order to implement an energy conservation program throughout the school system, the Nash-Rocky Mount Schools (N-RMS) Board of Education entered into a contract with Educon Energy Consulting in 2004. More ...
By Michele A. Cruz, Graphic Correspondent
Multi-car accident blocks traffic on Highway 58
A multi-car accident last Monday morning left commuters looking for a detour from Highway 58 outside of Nashville.
The four car accident left Highway 58 North, just past Taylor's Store Road, blocked off while the North Carolina Highway Patrol and Department of Transportation removed debris from the roadway. More ...
By Amanda Clark, Graphic Staff Writer
CTE students building for scholarships
Nash-Rocky Mount Schools Career and Technical Association students are busy at work demonstrating skills learned in class while at the same time raising money for scholarships for outstanding Career Technical Education (CTE) students. More ...

Fourth Heritage Day Banquet celebrated
The Rocky Mount/Kelly Bryant Chapter of the Shaw University Alumni Association was excited to "Celebrate our Colleges and Universities" at its fourth annual Heritage Day Banquet at the McCarter Center on April 13 at 7 pm. More ...

Church agrees to mediation with school board
ROCKY MOUNT — The Nash-Rocky Mount Schools (N-RMS) Board of Education indicated in their meeting last week that they are eager to move forward on beginning their new high school and would like Life United Pentecostal Church's (LUPC) to talk with them to finalize negotiations in the eminent domain process. More ...
By Michele A. Cruz, Graphic Correspondent
County committee elections set
Suzanne Murray, County Executive Director of the Nash County Farm Service Agency (FSA), would like to remind farmers that county committee elections will be held this fall for Local Administrative Area 2 which consists of Nashville, Mannings and Castalia townships. LAA 2 is currently represented by Kathryn A. Tyson. Mrs. Tyson will not be eligible for reelection since she has met her term limit. More ...

Melvin earns awards for two ad campaigns
ROCKY MOUNT—Joel Melvin, a Battleboro-based graphic designer, recently was honored with two prestigious awards in the Professional Ad Club East (PACE) Addy competition.
Melvin's design for last year's Cause and Concern campaign garnered two silver awards, as did his design for last year's Braswell Memorial Library campaign. "I am thrilled at the opportunity to win these honors for two exemplary clients!" said Melvin. More ...

Annual Turbo Turtle Trek is Saturday
The N.C. Department of Health and Human Services ranked North Carolina's northeastern region – Franklin, Nash and Wilson counties – as among the most obese and overweight in the state. In these counties, around 74 percent are overweight or obese. But the numbers don't stop there. In 2005, complications from overweight and obesity cost Nash County and the state more than $2 million, according to information from the North Carolina Department of Medical Assistance. More ...

Hughes named volunteer of the year during National Volunteer Week
Autumn Care of Nash celebrated National Volunteer Week on Thursday, April 19, 2007 with a reception honoring those dedicated individuals who give tirelessly of themselves. Twenty regular volunteers conduct worship services and bible study, in-room visitation, bring registered pet therapy dogs, assist in manicures, playing games, musical programs, and chaperone trips to local restaurants and malls. More ...

Sharpening up the ole' gardening skills
Things seemed to be going great.
Sure, it was hot and the work was dirty. I was sweating, even struggling a bit, but things seemed to be going well. I even had my two assistants — ages 7 and 2 — running like a well-oiled machine. Okay, maybe a well-oiled but easily distracted team, but still ... More ...
Mike Brantley
Festival remains community oriented and safe for visitors
It's nice to have the opportunity to come out to a festival and not worry about anything, except for maybe running out of money.
This year's Blooming Festival was excellent. The event has stayed family and community oriented over the years. More importantly, it's stayed safe. It's hard to find those two things at festivals nowadays. More ...
Amanda Clark - 1 opinion posted
Local man warns sinful nation
"Warning to a Sinful Nation"
The USA is fast becoming a pagan nation.
My name is Earl Cary. I am a member of the Beulah Church of Christ. I am the teacher of the adult Sunday school class, and also a deacon of the church. I am a God-fearing, baptized believer in Jesus Christ; I am a born-again Christian. More ...
Letter to the Editor:
NN In Extras
STANHOPE -- Once again, the outcome of a game in the tightly contested Northern Nash-Wilson Fike softball rivalry came down to a fly ball to right field.
But this time, unlike the earlier-season meeting in Red Oak, the flight of the ball ended up in Northern Nash's favor and helped the Lady Knights claim the NEW-6 Tournament Championship. More ...
By Geoff Neville, Graphic Sportswriter
Playoffs begin in baseball
RED OAK -- After last season's performance and then an 0-2 start to the 2007 playoff season, NEW 6 Conference members Northern Nash and Southern Nash were determined not to see their postseason campaigns end on one game -- and they didn't. More ...
By Charles Alston, Graphic Correspondent
Nash County stars sparkle at state 3-A meet
GREENSBORO -- Laura Langley picked the perfect time to perform the best jump of her career at Southern Nash.
With a state championship at stake.
Langley cleared a personal-best 5-8 in the high jump to grab first-place honors at last Saturday's Class 3-A State Track and Field Meet on the campus of North Carolina A&T University. More ...
From Staff Reports
Carolina Mudcats defeated by Huntsville
ZEBULON -- The Huntsville Stars utilized a big inning for the second straight game, and disposed of the Carolina Mudcats once again 10-2 on Sunday afternoon at Five County Stadium in a Class AA Southern League baseball matchup. More ...
From Staff Reports
WILLIAM HENRY (BILL) SHIRLEY JR.
NASHVILLE - William Henry (Bill) Shirley Jr. Age 73 died Friday May 11, 2007. Mr. Shirley was born December 7, 1933 in Edgecombe Co. to the late William Henry Sr. and Molly Joyner Shirley. More ...

LIZZIE MAE GRIFFIN
Lizzie Mae Griffin, 97, passed away, Sunday, May 13, 2007. She was born July 30, 1909 in Nash County. She was the daughter of the late John William and Mary Ann Jones Griffin. More ...

SHERRON MANNING
Sherron Manning, 52, passed away, Sunday, May 13, 2007. She was born December 18, 1954 in Durham County. She was the daughter of the late Odie and Alpha Moore Manning. She was preceded in death by a brother, Arthur "Benny" Manning. More ...

JUDITH ADAMS FORSYTH
Judie Forsyth, born in Rocky Mount on August 28, 1939, passed away peacefully at her home in Solana Beach, CA on April 9, 2007, after a 10 month battle with Acute Leukemia. Judie, daughter of Mr. and Mrs. A.B. Adams, is survived by her husband, Tuck; daughter, Betsy and son, Hunter. Also, by her sister Libby Watkins and her brothers Bobby and James Adams. More ...

SARAH R. WHICHARD
Sarah Richardson Whichard 82, of Rocky Mount, passed away May 4, 2007 at her home with her daughter Sandra Ashby Byers of Kitty Hawk, North Carolina by her side. Though this beloved mother had made her home on the Outer Banks for the 3 years, her heart remained in Rocky Mount, North Carolina where she lived most of her life. More ...

CHANNING HILLIARD FRIES, JR.
Nashville- Channing Hilliard Fries, Jr. Age 92 died Saturday May 12, 2007. C.H. was born in Rowan County on December 20, 1914 to Mittie and C.H. Fries, Sr. He was a graduate of Catawba College and received his MEd. from East Carolina Teacher's College. More ...