Subscribe/Access
Advertisements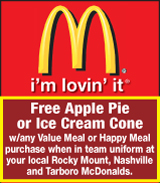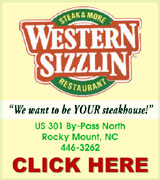 Sections
Member Options
Back
Etheridge visits with area leaders and canine trainer
Congressman Bob Etheridge held a tiny vial of soybean oil and told local leaders that the contents would be the key to solving the high gas prices in America.

"This is now cheaper than diesel fuel," Etheridge said. "I think it's a way to reinvigorate rural America." More ...
By Amanda Clark, Graphic Staff Writer
Nashville man fights for his dream
Travis Bobbitt doesn't care about being a household name. He isn't concerned with fame. However, he is concerned with living life to the fullest and at least attempting to fulfill his dream of becoming a professional boxer. More ...
By Amanda Clark, Graphic Staff Writer
Ethanol plant to open in Nash
An ethanol plant is eyeing an old masonite facility close to Spring Hope and hopes to start moving in soon after obtaining a special use permit from the county. More ...
By Amanda Clark, Graphic Staff Writer
Faith Christian Ministries celebrates anniversary
It was December 1982 when Nashville resident Faye Gardner had a vision to provide clothing and food to needy families. She was managing a store for a friend and had been praying for six months to find her calling. She was at work when that calling came. More ...
By Amanda Clark, Graphic Staff Writer - 1 opinion posted
JAKES field day is Sept. 23
The Tar River chapter of the National Wild Turkey Federation will be hosting a JAKES field day event on Saturday, Sept. 23 at Rose Hill Plantation just north of Nashville on Highway 58. Registration begins at 8 a.m. with the event ending at 1 p.m. Registration is free for all children. More ...

RM Children's Museum awarded grant
ROCKY MOUNT – The Rocky Mount Children's Museum and Science Center has been awarded a $147,150 grant from the federal Institute of Museum and Library Services. The grant will be used to complete the exhibits in the museum's live animal gallery. More ...
From Staff Reports
Habitat plans annual spelling bee
The Nashville Area Habitat for Humanity is planning the 5th Annual Spelling Bee and Silent Auction fundraiser for Oct. 19 at the Nashville United Methodist Church. More ...

Spaulding Alumni to celebrate 32nd reunion
The C.C. Spaulding Alumni Association Inc. of Spring Hope will celebrate its 32nd annual reunion Labor Day weekend. The association has selected Edward E. Hodge to be the speaker for the banquet being held at the O.D. Moose Building in Nashville on Sept. 2 at 5 p.m. More ...

Take out tipping? What about the preacher?
I took it as a sign that I was either getting older or more out of touch, or both.

I had called in a take out order to a restaurant in Rocky Mount — a chain which has locations in Wilson, and most towns with a population of 50,000 or more — and drove right over to get it. More ...
Mike Brantley - 2 opinions posted
We really need common sense leadership
Congressman Bob Etheridge recently visited Nashville, sharing his opinions with local leaders about topics such as the need for alternative fuels and more funding for schools along with more attention to the No Child Left Behind program. More ...
Jo Anne Cooper
Backyard Rivalry
STANHOPE - Southern Nash began the 2005 football season with a huge statement, soaring to a home shutout victory over a tradition-rich Bunn program.

SN coach Brian Foster knows it probably won't be as easy this time around as the Firebirds will kick off this season's campaign with a road trip to BHS this Friday at 7:30 p.m. More ...
By Geoff Neville, Graphic Sportswriter
Bulldogs run past the Vikes
TARBORO -- Given the ball-control nature of his team's offense, Nash Central football coach Kenneth Grantham couldn't have been more pleased with how the Bulldogs opened their 2006 season last Friday at Tarboro. More ...
From Staff Reports - 1 opinion posted
Slow Start For NC
BUNN -- After three weeks on intense preseason work, it took only 15 seconds for Nash Central High's boys soccer season to get off to an unenviable start.

Bunn's Joey Batkoski scored almost immediately after the opening kick, and Central was never able to lead en route to suffering a 5-3 setback at BHS in the first contest of the 2006 campaign for both teams. More ...
By Geoff Neville, Graphic Sportswriter
Northern set for XC campaign
RED OAK -- Northern Nash's tradition-rich cross country program kicked off its 2006 season Monday as part of a four-school event at Wilson Hunt. More ...
From Staff Reports
Mudcats rally for key home SL conquest
ZEBULON -- A bunt single was the only hit Carolina needed during a five-run seventh inning as the Mudcats returned home to defeat first-place Tennessee 9-5 on Sunday afternoon before 5,386 fans at Five County Stadium in a Class AA Southern League matchup. More ...
From Staff Reports
Nash moves on in Worlds
WILSON -- Nash County has rebounded from an opening loss in pool play to qualify for the quarterfinals of the Babe Ruth 14-year-old World Series being held at historic Fleming Stadium. More ...
By Charles Alston, Graphic Correspondent
LOUIS PERSHING BELL
Rocky Mount - Louis Pershing Bell, 88, passed away Wednesday, August 16, 2006. He was born on April 2, 1918 in Nash County son of the late C. E. and Minnie Edwards Bell. More ...