Subscribe/Access
Advertisements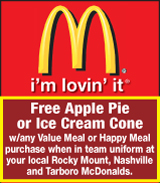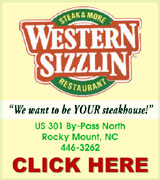 Sections
Member Options
Back
Town okays yard sale limit
Amendments to Nashville's Zoning and Subdivision Regulations will prohibit excessive yard sales in town after the board voted to approve the amendments during their meeting last Tuesday night. More ...
By Amanda Clark, Graphic Staff Writer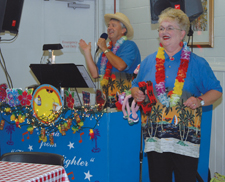 Graphic photo by Amanda Clark

VOLUNTEER APPRECIATION
Joe and Judy Strickland, of The Lamplighter, a ministry from Knightdale, perform during a special volunteer appreciation cookout at The NASH Thursday night. More ...

Two horses killed on Hwy. 64 at Nashville
Three horses have been struck by motorists in Nash County since Friday night.

Two horses were killed after they wandered into the eastbound lane of Highway 64 Friday night. More ...
By Amanda Clark, Graphic Staff Writer
YOUNG FARMERS
The North Carolina Young Farmers and Ranchers helped students at Southern Nash High School as part of their 2006 service project. About 24 members came out to help build a livestock fence after going to the Farmer's Market and touring Universal Leaf. More ...

Joyner is named to Food Industry Council
RALEIGH – Cliff Joyner, president of Joyner's Supermarket in Nashville, has been elected to the board of directors for the Carolinas Food Industry Council (CFIC). The formal announcement was made during the CFIC annual convention held July 27-30 at the Kingston Plantation in Myrtle Beach, S.C. More ...

Nash accepts Cost Share applications
The Nash Soil and Water Conservation District Office is accepting applications for fiscal year 2007 for the North Carolina Agriculture Cost Share Program. Applications will be ranked in priority to be funded based on such criteria as soil erosion, livestock management, animal waste/mortality and wildlife habitat. More ...

Nash-Rocky Mount Open House Schedule
Bailey Elementary Thursday, August 24 as follows: 4:30 p.m. - Pre-K; 5:00 p.m. - First Grade; 5:20 p.m. - Second Grade; 5:40 p.m. - Third Grade; 6:00 p.m. - Fourth Grade - 6:20 p.m. - Fifth Grade More ...

It's time for the speaker to be removed
The speaker and Rep. Decker have lost their moral compass. Is the General Assembly for sale to the highest bidder? I do not believe this is so, but this is the appearance. More ...
Letters to the Editor:
DOGS ARE OUT
RALEIGH - From a final-audition standpoint, Kenneth Grantham was thrilled with his club's performance at last Friday night's Wakefield Jamboree.

But Grantham, Nash Central's veteran head coach, knows the a strong scrimmage effort doesn't necessarily translate into regular-season success. More ...
By Geoff Neville, Graphic Sportswriter
Hopes are large for Southern
STANHOPE -- While many teams are getting ready for their football regular season openers this week, Southern Nash is preparing for a scrimmage Thursday night against Louisburg. More ...
By Geoff Neville, Graphic Sportswriter
RM picked 1st in NEW-6 race
PINETOPS - The Rocky Mount Gryphons get to wear the bullseye for a second straight prep football season. More ...
By Charles Alston, Graphic Correspondent
Brittany tourney finalized
WILSON -- Pairings have been finalized for Brittany For The Boys II Soccer Tournament, scheduled for Aug. 25-26 at the J. Burt Gillette Athletic Complex in Wilson County. More ...
From Staff Reports
Stars head to World Series
ROCKY MOUNT - There's no long trip to Boston lying in wait for Nash County's 14-year-old Babe Ruth team this year.

For second time in three years, Nash County has only a 20-mile trek to Wilson to battle for a national title. More ...
By Charles Alston, Graphic Correspondent
Greenville wins regionals
ROCKY MOUNT -- Matt Steele is one baseball player who was Nash County's loss and Greenville's gain. For its 15-year-old first baseman, it was a homecoming last week and he made the most of it. More ...
By Charles Alston, Graphic Correspondent
LOIS SYKES CHAPPELL
NASHVILLE - Lois Sykes Chappell, 90, of the Corinth Community of Nashville died on August 12, 2006. She was born to Queenie May King Sykes and Thomas Wilson Sykes on May 26, 1916. More ...

RICHARD STUART DICKENS
ROCKY MOUNT- Richard Stuart Dickens, 60, passed away Friday, August 11, 2006. He was born March 14, 1946 in Nash County, son of Richard "JR" Randolph and Doris Guy Dickens. More ...

HERMAN BRADLEY
ROCKY MOUNT – Herman Ashley Bradley, 89, died on Thursday, Aug. 10, 2006. A graveside service was held Aug. 12 at Pineview Cemetery with the Rev. Chet Rains officiating. More ...