Subscribe/Access
Advertisements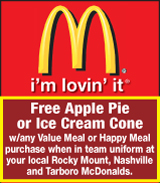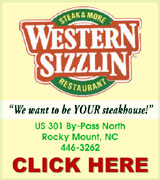 Sections
Member Options
Back
Council approves superstore site plan
Nashville's Planning Board unanimously approved site plans submitted on behalf of Wal-Mart during their meeting last Wednesday night, but not before making some minor recommendations. The town council also approved the site plan during their meeting Tuesday night. More ...
By Amanda Clark, Graphic Staff Writer
Town sidewalks to get repairs
A sidewalk report by Stocks Engineering led Nashville's Board to appropriate $70,000 to tackle severely damaged sidewalks and make them more handicapped accessible. More ...
By Amanda Clark, Graphic Staff Writer
Cameras now on school buses
In order to improve school bus conditions and encourage proper student behavior, all 29 schools in the Nash-Rocky Mount system now have at least one camera that can be used to help drivers and to record activity on any bus that needs monitoring. More ...
By Michele A. Cruz, Graphic Correspondent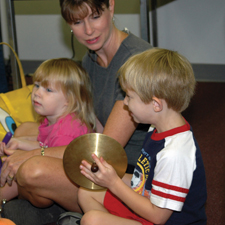 Graphic photo by Amanda Clark

JAMBOREE AT COOLEY LIBRARY
Jacob Harrison plays the cymbals during a special music lesson at Cooley Library on Monday. Pictured with Jacob are sister, Grace and mom, Jenny. More ...

Castalia makes switch to Time Warner Cable
After an hour-long discussion in closed session on Tuesday, August 1, Castalia commissioners emerged to unanimously approve a resolution to transfer the town's cable franchise to Time Warner Cable, effective immediately. More ...
By Amelia Harper, Graphic Correspondent
Flora is new District Governor for Lion's Club
Mike Flora, of Rocky Mount, a member of the Rocky Mount Lion's Club, was recently elected as the District Governor of Lion's Club International for the District of 31-J in North Carolina. Flora was officially installed at the 89th Lion's Club International Convention, which was held in Boston, Massachusetts June 30 through July 4, 2006. His term will run from July 2006 through July 2007. More ...

NCC offers study abroad
This summer Nash Community College (NCC) initiated its first study abroad program. NCC English faculty member Kris Hoffler took 10 of his English 241 (a British literature course) students to Great Britain for seven days. "The trip was an extension of the normal class work," said Hoffler. More ...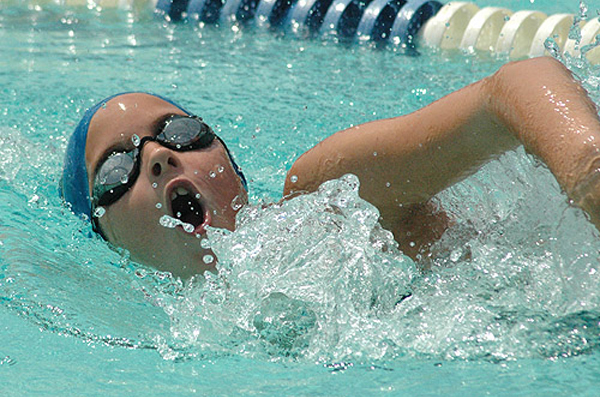 FREESTYLE FEVER. Neill Bunn competes in the freestyle during last Saturday's Nash-Rocky Mount Swim League Championships in Roanoke Rapids. (Graphic photo by Geoff Neville)

Nash Rec Wins Again!
ROANOKE RAPIDS - Rack up another Nash-Rocky Mount Swim League championship for one of the area's most consistent pool programs.
Nash Rec continued its recent N-RMSL dominance by adding another trophy for its already-packed case last Saturday at the Roanoke Rapids Aquatic Center. More ...
By Geoff Neville, Graphic Sportswriter
Carolina Mudcats locate SL hot streak
ZEBULON -- Brett Carroll delivered a two-run double in the midst of five-run seventh inning as Carolina defeated West Tenn 6-3 at Five County Stadium in a Class AA Southern League baseball contest on Sunday afternoon. More ...
From Staff Reports
Nash County goes 1-2 at the regionals
ROCKY MOUNT -- After a rough start, Nash County's baseball team finally got on the winning track Monday night during the 15-year-old Babe Ruth Southeast Regionals at Stith-Talbert Park. More ...
By Charles Alston, Graphic Correspondent
HERBERT "SMITTY" GLENWOOD SMITH
ROCKY MOUNT –Herbert "Smitty" Glenwood Smith, 81, died Thursday, August 3, 2006. He was born December 4, 1924 in Nash County, the son of the late Herbert A. Smith and Annie Woodruff Smith. More ...

MARY ARRINGTON
NASHVILLE – Mary Ruth Arrington, 73, died Tuesday, Aug. 2, 2006. Funeral services were held Monday, Aug. 7 at 2:30 p.m. at the Castalia Baptist Church with the Rev. Joseph Alexander officiating. Burial will follow in Oakland Cemetery. More ...

MARY SYLVIA DELBRDIGE
WILSON -Mary Sylvia Delbridge, 69, died Tuesday, August 1, 2006. She was born in Nash County, June 19, 1937, daughter of the late John EdDelbridge and Mattie Helen Drake Delbridge. More ...