Subscribe/Access
Advertisements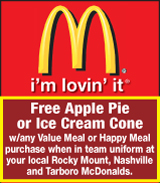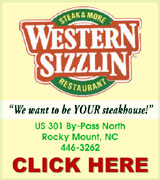 Sections
Member Options
Back
Town moving forward with library plans
Nashville's Board approved revamped designs for the public building project during their regular meeting Tuesday night, but took out the town hall project in order to reduce the cost. More ...
By Amanda Clark, Graphic Staff Writer
Harris works to clear his name for 1984 crime
All Jimmy Harris wants to do is tell his story.

An inmate in the Wake Correctional Institute for 22 years now, Harris, 45, was convicted of first degree murder and attempted armed robbery in the shooting death of Jackie McCluster. Harris maintains his innocence of the crime and wants to be exonerated. He will be released from prison in October. More ...
By Amanda Clark, Graphic Staff Writer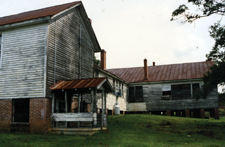 Pictured above is the Castalia Rosenwald School prior to renovations.

Local group restores Rosenwald School
A local organization is working to restore a piece of history in Castalia with the hopes of making it a place for community residents to come and take part in educational and recreational programs. More ...
By Amanda Clark, Graphic Staff Writer
N-RMS reading scores reveal 76% proficiency
Preliminary results of Nash-Rocky Mount Schools' (N-RMS) yearly testing show a 76% student proficiency in reading. For the 2005-6 school year, 22 of 29 N-RMS schools met 100% of their goals in reading to reach their Annual Yearly Progress (AYP), toward the ultimate goal of 100% student proficiency by 2013-14. Math and overall growth results will be available in October. In 2004-5, the previous school year, 17 of N-RMS' 29 schools met AYP. More ...
By Michele A. Cruz, Graphic Correspondent
Enhancement program wraps up for summer
Nash County youth are receiving an extra four weeks of instruction as the Migrant Summer Enhancement Program is wrapping up at Middlesex Elementary School. More ...
By Amanda Clark, Graphic Staff Writer
Tilley helps Dunn Center purchase defibrillator
Wood Tilley, seventeen year old resident of Rocky Mount, sold Krispy Kreme donuts, by the dozen, to purchase a Heart Defibrillator for the Dunn Center for the Performing Arts located on the campus of NC Wesleyan College in Rocky Mount. More ...

AREA SCHOOL NEWS
Barton College has named its Lifelong Education and Extended Programs Dean's List for Nash County for the 2005-2006 academic year. More ...

Registration laws to become tougher for sex offenders
A new bill was approved recently by the senate and house that is designed to enable law enforcement to keep a closer eye on sex offenders and stiffens penalties on those who do not register with the state's sex offender registry. More ...
Jo Anne Cooper
The Dawg Days
ROCKY MOUNT -- Nash Central High can thank goodness for the inevitable cycle that accompanies high school football.

Last year, NC head coach Kenneth Grantham spent the better portion of the preseason worrying about who his starting quarterback would be. More ...
By Geoff Neville, Graphic Sportswriter
Nash set to host tourney
ROCKY MOUNT -- For those expecting to see a reincarnated Nash County 14-year-old Babe Ruth baseball squad from last summer playing in this week's 15-year-old Southeast Regionals at Stith-Talbert Park, that won't happen. More ...
By Charles Alston, Graphic Correspondent
Lookouts win thriller to claim second crown
PANAMA BEACH, FLA. -- The Carolina Lookouts 18u fastpitch softball team, based out of Eastern North Carolina, has made history by being the first team to win the United States Fastpitch Association World Series two years in a row on July 14. More ...
From Staff Reports
Team qualifies for nationals
GREENVILLE -- For the fourth time since 2004, a Nash County Babe Ruth All-Star team has earned a bid to the Babe Ruth World Series. More ...
From Staff Reports
JAMES APPLEWHITE
NASHVILLE – James F. Applewhite, 71, died Monday, July 24, 2006. Funeral services will be held Saturday, July 29, at 2 p.m. at Mt. Vernon Baptist Church with the Rev. Ricky Daughtridge officiating. Burial will follow in the Oakland Cemetery. More ...

RICHARD JENKINS
ROCKY MOUNT – Richard Atticus Jenkins, 58, died Wednesday, July 26, 2006. Funeral services were held at 2 p.m. on Friday, July 28, at Proctors Chapel with the Rev. John Woods officiating. Burial followed at Rocky Mount Memorial Park. More ...

BARBARA BOONE EARLY
ROCKY MOUNT- Barbara Boone Early, 72, died Thursday, July 27, 2006. She was born May 3, 1934 in Nash County, daughter of Ted M. Boone and Beulah Johnson Boone. Mrs. Early was preceded in death by her father; and husband Louis Bailey Early. More ...