Subscribe/Access
Advertisements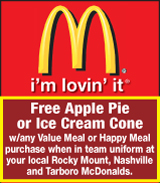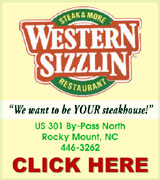 Sections
Member Options
Back
New CAD system to enhance Nash 9-1-1
Nash County's Emergency Medical Services recently received new equipment that will aid in the services they provide to 9-1-1 callers and those behind the wheel of emergency vehicles. More ...
By Amanda Clark, Graphic Staff Writer
Local teen is arrested for setting fire
An 18-year-old Nashville resident was arrested and charged with three counts of attempted first degree murder after allegedly setting fire to the porch of a home on S. Boddie Street. More ...
By Amanda Clark, Graphic Staff Writer - 1 opinion posted
Lowdermilk receives Mildred Hinton Arts Award
Members at Nash Arts recently held the annual Founders Day Celebration at the center in downtown Nashville, honoring those who made it possible for the arts center to be in existence today. More ...
By Jo Anne Cooper, Graphic Publisher
Sheriff receives Harley's
The Nash County Sheriff's Office recently received keys to two 2006 Harley Davidson motorcycles, completely outfitted with a law enforcement package. More ...
By Amanda Clark, Graphic Staff Writer
DERRS volunteers honored at dinner
Down East Radio Reading Service held its third annual Appreciation Dinner recently, honoring volunteers with a potluck supper, entertainment, framed certificates of appreciation and specially designed coffee mugs bearing the DERRS logo. More ...

Reverse raffle winners announced
The Nashville Fire Department reverse raffle was considered a success this year and already, organizers are gearing up for next year's event, according to auxiliary treasurer Stanley Edwards. "We had excellent turnout," he said. More ...
By Amanda Clark, Graphic Staff Writer
Nash FSA seeks candidates
The Nash County Farm Service Agency (FSA) is looking for candidates for the farmer-elected County Committee election to be held this fall. More ...

Mildred Hinton is most deserving of recent honor
The recent decision of Nash Arts' board of directors to change the name of the annual volunteer of the year award to the Mildred Hinton Arts Award was a wonderful idea. (See story on front page of today's Graphic.) More ...
Jo Anne Cooper
Long Way Home
Forget about going over the river and through the woods to get to grandmother's house. That's a walk across the street compared to the commute Alton Tyre has made for the past four years. More ...
By Geoff Neville, Graphic Sportswriter
Nash Rec ready for tourneys
Nash Rec's All-Star baseball teams are prepared for their annual journey for the Cal Ripken District 5 Tournaments. More ...
By Geoff Neville, Graphic Sportswriter
Mother Nature rears her head
Just when Nash County Post 58's American Legion baseball team got a pick-me-up with a much-needed road victory, Mother Nature had to ruin things. More ...
By Charles Alston, Graphic Correspondent
Regionals coming to the area
The City of Rocky Mount Parks & Recreation Department and the Nash County Babe Ruth Baseball League have been awarded the 2006 Babe Ruth Southeast Regional Baseball Tournament (15U). More ...
Sports Shorts
Changes abundant on Nash gridiron
RED OAK - For the third straight year, there won't be any changes among the varsity head football coaches in Nash County. But the same can't be said about their assistants. More ...
By Charles Alston, Graphic Correspondent
LUCILLE WOMBLE
NASHVILLE – Lucille Moore Womble, 96, died Monday, June 26, 2006. She was born in Nash County on March 25, 1910, the daughter of the late Ambrose and Effie Crocker Moore. She was preceded in death by her husband, Curtis Bisco Womble, and a grandson, Van Curtis Joyner. More ...