Subscribe/Access
Advertisements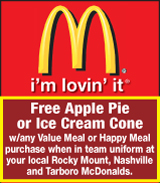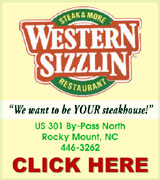 Sections
Member Options
Back
Castalia appoints new commissioner
Castalia town commissioners recently appointed Castalia newcomer Eva Rice to the town council seat made vacant by the death of former commissioner Margaret Patterson. The move came at the regular town meeting held on June 6, 2006. More ...
By Amelia Harper, Graphic Corresondent
Local police reap funds
Three Nash County Police Departments have received federal funding from the Governor's Crime Commission, totaling $15,215. Nashville's Police Department received $8,798, Spring Hope's Police Department received $3,555 and Whitakers Police Department received $2,862. More ...
By Amanda Clark, Graphic Staff Writer
Spring Hope okays budget
Spring Hope's 2006-2007 budget was approved Monday night but not before the board voted to add additional funds to the Revitalization Committee's pot. More ...
By Amanda Clark, Graphic Staff Writer
NFD takes part in Stand Down
Nashville's Fire Department will participate in the International Fire Fighter Safety Stand Down on Wednesday, June 21 at the Nashville Fire and Police Complex. More ...
NEWS BRIEF
Retired teacher's historic memoir is published
In celebration of the recently published historic memoir, "My Time of Teaching in Nash County", author Vera H. Mann will hold a reading and signing at the Nash Arts Center in Nashville on Thursday, June 29, at 7 p.m. She plans to read a brief excerpt from the book, field audience questions, and then sign books for interested patrons. The event is free and open to the public. More ...
By Michele A. Cruz, Graphic Correspondent
Graduation night clichés - let's get realistic
Sometimes, you can learn things at the places you least expect it. Last week, I went to a high school graduation in Pamlico County. For the most part, I had thought mostly about slugging it down there and back after a long week at work. More ...
Mike Brantley
County leaders need to investigate before making budget decisions
When will it stop? The Fab 4, Mayo, Belfield, Richardson, Alford just did it to us again. There has never been a tax increase that King Claude didn't love. The problem with our Fab 4 is that they believe everything the county manager tells them. If he were to say, "We need to dig up the center line of I-64," they would vote to start digging. More ...
Letter to the Editor:
The government could find better uses for grant money than a sports complex
Well, here is more exciting news from the metropolis of Red Oak. I am bursting with new found joy about our "desperately needed" sports complex. Both phases can be a reality now, isn't that wonderful? Around twenty acres of trees and wildlife habitat will be destroyed due to this extremely wasteful use of our monetary resources. More ...
Letter to the Editor: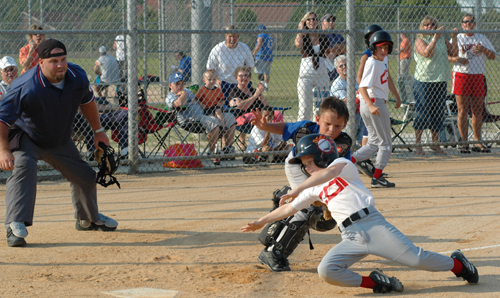 Calvin Davenport's Matthew Askew tries to score during his team's game against Progressive Rehab at last week's Nash Rec Minor League Baseball Tournament at Glover Park. (Graphic photo by Jo Anne Cooper)

Minor Accomplishment
NASHVILLE -- Read all about it -- The Nashville Graphic team has won the Nash Rec Minor League (9-10) Baseball Tournament Championship. More ...
From Staff Reports
Rocky Mount star signs with Catawba
SALISBURY -- Rocky Mount's Jemonte Battle went there in 2000 and did pretty well in football (second-team Div II All-America). So did Jolly Manning in basketball in 2002 (three-year starter). More ...
By Charles Alston, Graphic Correspondent
ESTELLE BOWDEN EDMONDSON
ROCKY MOUNT - Estelle Bowden Edmondson, 95, died on Wednesday, June 7, 2006. She was born in Wayne County, on August, 7, 1910, to the late Estelle Dawson and B.J. Bowden. More ...

ANNETTE BRANTLEY COPPEDGE
NASHVILLE – Annette Brantley Coppedge, 60, died Saturday, June 10, 2006. She was born April 23,1946 in Nash County to Clarence and Hettie Belle Brantley. She was preceded in death by her father. More ...

BONNIE EDWARDS BAKER
SANDY CROSS – Bonnie Edwards Baker, 86, of the Sandy Cross Community, died Friday, June 9, 2006. She was born April 17, 1920 in Nash County, the daughter of the late Dalma Edwards and Bessie Edwards Edwards. More ...

MAGGIE (DELILAH) ROBINSON
DORTCHES – Maggie (Delilah) Robinson, 69, died Sunday, June 11, 2006. She was born July 29, 1936 in Nash County, the daughter of the late John Eddie Brown and Tempie Lou Joyner Brown. More ...

LONNIE MOORE HEDGEPETH, JR.
ROCKY MOUNT – Lonnie Moore Hedgepeth Jr., 88, died Friday, June 9, 2006. He was born May 19, 1918 in Nash County, son of the late Lonnie Moore Sr. and Grace Ida Meadows Hedgepeth. More ...

DAVID ASHLEY WEEKS
RED OAK - David Ashley Weeks, died at Nash General Hospital on June 6, 2006. Ashely was the son of Clara Bryan Weeks and the late James W. Weeks of Red Oak, North Carolina. More ...

BARBARA CECILE BONE BIGGS
Barbara Cecile Bone Biggs, a longtime piano teacher and choir director who introduced countless young pupils to the joys of music, died Thursday at her home at Rocky Mount. She was 75. More ...