Subscribe/Access
Advertisements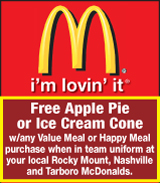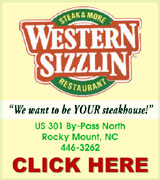 Sections
Member Options
Back
Town sewer rates to rise
Rocky Mount's Board recently approved a five percent sewer increase, which will in turn affect the Town of Nashville's rate. More ...
By Amanda Clark, Graphic Staff Writer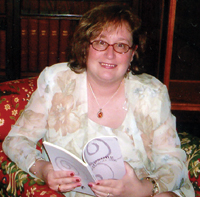 Dawn Wilson of Nashville is honored by the N.C. Poetry Society for her poetry published in "Pinesong 2006." She is former writer for The Nashville Graphic.

N.C. Poetry Society honors local author
Nashville writer Dawn Wilson was honored by the North Carolina Poetry Society April 29 for award-winning poetry published in "Pinesong 2006." She was invited to read her poem, "Learning English in Four-Letter Words" during the award presentation at the Weymouth Center for the Arts and Humanities in Southern Pines. More ...

Town of Nashville public hearing is Thursday night
Nashville's Town Council will hold a public hearing on Thursday, May 25 at 6 p.m. to receive public comments on whether or not the town should accept appropriation of funds from the USDA. The meeting will be held in council chambers at 501 S. Barnes Street. More ...

Local man faces federal charges
A Nashville man was arrested and indicted on four counts of willful failure to file tax returns, supply information or pay taxes. More ...
By Amanda Clark, Graphic Staff Writer
NRMS enters lease with Dell
The board approved a 49-month lease with Dell Financial Services for 975 instructional computers. With this in place, all schools will have the exact same systems available for use by students and teachers. The cost will be covered by the regular budget for the N-RMS technology department. More ...
By Michele A. Cruz, Graphic Correspondent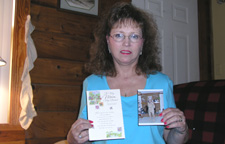 Elaine Swanson shows her Mother's Day card from her daughter Sherry who left for Iraq May 12.

Local woman begins tour of duty
A typical Mother's Day celebration for Rocky Mount resident Elaine Swanson involves going out to a nice restaurant with her two children, Sherry and Bobby Layton. But this year, Swanson had to give up that celebration as she said goodbye to Sherry, the younger of the two on Friday, May 12 for the 31-year-old's first tour of duty in Iraq. More ...
By Amanda Clark, Graphic Staff Writer
Training to be held for meat goat producers is May 30 in Louisburg
Area meat goat producers will have an opportunity to learn about Quality Assurance Tuesday, May 30, 2006. Training will be held from 5-9 p.m. at the N.C. Cooperative Extension Annex room in Louisburg. Topics discussed will be The USDA Goat Grading Standard, Drug Withdrawals, Proper Injections Techniques, and the certification process to become a N.C. Certified Meat Goat Producer. More ...

Farm Service seeks candidates for fall county committee election
The Nash County Farm Service Agency (FSA) is looking for candidates for the farmer-elected County Committee election to be held this fall. Committee members are a critical component of the day-to-day operations of FSA. Farmers who serve on the committee help decide the kind of programs their counties will have and how they will be administered. The County Committee is an important part of the service delivery of the USDA. More ...

Local teens receive Teaching Fellows
Several Nash County teens were recognized for receiving NC Teaching Fellows Awards during the School of Education's regular board meeting in May. More ...
By Amanda Clark, Graphic Staff Writer
Red Oak Elementary hosts science day
Red Oak Elementary hosted its 14th annual Science Day on May 29. This is an all day enrichment event for students in grades K-5. Students rotate through learning stations in the morning and then enjoy a large assembly presentation in the afternoon. This event would not be possible without the support of community volunteers in all areas of science. Science Day presented a wonderful variety of science related jobs, hobbies and lessons. More ...

Council's attitude towards library is wrong
One has to wonder: when was the last time a member of the Nashville Town Council used a library card. Indeed – let the members who even own one stand up and be counted at the next town meeting. More ...
Letters to the Editor:
Councilman's comments were out of line
As I was reading the article this past week in The Graphic concerning career development for town employees, I was struck by a comment from town councilman Donald Street. He was quoted as saying, "when we get down to career development, people like trash collectors, what are we going to build with that? I can see safety issues, health issues. I can see all that." More ...
Letter to the Editor: - 1 opinion posted
Don't let legislation deprive us of cancer screenings and treatments that save lives
I am extremely disappointed that Senators Burr and Dole chose to support federal insurance legislation that was fatally flawed and not in the best interest of North Carolina Residents. Senators Burr and Dole chose to support legislation that could have threatened guaranteed coverage for and access to cancer screenings and treatments for millions of Americans. Fortunately, other Senators disagreed and stopped the bill in its tracks. More ...
Letter to the Editor: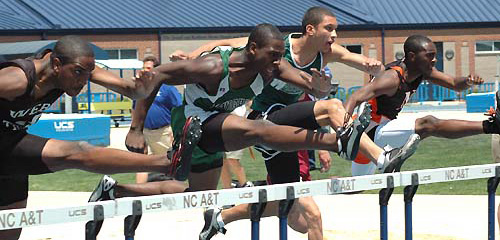 Northern Nash's Donta Dancy (second from left) takes on some tough competition during a preliminary race of the Boys 110 Hurdles competition at last Friday's Class 3-A State Track and Field Meet in Greensboro. (Graphic photo by Geoff Neville)

Title Time For Knights
GREENSBORO - Northern Nash's boys track and field team has been so dominant this season that the Knights haven't even needed to pay attention to overall team standings. More ...
By Geoff Neville, Graphic Sportswriter
Nash clubs defeated in postseason
BARCO -- Just when the NEW 6 3-A Conference was getting a little praise for getting four baseball teams into the playoffs, its members ran up goose eggs in the win column when they actually hit field last Tuesday on the opening night of the N.C High School Athletic Association's second season. More ...
By Charles Alston, Graphic Correspondent
Legion squad to open Saturday
ROCKY MOUNT -- The operative word for the 2006 edition of the Coleman-Pitt American Legion Post 58 baseball team is "new." More ...
By Charles Alston, Graphic Correspondent
Northern schedules BB camp
RED OAK -- Northern Nash High basketball coach Grover Battle will host the annual NNHS Girls Hoops Camp from June 12-15 at the NN Gymnasium in Red Oak. More ...
Sports Shorts
LARRY M. DICKENS
Larry M. Dickens, 55, died Monday, May 8, 2006, at his home in Oak Ridge, Tennessee. He was born on March 21, 1951, in Oak Ridge to the late Milton M. Dickens and Peggy O'Neil Stuart of Oak Ridge. More ...