Subscribe/Access
Advertisements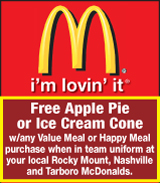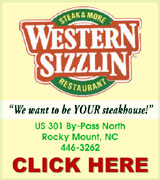 Sections
Member Options
Back
Nashville town hall will relocate
Nashville's Town Council held an emergency meeting Tuesday to notify the public that the $2.3 million had been appropriated by the USDA for a new town hall and library complex. Though not finalized, the project will have the town hall moving into Joyner's Grocery and the library locating in Nashville Plaza. The current town hall will become Nashville Police headquarters and the current police station will make room for the fire department to expand. More ...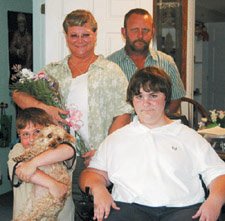 (Graphic photo by Jo Anne Cooper)

Mother of the Year awarded
The Nashville Chamber of Commerce holds an annual contest through the Blooming Festival for Nashville's Mother of the Year. The public can cast votes for 50 cents each to nominate candidates for the title. More ...

Medicaid costs expected to rise
Nash County Manager Bob Murphy expressed his concern over high Medicaid expenses to area legislators during a special meeting at Benvenue Country Club in Rocky Mount last week. Medicaid will cost the county close to $5 million in 2006, Murphy told board members and Senator A.B. Swindell, Representative Lucy Allen and Representative Bill Daughtridge. More ...
By Amanda Clark, Graphic Staff Writer
Residents complain about Glover Park use
Concerns over the use of Glover Park has prompted Nashville's Board to take a look at extending hours into the weekend. The discussion was prompted during the board's May 2 meeting after Ellen Bobbitt, of Indian Trail, came before the board questioning whether the park was in fact, a park, or a recreation facility and whether it was intended to be a public facility. More ...
By Amanda Clark, Graphic Staff Writer
Spring Hope okays rezoning requests
Spring Hope's Board approved a rezoning request which will allow a local business owner to expand his business and bring jobs to the town. More ...
By Amanda Clark, Graphic Staff Writer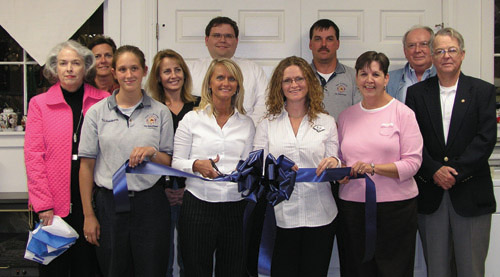 Owners of the new store Twice Smitten stand with members of the Nashville Chamber of Commerce and town officials to celebrate the store's grand opening.

Twice Smitten, new resale shop, partners with NFD
Bobbie and Joan Smith are self-proclaimed connoisseurs of second hand goods. It's not unusual to find the mother-daughter pair browsing the yard sales first thing Saturday morning in search of the best buys. Their love eventually spawned into Twice Smitten, a resale shop located at 708 S. Alston Street in Nashville. Though open for about three months now, Twice Smitten celebrated its grand opening and ribbon cutting celebrations recently. More ...
By Amanda Clark, Graphic Staff Writer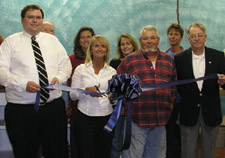 A ribbon cutting was held in honor of Papa C's Bait and Tackle, a new fishing store in Nashville.

New bait and tack shop, Papa C's is now open
Being an avid sportsman, Nashville resident Carl Smith felt locals should have somewhere close to buy their fishing and other sporting gear, so he decided to open Papa C's Bait and Tackle Shop. More ...
By Amanda Clark, Graphic Staff Writer
RMA announces new head of lower grades
Rocky Mount Academy announced recently that its new Head of Lower School (Grades PK-5) will be former Englewood Elementary School Principal Beth Barbour Covolo. She will assume her new duties on July 1, 2006. More ...

Why is USDA loaning money for new facilities?
A few days ago, I read that the town of Nashville had re-applied for USDA funds. These funds are to be used for a new library and town hall. I agree that this is a worthy cause and I am sure that many, many towns are in need of the same type grant. My question is simple. What in the hell-o is USDA doing in the library and town hall business? More ...
Letters to the Editor
Protect our borders, no more illegal immigration
There's a lot at stake. NAFTA and granting amnesty for 3 million illegal immigrants in 1986 is a complete failure. Homeland Security is a joke. Securing the U.S. borders and ports should be a top priority of the White House and Congress. We're losing our sovereignty as we lose control of our borders. More ...
Letters to the Editor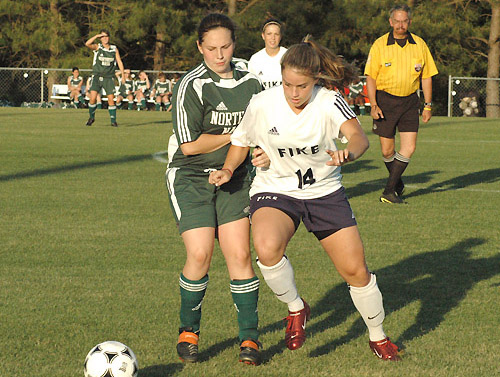 Wilson Fike's Sarah Winslow (14) keeps her eye on the ball during last Thursday's NEW-6 Conference Tournament title game at Northern Nash. (Graphic photo by Geoff Neville)

Fike's Rapid Fire
Lady Demons too much for rest of league
RED OAK - Perhaps no NEW-6 Conference team -- regardless of the sport -- has been as dominant this season as the Wilson Fike girls soccer squad. Fike, with a 23-0 record, has cruised past its competitors this year, playing only a single one-goal game (a 2-1 victory over West Forsyth at The Brittany Tournament last month). More ...
By Geoff Neville, Graphic Sportswriter
NN boys, RM girls nab titles
ROCKY MOUNT -- No surprises here -- the Northern Nash boys and the Rocky Mount girls, as expected, soared to team titles last Wednesday as the NEW-6 Track and Field Tournament at The Dawg Pound on the Nash Central High campus. More ...
From Staff Reports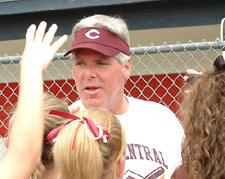 Head coach Gary Smith is looking for his improved Nash Central Lady Bulldogs to fare well at this week's NEW-6 Softball Tournament. (Graphic photo by Geoff Neville)

NC's Senior Night Win
ROCKY MOUNT -- Gary Smith couldn't have asked for a better close to the regular season for his Nash Central High School girls softball squad. Last Friday at home, the Lady Bulldogs scored their first ever league victory as NC edged NEW-6 Conference rival Southern Nash by a tight 8-7 margin in eight innings. More ...
From Staff Reports
Gryphons top NN for crown
ROCKY MOUNT -- Rocky Mount High School senior Brandon Arrington picked the right night to break out of a conference hitting slump. More ...
By Charles Alston, Graphic Correspondent
Edwards will host LC camps
LOUISBURG -- Louisburg College assistant diamond coach Jerry Edwards, a Rocky Mount native, will oversee the annual Louisburg College Baseball Camps this summer on the LC campus. More ...
Sports Shorts
OTHO BUNN SMITH
ROCKY MOUNT - Otho Bunn Smith, 89, died Tuesday, May 2, 2006. He was born in Nash County, January 28, 1917 son of the late William Albert Smith and Susan Eason Smith More ...