Subscribe/Access
Advertisements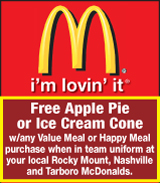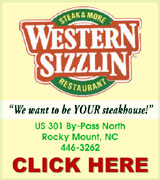 Sections
Member Options
Back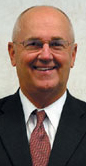 Richard Jenkins

Jenkins wins Nash primary vote
Taylor to face Daughtridge in November election
The results are in and Sheriff Dick Jenkins will move on to face Republican John L. Barnes in the Sheriff's race for the general election come November. Carnell Taylor will also move on to the general election and face Republican incumbent Bill Daughtridge for the NC House District 25 seat.
Jenkins defeated David S. Hawkins Jr. by 3,205 votes in the primary election, which ended at 7:30 p.m. Tuesday night. Eighy-eight percent voted for Jenkins while only 12% voted for Hawkins. More ...
By Amanda Clark, Graphic Staff Writer
County takes over Tourism
The Nash County Tourism and Visitors Bureau will soon become a county department as the Nash Board voted to bring it on after a closed session discussing the matter.
The Tourism and Visitors Bureau is currently operating under the Rocky Mount Chamber of Commerce and is located, along with the Chamber, in the Rocky Mount train station. More ...
By Amanda Clark, Graphic Staff Writer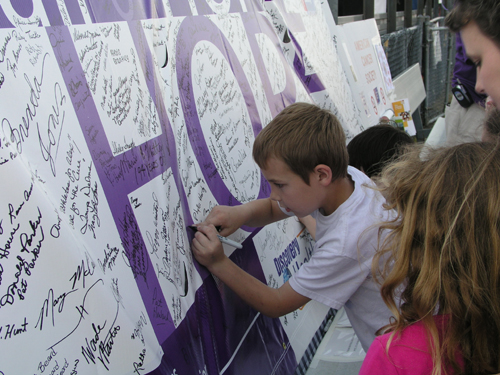 Shown here is eight-year-old James Johnson of Rocky Mount signing the Walk of Hope banner before opening ceremonies at Relay for Life. Graphic photo by Amanda Clark

Nash Relay for Life exceeds 2006 goal
They came in pairs, groups and even as individuals but all came for one cause: fighting cancer. And as the saying goes, it just keeps getting better and better.
The 12th Annual Relay for Life of Nash County was held Friday and Saturday, April 28 and 29 and far exceeded the goal of $250,000. Early figures show the grand total at $258,624.51. More ...
By Amanda Clark, Graphic Staff Writer
Day of prayer is May 4
A National Day of Prayer celebration will be held May 4, 2006 at 12:00 noon on the Nash County Courthouse steps in Nashville. This event is sponsored by Nashville area churches, the public is invited to participate. Coordinator for the event is Rev. Vernon Potter of the Ebenezer Pentecostal Holiness Church. Call 252-459-2188 for more information. More ...

N-RMS okays wellness policy
The Nash-Rocky Mount Board of Education approved the first reading of the School Wellness Policy during their regular meeting Monday night, nixing the previous Healthy Active Children Policy. More ...
By Amanda Clark, Graphic Staff Writer
Council views first draft of budget
A draft copy of the 2006-2007 budget was presented to board members during their regular meeting Tuesday night. Town Manager Preston Mitchell told the board members it was standard for the manager to present the budget during the May meeting. The budget retreat was held in January to discuss and consult on matters that will face Nashville in the upcoming fiscal year. More ...
By Amanda Clark, Graphic Staff Writer
Beulah Community News
Remember our monthly fish fry at the annex on Reges Road. It is Friday, May 5, from 5-8 p.m. We hope to see many of you there. More ...
By WILMA ENROUGHTY
Ephesus Community News
Rev. Tony Futrell's message on Sunday morning was "From Foolishness to Power," taken from 1 Corinthians 1:18-31. More ...
By LOTTIE LOU DICKENS
Castalia Baptist & Community News
Castalia Baptist went on a field trip last Saturday to Charlotte to see the Dead Sea Scrolls exhibit at the Discovery Place Museum. It was a great trip for the 14 participants. Thanks to Rex & Vicki Brown for the breakfast biscuits and to Joyce and Becky Woodruff for the doughnuts that we enjoyed along the way. The exhibits were very educational and exciting to see. More ...
By KATHY FREEMAN-ROBLES
Mt. Zion FWB News
April 30 was Laymen's Sunday. We appreciate all the men did to make our day a meaningful worship experience. More ...
By ROSALENE BASS
Peachtree Community News
The residents of Peachtree Community were saddened and shocked by the sudden death of one of its long-time residents- Geraldine Moore Edwards. She was a faithful member of Peachtree Church who passed away early Sunday Morning. She is survived by her husband, Alvin Vick Edwards, of Edwards Crossroads and her daughter, Cindy; son-in-law, Howard Mitchell; grandchildren, Anna Marie and Rob Mitchell, all of Wake Forest. More ...
By BARBARA HARDISON
Red Oak Community News
Barbara and Joe Radford, Angie, Tim and Adam Denton, Debbie Asbell and friends traveled to Aycock Auditorium in Greensboro on Sunday, April 23, for the N.C. All State Honor Band. Walter Asbell made third chair and Brandon Denton made fourth chair statewide in playing the tuba. Dr. Charles Menghinia was the conductor for the middle schools. They all had an enjoyable time. More ...
By SUZY PEARCE
My complete personal analysis of the Stanley Cup
Longtime readers of this column are well acquainted with my affliction, er, I mean affection with the Carolina Hurricanes and ice hockey in general.
So, you can imagine that these times are good for me and my family, what with the Stanley Cup Playoffs taking a turn for the better after a shaky first week. We have trekked to Raleigh twice to sit in our airline sized seats — which seemed to cost about as much as a flight to Atlanta — and cheer the Hurricanes on. More ...
Mike Brantley
We can blame government for high gas prices
The news media is precious. They are jumping all over the gas companies for higher gas prices. As usual they have blinders on and are looking in the wrong direction. Our governments are the problem. They make 40 to 50 cents per gallon (remember Kerry – he wanted to add 50 more cents). The oil companies make about half that. More ...
Letters to the Editor
Let's not forget those responsible for our freedoms
Normally on a day as beautiful as Sunday was, you wouldn't catch me inside on the sofa watching television, but due to spring allergies and a touch of the flu, or something similar, I quickly became a couch potato, dozing much of the day. More ...
Joanne Cooper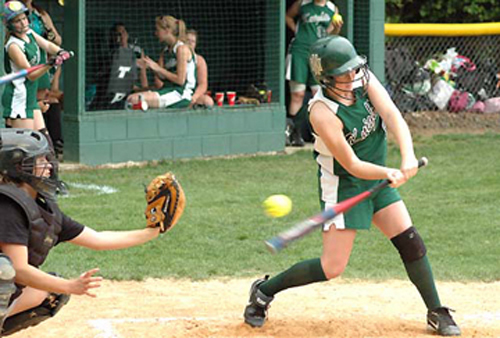 TAKING HER BEST CUT. Northern Nash's Jennifer Vielette takes a swing while Nash Central catcher Carrie Allen reaches for the ball during Tuesday's NEW-6 fast-pitch softball matchup at the NN Field in Red Oak. (Graphic photo by Geoff Neville)

NN's Effective Mix
Veteran players, newcomers sparkle for Lady Knights in NEW-6
RED OAK - During a five-inning stretch Tuesday, the Northern Nash Lady Knights proudly displayed their prodigious present -- along with a promising fast-pitch future.
On a day when NN, enjoying its best-ever fast-pitch softball season, honored its seniors, the Lady Knights received key contributions from six freshman starters en route to an 11-1 Senior Night victory over NEW-6 Conference rival Nash Central. More ...
By Geoff Neville, Graphic Sportswriter
Northern Nash tops Wilson Fike in extra innings
WILSON -– This looks like a year of resurgence for Northern Nash baseball.
The team tied a school mark for the longest game played when it survived a 15-inning marathon with Wilson Fike Monday evening for an emotional 5-4 victory. More ...
By Charles Alston, Graphic Correspondent
Lookouts slide past Mudcats
ZEBULON -- Aaron Herr scampered home on a wild pitch in the second inning as Chattanooga Lookouts defeated the Carolina Mudcats 1-0 in a Class AA Southern League baseball game at Five County Stadium on Sunday before 5,428 fans. More ...
Sports Shorts
Chowan to announce new school mascot
MURFREESBORO -- Chowan University will release the new nickname during a news conference on Thursday at 11 a.m. on the grounds in front of the McDowell Columns Building at Chowan University. The announcement comes after an intensive eight-month study on the NCAA ruling on Native American nicknames, which have deemed to be "hostile and aggressive." More ...
From Staff Reports
Nash Central scores huge victory over Rocky Mount
ROCKY MOUNT -- Nash Central started rapping on Rocky Mount's door earlier this season when the Bulldogs scared the Gryphons with a narrow 3-2 NEW 6 Conference baseball loss.
Last Friday night, the Bulldogs didn't kick in the Gryphons' door, but they did find the key under the doormat. More ...
By Charles Alston, Graphic Correspondent
Patterson, Castalia Commissioner dies
Margaret Patterson, former mayor of Castalia and a present town commissioner, passed away quietly at her home on the morning of May 2. Patterson served the town of Castalia for over twelve years. She served first as a town commissioner and then served one term as mayor for the town. She then served an additional term as a town commissioner. In the most recent election, Patterson lost her bid for re-election but was appointed to fulfill the unexpired term of Jennifer Pernell, who resigned last year. More ...
By Amelia Harper, Graphic Correspondent
GERALDINE EDWARDS
SPRING HOPE – Geraldine M. Edwards, 76, died Sunday, April 30, 2006.Funeral services were conducted on May 2 at Ephesus Baptist Church by the Rev. Gene Whitehouse and the Rev. Bill Wakefield. Entombment will be at a later date at Peachtree Baptist Church cemetery. More ...