Subscribe/Access
Advertisements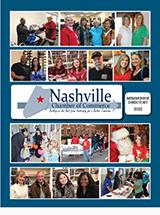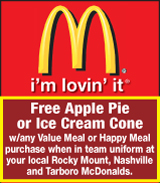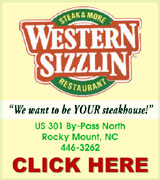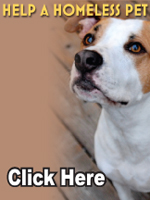 Sections
Member Options
Williams delivers at Peace
RALEIGH -- Former Northern Nash High School standout Melissa Williams helped the Peace College Pacers claim first place last Saturday at the Combat Classic Softball Tournament at Wachovia Athletic Park.

Peace went 1-1 during last Friday's opening day of competition. But on Saturday, the Pacers scored a title-clinching sweep by defeating Sweet Briar (5-3) and Agnes Scott (10-2).

Williams started at catcher in both games. Against Sweet Briar, she went 2-for-4 with one double and one RBI. She capped off her day by going 3-for-3 with one run and one RBI versus Agnes Scott.

Peace is now 6-4 overall for the season.

For the year, Williams is batting .364 with 12 hits, two doubles and three RBI.

MUDCATS: The Carolina Mudcats have announced that single-game tickets for the 2010 Southern League season are currently on sale.

Tickets can be purchased in a variety of ways: online at www.carolinamudcats.com, via the Mudcats box office (919) 269-2287 and at Five County Stadium.

Fans may use cash, checks, any major credit cards (Visa, American Express, Mastercard, Discover).

For all on-line sales, credit cards must be used.

Tickets are available for all regular-season home games.

Regular season ticket prices are as follows: $12.50 for Cattails, $11 for Premium Field-Level, $10 for Box Seats, $9 for Reserved Field Level, $6 for General Admission.

The Mudcats offer a $1 ticket discount for children (7-12), senior citizens (65+) and military personnel in all areas excluding Premium Field level and Cattails Restaurant.

Children ages (4-6) receive discounted tickets for $3 in the general admission, reserved field level and box seats.

Children ages 3 and below receive complimentary general admission tickets, reserved field level and box seats if a seat is required. These tickets do not apply to Premium Field level and Cattails Restaurant and may not be purchased online.

The Mudcats' regular-season home opener is April 14 against the Montgomery Biscuits at 7:15 p.m.

NCWC TENNIS: Freshmen Marcus Ribbenstedt and Emelie Lundgren anchored #1 singles for their Battling Bishop men's and women's tennis teams on Sunday afternoon, leading North Carolina Wesleyan to 9-0 sweeps of Chowan University in the season opener for both squads.

Ribbenstedt was a 6-1, 6-2 winner on the men's side, while Lundgren did not surrender a game in a 6-0, 6-0 victory.

The Bishop men are currently ranked 15th in the nation, while the women open the season at 1-0 for the first time in program history.

In women's singles action, Samia Katcher, Kristin Seidel, Carole Ateba, Tori Jones, and Bristy Parker were all straight-set winners at the #2 through #6 slots, respectively.

The Bishops had previously taken a 3-0 lead into singles play thanks to a doubles sweep.

Lundgren and Ateba teamed for an 8-3 win at the top spot, as did Katcher and Seidel at the 2nd seed. Jones and Parker were 8-1 victors at #3.

In men's singles action, Dominic Forsdike, Jori Sinkko, Kalpesh Patel, and Clifton Lesak combined to give up just four points in straight-set wins at #2 through #5.

Evgeniy Bukatin and Ilpo Kautonen were 8-1 winners at #1 doubles, while Forsdike teamed with Ramon Pardo Garcia for an 8-1 win at #2.

The Bishops completed the 9-0 victory with default wins at #6 singles and #3 doubles.

HOCKEY: Sunday afternoon's USA vs. Canada gold medal hockey game, that NBC's Bob Costas called, "One of the greatest sports events I have ever seen," was the most-watched hockey game in 30 years.

Canada's epic 3-2 overtime victory drew an average viewership of 27.6 million, the most watched hockey broadcast of any kind since the USA vs. Finland 1980 gold medal game in Lake Placid on Feb. 24, 1980 (32.8 million).

For historical comparison, the "Miracle on Ice" USA-Russia semifinal game that aired on tape delay on Feb 22, 1980 from the Lake Placid Games drew 34.2 million average viewers.

Canada's Sydney Crosby (Pittsburgh Penguins) gave Canada the gold medal, their 14th of the Winter Games (most of any country) when he got the puck past the USA's Ryan Miller (Buffalo Sabres) just over seven minutes into overtime.

RUNNING: The Second Empire Grand-Prix will include two March races as part of its spring series -- the WakeMed Cary Distance Festival on March 6 and the Run for the Oaks 5K on March 13. Both races are USATF-sanctioned and will raise money for local North Carolina charities.

Benefiting the Cary Rotary Club, the WakeMed Cary Distance Festival will start at 9 a.m. in front of the BB&T Building in downtown Cary. It includes a 5K and 10K race, however, only 10K participants will earn Grand-Prix points.

The Run for the Oaks begins at 8:30 a.m. in downtown Raleigh's City Market. It will feature a 5K and children's fun run, and will benefit the City of Raleigh Neighborwoods Program.

The winners of the February 7 Run for the Roses are Derrin Pierret of Raleigh, with a men's division record time of 16:12, and Tiffany Thompsen of Chapel Hill, who won the women's overall in a time of 19:16.

The February 20 Law Enforcement Torch Run 5K winners are Srini Iyer of Raleigh, who set a new men's record of 16:08, and Kimberly Bowler who set a female record in a time of 19:35.

NCWC: The North Carolina Wesleyan Department of Athletics has announced plans for its 2010 Athletics Gala to be held on Thursday, May 6 at 6:15 p.m. in the Dunn Center.

In addition to both silent and live auctions, the evening will feature Notre Dame University head men's basketball coach Mike Brey as the keynote speaker.

Brey is currently in his 10th season on the Irish sidelines and 15th season overall, having amassed over 300 coaching victories in his career.

In 14 years as head coach, he has won three conference titles and advanced 12 of his teams to postseason play, including seven to the NCAA tournament.

Brey's keynote speech will highlight an exciting evening of events designed to provide support for our Battling Bishop student-athletes.

The evening dedicated to "Spreading the Bishop Pride" will begin at 6:15 p.m. with a reception and silent auction in the Mims Gallery followed by dinner in the Garner Lobby at 7 p.m.

Tickets will be sold for $100/individual and $175/couple.

Tables are also offered for purchase, and sponsorship opportunities are available.

Printer-friendly format
---
---