Subscribe/Access
Advertisements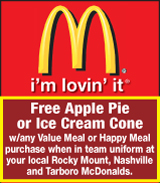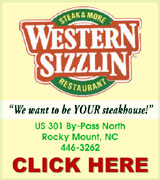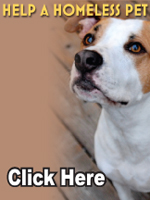 Sections
Member Options
Back
Some area July 4th events carry on


While many cities and towns are choosing to cancel Fourth of July festivities due to Coronavirus, the Town of Red Oak is moving forward with hosting its second annual "Family Freedom Celebration.
The event is slated to be held on Sunday, June 28.

More ...
AMANDA CLARK, GRAPHIC STAFF WRITER
864,000 gallons of wastewater spill
The Town of Nashville experienced discharges of 864,000 gallons of untreated wastewater last Wednesday.
Public Works Director Lee Brown reported two separate discharges were from the town's wastewater collection system and both occurred last Wednesday, July 17. The third discharge occurred on Sunday, June 21.
More ...

Dos Hermanos has experienced flooding twice since opening in 2014. Owners say waters reached 19 inches inside the building. The family intends to reopen once repairs are complete.

Nashville businesses, residents work to recover from flood waters


Officials are continuing to assess the damage caused by flooding in Nashville last week.
Days of rainfall caused Stoney Creek to reach 15.5 feet, with water going out of its banks and threatening some downtown businesses as well as several homes.
Nash County Emergency Management Assistant Director Brent Fisher said the National Weather Service estimated four inches of rain had fallen but he added that there were some citizens in the county reporting six inches.

More ...
AMANDA CLARK, GRAPHIC STAFF WRITER
COVID-19 UPDATE: Rocky Mount mandates masks


Governor Roy Cooper is expected to make an announcement this week on whether the state will move into phase three or remain in phase two of the state's reopening plan.
Cooper was expected to make the announcement on Wednesday afternoon, which falls after The Graphic's publishing deadline. Visit www.nashvillegraphic.com for information on Cooper's announcement.

More ...
AMANDA CLARK, GRAPHIC STAFF WRITER
Nash County welcomes college summer interns


A Nashville native is spending part of his summer at home, serving as an intern for Nash County.
Joseph Brake, a rising junior at Fayetteville State University, will work through mid-July in various departments of the county.
Brake is joining Zaniya Caine, a rising senior at NC Central University and Battleboro resident and Cathy Nicholson, a rising sophomore at UNC-Greensboro from Wilson.

More ...
AMANDA CLARK, GRAPHIC STAFF WRITER
Nash County road remains closed for emergency repairs
A section of South Halifax Road in Rocky Mount remains closed after last week's storms damaged an underground culvert, forming a hole underneath the pavement.
The damage to a metal drainage pipe about 8 feet in diameter occurred on South Halifax Road south of Sunset Avenue. The N.C. Department of Transportation closed it Saturday.
More ...
NASH COUNTY SHERIFF'S OFFICE REPORTS
A misdemeanor breaking and entering was reported on 6/19/20 at 10150 W NC 97, Middlesex
An obtaining property by false pretense and forgery was reported on 6/18/20 at 10601 E NC 97, Rocky Mount
A larceny of a dog and second degree trespassing was reported on 6/16/20 at 13339 Eagle Ridge Drive, Zebulon
More ...
New general surgery practice emerges in Rocky Mount
Nash UNC Health Care is partnering with Boice-Willis Clinic and Nash Surgical Associates to open a new, combined general surgery practice in Rocky Mount. The new practice, called Nash Surgery, will open June 30th and will be located in the Medical Office Building on the Nash UNC Health Care campus.
Dr. David Seaman, of Nash Surgical Associates, will serve as the medical director of the practice.
More ...
NC awarded $1.5 million to expand mental health supports
The North Carolina Department of Health and Human Services (NCDHHS) has been awarded $1.5 million to support and expand the Hope4NC program, which connects North Carolinians to mental health supports that help them cope and build resilience during times of crisis.
"COVID-19 is taking a toll on the mental health and overall wellness of North Carolinians.
More ...
Public meetings remain virtual to continue social distancing rules


The Coronavirus has forced many local governments to change the way they hold public meetings while also ensuring open meetings laws are still followed.
The North Carolina Open Meetings Law provides the public with a right of access to the meetings of a large number of government bodies at the state and local level. The law requires notice of these meetings and gives the public the ability to inspect and copy meeting minutes.

More ...
AMANDA CLARK, GRAPHIC STAFF WRITER
Rocky Mount woman pleads guilty to filing false tax returns
RALEIGH- A Rocky Mount, NC woman pleaded guilty last week to conspiracy to prepare and file false tax returns.
According to court documents, Bertha Battle, aka "Bug," 40, conspired with others to file false tax returns for the 2013 through 2016 tax years for clients of Community Tax Services LLC located in Rocky Mount.
More ...
Why did God send his son?


"Behold, the virgin shall be with child, and bear a Son, and they shall call His name Immanuel," which is translated, "God with us." (Matthew 1:23)
I have a coworker whom I see almost every day. He often comments about my column and asked me recently to deal with a spiritual question that has bothered him for many years.

More ...
MIKE RUFFIN
BOLD PRAYERS : SHOW ME YOUR GLORY


Has the Church unknowingly settled for a stagnant and lifeless faith because that's simply the only kind of faith we find comfortable? Do our souls actually yearn to be in the presence of the Lord, desperately longing to see a powerful move of the Spirit in our lives? Do we even want to taste and see the goodness of God in a way that will transform us?

More ...
KAITLYN STOCKS
SANDY CROSS NEWS


Coopers Elementary School is now accepting applications for Kindergarten registration through August 21. Any parent can come by Coopers Elementary from 8 a.m. - 3 p-.m. Monday-Thursday for more information. Call 252-937-9035 if you have any questions.
This past week Southern Nash Middle School recognized Mrs. Dollar for representing the school as Teacher of the Year.

More ...
EMILY SILLS
RED OAK NEWS


Red Oak Baptist Church welcomed John and Teresa Griffith as members Sunday, June 21.
As of Monday, June 22, W.B. Ennis Park in Red Oak will be closed until further notice. This includes the tennis courts and walking trail. New playground equipment will be installed so the park will be closed for everyone's safety.

More ...
SUZY PEARCE
PEACHTREE COMMUNITY NEWS


A message from Pastor Gene Whitehouse of Peachtree Baptist Church.
"Be strong and courageous. Do not be frightened, and do not be dismayed, for the Lord your God is with you wherever you go" (Joshua 1:9).
As Joshua stood and looked over at the Promised Land, trying to come up with the words and wisdom to guide not only the people, but also to prepare himself for the hostility and doubt he would be encountering, he received the above message from God.

More ...
FRAN BUNN
Local Sorority endows scholarship at ECC
The Rocky Mount Alumnae Chapter of Delta Sigma Theta Sorority, Inc. has endowed a scholarship at Edgecombe Community College that will support African American students from the Twin Counties.
The Delta Sigma Theta Sorority, Inc. was founded in 1913 by 22 collegiate women at Howard University to promote academic excellence and provide assistance and support through established programs.
More ...
Annual scholarships
Momeyer Ruritan presents its annual scholarships. Pictured, left to right, are Ruritan President Brent Leggett, recipients Trysten Edwards and Connor Vick.
More ...
Flood pics
A boat is pictured at the entrance of Indian Trail which was completely under water. Several people were rescued from homes which were flooded in the subdivision. (Graphic photo by Amanda Clark)
More ...
What context will we use to judge history?


To say the last few weeks have seen a lot of changes would be an understatement.
Confederate statues are coming down.
Other statues are coming down.
Aunt Jemima and Uncle Ben's products will be renamed or rebranded.

More ...
Mike Brantley
Reader feels monument removal was backhanded, deceitful


Dear Editor, Over the weekend, we were appalled to see the events that took place on North Carolina's capitol grounds. Mayhem and anarchy ruled the scene. Protestors were allowed to pull down part of a memorial dedicated to the citizen soldiers of the state who answered the call to come to her defense.

More ...
LETTERS TO THE EDITOR
Backward Glances


This photo was originally published in The Nashville Graphic on November 20, 1958. Members of the Nash County Sheriff Department donned new uniforms for the first time.

More ...
A PICTORIAL LOOK INTO THE PAST

NEXT IN LINE AT SNHS. Running back Jackson Vick is expected to be a go-to performer this coming season for the Southern Nash Firebirds.

UNCERTAIN FUTURE


NASH COUNTY -- It's late-June, and that's the time when many football fans in Nash County start to focus on the pending fall high school campaign.
But even if that season does not occur or is delay due to COVID-19, it's still interesting to ponder the prospects of Nash Central, Southern Nash and Northern Nash in the potential fall year.

More ...
GEOFF NEVILLE, Graphic Sportswriter

NORTHERN NASH ALUM BEN HEACOX

STAR STUDENTS


RALEIGH -- The USA South Athletic Conference has released its 2019-2020 Academic All-Conference Team.
This past season produced a record 1,702 honorees, with 84 student-athletes representing William Peace University Athletics.
A student-athlete must have earned a 3.30 GPA in each of the two semesters of a given year to be eligible.

More ...
Staff Reports
Fishing to be free on 4th of July


RALEIGH -- On July 4, anyone in North Carolina, regardless of age, can enjoy one of the state's best outdoor activities for free.
Free Fishing Day, which runs from 12 a.m. until 11:59 p.m., offers residents and out-of-state visitors the opportunity to fish without having to purchase a license; however, all other fishing regulations apply, such as length and daily possession limits, as well as bait and tackle restrictions.

More ...
Staff Reports
EW coaches are finalized


GREENSBORO -- The North Carolina Coaches Association has announced the coaches for the 2021 East-West All-Star Games.
As has already been announced, the 2020 NCCA East-West All-Star games have been canceled due to the uncertainties surrounding COVID-19 this summer.
Consequently, the NCCA has invited the 2020 coaches to coach in next year's games. All have accepted.

More ...
Staff Reports
THOMAS' TIME?
Thomas Engelking is expected to be in the mix at the quarterback spot this fall for Northern Nash.
More ...