Subscribe/Access
Advertisements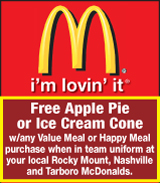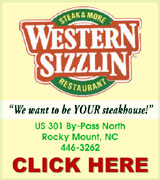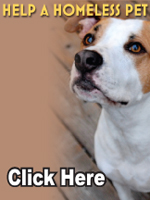 Sections
Member Options
Back
NRMS hires interim superintendent


The Nash-Rocky Mount Board of Education announced on Tuesday that the former Superintendent of Wake County Schools will serve the Nash-Rocky Mount School System as its Interim Superintendent.
Dr. Del Burns began in the interim position on Wednesday, August 21.

More ...
AMANDA CLARK, GRAPHIC STAFF WRITER
Nash Community names new leader
Nash Community College recently announced Lew Kyle Hunnicutt, Ph.D., was selected to serve as the college's fifth president.
Hunnicutt was approved Friday, August 16 by the State Board of Community Colleges.
Dr. Hunnicutt is currently the Assistant Provost and Campus Director for the University of Georgia - Griffin Campus which serves more than 32,000 students annually in academic, workforce, continuing education, and community service classes, programs and events.
More ...
Morning fire destroys local home


A home on Womble Road was destroyed on Friday morning after a fire broke out in the attic area.
According to Nashville Fire Chief Chris Joyner, firefighters were dispatched to 1186 Womble Road, Nashville around 9:10 Friday morning, August 16 in reference to a house fire.

More ...
AMANDA CLARK, GRAPHIC STAFF WRITER
NRMS spokesperson accepts Durham job


The Chief Communications Officer for the Nash-Rocky Mount Public School System will be leaving the school system just as the 2019-2020 school year begins.
Dr. Patricia Hollingsworth recently announced her resignation, effective September 9.
Hollingsworth has accepted a similar position with Durham Public Schools.

More ...
AMANDA CLARK, GRAPHIC STAFF WRITER

Pictured above, Dave Sannes and Rick Thomason raise a flag in honor of Levi Jenkins. The flag will fly over the Veterans Memorial at Jack Laughery Park for the next 30 days in honor of Jenkins.

JVC raises flag in honor of Hubert Levi Jenkins


The life and service of Hubert Levi Jenkins was honored on Saturday at the Veterans Memorial at Jack Laughery Park in Rocky Mount.
Jenkins was born in Wilmington on June 25, 1944 but his family moved to Spring Hope soon after. They later moved to Rocky Mount.
Jenkins joined the United States Navy on August 31, 1964 at 20 years old.

More ...
AMANDA CLARK, GRAPHIC STAFF WRITER
Nash County hosts kick off for US 2020 Census


Work on the 2020 United States Census began last week with a kickoff meeting at Nash Community College.
Nash County sponsored the 2020 Census Kickoff Luncheon last Wednesday, August 14, which also served as the beginning of the recruitment process for volunteers to serve on the Nash County 2020 Census Complete Count Committee.

More ...
AMANDA CLARK, GRAPHIC STAFF WRITER
County wraps up ties with Carolinas Gateway


Nash County Commissioners on Monday finalized terms to end the county's relationship with the Carolinas Gateway Partnership.
The Carolinas Gateway Partnership is a public-private industrial recruitment agency focused on the economic development of Nash and Edgecombe Counties.
Commissioners voted 5-2 in April to discontinue being a part of the Carolinas Gateway Partnership and instead take on economic development as a county department.

More ...
AMANDA CLARK, GRAPHIC STAFF WRITER
Consultant to offer ideas to increase commercial activity in downtown


The second part of the process for Nashville's Downtown Strong Program began this week, with a consultant visiting the town to get information.
Hillary Greenberg, of Greenberg Development Services, met with members of the town's Municipal Service District Advisory Board, as well as others from the community, to discuss the work she would do for the town.

More ...
AMANDA CLARK, GRAPHIC STAFF WRITER
Grassroots grants available through Nash Arts
The Nash County Arts Council is now accepting applications for North Carolina Arts Council Grassroots Arts Program subgrants through September 5th at 5p.m.
Since 1977, the North Carolina Arts Council's Grassroots Arts Program has provided North Carolina citizens access to quality arts experiences. Using a per capita based formula, the program provides funding for the arts in all 100 counties of the state through partnerships with local arts councils.
More ...
DHHS investigating reports of lung disease after vaping
The North Carolina Department of Health and Human Services is investigating recent reports of severe lung disease after vaping. Three patients have been hospitalized in North Carolina since late July and similar cases have been reported from other states, including Wisconsin, Illinois, California and Minnesota. No deaths have been reported.
More ...
DOT releases transportation plan
More than 1,700 projects are included in the N.C. Department of Transportation's final draft of its 2020-2029 transportation plan, which was released this week. The State Transportation Improvement Program, or STIP, includes projects across all transportation modes and in every county in the state.
In Division 4, which includes Edgecombe, Halifax, Johnston, Nash, Wayne and Wilson counties, there are 122 projects.
More ...
NASH COUNTY SHERIFF'S OFFICE REPORTS
A simple assault was reported on 8/11/19 at 5465 Macedonia Road
A felony larceny and damage to personal property was reported on 8/12/19 at 5318 Burnette Road
Found property was reported on 8/12/19 at Barnes Hill Church Road and West Mount Drive
More ...
Two arrested in connection with February 13 homicide
Rocky Mount Police have arrested two men in connection with a homicide on that occurred in February.
Police responded to Drew Hills Court on February 13 around 11 p.m. in connection with an unresponsive female. When officers arrived, they located La'Tisha Jasmein Lee, 31. Lee had sustained injuries from an aggravated assault and was pronounced deceased.
More ...
Wood to serve on advisory council
Local Government Federal Credit Union (LGFCU) recently announced the addition of Donna Wood, Nash County Finance Director, to its Tar River Advisory Council which includes Nash, Edgecombe and Wilson counties.
Wood will be an integral part of LGFCU's volunteer-driven initiative not only to educate people on the benefits of credit union membership, but also to relay feedback to the board of directors regarding available/potentially available products and services, delivery of service and member needs.
More ...
First Responders dinner is November 12th
First responders in Nash and Edgecombe Counties will once again be invited to attend the second annual Jim Dickens First Responders Appreciation Dinner scheduled for Tuesday, November 12 from 5 to 8 p.m. at the Rocky Mount Event Center.
All 800 estimated EMS workers, firefighters, law enforcement officers and active duty military members located in the Twin Counties along with their guests are once again being invited to enjoy a BBQ Pulled Pork and BBQ Chicken dinner courtesy of the Jim Dickens First Responders Appreciation Dinner sponsors.
More ...
NCC announces 57th BLET academy grads
Nash Community College recognized officers for completing the College's 57th Basic Law Enforcement Training academy at a ceremony held Wednesday, August 7, 2019.
"Nash Community College's Law Enforcement Training program was built over the years through hard work, relationships and the support of the agencies you see here today, NCC President Dr. Bill Carver said. "We have a reputation of doing this right. These cadets are a testament to the partnerships NCC has established."
More ...
NCC welcomes 2019-2020 Student Ambassadors
Nash Community College recently held orientation to welcome its Student Ambassadors for the 2019-2020 academic year.
Students are selected for the program based on application, letters of recommendation and an interview. They must be enrolled at Nash Community College as a full-time student, maintain a minimum grade point average of 3.0, and demonstrate a commitment to academic and career success.
More ...
God still parts the Red Sea


"He performs wonders that cannot be fathomed, miracles that cannot be counted." (Job 5:9)
There are a lot of believers who don't believe in miracles. "He doesn't part seas anymore," or "The age of miracles is over," they will often say.
I don't believe it! In fact, I know it's not true because I've seen God at work supernaturally in my own life.

More ...
MIKE RUFFIN
Intersections: God and Life


As believers in the Lord Jesus Christ, how do we experience victory in our lives? There is forgiveness available to all, but I fear we want forgiveness without repentance.
Many of us have found ourselves repeatedly confessing the same sin to God, wondering why we can't overcome it.

More ...
CARLYLE HALL
RED OAK NEWS


Women in Action met on Tuesday, August 13 at Red Oak Baptist Church. Members enjoyed a sandwich supper together and discussed several upcoming mission action projects. This month the group donated school supplies to Nashville Elementary School. Following the supper they had their missions program which included the Missionary Spotlight, Cultural Divides, and Prayer Calendar. Their next meeting will be in September.

More ...
SUZY PEARCE
Luke's Word for the Week


Hi Fellow Followers, we are taking a brief detour from our Bible 101 articles for 2 weeks to dive into worship. What follows is a teaching from our Night of Worship in Nashville from August 18, 2019. I pray it encourages you and, in the Spirit, pushes you into true worship.
"Church, we need something, it's not more programs or ministries and most certainly not more committees.

More ...
LUKE WHITEHEAD
PEACHTREE COMMUNITY NEWS


This past Sunday Peachtree Baptist Church congregation, family, and friends met to worship our Lord.
The sanctuary flower arrangement Sunday was presented to glorify God by Tanya Pitts in loving memory of her husband, Harry N. Pitts, and her parents, Willard and Mary Winstead.

More ...
FRAN BUNN
SANDY CROSS NEWS


Christian Fellowship Church's Wednesday night service on 8/14 had the message given by Pastor Daniel Parker entitled "Toxic Ties."
CFC Fusion Youth attended Church On The Rise in Rocky Mount on 8/14 for "United Night." They enjoyed fun, games, food, a special devotional and a hip-hop concert given by @djmremusic & @sean_olivera.

More ...
EMILY SILLS
FARM SERVICE AGENCY NEWS


Agricultural producers reported they were not able to plant crops on more than 19.4 million acres in 2019, according to a new report released by the U.S. Department of Agriculture (USDA). This marks the most prevented plant acres reported since USDA's Farm Service Agency (FSA) began releasing the report in 2007 and 17.49 million acres more than reported at this time last year.

More ...
Sharon Taylor, Nash County Fsa Executive Director
Carolina Family Health celebrates 25 years
Carolina Family Health Centers, Inc. celebrated National Health Center Week during the week of August 4th through 10th. This week is an annual celebration with the goal of raising awareness about the mission and accomplishments of America's health centers over the past five decades.
Carolina Family Health Centers, Inc. also celebrated their 25th anniversary with a ribbon cutting and open house at each location.
More ...
Pulley to speak at C.C. Spaulding Alumni event
The C.C. Spaulding Alumni Association, Inc. will host its 45th annual reunion banquet on Saturday, August 31.
The theme for this year's event will be "Where do we go from here?"
This year's guest speaker will be Minister Catherine Pulley, Valedictorian for the Class of 1969.
More ...
Cooper appoints new District Court Judges
Governor Cooper recently appointed Joseph Edgar Brown III and Christopher J. Welch to serve as District Court Judges in Districts 7 and 4, respectively.
"Ed has an impressive legal background and is a leader in his community," said Gov. Cooper. "I look forward to seeing him serve his district in this new role."
Joseph Edgar Brown III, of Wilson, will fill the seat in District 7 left vacant by the passing of the Honorable John Jay Covolo.
More ...
In Honor
Leci Jenkins' son, Brian Jenkins, speaks about his father during a flag raising ceremony.
More ...
What's old is new, but sometimes just old


One of my favorite and most memorable assignments in graduate school was one where students were supposed to go back to a place we had not been in years and then write about it.
I chose Parker's Barbecue in Wilson. We hadn't been eating barbecue regularly during that era, or eating out much at all as we had three young children whose food of choice had to be some form of chicken nuggets and also, going out to eat with three young children is not a picnic sometimes (pun intended).

More ...
Mike Brantley
Clearing shelters could have a negative effect


This past Saturday, shelters across North Carolina participated in an event called, "Clear the Shelters."
The event is a nationwide pet adoption drive held each year to help find loving homes for animals in need. Adoption fees are waived at participating shelters, allowing more animals to be adopted.

More ...
Amanda Clark
Backward Glances


This photo originally published in The Nashville Graphic on October 16, 1969. Nash Extension Chairman J.P. Woodard was pictured listening to ideas presented at a meeting promoting sweet potatoes. Giving Woodard ideas on how they were going to promote potatoes were Mrs. Marie Harris, Mrs. Elizabeth Richardson, Mrs. Louise Ricks, Mrs. Sallie Edwards and Mrs. Almetra Sumler.

More ...
A PICTORIAL LOOK INTO THE PAST

SERVING UP A WINNER. Southern Nash's Taylor Bailey prepares to send a serve over the net for the Ladybirds during Monday evening's season-opening home victory against backyard rival Bunn High School.

GREAT START FOR SN


STANHOPE -- Two of the all-time greatest Bunn Ladycats teamed up to defeat this year's BHS volleyball version Monday during the regular season opener for both Bunn and homestanding Southern Nash.
The resurgent SNHS program is guided by former BHS standouts Melanie (Davis) Hicks as the head coach and Katie (Jones) Wester as an assistant.

More ...
GEOFF NEVILLE, Graphic Sportswriter

NORTHERN NASH'S KAMERON JOHNSON

Final Tune-Up For NN


WILSON -- Northern Nash will travel across the country Friday for its regular season football opener.
That's when the Fighting Knights will hit the road for Wake County to tangle with the East Wake Warriors.
Kickoff is slated for 7 p.m. at Johnny Sasser Stadium on the EWHS campus, which is located just off US 64 near Wendell.

More ...
GEOFF NEVILLE, Graphic Sportswriter

ON THE MOVE. Nash Central's Justus Staten carries the ball for the Bulldogs last Friday.

READY TO START


WILSON -- Familiarity shouldn't be an issue Friday when the Nash Central Bulldogs kick off their 2019 prep football campaign with a home contest against the Southeast Halifax Trojans.
During his previous coaching stop at Louisburg High School, Nash Central head skipper Chris Lee dueled the Trojans every season in the competitive Tar-Roanoke Athletic Conference.

More ...
GEOFF NEVILLE, Graphic Sportswriter

SOUTHERN NASH'S MICHAEL PARKER

Southern defense dominant


SMITHFIELD -- Players are consistently taught, regardless of the sport, to ignore outside influences while concentrating on performances.
That was exactly the case last Wednesday as Southern Nash's football team headed to the Muddy Waters Jamboree at Smithfield-Selma High School.
Certainly, conditions were not admirable as temperatures soared into the mid-to-high 90s ahead of the expected start time.

More ...
GEOFF NEVILLE, Graphic Sportswriter - 1 opinion posted
Mudcats win over Hillcats


LYNCHBURG, VA. -- The Carolina Mudcats scored six runs on six hits in the fourth inning of action while running away with Sunday's series finale 7-2 over the homestanding Lynchburg Hillcasts at City Stadium in a Class A Carolina League baseball showdown.

More ...
Staff Reports
Knight earns preseason recognition


RALEIGH -- Former Southern Nash High School standout Zonovan Knight is making an instant impact for the North Carolina State University football Team under head coach Dave Doeren.
Knight, a true freshman running back, was recently honored with a spot on the 2019 True Freshman Preseason All-American Team by the 247sports website.

More ...
Staff Reports
NNHS, NC kick off spike season


ROCKY MOUNT -- Both Northern Nash and Nash Central began their 2019-2020 athletic seasons on Monday, with the two cross-town rivals set to play one another in soccer, tennis and volleyball.
Due to inclement weather, both girls tennis and boys soccer had to be rescheduled to a later date, but the two volleyball squads opened their 2019 campaign against one another in the Nash Central High School Gymnasium, with Northern squeaking out a tight 3-2 win in a thrilling match.

More ...
CHANCE PUCKETT, Correspondent
BUNN CONNECTION
Southern Nash head volleyball coach Melanie Hicks (right) and assistant coach Katie Jones (center) were prep standouts at Bunn High School -- the same team the Ladybirds defeated Monday at the SNHS Gymnasium.
More ...
COMPLETE CONCENTRATION
Southern Nash's Alissa Bailey passes the ball to a teammate during Monday's season-opening volleyball triumph over Bunn at the historic SNHS Gymnasium.
More ...
FOLLOW YOUR BLOCKERS
Nash Central wingback Deante Watson (with ball) settles in behind his offensive front during last Friday night's action at the Fike Football Jamboree at Bedgood Stadium.
More ...
YOU TAKE IT
Southern Nash backup quarterback Luke Coble hands the ball off to teammate Brandon Strickland during last Wednesday evening's action at the Muddy Waters Football Jamboree.
More ...