Subscribe/Access
Advertisements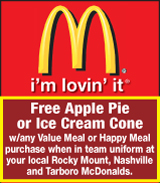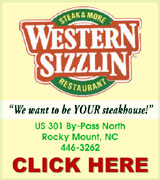 Sections
Member Options
Back
Lamm elected NRMS board chairperson


The Nash-Rocky Mount Board of Education elected Franklin Lamm to serve as Chairman of the Board for the 2019-2020 year.
Board members voted 7-4 for Lamm to serve as chair. Four board members voted in favor of Evelyn Bulluck for the Chair seat.
Ann Edge was elected to serve as Vice-Chair. Bill Sharpe was nominated as well but declined to serve.

More ...
AMANDA CLARK, GRAPHIC STAFF WRITER
Nashville okays contract for manager search


Nashville's Town Council officially approved a contract with Mike Ruffin to help in the town's search for a new manager.
Ruffin will assist the town until May 31 in the search. The contract totals $9,800 and is for "services related to the search, recruitment, advertising, interviews and background investigations of candidates for the position of Town Manager of the Town of Nashville."

More ...
AMANDA CLARK, GRAPHIC STAFF WRITER
Nash dedicates stone in honor of Morgan


"Nash County people-first, foremost, always and on every occasion."
Those words were what former Nash County Commissioner Billy Morgan were known for and citizens will now forever be reminded of them.
Nash County dedicated its Commemorative Courtyard on Friday afternoon, with Morgan's stone serving as the first honoree.

More ...
AMANDA CLARK, GRAPHIC STAFF WRITER
Red Oak seeks playground expansion input


The Town of Red Oak is seeking input on a potential playground expansion at its park.
The first meeting was held on Wednesday, January 16. Additional meetings are set on January 23 and 30 from 4 until 6 p.m.
Town Clerk Tracy Shearin said the meetings are being held as part of requirements for applying for a grant.

More ...
AMANDA CLARK GRAPHIC STAFF WRITER and JESSICA SMITH, GRAPHIC CORRESPONDENT
GOP nominates Leggett for District 4 seat
The Nash County Republican Party Executive Committee will be supporting Sue Leggett to fill the recently vacated seat on the Nash County Board of Commisioners.
"The Nash County Republican Party Executive Committee hereby recommends Sue Leggett to the Nash County Board of Commissioners to be appointed to serve in the vacant seat for District 4," a press release stated.
More ...
COFFEE WITH A COP
Nashville Interim Police Chief Joey Corbett chats with John Davis of Nashville during Coffee with a Cop Monday morning at Corner Coffee Cafe in downtown Nashville. Nashville's Police Department plans to host Coffee with a Cop on a consistant basis in 2019.
More ...
Nashville Parks and Rec offers dance classes


Dancing is now on the list of activities for the Town of Nashville's Parks, Recreation and Cultural Resources Department.
The town recently started offering partner dance classes for ages 16 and over. The first class was held on January 9 and will be held January 16 and January 23.
The next round of classes will start on February 6. Classes are held at Nashville's Community Building.

More ...
AMANDA CLARK, GRAPHIC STAFF WRITER
Nash County recognizes long-time staff


Long-time Nash County employees were recognized last Monday during the Nash County Board of Commissioners regular meeting.
Employees with 20, 25, 30 and 40 years were presented with Employee Service Awards by Nash County Manager Zee Lamb and Commissioner Chair Robbie Davis. The awards were announced by Human Resources Director Anison Kirkland.

More ...
AMANDA CLARK, GRAPHIC STAFF WRITER
Nash UNC implements visiting restrictions due to flu surge
Nash UNC Health Care has implemented its Influenza Plan due to a recent surge in the number of flu cases diagnosed at the hospital. The plan includes Visitor Restrictions, which aims to help prevent the spread of flu to patients, visitors and staff.
"Because of the increase in flu cases, we are asking the public to help stop the spread of flu by not visiting our patients if they have any symptoms such as fever, cough, runny nose, sore throat and body aches," said Connie Clark, manager of Infection Prevention at Nash UNC Health Care.
More ...
FIVE GENERATIONS
Mary Riggs Thoman (left) is pictured with her family marking five generations. Standing next to Thoman is her great-granddaughter Mary Alexis Cash holding Thoman's great-great grandson Brian Taylor Cash, Thoman's granddaughter Mary Renee Creekmore and her daughter Melody Lee Jarman. Creekmore is the manager at Strickland Equipment in Nashville.
More ...
RMW Airport runway, taxiways to get $7.2 million overhaul
Significant upgrades are coming to the airfield at Rocky Mount-Wilson Regional Airport, thanks to cooperation between federal, state and local governments.
"We are thrilled to have this kind of investment in economic development in our part of the state," said Gus Tulloss, a member of the state Board of Transportation from the area. "We couldn't have done it without the wonderful collaborative effort we have formed with our local governments and state and federal partners."
More ...
Rehab home opens in Rocky Mount
Oxford House has opened a residence in Rocky Mount that will serve eight men. This house is part of the contract to unveil 20 new houses in Trillium Health Resources's 26-county region by 2020 that was signed between Trillium and Oxford House in 2016. This will be the 14th house as part of that agreement, offering more than 100 beds to individuals in recovery.
More ...
Honor and Remember to host annual banquet January 26 at NCC
Honor and Remember of North Carolina will hold their 8th Annual Gold Star Banquet on Saturday, January 26th in the Brown Auditorium at Nash Community College. The doors will open to the public at 5:30 pm. Dinner/program will begin at 6:00 pm.
The keynote speaker this year will be Chaplain Colonel Tim Lever.
More ...
Horner to co-chair state education committee
Sen. Berger recently appointed North Carolina Senator Rick Horner (Rep) as Education Co-Chair.
Horner represents District 11 which includes Nash and Johnson Counties.
He will serve as co-chair of the Education / Higher Ed Committee along with Senator Deanna Ballard (Rep) who represents Alleghany, Ashe, Surry, Watauga and Wilkes Counties and Senator Jerry W. Tillman (Rep), who represents Guilford and Randolph Counties.
More ...

DAVIS
Teenagers arrested in Rocky Mount murder
Four teenagers have been arrested and charged in the homicide that occurred on Tuesday, January 8 in Rocky Mount.
Tracy Lamont Collins, Jr., 18, Shymond, Kiheem Williams, 17, Khalil Jywon Davis, 18, and a 15-year-old juvenile were all charged with first degree murder in the death of Mikell Lamar Sheridan, 20, of Rocky Mount.
More ...

JONES

Suspects arrested in shooting of trooper


Three suspects were captured after a State Trooper was reportedly shot when pulling over a vehicle in Wilson County Monday night.
Trooper Daniel C. Harrell, a five-year veteran assigned to Wilson County, and a third generation officer, is reported to be recovering from injuries and is expected to make a full recovery. He was reportedly shot on Haynes Road when stopping a vehicle which was towing a car without proper strapping.

More ...
STAFF REPORTS
NCC announces BLET graduates
On Thursday, January 10, 2019 Nash Community College recognized nine officers for completing the College's 54th Basic Law Enforcement Training (BLET) Academy.
More ...
NASH COUNTY SHERIFF'S OFFICE REPORTS
An assault on a female was reported on 1/6/19 at 8649 Red Oak Boulevard
Found property was reported on 1/6/19 at 1832 S Halifax Road
A breaking and entering a motor vehicle and larceny of a firearm was reported on 1/6/19 at 8370 Planer Mill Road
More ...
Spring Hope approves sidewalk project


Spring Hope has approved a sidewalk project and will be taking steps to move forward with starting it.
The Board of Commissioners discussed the Congestion Mitigation and Air Quality Improvement Program, or CMAQ, back in February 2018, which is a program that through the Federal Highway Administration of the U.S. Department of Transportation which funds transportation projects.

More ...
KENDRA JONES, GRAPHIC CORRESPONDENT
Biblical advice about everyday problems


I once wrote a column about a diet I tried that prompted a friend to actually telephone me. "Could you help me?" she said. "I don't know what to do!"
Her pain was one I truly understood. I've gained a lot more weight than I've ever lost and will never forget the depression and sense of defeat that accompanies weight gain. In fact, research tells us that the vast majority of people who lose weight eventually gain it all back, and then some. So I realize that my fight with obesity will never end. Indeed, it is a life-long struggle.

More ...
MIKE RUFFIN
Luke's Word for the Week


Jesus saw people.
We forget to see people. We rush around, busy with our task. We turn our destinations into our goals. We wear headphones. We scroll on our cellular devices. We obsess over getting things done. We walk and talk, but not to those near us, rather those to whom we are connected through our phones. We see the problems instead of the opportunities.

More ...
LUKE WHITEHEAD
Word Tabernacle joins "Stand with Bennett" campaign
During recent Watch Night services, Word Tabernacle Church joined the national mission to "Stand with Bennett," who has experienced a spiral of financial challenges over the years. Consequently, the Southern Association of Colleges and Schools Commission on Colleges shared its vote last month to remove accreditation for the college's inability to comply with financial guidelines.
More ...
PEACHTREE COMMUNITY NEWS


The Peachtree Baptist Church Congregation met on a very cold and rainy day last Sunday.
The Sanctuary flower arrangement Sunday was presented to glorify God by Janice and Bobby Sykes in loving honor of their grandchildren.
Sunday School:

More ...
FRAN BUNN
RED OAK NEWS


Congratulations to Summer Carwell and CeeJay Thompson on the birth of their daughter, Jadie born on January 10! Proud grandmother is Teresa May and great-grandparents are Phil and Sherri May.
Women of all ages attended the Early Risers Breakfast sponsored by WMU on Sunday, January 13 at Red Oak Baptist Church.

More ...
SUZY PEARCE
Nash County Animal Friends' Notebook


Shout out to Retirees! We need weekday peeps who love dogs and cats!
What can you do? As long as you can take a decent photo (either with a digital camera or a good I-phone) and comfortable with Facebook - please consider being a pet photographer.

More ...
CAROL VIERELA, NASH COUNTY ANIMAL FRIENDS
Tyson elected president of NC Soybean Producers Association
Jeff Tyson, a soybean producer from Nashville, was elected president of the North Carolina Soybean Producers Association at the 52nd Annual Meeting in Durham on Jan. 11, 2019. As president, Tyson will seek to build an understanding of and appreciation for agriculture among consumers, while ensuring soybean farmers in North Carolina have the research-based resources they need to grow a successful crop.
More ...
Monthly meeting
Benvenue Ruritan Club Zone 5, District 13, held its monthly meeting at Stony Creek Rescue Station last week honoring Assistant Chief Gary Tremayne as an Outstanding Member for 2018 at Stony Creek Rescue. Pictured, left to right, are Benvenue Ruritan Secretary Donnie Perry and Stony Creek Assistant Chief Gary Tremayne and Ruritan Zone Governor Fran Bunn.
More ...
Alexa, where is the self destruct button?


Sometimes, I get these great ideas. I follow through, make some people happy and get a real sense of accomplishment.
Other times, I get what I THINK are great ideas. They end up blowing up in my face, costing me money or contributing to an overall decline in my mental stability.
I seem to be on a run of the latter, and this can be no better illustrated than the purchase of one particular child's Christmas present.

More ...
Mike Brantley - 1 opinion posted
Looking back, and ahead, at our work


As we begin 2019, I want to highlight some of the work the North Carolina Department of Justice has done in the past year to prevent crime, support law enforcement, safeguard consumers, and defend North Carolina and its people.
When I took office in 2017, I highlighted our responsibility to fight the opioid epidemic as part of our work to protect families and fight crime.

More ...
Attorney General Josh Stein
Backward Glances


BPW OFFICERS - This photo originally published in The Graphic on May 10, 1977. The Nashville Business and Professional Women's Club officers pictured are, left to right, Gertrude Kennedy, first vice-president; Joetta Rinehart, state president; Barbara High, president; Betty Norman, second vice-president; Julia Savage, secretary; and Shirley House, treasurer.

More ...
A PICTORIAL LOOK INTO THE PAST

LEANING IN FOR TWO. Red Oak's Josh Bullock delivers a basket for the Tigers during last Thursday's key home victory against rival Parker Middle.

IT'S TIGER TIME


RED OAK -- Red Oak has developed one of the area's top middle school boys basketball traditions -- a trend that doesn't appear to be ending soon.
The Tigers just keep on adding to their collection of championship banners proudly on display at the ROMS Gymnasium -- first under then-coach Jeff Dodrill and now under fourth-year skipper Kristian Cox.

More ...
GEOFF NEVILLE, Graphic Sportswriter

ARMANDO ON THE MOVE. Southern Nash's Armando Dellavalle scores on a layup against rival Wilson Fike.

NEW STRATEGY


STANHOPE -- Due in part to their lack of success in such recent events, the Southern Nash Firebirds decided not to compete in a post-Christmas boys basketball tournament this season.
SNHS head coach Robbie Kennedy also theorized that the brief time off could also re-energize the Firebirds for the second half of the 2018-19 campaign.

More ...
GEOFF NEVILLE, Graphic Sportswriter

DRIVING IN TRAFFIC. Southern Nash's Rayna Bailey (left) makes a strong move to the basket during last Tuesday's road girls hoops contest versus rival Wilson Fike.

SN Looks To Rebound


STANHOPE -- Southern Nash's girls basketball team opened the 2019 portion of its schedule in fine fashion with a road victory at Bunn -- just two days into the new year.
But since then, the Ladybirds have embarked on a three-game losing streak, with two of the setbacks coming in Big East Conference competition.

More ...
GEOFF NEVILLE, Graphic Sportswriter

RED OAK-PARKER GAME ACTION

Red Oak girls stopped by rival Parker Middle


RED OAK -- Something always seems to be at stake in recent years when Red Oak and Parker Middle meet in Tri-County Conference girls basketball action.
That was once again the case last Thursday as the Lady Tigers hosted Parker for another key league game at the ROMS Gymnasium.
Thanks to the return of several key players, including point guard Diavian Graham, the Lady Pirates were considered one of the teams to beat this winter in the TCC standings.

More ...
GEOFF NEVILLE, Graphic Sportswriter
Wesleyan continues strong season


GREENSBORO -- The North Carolina Wesleyan College men's basketball team roared past conference rival Greensboro College by scoring a season high 108 points in a 16-point win on the road last Wednesday evening.
Junior center A.J. Frye led the Bishops with a season-high of 33 points on 14 of 18 shooting along with 7 rebounds as a quartet of Bishops finished in double-figure scoring.

More ...
Staff Reports
Northern Nash defeats Firebirds


STANHOPE -- With a packed house on hand at the Southern Nash Gymnasium, Coach Henry Drake's Northern Nash Knights turned their focus to a pesky Firebirds team looking to upset the 13-1 Knights last Friday night in Big East Conference boys basketball action.
Despite a hostile home-court advantage and a strong showing from a motivated Southern Nash team, Northern was able to pick up its 14th consecutive win by way of a 67-56 decision over the Firebirds.

More ...
CHANCE PUCKETT, Correspondent
Carolina Mudcats to host Job Fair


ZEBULON -- The 2019 baseball season is fast approaching and the Carolina Mudcats are looking to add to the club's game day staff by hosting a job fair and hiring event on February 9 from 10 a.m.-1 p.m. at Five County Stadium in Zebulon.
Interested job seekers ages 16 and over wishing to work for the Mudcats are highly encouraged to attend.

More ...
Staff Reports
HERE IS HOW WE DO IT
Southern Nash High School girls basketball coach Jordan Bass explains a strategy during his club's road defeat last Tuesdday evening against the Wilson Fike Lady Demons.
More ...
SOARING IN THE PAINT
Southern Nash's Artavius Allen (right) rises for a basket during last Tuesday night's Big East Conference road boys basketball event versus the Wilson Fike Golden Demons.
More ...
In concert
Nash Arts Nashville Showcase Presents Grammy Award Winning Jim Lauderdale in concert Saturday January 19, 2019 at 7:30 p.m. Tickets are $25 in advance, $30 at the door, $35 reserved. (Nash Arts members $20 in advance, $25 at the door, $30 reserved.) For more information call 252-459-4734.
More ...