Subscribe/Access
Advertisements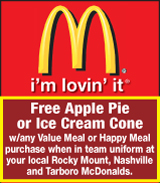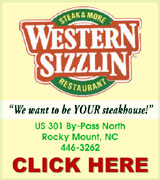 Sections
Member Options
Back
Nashville okays sale of vacant lot


Nashville's Town Council agreed to move forward on Tuesday night with selling a vacant lot it acquired from Nash County in 2016.
The lot is located at the corner of Boddie and Church Streets. Nashville acquired the lot in 2016 as part of a deal with Nash County, who purchased the town's former library on Alston Street.

More ...
AMANDA CLARK, GRAPHIC STAFF WRITER
Strickland earns rank of NCSO Major
Miste Strickland was recently promoted to the rank of Major at the Nash County Sheriff's Office, making her the first female to serve in the role.
The Nash County Sheriff's Office hosted a promotion process for the rank of Major at Nash Community College on Monday, January 7. Assessors consisted of Craven County Sheriff Chip Hughes, Retired Police Chief Willie Williams, NC State Highway Patrol Major Freddy Johnson, NC SBI Special Agent in Charge Brent Culbertson and Hubert D. Pope assessed five internal candidates for the position of Major.
More ...

Nashville Firefighters work to remove the windshield of a vehicle during a mock accident that was a part of a training exercise last Thursday at Nash Community College.

IN THE FIELD
Dispatchers train in mock accident


Dispatchers got the opportunity to see firsthand what happens at the scene of an accident during a training exercise last week.
The training involved a mock motor vehicle accident that resulted in a fatality and a seriously injured person. Both victims were trapped in the vehicle.
Nashville's Fire Department was the first responder on the scene and with help from Coopers Firefighters, helped extract both victims from the vehicle.

More ...
AMANDA CLARK, GRAPHIC STAFF WRITER
Nash awards contract for water project


Nash County Commissioners awarded two contracts Monday for construction of the Northern Nash Water System Project.
Mike Phillips, who is serving as the Interim Utilities/Facilities Director for Nash County, told commissioners that two contracts were put out for bids, with each contract receiving three bids.

More ...
AMANDA CLARK, GRAPHIC STAFF WRITER

Troy Bobbitt (left) received a 25-year service award. Bobbitt has been a member of the Nash County Fire Association for 25 years. Pictured presenting the award is Nashville Fire Chief Chris Joyner.

NFD honors firefighters


Nashville's Fire Department celebrated members and volunteers last month at the department's annual Christmas Banquet.
The career and volunteer firefighters of the year were also recognized at the event.
Fire Chief Chris Joyner said the recognitions are voted on by fellow members.

More ...
AMANDA CLARK, GRAPHIC STAFF WRITER
Blaylock celebrates 100th
A Rocky Mount woman recently celebrated her 100th birthday with friends and family at Avalon Baptist Church.
Sue Myers Blaylock was honored on December 30 with several special recognitions.
After some of her favorite hymns and choir selections were shared, Betty Jo Shepheard, Senator Richard Burr's area representative, presented Blaylock with a flag which was flown over the United States Capitol in Washington, D.C. in honor of her 100th birthday.
More ...

Newly elected state representative James Gailliard (center) is pictured being sworn into office by Superior Court Judge Quentin Sumner during a ceremony held on Janaury 1st at Word Tabernacle Church in Rocky Mount.

New House representatives take oath of office


Newly elected representatives James Gailliard and Lisa Barnes were recently sworn in during individual ceremonies.
Gailliard was sworn in on January 1 during a ceremony at Word Tabernacle Church.
Newly elected state representative James Gailliard (center) is pictured being sworn into office by Superior Court Judge Quentin Sumner during a ceremony held on Janaury 1st at Word Tabernacle Church in Rocky Mount.

More ...
AMANDA CLARK, GRAPHIC STAFF WRITER
RMD investigates three homicides
Rocky Mount Police are investigating three homicides that occurred during the first week of 2019.
The first two homicides happened around 9 p.m. on Saturday, January 5. Officers responded to a shots fired call in the 4400 block of Carrol Avenue. When officers arrived on scene they found Kestler Rayo Bridgers, 31, of Rocky Mount, and Torrey Tinell Hill, 39, of Rocky Mount, with gunshot wounds. Both victims succumbed to their injuries.
More ...
NASH SHERIFF'S OFFICE INCIDENT REPORTS
A dead on arrival was reported on 12/16/18
A larceny of a motor vehicle was reported on 12/16/18 at 3630 Loop Road
A breaking, entering and larceny was reported on 12/16/18 at 7492 Mount Drive
More ...
Complete your "Spiritual 1040" this year, too!


It's income tax time. You'll soon be receiving your W-2 or 1099's and getting your receipts together to prove what you did with all that money you made last year. Why not take a spiritual accounting, too. What did you do last year for the Lord with all that money and talent he gave you?
We often think that God doesn't care a lot about money. After all, the Bible discourages materialism and we all know that money is the fuel that feeds our materialistic habits.

More ...
MIKE RUFFIN
Luke's Word for the Week


There is a popular new praise and worship song from a Spirit filled worship church in Redding, CA that has been hot on the charts the past few months. It's a powerful song and actually incredibly deep theologically as it conjures up images of our faith filled past and provides us unshakeable hope for our future.
The song is called, "Surrounded (Fight My Battles)" the worship team that produced the song is called Bethel Music. Check it out on YouTube or your favorite music playing platform. This article will make much more sense as you hear the song.

More ...
LUKE WHITEHEAD
Nash County Blood Drives for January 2019
Thursday, January 10 from 8:45 until 11:30 a.m. at Davenport Autopark, 600 English Road, Rocky Mount
Thursday, January 10 from 2:30 until 5:30 p.m. at Nash Correctional Institution, 2869 US Highway 64 Alt, Nashville
Saturday, January 12 from 10 a.m. until 2 p.m. at Thorne's Chapel Baptist Church, 1624 Windsor Drive, Rocky Mount
More ...
PEACHTREE COMMUNITY NEWS


A beautiful day, after so much rain, met The Peachtree Baptist Church Congregation last Sunday.
The Sanctuary flower arrangement Sunday was presented to glorify of God by Joan and Ray Eason in loving memory of Joan's mother, Elizabeth Rockley, on her birthday.

More ...
FRAN BUNN
RED OAK NEWS


The Early Risers Women's Fellowship Breakfast will be Sunday, January 13 at 8:00 - 9:30 am at Red Oak Baptist Church. Breakfast will be located in the small dining room of the family life center. There will be a great breakfast and missions speaker. Event is sponsored by the WMU of Red Oak Baptist Church. All females, children to adults, are welcome.

More ...
SUZY PEARCE
Nash County Animal Friends' Notebook


Outside "Pets" Need Love Too!
So many dogs live outside, not part of the family. That is a shame.. but we do want to remind people that if you do have an outside pet...the following is required:

More ...
CAROL VIERELA, NASH COUNTY ANIMAL FRIENDS
These resolutions were made for (not) breaking


We are less than two weeks into 2019, so the first challenges to the wonderful resolutions made in the waning days of 2018, or from the couch on New Year's Day are taking place.
I know firsthand the struggles. I've started writing mine down, in part because of a resolution I took up two years ago to find a way to quit losing track of things.

More ...
Mike Brantley
New Year brings a few changes in leadership


Congratulations to Miste Strickland upon her well deserved promotion attaining rank of Major in the Nash County Sheriff's Office.
Major Strickland has proven to be a true asset to Nash County - both on duty and off duty.
She volunteers quite a bit in various communities and with numerous organizations around Nash County. She has worked tirelessly in multiple capacities with the Nash County Sheriff's Office and is well prepared for this next chapter of her career.

More ...
Jo Anne Cooper
Backward Glances


NORTHERN NASH BAND -This photo originally published in The Nashville Graphic on April 7, 1977. The Northern Nash Senior High School Band had recently won a Superior Rating in competition at the Rocky Mount Band Festival. The band was preparing to travel to the Dogwood Arts Festival in Knoxville, Tennessee and the Six Flags in Atlanta, Georgia in April.

More ...
A PICTORIAL LOOK INTO THE PAST

RUNNING THE SHOW. Nash Central High School alum Montre' Cash is enjoying a strong sophomore season at Averett University. (Photo Courtesy of Averett Sports Information Dept.)

The Dynamic Duo Continues


NASH COUNTY -- After a brief visit home for the holidays, Nash County's Dynamic Duo at Averett University is back in action.
Former rivals in high school, Nash Central's Montre' Cash and Northern Nash's Raymond Bullock are now fast friends and key sophomore members of the Averett men's basketball squad, which competes in the Division III USA South Conference.

More ...
GEOFF NEVILLE, Graphic Sportswriter

NORTHERN NASH'S HANNAH EVANS

NO RUST FOR NNHS


RED OAK -- Even after a 12-day break, it didn't take long for Northern Nash to shake off the rust during last Thursday's girls basketball meeting against North Edgecombe.
The Lady Knights hadn't played since their finale of the Nash County Christmas Tournament on Dec. 22.

More ...
GEOFF NEVILLE, Graphic Sportswriter
BRITTANY TIME


WILSON -- Nash County will once again be well-represented at one of the state's most prestigious girls high school soccer events.
Each of the county's four public high schools along with Rocky Mount Academy will take part in the annual The Brittany Girls Soccer Showcase at Gillette Park in Wilson.

More ...
GEOFF NEVILLE, Graphic Sportswriter

NORTHERN NASH'S TAROD BROWN

Northern picks up a victory


RED OAK -- After closing the first half of the season with plenty of momentum, the Northern Nash Fighting Knights continued on the same path last Thursday to open the second half of their boys basketball campaign.
Certainly, Northern Nash has been on a roll, including first-place efforts at the Nash County and Bunn Tournaments to wrap up the 2018 portion of the schedule.

More ...
GEOFF NEVILLE, Graphic Sportswriter
Buffaloe set for LA event


WARREN COUNTY -- Local Kyokushin Karate fighter Christian Buffaloe is scheduled to compete in the Japan sponsored "2019 Kyokushin Karate USWC Championships" in Los Angeles on January 27. This elite championship features top-level Kyokushin Karate full- contact competitors from Japan, Russia, Eastern Europe, Australia, South America and Canada.

More ...
Staff Reports
NC Wesleyan defeats Brevard


ROCKY MOUNT -- The North Carolina Wesleyan College men's basketball team whirled and twisted its way past the Brevard College Tornados 81-68 for their second straight home win on Sunday afternoon.
The USA South West Division Tornados came into the game shorthanded on the day and road weary as they fell to Methodist the day before.

More ...
Staff Reports
HOLDING OFF THE DEFENSE
Northern Nash's Kanasia Arrington (right) makes an effective move toward the basket during last Thursday evening's home conquest versus North Edgecombe.
More ...