Subscribe/Access
Advertisements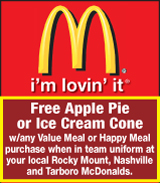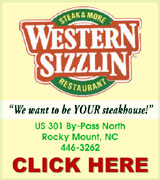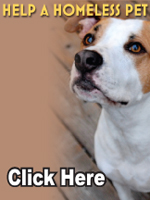 Sections
Member Options
Back
BULLYING PREVENTION DAY


Area students were encouraged to wear blue to school recently to raise awareness about bullying.
The Rocky Mount Police Department partnered with area schools and law enforcement agencies, including Nashville's Police Department, on Monday, October 1, which is recognized as the World Day of Bullying Prevention.

More ...
AMANDA CLARK, GRAPHIC STAFF WRITER
Candidate turns down Nashville's offer


Nashville will be without a permanent town manager a little longer.
Council members voted last Monday to extend an offer to a candidate but Mayor Donald Street said this week that the candidate had turned down the town's offer.
"We are going back to the drawing board," Street said.

More ...
AMANDA CLARK, GRAPHIC STAFF WRITER
Input offered at school consolidation meeting


The third and final town hall meeting was held on Tuesday night at Red Oak Elementary School.
The meeting was held to provide information on the Nash-Rocky Mount Board of Education's consideration of building a new elementary school. If built, the new school would consolidate Red Oak, Cedar Grove and Swift Creek Elementary Schools into one, larger elementary school.

More ...
AMANDA CLARK, GRAPHIC STAFF WRITER
Youth lend a helping hand at Nash Arts


Local youth helped spruce up the outside of Nash Arts recently as part of a service project.
Youth from American Heritage Girls and Trail Life USA NC0834 worked most of Saturday morning on October 6 cleaning up overgrowth and sprucing up the landscaping.

More ...
AMANDA CLARK, GRAPHIC STAFF WRITER
Early voting ends Nov. 3


One-stop early voting is underway and will run until November 3.
Early voting began on Wednesday, October 17 and will be held in Nashville at the Nash County Agricultural Center and in Rocky Mount at Braswell Memorial Library.
Nash County Board of Elections Director John Kearney said he is expecting turnout to be pretty good this election cycle.

More ...
AMANDA CLARK, GRAPHIC STAFF WRITER
Woman hopes to build awareness, offer hope


Vicki Robbins lost her son, Coty, to an overdose on June 3.
Soon after his death, Robbins vowed to not be ashamed and to instead, spread awareness and offer hope to others.
On Saturday, October 27 at 1 p.m. Robbins will do just that with the First Annual Come as you are for Coty Addiction Awareness Walk and Rally.

More ...
AMANDA CLARK, GRAPHIC STAFF WRITER

Pictured above is a home on Green Street that suffered damage from a fallen tree.

Tropical Storm Michael causes wind damage


Tropical Storm Michael had a brief stay in Nash County last week but his stay left a mark, as numerous trees and power lines were downed in the storm.
After devastating parts of Florida, Michael downsized from a Hurricane to a Tropical Storm before approaching North Carolina.
In Nash County, thousands of residents lost power in the storm though for most, the loss of power was brief.

More ...
AMANDA CLARK, GRAPHIC STAFF WRITER
Library hosts Pet Food for Fines


Nashville's Cooley Library is recognizing "Adopt a Shelter Dog Month" by collecting dog food in exchange for late fees.
Nashville's Town Council gave approval to the idea at their meeting earlier this month.
The Pet Food For Fines program started on Monday and will run through October 26.

More ...
AMANDA CLARK, GRAPHIC STAFF WRITER
Rocky Mount PD searches for homicide suspect
Rocky Mount Police are searching for a man who shot a man and kidnapped a woman early Sunday morning.
Police report that they responded to 2112 Leggett Road in Rocky Mount around 2:10 a.m. on October 14 to a shooting with injury call.
Upon arrival, police found Deante Antoine Jefferies, dead on the scene.
More ...
Default judgement shuts down Gold Rock hotel
A default judgment was recently issued against the Ashburn Inn in Battleboro.
Superior Court Judge Quentin Sumner issued the judgment against the property, which is owned and operated by NEELA, LLC.
A default judgment can be issued if one party fails to respond to court-ordered actions.
More ...
Rocky Mount man charged with heroin trafficking
The Tar River Regional Task Force arrested an alleged local heroin trafficker in Rocky Mount last week.
Members of the Task Force conducted a search warrant at 1321 Horne Street in Rocky Mount on October 12 in refernece to narcotics violations.
Once inside the residence, 250 bindles of heroin, a Glock 30 .45 calibery handgun, digital scales, and 5.3 grams or marijuana were seized.
More ...
Rocky Mount donates bucket truck to NCC
The City of Rocky Mount Energy Resources department recently donated a bucket truck to the Electric Line Construction Technology program at Nash Community College. The donation was made during Public Power Week, a national celebration held October 7-13 that brings awareness for public power utilities customers and stakeholders to know how to best engage with their community-owned utility and benefit from all its offerings.
More ...
NASH COUNTY SHERIFF'S OFFICE REPORTS
A call for service was reported on 10/7/18 at 1815 Red Oak Road
A driving while intoxicated was reported on 10/7/18 at 8775 Liles Road
An assault on an officer was reported on 10/7/18 at 2460 Curtis Ellis Drive
More ...
NASHVILLE POLICE REPORTS
INCIDENTS
An embezzlement was reported on 10/10/18 at Subway, 1205 Eastern Avenue
A communicating threats and assault by pointing a gun was reported on 10/14/18 at W Washington Street and S Barnes Street
More ...
Governor Cooper announces new state appointments
Governor Roy Cooper recently announced 63 appointments to various state boards and commissions for North Carolina.
"I'm grateful that these skilled North Carolinians will share their expertise with our state by serving on these key boards and commissions," said Gov. Cooper.
Victoria Brattain, of Rocky Mount, was appointed to the North Carolina Hearing Aid Dealers and Fitters Licensing Board.
More ...
RELAY FOR LIFE DONATION
As a long-standing tradition, The Nashville Graphic produces a special edition promoting Nash County's Relay for Life event. The publication offers local stories from cancer survivors and families affected by cancer. The Nashville Graphic donates a portion of the advertising revenues back to the American Cancer Society. Nashville Graphic Publisher Jo Anne Cooper (left) is pictured presenting the donation to Retha Pappas from Nash County Relay for Life.
More ...
Local man wins lottery prize
Frederick Arrington of Nashville said he's not one for word games, but after he won a $150,000 lottery prize he now has a lucky word he'll never forget.
His good luck happened recently when he stopped by Tony's Tobacco 132 Shop on West Mount Drive in Nashville and bought a Spicy Hot Crossword scratch-off ticket.
"This was the first time I bought a crossword ticket," Arrington said. "I usually play the other games. I saw the word 'Hot' and figured I'd get one of those instead."
More ...
Court of Honor
Troop 76 of Nashville held their first Court of Honor Tuesday October the 9th. Scout members have worked to earn their ranks and merit badges.
More ...

Over 60 people participated in the annual Lucy McKeel 5K for Kids race on Saturday in Red Oak. Pictured, Bill Mckeel (at right), husband of Lucy McKeel, presents a medal to Brian West after his finish.

5K race raises money for literacy camps


The memory and legacy of Red Oak's Lucy McKeel was celebrated on Saturday during a 5K race in her name.
Over 60 people participated in the 5K race, which was formerly the Fruit of the Spirit 5K but renamed this year the Lucy McKeel 5K for Kids.
Red Oak United Methodist Church hosts the event this year as a fundraiser for the church's literacy camp, which has been held each summer for several years.

More ...
AMANDA CLARK , GRAPHIC STAFF WRITER
Bark for Life held in Rocky Mount


The fifth annual Bark for Life was held on Saturday, September 29 at Best Friend's Dog Park in Rocky Mount.
Several vendors participated in the event and numerous activities were held for the four-legged attendees, including a cookie toss contest, best costume contest and best trick contest.

More ...
AMANDA CLARK, GRAPHIC STAFF WRITER

Braswell Family Farms President Trey Braswell is pictured with his wife, Wimberly, and their daughters during the anniversary celebration last Saturday.

Nashville business celebrates 75 years


Braswell Family Farms, one of the foremost producers of premium and specialty eggs and feed on the East Coast, celebrated its 75th year in business on Saturday, October 6. The fourth-generation, family-owned farm held a company-wide event Saturday at Boddie Mill, the business' first location.
Braswell Family Farms is one of the leading employers in Nash County and gives all the glory to God and the dedication of their employees for the success of the company.

More ...
Contributed
Nash County Animal Friends' Notebook


We have joy when there are pets adopted or rescued. We have sadness when pets die. So many of them are gone because the pets weren't fixed. They weren't spay/neutered. Why does this make a difference? Well, first of all, it makes more babies that grow up and end up without a home. If the owner takes care of the babies, it would probably cost the owner more than it would cost to have his female fixed.

More ...
CAROL VIERELA, NASH COUNTY ANIMAL FRIENDS
Luke's Word for the Week


"Lord, just give me strength to..." How would you usually finish off that request? Maybe with, "to get me through this day", "to love this person who is driving me crazy", "to find a way out of this situation." I have a hunch that you, like me, utter these words, and often time it's under our breath or in the midst of the chaos of life. No doubt about it, we must have strength to live in this thing called life.

More ...
LUKE WHITEHEAD
RED OAK NEWS


Lots of activities for everyone to enjoy last weekend with the fall weather. In addition to the opening of the NC State Fair there were also local opportunities for all ages. It was beautiful weather for the annual Lucy McKeel 5K Kids Run on Saturday, October 13. All proceeds from the run stay in the community to support children through the summer literacy camps, after school tutoring programs, and making sure children don't go hungry.

More ...
SUZY PEARCE
Popular hymn written during period of unbearable grief


Robbie and I went to hear a rising star in Baptist circles, a young evangelist named C.T. Townsend. If he comes to your community, I urge you to go hear him. He and his wife's ministry have exploded in recent years, and when I heard him, it was easy to see why. He is dynamic and anointed, an often-unusual combination.

More ...
MIKE RUFFIN
PEACHTREE COMMUNITY NEWS


It was a beautiful day at Peachtree Baptist Church Sunday as the Peachtree congregation gathered to worship the Lord.
The Sanctuary flower arrangement was presented to glorify God by Lynn and David Griffin in loving honor of their daughters-in-law birthdays; Kristina Griffin - October 3rd and Jennifer Griffin - October 17th.

More ...
FRAN BUNN
Intersections: God and Life


Do we realize just how good God is? I love "The King of My Heart" by Bethel Music. Consider some lyrics from the song:
Let the King of my heart -- Be the mountain where I run
The fountain I drink from -- Oh, He is my song

More ...
CARLYLE HALL
Change of heart on roundabouts concept


I have reached the age when I fully realize it is okay to change my mind, or admit I'm wrong. Some might say it took long enough.
I've mentioned a time or two how annoying I've found traffic roundabouts to be. I mean I haven't ranted about them some other nonsensical things such as daylight savings time, which to me is like cutting one end off a blanket and sewing it to the other end to make the blanket longer.

More ...
Mike Brantley
It's been an honor to know Ms. Rachel Joyner


Rachel Joyner is one of those people you never forget meeting and if you've ever met her, chances are, she remembers meeting you.
I am thankful for the time I've been able to sit and talk with Ms. Joyner. It doesn't take long for you to realize she's got a wealth of historical knowledge and is more than willing to share it.

More ...
Amanda Clark
It started with a dress


Dear Editor, It all started with a dress. Well, really it started in 1981 when a group from Christ Episcopal Church started an outreach program for victims of domestic violence, by 1986 a shelter was purchased and since that time My Sister's House has expanded to have offices in Nashville, Rocky Mount, and Tarboro. But for one client this year it started with a dress.

More ...
LETTER:
Vote for values, not the party


Dear Editor: To the Body of Christ,
Thank-you for allowing me the opportunity to witness these past weeks via my freedom of speech about this very crucial mid-term election. I am not a Democrat, I am not a Republican. I am first and foremost a Christian. I am an American and I am a grandmother concerned for my grandchildren's future as well as America's future.

More ...
LETTER:
Backward Glances


This photo originally published October 5, 1968 in The Nashville Graphic. Mrs. Gaye Edwards (seated), a seamstress from N. Sumergrade & Sons, Inc. of Rocky Mount, was conducting sewing classes at Nash Technical Institute, now Nash Community College.

More ...
A PICTORIAL LOOK INTO THE PAST

TAKING THE NEXT STEP AT SNHS. Coach Melanie Davis guided the Southern Nash High School volleyball squad to a winning season this fall.

Davis Builds SN Spike Program


STANHOPE -- It hasn't taken long for Melanie Davis to put her imprint on the Southern Nash High School volleyball program.
Southern Nash has never been able to achieve consistent success on the court -- a trend Davis hoped to change when she arrived on campus three years ago, fresh off a softball career at Lander University.

More ...
GEOFF NEVILLE, Graphic Sportswriter

CAN'T BE BROUGHT DOWN. Nash Central High School's Byron Hawkins escapes a tackle attempt during Monday's Eastern Plains Conference football showdown against SouthWest Edgecombe at The Dawg Pound.

TOUGH ONE TO TAKE


ROCKY MOUNT -- Nash Central had an opportunity to make an important early-game statement during Monday's Eastern Plains Conference football showdown at home against rival SouthWest Edgecombe.
But once that opportunity slipped away, the Bulldogs seemed to be climbing uphill offensively against the Cougars.

More ...
GEOFF NEVILLE, Graphic Sportswriter

CAMERON JOHNSON

FAMILY COURT


NASH COUNTY -- "My wife, who was my fiance' at the time, asked me 21 years ago, 'When we get married, are you still going to play tennis every Friday and Saturday'?''
I said, 'No, sometimes it rains.''
Despite this nearly obsessive passion for tennis, she still married him, and Michael Johnson is still playing tennis every Friday and Saturday.

More ...
Staff Reports

SOUTHERN NASH'S ELISABETH COLLIE

SN golfer qualifies for states


BOLIVIA -- Southern Nash High School's Elisabeth Collie will be making a return trip to the Class 3-A State Girls Golf Championships.
Collie, a junior standout, earned a prestigious spot at the states by excelling at Monday's Class 3-A East Regionals at Carolina National Golf Club in Brunswick County.

More ...
Staff Reports

MACK BAILEY

Soccer action is heating up


NASHVILLE -- What a beautiful day it was for for soccer last Saturday in the Town of Nashville Youth League at Glover Park.
In the 12U Division, Braswell Family Farms played George's Barbeque.
Braswell Family Farms saw goals by Destiny Davis, Dallas Ray and Galyce Ham.

More ...
Staff Reports
COUNTY SOCCER REPORT


NASH COUNTY -- Here are updated Nash County Recreation & Senior Services Youth Soccer League Scores:

More ...
Staff Reports
Wesleyan defeated versus Averett


ROCKY MOUNT -- The North Carolina Wesleyan College football team dropped its USA South Conference football game to Averett University (Va.) 24-14 in a battle of league unbeatens last Saturday evening at Rocky Mount Athletic Stadium.
Averett got off to a quick start, scoring eight minutes into the game on a short one-yard touchdown run.

More ...
Staff Reports
NC tennis stars honored


ROCKY MOUNT -- Two Nash Central High School stalwarts have earned spots on the 2018 All-Eastern Plains Conference Girls Tennis Team.
Nash Central's selections were Sarah Radjail and Krystal Sanchez. The Lady Bulldogs went 1-9 overall and 1-7 in the EPC, which was good for a tie for fifth place.
Wilson Beddingfield was the undefeated EPC champion and featured the league's Player of the Year (Carissa Hayes) and Coach of the Year (Jeremy Howard).

More ...
Staff Reports
SNMS to host fundraiser


STANHOPE -- With the start of each October, our hearts are warmed by the yearly traditions that surround this season.
As far as yearly traditions go, the Southern Nash Middle School family has begun, and continued, the tradition of helping people in our community.
Each year, the Southern Nash Cobras fundraise through their Dig Pink campaign, a campaign that helps raise money for those deeply affected by cancer, along with other possible ailments, within the school and community.

More ...
Staff Reports
NOWHERE TO GO
Nash Central High School's Vinsa Phillips is unable to shake this tackle attempt during the Bulldogs' home meeting on Monday against the SouthWest Edgecombe Cougars.
More ...
ON HER WAY
Mattie Allen of the DJ Dibo team speeds toward the goal during last Saturday's Town of Nashville Youth Soccer action.
More ...
UP AND OVER
Southern Nash's Alissa Bailey (right) lifts a kill attempt over two Franklinton defenders during last Saturday's Big East Conference volleyball matchup in Franklin County.
More ...
Nashville welcomes Pat "Mother Blues"


The Town of Nashville will host its final Creekside Music Series of the year on Friday, October 19 at Stoney Creek Environmental Park starting at 6:30 p.m.
The final event will feature Pat "Mother Blues" Cohen as the entertainment. Cohen is an internationally known blues artist. She performed at a Blooming Festival Kick-Off event held at Nash Arts Center in 2017.

More ...
AMANDA CLARK, GRAPHIC STAFF WRITER
Louisburg College welcomes "A Tempations Revue" with Theo Peoples
On Saturday, October 20, Grammy Award winner Theo Peoples will bring the unforgettable sounds of Motown to the Gardner concert stage in "A Temptations Revue." This dynamic and driving show spans more than a decade of Temptations classics, with every one of these tunes among the most recognizable and culture-defining songs in pop music history: "My Girl," "Papa Was a Rollin' Stone," "Get Ready," "Ain't Too Proud To Beg," "Just My Imagination," "I Wish It Would Rain" and so many more.
More ...