Subscribe/Access
Advertisements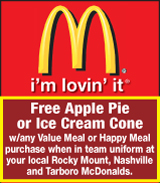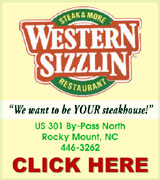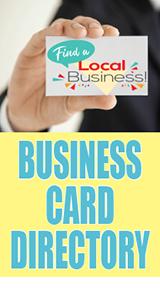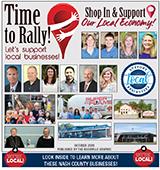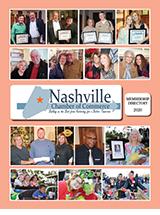 Sections
Member Options
Back
Citizen calls for town resignations


A Nashville resident was met with applause after she called for the resignation of the town manager and finance director at Tuesday night's regular town council meeting.
Anne Freeman spoke during the public comment portion of the board's regular meeting. Freeman said Town Manager Hank Raper and Finance Director Linda Modlin had bullied residents enough and it was time for council members to take action.

More ...
AMANDA CLARK, GRAPHIC STAFF WRITER - 1 opinion posted

SIVILLS

NCMS gets new principal


The Nash-Rocky Mount Public Schools Board of Education approved a new principal at Nash Central Middle School last Monday evening during a special called meeting.
Chris Sivills started in his new role as the leader of the middle school on Wednesday.

More ...
AMANDA CLARK, GRAPHIC STAFF WRITER

Jeannie Dozier, of Nashville, walks in the Survivor Walk at Relay For Life. Dozier is a 7 year survivor.

Nash County raises funds for cancer research


Nash County Relay for Life shined on Friday night, as hundreds of luminaries were lit at dusk to honor those who have battled cancer and to remember those who lost their battle.
The luminary ceremony is one of the most special events held during the annual Relay for Life, said tri-chair Dale Joyner.

More ...
AMANDA CLARK, GRAPHIC STAFF WRITER
Citizens balk at tax increase


As Nashville's Town Council continues to consider a seven cents tax increase, one citizen is voicing her opposition to the proposal.
Lynne Hobbs, who served for 20 years as Nash County's Finance Director, told council members on Tuesday night at the board's regular meeting that after looking over the proposed budget, she feels a tax increase is not justified.

More ...
AMANDA CLARK, GRAPHIC STAFF WRITER
Nash denies school board's funding request


Nash County Commissioners declined funding the Nash-Rocky Mount Public School System's additional budget request and voted to instead give the school system an additional allocation for classroom teachers.
The Nash-Rocky Mount Public School System presented a request for an additional $1.3 million in funding last week from Nash County.

More ...
AMANDA CLARK, GRAPHIC STAFF WRITER

WINTERS

Farmers Market manager retires


Jimmy Winters is a familiar face at the Farmers Market of Rocky Mount.
Winters has managed the market since its inception in 2004 and has been an instrumental part of the Farmers Market's success and growth.
On Saturday, Winters was honored for his longtime dedication to the market with a special ceremony, where he was presented a plaque of appreciation.

More ...
AMANDA CLARK, GRAPHIC STAFF WRITER
Town of Nashville honors Bass as first female council member


Nashville's Town Council took a break from their budget meeting last Thursday to recognize Nashville's first female council member.
Mayor Donald Street presented a resolution to Rebecca "Becky" Bass for her service to the board for 12 years, from 1975 to 1987.
Bass was not only the first woman elected to the board but also a part of the transition of the board from a Commisioner to a Council-Manager form of government in 1978.

More ...
AMANDA CLARK, GRAPHIC STAFF WRITER
High-speed internet still tops Nash priority list


Extending high speed internet continues to be on the list of priorities for Nash County Commissioners, who met last week with legislators.
Commissioners meet each year with legislators prior to them going into session to discuss any issues affecting Nash County. This year, Senator Rick Horner and Representatives Bobbie Richardson and Jeff Collins attended the meeting.

More ...
AMANDA CLARK, GRAPHIC STAFF WRITER
NASHVILLE POLICE REPORTS
INCIDENTS
An involuntary commitment service was reported on 4/24/18 on Hilliard Street
An uttering a forged instrument was reported on 4/25/18 at State Employees Credit Union, 1201 Eastern Avenue
More ...
NASH COUNTY SHERIFF'S OFFICE REPORTS
A kidnapping was reported on 4/22/18 at 1455 Holly Road
A breaking, entering and larceny was reported on 4/23/18 at 5407 Eason Court
A call for service was reported on 4/23/18 at 2811 N Park Drive
More ...
Relay for Life, pics 1


The Lassiter Legacies team came to Relay for Life ready to "knock out" cancer. The team participated in the team banner parade, which was a part of Relay festivities on Friday night.

More ...
Graphic photos by Amanda Clark
Relay for Life, pics 2
Trinicy, Yasmine and London Knight (L-R) carry a sign during the Kid's Walk on Friday night at Relay for Life. The sisters said they were walking for aunts and great aunts who had battled cancer.
More ...
Relay for Life, pics 4
Dale Joyner, at right, one of three chairs for this year's Relay for Life, walks a lap during the survivor lap with her son, Tyler.
More ...
Relay for Life, pics 5
Little Aaron Lee, 16 months, participated in the fun activities that were part of the Kid's Walk at this year's Relay for Life.
More ...
"Food for Fines"
Nashville's Harold D. Cooley Library recently held a "Food for Fines" event, where food items were collected in exchange for $1 being taken off any library fines owed. All food collected was donated to My Sister's House. Pictured is Cooley Library Director Emily Enderle with My Sister's House Director Emily Lemus (L-R).
More ...
ECC announces new foundation leader
Lynwood Roberson, who has more than 20 years of experience leading nonprofit organizations, has been named executive director of the Edgecombe Community College Foundation.
In his new position, Roberson will develop and direct ECC Foundation events and initiatives, spearhead fund-raising efforts, and collaborate with alumni, business leaders, community members, and other stakeholders to increase and maintain the Foundation's visibility.
More ...
Jonah's fish story offers great lesson on poor choices


If you grew up in church, you know the story of Jonah. God asked him to go to Nineveh, a city of 120,000, to help him save them from their own wickedness.
Like most of us, when we run from what we think is trouble, we often go somewhere we think we cannot be found. So, too did Jonah. He refused to obey God, went to Joppa, and boarded a ship to take to Tarshish, a place where he thought God would never find him.

More ...
MIKE RUFFIN
Nash County Animal Friends' Notebook


Hunting dogs. Hounds are some of the sweetest dogs, but too many hunters dump their dogs when they don't hunt well or get old. I personally have no problem with hunting, as I come from a family that helped put meat on the table. It also helps keep the balance in nature by making sure that the herds don't get too big for the resources. However, my family were real hunters.

More ...
CAROL VIERELA, NASH COUNTY ANIMAL FRIENDS
NCC announces new scholarship
Nash Community College is pleased to announce the establishment of the Dr. Craig David Miller Honorary Scholarship.
Established by Eric and Chris Miller in 2017 in honor of their son, the endowed scholarship recognizes students in the College Transfer program.
Following high school graduation, Craig Miller attended Appalachian State University for one semester before enlisting in the U.S. Army where he served four years.
More ...
NCC Nursing graduation set
The Nash Community College Associate Degree Nursing graduate pinning ceremony is scheduled for Thursday, May 10 at 7:30 p.m. immediately following the Adult High School/High School Equivalency graduation in the Brown Auditorium. This time-honored tradition connects past nursing traditions with today's healthcare professionals. The College will recognize 46 Nursing graduates.
More ...
RMA names scholarship recipient
Aurora Madison Henderson, daughter of Mr. Christopher Henderson and Dr. Jessica Henderson, has been awarded this year's Ann MacPherson Weaver Memorial Scholarship at Rocky Mount Academy. Currently an 8th grader at Magellan Charter School in Raleigh, Henderson will attend RMA in the fall on a full-tuition scholarship, valued at over $45,000 for four years.
More ...
Rocky Mount to host mother-daughter tea
The mother-daughter bond is considered by some to be the strongest between a parent and a child.
On Saturday, May 12, the City of Rocky Mount Parks and Recreation department will host their first Mom & Daughter Tea Party. The party will be held in the Booker T. Theater at 170 E. Thomas Street in downtown Rocky Mount.
More ...
Specialty dog shop opens in Station Square


Tosha and Shayne Aldridge spend a lot of their time traveling around the Twin County region with their dog, Lily, offering dog therapy to schools, hospitals and nursing homes.
Now, the couple is providing another type of therapy to residents of the Twin Counties; retail therapy.

More ...
AMANDA CLARK, GRAPHIC STAFF WRITER
Intersections: God and Life


Transformation. Renewal. Revival. There is much conversation about the need for the church in America to readjust, change, and experience revival.
What do we mean when we make these statements or use such language? Some in the established church assume it's just more negativity in a chaotic world. Others see no need for transformation or revival. But, we hold revival meetings and conferences on the topic.

More ...
CARLYLE HALL
RED OAK NEWS


Congratulations to Wilson and Haley Smith Day who were united in marriage on Saturday, April 21! Kathy Gould, missionary to Ukraine, visited Red Oak Baptist Church on Wednesday, April 25 to share about her ministry in Ukraine. Kathy is celebrating 25 years as a missionary to Ukraine.

More ...
SUZY PEARCE
Luke's Word for the Week


The enemy never stops lurking. Are you aware of this? He is always prowling around like a lion looking for someone to devour (1 Peter 5:8). His ways are cunning and he is not just good at lies, he, according to Jesus, is the father of Lies (John 8:44).

More ...
LUKE WHITEHEAD
Local Girl Scout volunteers honored
Local Girl Scouts were recently awarded the Distinguished Serice Award.
Helen Murphy, of Nashville, Sam Zipko of Rocky Mount, and Eleanor Smith and Meta Wells, both of Red Oak, were awarded the prestigious honor at the Girl Scouts - North Carolina Coastal Pines 11th Annual Meeting held Saturday, March 3 in Wilmington.
More ...
J.W. Parker Middle Honor Rolls
Nash-Rocky Mount Schools has released its Honor Roll lists for the second semester of the 2017-2018 school year.
The following students at J.W. Parker School made the A or A/B Honor Roll.
More ...
MILITARY NEWS
U.S. Air Force Airman Isaiah W. Lynch graduated from basic military training at Joint Base San Antonio-Lackland, San Antonio, Texas.
The airman completed an intensive, eight-week program that included training in military discipline and studies, Air Force core values, physical fitness, and basic warfare principles and skills.
More ...
Holding onto youth as long as I can


John Cougar Mellencamp urged us back in the 1980s to "hold onto 16 as long as you can."
Well, I didn't hold onto those years very long, 16 or any of those teenage days. Looking back on that, I feel pretty grateful. Junior high, a.k.a. middle school, was pretty brutal.

More ...
Mike Brantley
Backward Glances


SKATERS COMPETE -- This photo originally published in The Graphic on June 27, 1978.

More ...
A PICTORIAL LOOK INTO THE PAST
Allen Inks With Savannah State


ROCKY MOUNT -- When Robbi Allen arrived at Nash Central High School four years ago, it was fully expected that she would one day earn a college basketball scholarship.
After all, the highly touted Allen arrived at NCHS after an amazing two-year stint at Nash Central Middle -- and her future appeared to be blessed with unlimited potential.

More ...
GEOFF NEVILLE, Graphic Sportswriter

NASH CENTRAL SOCCER STAR LINZI LONG

YEAR TO REMEMBER


ROCKY MOUNT -- It's been a banner season -- literally -- for the Nash Central High School Athletic Department.
Nash Central is making the most of its move to the Class 2-A Eastern Plains Conference as the Bulldogs and Lady Bulldogs are racking up a slew of league championships.

More ...
GEOFF NEVILLE, Graphic Sportswriter

NASH CENTRAL'S KENOAH EVANS

TRACK'S TITANS


ROCKY MOUNT -- The glitzy rings on Juan Jackson's fingers display the successful track and field program he has helped build at Nash Central High School.
And even though the Bulldogs were decimated by graduation following their successful campaign in 2017, the program continues to thrive.
Nash Central has moved from the Class 3-A Big East Conference to the Class 2-A Eastern Plains Conference -- and has achieved similar strong results, including a sweep of North Pitt during last Thursday's regular season finale at The Dawg Pound on the NCHS campus.

More ...
GEOFF NEVILLE, Graphic Sportswriter
Southern earns first in league


STANHOPE -- With a team loaded with young but potential-rich talent, Southern Nash High School softball coach Scott Collie figured his Ladybirds would eventually be a contender for the top spot in the Big East Conference standings.
However, Collie wasn't sure if that would occur this season, but the Ladybirds have arrived ahead of schedule.

More ...
Staff Reports
Long resigns for Wesleyan


ROCKY MOUNT -- The North Carolina Wesleyan Department of Athletics has announced that long-time staff member Charlie Long has stepped down as head coach of the Battling Bishop baseball program.
Long, who recently completed his 21st season at the helm of the program, will remain actively involved in athletics as a member of the North Carolina Wesleyan Office of Advancement.

More ...
Staff Reports
Brice claims Big East championship


ROCKY MOUNT -- The Big East Conference Boys Tennis Tournament was staged last Wednesday and Thursday at the North Carolina Wesleyan College Courts.
Rocky Mount's Tyler Brice was the top singles seed and lived up to that standard by defeating RM teammate Ben Osterhout 6-2, 6-0 in the championship match.

More ...
Staff Reports
Mudcats defeated versus Down East


KINSTON -- Weston Wilson homered for the second straight game, Trey Supak struck out eight and took a no-hitter into the fifth, but Anderson Tejeda, Chuck LeBlanc and Alex Kowalczyk each hit home runs while leading the Down East Wood Ducks to a sweep clinching 6-3 victory versus the Carolina Mudcats on Sunday afternoon in Class A Carolina League baseball action in Kinston.

More ...
Staff Reports
Wesley Men rally for victory


ROCKY MOUNT -- The Wesley Men rallied for 7 runs in the game's final two stanzas as they overcame an early 4-0 lead by the Pizza Inn gang to take home a 7-4 win in Thursday night in Rocky Mount Major League Little League action.
The Methodist rode a 13-hit attack and the strong right arm of a late-arriving Tevin Jones as they handed the hard hitting Pizza 'eaters their first loss of the young season.

More ...
Staff Reports
Nashville continues campaign


NASHVILLE -- It was another beautiful day at Glover Park last Saturday for the Town of Nashville's Spring Sports Season.
It was a perfect day to play some ball and the players did just that!
In softball, Weston Transport played with a lot of heart and effort but it wasn't enough as they fell to George's BBQ Sauce.

More ...
Staff Reports
SN edges Knights in tie-breaker


BUNN -- Southern Nash High School took first at the Nash County Golf Championship, which was held last Thursday at The River Golf Club near Bunn.
The Firebirds tied with Northern Nash with 393 strokes, but claimed the top spot due to a tie-breaker (score of fifth-best performer).
Nash Central earned third place overall at 417 strokes.

More ...
Staff Reports
FLIGHT PATH
Nash Central's Joshon Foster soars in the Boys Long Jump during last Thursday's Eastern Plains Conference track and field meet against North Pitt at The Dawg Pound.
More ...
KING OF THE CONFERENCE
Nash Central High School junior boys tennis standout Cameron Johnson has been exceptional at No. 1 Singles this spring against Eastern Plains Conference foes.
More ...
TAKING THE BAR
Nash Central High School's Illiana Brown competes in the Girls High Jump competition during last Thursday afternoon's conference track and field meeting against North Pitt at The Dawg Pound on the NCHS campus.
More ...
TEAMMATES REUNITED
Nash Central High School girls basketball coach Terri Cash has called her 2017-18 squad 'a joy to coach'. Those players were reunited last Thursday as Robbi Allen (front, second from left) signed a hoops scholarship to attend Savannah State.
More ...
"Waiting for Godot" opens May 3rd
Samuel Beckett's critically acclaimed play, "Waiting for Godot," will take to the stage in the Booker T. Theater May 3 to May 6, 2018. Showtimes are Thursday through Saturday at 7:30 p.m. and 2 p.m. on Sunday. Tickets are $7 for children, $9 for students and seniors and $11 for adults.
Directed by Brooke Edwards, this cornerstone of 20th century drama revolves around the characters Vladimir and Estragon, two men who spend their days waiting for the illusive "Godot" to arrive only to constantly be told by a young messenger that he will come tomorrow.
More ...
RMHS presents "The Wiz" May 2-5
From L. Frank Baum's classic story, The Wonderful Wizard of Oz, Rocky Mount High School's Gryphon Theatricals perform their Spring musical, The Wiz. This timeless tale of Dorothy's adventures through the Land of Oz is a fun, family-friendly, modern musical with a dazzling mix of rock, gospel, and soul music.


More ...