Subscribe/Access
Advertisements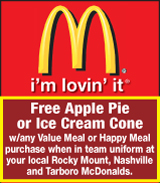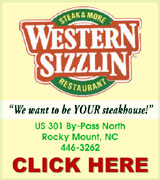 Sections
Member Options
Back
Family miffed over cemetery issue


Nashville Town Manager Hank Raper and Finance Director Linda Modlin were put under fire on Tuesday night regarding their handling of an issue at Forest Hills Cemetery.
Five members of the family of Carolean Moore Hyde addressed council members after the family was forced to bury Hyde in Red Oak instead of next to her husband, Dan, and infant children in Nashville's cemetery.

More ...
AMANDA CLARK, GRAPHIC STAFF WRITER
Nash okays intent to sell home health


Nash County Commissioners were not unanimous in their approval of a resolution declaring the county's intent to sell its home health agency.
Commissioner Fred Belfield said he had concerns about selling it, arguing that private enterprise was about making a profit, something that sometimes impacted the services that were provided.

More ...
AMANDA CLARK, GRAPHIC STAFF WRITER

Trey Ormond practices walking his pig on Monday while preparing for the upcoming show and sale.

Youth plan for annual show and sale


Weeks of hard work will soon pay off for local youth as the 81st annual Eastern Carolina 4-H Meat Animal Show and Sale is set for April 17 and 18.
Landen Lucas, 18, is preparing for his last show and sale.
Landen has been showing steer for the past six years at the show and sale.

More ...
AMANDA CLARK, GRAPHIC STAFF WRITER
Nash County water rates may increase


Nash County Commissioners will soon have to consider some changes to the Central Nash Water and Sewer District to keep the fund viable.
The topic was discussed last week during a two-day budget retreat in Rocky Mount.
County Manager Zee Lamb said the county's solid waste fund was self-supporting, probably because of the board's decision a few years ago to raise the yearly fee to $125.

More ...
AMANDA CLARK, GRAPHIC STAFF WRITER
It's time to "Walk in Her Shoes!"


My Sister's House is hoping to bring awareness to sexual assault by hosting its fourth annual "Walk in Her Shoes."
The event is held in April, which is when Sexual Assault Awareness Month is recognized.
"That's what "A Walk in Her Shoes" is representing," said Samantha Andelin, Director of Operations for My Sister's House. "It's a good fund-raiser but it's great awareness."

More ...
AMANDA CLARK, GRAPHIC STAFF WRITER
Boone receives Long Leaf Pine


Former Director of Nash County Social Services Donna Medlin Boone thought she had attended her last Nash County Commissioner meeting when she retired at the end of the February. But on Monday, Boone attended one more commissioner meeting, this time to be recognized with a special award.
Judge Pell Cooper, brother to Governor Roy Cooper, presented Boone with the Order of the Long Leaf Pine Award.

More ...
AMANDA CLARK, GRAPHIC STAFF WRITER
Town of Spring Hope to add parking signs


The Spring Hope Board of Commissioners are planning to place parking signs in two specific areas in town to ease confusion and maintain the safety of the community.
Town Manager Jae Kim said the two locations parking signs will be added to are in front of the post office on East Branch Street and parts of North Pine Street and East Franklin Street near Denton Auto.

More ...
KENDRA JONES, GRAPHIC CORRESPONDENT
School system hires new Chief Technology Officer
The Nash-Rocky Mount Public Schools (NRMPS) Board of Education approved Tremain McQueen as the new Chief Technology Officer (CTO) during the February Board of Education Meeting.
McQueen has 16 years of experience in the technology industry in various roles. He holds a Bachelor of Science in Computer Science from Fayetteville State University.
More ...
STEAM
The Town of Nashville's Parks, Recreation and Cultural Resources Department partnered with My Dynamic Academy to host a three-day S.T.E.A.M. Camp in Council Chambers at the Library Monday through Wednesday. Pictured above, Jacob Schrader and Charlie Creech work together on an engineering project, where they paired up to construct something out of Lego's on Tuesday at the camp.
More ...
NASHVILLE POLICE REPORTS
INCIDENTS
A larceny was reported on 3/26/18 at 504 Woodfield Drive
A failing to burn clear light above the licerse plate, giving fictitious info to an officer, possession of an open container and possession of cocaine was reported on 3/26/18 at Wheeless Drive at Washington Street
More ...
NASH COUNTY SHERIFF'S OFFICE REPORTS
A breaking, entering and larceny was reported on 3/25/18 at 10440 W Old Spring Hope Road
A simple assault was reported on 3/25/18 at 4301 Hopkins Road
A felony larceny was reported on 3/26/18 at 11152 Camp Charles Road
More ...
Local minister asks Castalia Board for family event at park


At its regular monthly meeting on Tuesday, the town board of Castalia had no new business. They did, however, have lots of unfinished business.
First, Rev. Victor Fenner of Castalia Missionary Baptist Church addressed the board. At the March meeting, Fenner approached the board about the idea starting a family centered event in the park. By strengthening families, the community is strengthened.

More ...
JESSICA A. SMITH, GRAPHIC CORRESPONDENT
Middlesex Elementary honor rolls
Nash-Rocky Mount Schools has released its Honor Roll lists for the second semester of the 2017-2018 school year.
The following students at Middlesex Elementary School made the A or A/B Honor Roll.
More ...
Nash 4-H Science Fair, pics 1
Nash County 4-H hosted its annual Science Fair last month. Winners for third and fourth grade were (L-R): Jonathan Medlin, third place, Noah Martinez, second place and Taryn Reams, first place.
More ...
Nash 4-H Science Fair, pics 3
Brothers Corbin Clark and Devin Clark participated in the 4-H Science Fair in the Cloverbuds category. Corbin did his project on volcanoes while Devin's project focused on bugs versus insects.
More ...
Cedar Grove hosts Health Fair
Andre Battle looks at the germs on his hands at a germ station, which was hosted by NRMS Nurse Kendree Adkins at a career fair at Cedar Grove Elementary School.
More ...
Pilate's Pardon of Barabbas was a pardon for all of us


The governor answered and said to them, "Which of the two do you want me to release to you?" They said, "Barabbas!" (Matthew 27:21)
In Jesus' time, the Romans had a long-standing tradition at Passover of releasing one prisoner as a gesture to illustrate its respect for the Jewish holiday. Mark's account of Pontius Pilate's decision to release Barabbas covers the exchange between Pilate, the Jewish leaders and others as Pilate struggled with his decision:

More ...
MIKE RUFFIN
Luke's Word for the Week


Of the many pillars of the Christian faith, I'm going to submit to you that the weakest in the life of many followers of Jesus is that of prayer. It's curious, though, that we struggle with prayer so much; yet, when we look at the life of Jesus, prayer was a foundation in his life. Whether it was early in the morning before the sun came up (Mark 1:35), when his time had come (John 17:1), or on the cross asking for forgiveness for others (Luke 23:34), Jesus was keenly aware that intimacy with the Father, through prayer, was the only way to live on this earth while having a citizenship in heaven.

More ...
LUKE WHITEHEAD
PEACHTREE COMMUNITY NEWS


Sunday Morning, the weather was not an "April Fool Day" ! It was a gloriously beautiful day as Peachtree folks gathered at the church for worship. There were several visitors and it was good to welcome them to the service.
Sanctuary flowers were given by Bart and Bill Wood in loving memory of their parents, James and Patricia Wood.

More ...
BARBARA HARDISON
Democrats to host convention
Nash Democratic Party members will gather on April 7 at 10 a.m. at the Nash County Superior Courtroom in Nashville, to rally for a "Blue Wave" in this 2018 "Blue Moon" election.
"According to NC Policy Watch, every 12 years, North Carolina has a blue moon election with no major statewide campaign, e.g. Governor, President or US Senator, to drive turnout," said Dwight Jordan, Nash Democratic Party Chair.
More ...
Guest speaker
Elizabeth C. Graham, North Carolina Daughters of the American Revolution Regent was the guest speaker at the Micajah Pettaway Chapter of the DAR February meeting. She spoke on the subject "Why Women Join the DAR" and "The importance and Preservation of Documents Created By the DAR." Graham, center, is shown with several members of the Micajah Pettaway Chapter.
More ...
April is declared Distracted Driving Awareness Month
Governor Roy Cooper has proclaimed April as Distracted Driving Awareness Month to increase awareness that distracted drivers are not only a danger to themselves, but everyone else on the road.
In conjunction to the proclamation, the North Carolina Governor's Highway Safety Program has launched its annual One Text or Call Could Wreck It All campaign to encourage motorists to not drive distracted.
More ...
RED OAK NEWS


Women in Action will meet at Red Oak Baptist Church on Thursday, April 12 at 6:30 pm.
The youth of Red Oak Baptist Church will go to Ennis Park on Saturday morning, April 14 to pass out water bottles as a mission to the community. Information about service times at the church and Vacation Bible School information will be included on the bottles.

More ...
SUZY PEARCE
Local initiated into Honor Society
Lindy Stark, of Nashville, was recently initiated into The Honor Society of Phi Kappa Phi, the nation's oldest and most selective all-discipline collegiate honor society. Stark was initiated at North Carolina State University.
Stark is among approximately 30,000 students, faculty, professional staff and alumni to be initiated into Phi Kappa Phi each year.
More ...
What happened to common courtesy?


We've heard some rumbling in the community about an issue that happened back in January regarding Nashville's cemetery. A local family ran into major issues when trying to bury a loved one in Forest Hills Cemetery here in Nashville. Even though the family had cemetery plots here in town, a local woman who was prepared to bury her mother next to her father in Nashville, ended up laying her mother to rest in Red Oak.

More ...
Jo Anne Cooper
Backward Glances


NASH CENTRAL MVP'S - This photo originally published in The Graphic on May 30, 1978. The most valuable players in each sport at Nash Central Junior High were awarded at the school's athletic banquet which was held at Melton's Barbecue.

More ...
A PICTORIAL LOOK INTO THE PAST

COLBY CRUSHES ONE. Nash Central's Colby Warren rips an extra-base hit to the outfield during Monday's decision over county opponent Faith Christian School at the Golden Leaf Invitational Baseball Tournament in Wilson.

NASH COUNTY CLASH


WILSON -- Two Nash County clubs with impressive recent diamond portfolios met Monday in an important bragging rights game as part of the Golden Leaf Invitational Baseball Tournament at historic Fleming Stadium.
Faith Christian, the defending NCISAA state champion, tangled with ever-improving Nash Central in the second contest of the round-robin format.

More ...
GEOFF NEVILLE, Graphic Sportswriter

SILAS SLIDES IN. Northern Nash\'s Silas Gonzalez (right) scores a run for the Knights during Monday\'s tourney contest versus Roxboro Community.

NNHS Edged In Extras


WILSON -- It's been one of those years to date for the Northern Nash baseball team -- and the string of tough luck has continued at the annual Golden Leaf Invitational in Wilson County.
The Fighting Knights were extremely competitive in their opening two games of the round-robin event, but were unable to come away with a victory in either outing.

More ...
GEOFF NEVILLE, Graphic Sportswriter
Wesleyan teams are in action


ROCKY MOUNT -- North Carolina Wesleyan College's baseball team closed out USA South Conference play last weekend with a series win over Ferrum College, taking 2-of-3 from the Panthers at Bauer Field.
The Battling Bishops end league play with a 10-8 record and now stand at 19-17 overall.

More ...
Staff Reports
RM ready for Opening Day


ROCKY MOUNT -- The crack of the bat and the smell of the grass leave little room for doubt that baseball season is quickly approaching.
This Saturday, the City of Rocky Mount Parks and Recreation department will host the Opening Day ceremonies for Rocky Mount Little League and the inaugural season of the Babe Ruth Tar River Youth Softball League at the Rocky Mount Sports Complex.

More ...
Staff Reports

NORTHERN NASH'S MACKENZIE PROCTOR

STARS ON TRACK


FRANKLINTON -- Northern Nash's boys track and field team and the Franklinton High School Football Field seem to be forming a perfect union this spring.
Two weeks earlier, Northern's boys had taken first place at the annual T Sanders Invitational Meet on the FHS campus.
The Fighting Knights made a return trip to Franklin County last Wednesday and were the winners of a Big East Conference tri-meet that also featured Southern Nash and host Franklinton.

More ...
GEOFF NEVILLE, Graphic Sportswriter

SWIMMERS HELPING SWIMMERS. Maddie Girouard helped coordinat the Swimmers Helping Swimmers Program at the Harrison Family YMCA in Rocky Mount.

Girouard honored for volunteer work


ROCKY MOUNT -- Maddie Girouard, age 10 of Rocky Mount and a Swim Team Racer for the Harrison Family YMCA, has been honored for her exemplary service with a Certificate of Excellence from the Prudential Spirit of Community Awards, and with a President's Volunteer Service Award.
Presented annually by Prudential Financial in partnership with the National Association of Secondary School Principals (NASSP), The Prudential Spirit of Community Awards honors young people across America for outstanding volunteer service.

More ...
Staff Reports

WAITING FOR THE THROW. A Wilson Hunt baserunner slides safely into third base during his club's home baseball game last week against rival Southern Nash.

Slump Busters Needed


WILSON -- The season started off well enough for the Southern Nash High School baseball team -- and then made a sharp turn for the worse over the past few weeks of action.
Southern Nash won five of its first six outings and drew raves from local coaches as a possible team to beat in the always-competitive Big East Conference diamond standings.

More ...
GEOFF NEVILLE, Graphic Sportswriter
Sports camps are coming to NC Wesleyan


ROCKY MOUNT -- North Carolina Wesleyan College has announced that beginning in the summer of 2018, MB Sports Camps, owned and operated by Mehdi Belhassan, will add NC Wesleyan as its fourth sports center on the Eastern Seaboard.
Current locations include Boston, Orlando and South Florida.

More ...
Staff Reports
Carolina Mudcats announce roster for Opening Day


ZEBULON -- The Carolina Mudcats, the Class-A Advanced affiliate of the Milwaukee Brewers, unveiled their initial roster for the 2018 season on Tuesday.
The Mudcats will open the new season with Milwaukee's top overall rated prospect Keston Hiura, former first round picks Nathan Kirby and Clint Coulter and 10 players returning from the 2017 team.

More ...
Staff Reports
BIG CUT
Northern Nash's Silas Gonzalez makes contact during Monday's matchup against Roxboro Community.
More ...
CUT TO THE CHASE
Nash Central High School catcher Chase Minshew (right) makes a tag at home plate during Monday afternoon's victory over Faith Christian School at the Golden Leaf Invitational Baseball Tournament at historic Fleming Stadium in Wilson.
More ...
GONNA BE CLOSE
Southern Nash catcher Storm Tyson fields a throw last Thursday against league foe Wilson Hunt.
More ...
SHOWING THE WAY
Northern Nash's Nevaeh Fortier (right) takes the early lead in the Girls 3200 Relay event during last Wednesday's Big East Conference Track and Field Meet at Franklinton HS.
More ...
SIDE BY SIDE
A pair of Southern Nash sprinters compete in the Girls 100 during last Wednesday's conference track event at Franklinton High School.
More ...
SKYWALKER
Nash Central's Chandler Padgett leaps for a throw at second base during Monday's tournament baseball showdown against Faith Christian School.
More ...
TAKE A SHOT
A Southern Nash thrower competes in the Boys Shot Put event during last Wednesday afternoon's Big East Conference Track and Field Meet at the Franklinton High School Football Field.
More ...
TURN IT
Northern Nash's Charlie Rooks (left) executes a force play at second base before trying to finish off a double play during Monday afternoon's matchup against Roxboro Community School at the Golden Leaf Invitational Baseball Tournament at Fike High School in Wilson.
More ...
Fun Bike Ride and Rodeo is May 5th at Sunset Park
The city of Rocky Mount will host a Fun Bike Ride and Rodeo Saturday, May 5, 2018. The Fun Bike Ride will begin at 10 a.m. and will begin and end at Sunset Park. The 6.5 mile route will take riders through four national historic districts, downtown and the Tar River Trail. Also, a Bike Rodeo for younger children will be conducted from 9 a.m. to 10 a.m. The rodeo teaches safe riding practices to those learning to ride.
More ...