Subscribe/Access
Advertisements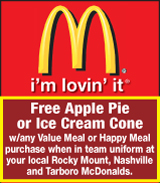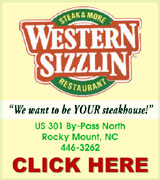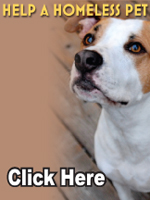 Sections
Member Options
Back
Third candidate files for write-in vote


A third write-in candidate has filed for a spot on Nashville's Town Council.
Timothy Lewis filed on Monday his intentions to seek a seat on the board.
Lewis is third Nashville resident who has filed to run for the board as a write-in candidate.

More ...
AMANDA CLARK, GRAPHIC STAFF WRITER
Boice Willis CEO resigns


Gary Fazio recently resigned from his post as CEO of Boice-Willis Clinic.
Fazio served as CEO for 18 years.
Last month, Fazio was issued a citation for a larceny that occurred at Belks in Rocky Mount.

More ...
AMANDA CLARK, GRAPHIC STAFF WRITER

Sedrick Pitt takes a break from football practice to pose for a photo with a Power Ranger on Monday night at National Night Out.

Nashville Police hosts National Night Out


Nashville Police Officers served hot dogs to the community and played football with youth on Monday night as part of the department's fifth annual National Night Out event.
Typically, the event is held nationwide on the first Tuesday in August. However, Nashville's Police Department decided to move the event to October because of the sweltering August temperatures.

More ...
AMANDA CLARK, GRAPHIC STAFF WRITER
NCMS parents question lost teaching position


Parents of sixth graders at Nash Central Middle School are questioning whether their children are getting the necessary instruction in math after a teaching position was dissolved this school year.
Parents received a letter from Principal Eric Mitchell last Thursday, October 12 informing parents that a teaching position was lost due to student enrollment.

More ...
AMANDA CLARK, GRAPHIC STAFF WRITER
Bark for Life is Nov. 4th in Nashville


The fourth annual Bark for Life is being moved back to Nashville's Stoney Creek Environmental Park.
The event, which is a fundraiser for the American Cancer Society, will be held on Saturday, November 4 from 9 a.m. until 2 p.m.
The inaugural Bark for Life was held in Nashville at Stoney Creek Environmental Park.

More ...
AMANDA CLARK, GRAPHIC STAFF WRITER
Nash adds 9-1-1 dispatch position


The Nash County Board of Commissioners approved on Monday afternoon a position request that would assist in dispatching non-emergency calls.
County Manager Zee Lamb said the position is one that has been in discussion among him, Sheriff Keith Stone and Emergency Services Director Brian Brantley for several months.

More ...
AMANDA CLARK, GRAPHIC STAFF WRITER
Williford safe from state takeover
The North Carolina Innovative School District announced on Friday that it does not plan to recommend Williford Elementary School for inclusion in the new statewide district for the 2018-2019 school year.
The ISD has announced the selection of Southside Ashpole Elementary School for inclusion into the district.
More ...
"Empty Chair" represents lives lost


Just one simple, metal chair made a big statement earlier this month at My Sister's House annual Empty Chair event.
The chair represented the 58 lives lost in 2017 due to domestic violence in North Carolina. Those deaths include 40 women, 15 men and three children. One of those victims was a Nash County resident.

More ...
AMANDA CLARK, GRAPHIC STAFF WRITER
Nash County Jury Commission completes juror list for 2018-2019
If you've ever been summoned for jury service, you've probably wondered how you were selected.
A jury commission is a panel of three citizens which is appointed in each county whose task is to compile the master jury list which the courts use to summon eligible citizens for jury service.
More ...

Marijuana plants were found in the home of Anthony and Terry King.
Nash County couple arrested for drugs and moonshine production
The Nash County Sheriff's Office arrested a Elm City couple on Monday after discovering a marijuana and a moonshine in their home.
Uniformed Patrol Deputies with the Sheriff's Office received information on Monday, October 9 that Anthony Wayne King, 53, and Terry Lynn King, 52, of Riverpoint Road, Elm City, were selling drugs from their residence.
More ...
NASH COUNTY SHERIFF'S OFFICE REPORTS
A larceny of a motor vehicle was reported ond 10/8/17 at 7039 Liles Road
A breaking, entering and larceny was reported on 10/8/17 at 2318 Buckboard Trail
A damage to personal property was reported on 10/9/17 at 3562-3684 W NC Highway 97
More ...

Reggie Cobb, a Biology instructor at Nash Community College, shows students at Red Oak Elementary School the different parts of a person's skull on Friday during "Science Day" at the school.

Red Oak Elementary hosts Science Day


Students at Red Oak Elementary School experienced their first ever "Science Day" on Friday.
Principal Zach Marks brought the special day to the school after seeing the success of a similar event at Bailey Elementary School. Marks said he served as a Principal Intern at Bailey during the 2012-2013 school year and wanted to do something similar at Red Oak Elementary.

More ...
AMANDA CLARK, GRAPHIC STAFF WRITER

Boots Vandemark, Bobbie Smith and Sue Leggett before Saturday's Fruit of the Spirit Race.

Red Oak UMC hosts annual 5K


Proceeds from the Fourth Annual Fruit of the Spirit 5K will once again support the Red Oak community.
The 5K was held on Saturday morning, with over 90 registering for the run and over 60 participating in the 5K race.
The race is sponsored by Red Oak United Methodist Church and is in its fourth year.

More ...
AMANDA CLARK, GRAPHIC STAFF WRITER
Nash Soil and Water accepting applications for Share program
The Nash County SWCD is currently accepting applications for NC Agriculture Cost Share Program, Agriculture Water Resources Program, Community Conservation Assistance Program & Environmental Quality Incentive Program. These programs are voluntary cost share programs designed to assist landowners with installation of various Best Management Practices that help protect or improve water quality in our state.
More ...
Constitution Week
The Micajah Pettaway Chapter of the Daughters of the American Revolution recognized Constitution Week during the week of September 17 through 23. Constitution Week is the commemoration of America's most important document. This year, DAR placed a display created by Meg Cressionne in the Braswell Memorial Library. Pictured looking over the display is Frances Powell, Reba High, Berteen Wilder and Linda Shepard, members of the local chapter of DAR.
More ...
RED OAK NEWS


The Baptist Men enjoyed their monthly breakfast meeting on Sunday, October 15 at Red Oak Baptist Church.
The Community Trunk or Treat and Fall Festival is coming soon! The fun will be on Sunday, October 29 at 5:00 - 7:00 pm at Red Oak Baptist Church. Trunk or Treat will be located in the church parking lot with the fall festival including games and food will be located in the family life center.

More ...
SUZY PEARCE
Intersections: God and Life


The Stop Sign!
Do you notice the signs? It could be physical, spiritual, or family oriented. At times I've asked God for some confirmation or a "sign." Maybe you too, even now, are seeking God's for direction in life. Sometimes the signs are present but for one reason or another we don't see them.

More ...
CARLYLE HALL
Luke's Word for the Week


When trying to convince our children to broaden their horizons on what foods they'll eat, we often encourage them to, "have an open mind" towards new food groups. We suggest that if they will just try it - they might like it. An open mind for a child when it comes to food is certainly a good thing. With taste buds that easily gravitate towards sweets and chocolates, to not encourage our children to open their minds to vegetables and fruits would certainly be a mistake.

More ...
LUKE WHITEHEAD
PEACHTREE COMMUNITY NEWS


On a beautiful autumn Sunday, Peachtree folks gathered for worship at the church. The service for the day was dedicated to the North Carolina Baptist Children's Homes. Cheryl Hayes, Peachtree's Children's Missionary Coordinator, introduced the guest speaker, Mr. Gary Issett. He is a Trustee with the North Carolina Baptist Children's Homes. Mr. Isset said that the theme for the Baptist Children's Homes in North Carolina is "Sharing Hope- Changing Lives."

More ...
BARBARA HARDISON
National Night Out pics, 1


Nashville Police Chief Tom Bashore and Sgt. Steve Glover (L-R) enjoy a snow cone during National Night Out on Monday at Glover Park.

More ...
Graphic photos by Amanda Clark
Science Day pics, 1


Sarah Heenan, the Executive Director of the Nash Heart Center (at left), speaks to students at Red Oak Elementary School about the heart during Science Day at the schol on Friday.

More ...
Graphic photos by Amanda Clark
Science Day pics, 2
John Todd, of the Tar River Astronomy Club, shows students his home built telescope during "Science Day" at Red Oak Elementary School.
More ...
Science Day pics, 3
Beekeeper Nelson White poses with Ms. Mason's kindergarten class at Red Oak Elementary School on Friday during "Science Day."
More ...
Removing local press creates suspicion


It's been a long time since something -- or someone -- in this community created a cloud of suspicion in my mind that something just doesn't smell right. But "your" school system did just that Monday night!
We recently became aware of concerns amongst parents of sixth graders at Nash Central Middle School that their kids were falling behind due to not having a certified math teacher in the classroom five days a week.

More ...
Jo Anne Cooper
Your community newspaper will always seek answers


I've been a reporter for a long time, way longer than I ever dreamed I would!
I've seen a lot, done a lot, met a lot of people and can honestly say that nothing surprises me anymore.
So on Monday night as I attended, or attempted to attend, a parent's meeting at the local middle school, I can't say I was shocked when I was asked to leave.

More ...
Amanda Clark
Backward Glances


COMMUNITY AWARDS -- This photo originally published in The Graphic on October 15, 1981. Representatives of several Nash County communities were recipients of Community Development Council Awards during a banquet held at the Nash County Agriculture Center.

More ...
A PICTORIAL LOOK INTO THE PAST

THOMPSON'S TURN. Southern Nash's Nadir Thompson (right) picks up yardage last Friday against the Northern Nash Fighting Knights.

SOUTHERN SOARING


STANHOPE -- Coming in at 6-1, and a league-opening win over Wilson Fike, Coach Brian Foster's Southern Nash Firebirds turned their heads to the 1-6 Northern Nash Knights last Friday for another key Big East Conference football showdown.
A fast start and a strong defensive performance were able to secure a 49-0 homecoming win for the Firebirds.

More ...
CHANCE PUCKETT, Correspondent

SUBSTANTIAL GAIN. Malachi Ruffin (right) picks up yardage last Friday night for the Nash Central Bulldogs.

A Tough League Loss


PINETOPS -- All along, the Nash Central Bulldogs have maintained a fundamental goal this season to win the Eastern Plains Conference gridiron championship.
For that to happen, the Bulldogs will now need some help -- but Coach Chris Lee's club still has plenty to play for down the stretch.
Central's EPC aspirations took a hit last Friday as the Bulldogs were stopped by homestanding SouthWest Edgecombe by a 24-14 margin.

More ...
Staff Reports

TRYING TO GET AWAY. A Red Oak runner (left) can't escape this tackle attempt last Thursday versus Nash Central Middle in Tri-County Conference grid action.

A FINAL FLURRY


NASHVILLE -- For the majority of the game, members of the Nash Central Middle School football coaching staff reminded players during last Thursday's matchup against long-time rival Red Oak that the Tigers would find a way to get the ball into the hands of 'best player' Josh Bullock when it mattered the most.
That prophecy turned out to be correct as the Tigers went to Bullock in the fourth quarter -- and were rewarded with a 24-22 victory in a back-and-forth Tri-County Conference showdown at the NCMS Football Field.

More ...
GEOFF NEVILLE, Graphic Sportswriter

EYE ON THE BALL. Southern Nash's Blair Price returns the ball during last Thursday's home volleyball meeting against Franklinton.

Southern VB sked complete


STANHOPE -- Maybe it didn't show up in the victory total column, but Southern Nash High School's volleyball program made significant strides this fall.
The Ladybirds, under the direction of second-year head coach Melanie Davis, won four overall matches in 2017 -- and were competitive in several others in and out of the Big East Conference.

More ...
Staff Reports

TRIPPED UP. Southern Nash's Carlos Garcia (left) is tackled during last Thursday's soccer match at Wilson Hunt.

Still In The Mix


STANHOPE -- It's been a topsy-turvy season in the muddled Big East Conference boys soccer standings, where parity has been a keyword in the balanced league.
But heading into Wednesday's regular season finale, the Southern Nash Firebirds find themselves right where they want to be.
With one match remaining, Southern was tied atop the Big East with Wilson Hunt as both schools have identical 7-2 league marks.

More ...
Staff Reports
Nashville soccer winding down


NASHVILLE -- This past weekend was the second-to-the-final week of regular season play for the Town of Nashville Fall Youth Soccer League at Glover Park.
In the 3-year old division Webby's played Willow Interiors.
Jayvion McNair was the leading scorer for Webby's and Landon Williams was the lead scorer for Willow Interiors.

More ...
Staff Reports
Tanner takes the Big East


WILSON -- In two short seasons, Northern Nash's Grayson Tanner has gone from never playing varsity tennis before to becoming the Big East Conference Tournament Champion.
Tanner, a senior for the Lady Knights, won the singles portion of the Big East Tournament last week at the Barton College Courts in Wilson.

More ...
Staff Reports
NC Wesleyan routs Greensboro


ROCKY MOUNT -- Behind a pair of touchdown catches by junior Trey Lancaster, North Carolina Wesleyan College's football team cruised to a 45-0 USA South win over Greensboro College last Saturday afternoon in Rocky Mount.
Lancaster finished with five receptions for 90 yards, while the Bishop defense pitched its first shutout since last fall's 44-0 win over the Pride.

More ...
Staff Reports
BAILEY BLOCKS
Southern Nash's Emma Bailey (left) comes up with a block last Thursday against Franklinton.
More ...
SURE TACKLE
Southern Nash's Hunter Perry (left) wraps up Northern Nash's Trevor Sledge during last Friday's game.
More ...
TIGERS' PLAYMAKER
Josh Bullock enjoyed a strong performance for the Red Oak Middle School Tigers during last Thursday afternoon's road football victory at rival Nash Central.
More ...
FREE CONCERT
The Town of Nashville Parks, Recreation and Cultural Resources will host its Creekside Music Series on Friday, October 20 at 6:30 p.m. Fireside Collective will provide the entertainment for the evening. Fireside Collective is a progressive folk and bluegrass band based out of Asheville. The band plays original songs on stringed instruments, intendent for a modern audience. In addition to music, there will be lawn games, food and drinks available for purchase by Wingskis and Koi Pond Brewing.
More ...