Subscribe/Access
Advertisements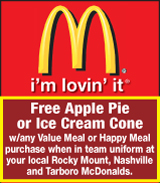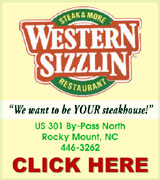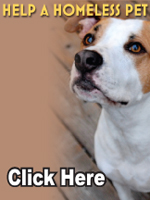 Sections
Member Options
Back
Quadruple murder under investigation


The Halifax County Sheriff's Office is continuing to investigate a quadruple murder on Fishing Creek Road in the Glenview Community of Halifax County.
The murders happened sometime between Sunday night and Monday morning, Halifax County Sheriff West Tripp said. Deputies received the call around 9:30 a.m. on Monday after one of the victims, Janice Harris, 72, didn't show up for work at her building supply job in Rocky Mount. A family member went to check on Harris and found her, her husband, James, 88, and another couple, James Whitley, 76, and Peggy Jo Whitley, 67, dead in the home.

More ...
AMANDA CLARK, GRAPHIC STAFF WRITER
Nashville public hearings set for August 30th


Nashville citizens will have a chance to offer comments on several items during public hearings scheduled for Wednesday, August 30.
One item includes a new bill being called the "Brunch Bill," which would allow alcohol to be purchased prior to noon on Sundays.
The bill, SB 155, is up to each municipality to decide on and if approved, would allow alcohol sales in restaurants and retail stores before noon on Sundays. Currently, those interested in purchasing alcohol must wait until after noon on Sunday.

More ...
AMANDA CLARK, GRAPHIC STAFF WRITER
ECLIPSE 2017
LOOKING UP -- Pictured above, Nash County employees Mike Tolson, Katrina Johnson and Sandi Vick (L-R) try to figure out how to take a photo of the eclipse through a welding helmet on Monday afternoon outside of the Nash County Administration Building.
More ...
Nash County farmer passes away
Carson Barnes, a long-time Nash County sweet potato farmer, passed away on Saturday evening. He was 82 years old.
Barnes began farming in 1960 with just under an acre of sweet potatoes and eight acres of tobacco. Today, his company, Barnes Farming Corporation, has grown to become the largest sweet potato grower and shipper in the country.
More ...
Nash mulls courtyard to honor Morgan


Nash County Commissioners discussed on Monday afternoon a commemorative courtyard as a way to honor former Nash County Commissioner Billy Morgan and others like him.
A suggestion was brought to the board in March that the board should honor Morgan's service to the county. Since then, the county has been researching ways to honor Morgan and others like him who have made important contributions to Nash County.

More ...
AMANDA CLARK, GRAPHIC STAFF WRITER
Ag distributor to expand in Nash County


A day after Nash County commissioners approved a resolution for a Building Reuse Grant for "Project Dragon," Governor Roy Cooper announced that an agriculture equipment distributor would be expanding in the county.
"Project Dragon" is the code name commissioners gave the project until the project was officially announced.
Cooper announced on Tuesday that LS Tractor USA would be expanding operations in Nash County, creating 31 jobs over five years.

More ...
AMANDA CLARK, GRAPHIC STAFF WRITER

Kevin Shaw, the son of Jeanette and the late Paul Shaw, speaks about his father during a flag raising ceremony on Saturday.

JVC honors Paul Shaw


The Joint Veterans Committee (JVC) of Nash and Edgecombe Counties raised a flag in honor of Airman First Class Joseph "Paul" Shaw on Saturday.
The flag raising was part of the JVC's monthly ceremony to honor a deceased veteran from Nash or Edgecombe County. A United States flag will fly over the Rocky Mount Veterans Memorial at Jack Laughery Park for the next month and then will be presented to Shaw's family at the next flag raising event.
Shaw enlisted in the United States Air Force in 1952 and served for four years. After his service, he graduated from East Carolina University.

More ...
AMANDA CLARK, GRAPHIC STAFF WRITER
NASHVILLE POLICE REPORTS
INCIDENTS
A possession of drug paraphernalia and possession of cocaine was reported on 8/15/17 at E Old Spring Hope Road and Eastern Avenue
A larceny was reported on 8/19/17 at CVS Pharmacy, 101 W Washington Street
A driving while impaired was reported on 8/20/17 at S First Street and Liberty Drive
More ...
NASH COUNTY SHERIFF'S OFFICE REPORTS
An assault on a female was reported on 8/13/17 at 1348 Exum Road
A misuse of the 911 system was reported on 8/13/17 at 8939 Graham Brantley Road
A breaking and entering a motor vehicle and larceny was reported on 8/13/17 at 272 Sandy Cross Road
An assault on a female was reported on 8/14/17 at 6007 Weax Parker Lane
More ...
Local churches support NPD's HOPE Initiative


Nashville Police Chief Tom Bashore and the department's HOPE initiative has been recognized all over the world for its approach to dealing with the opioid epidemic.
Since starting the HOPE initiative, 200 people have received support and assistance for their addictions.
The HOPE initiative was started in February 2016 as a safe way for those with an opiate addiction to seek help without fear of incarceration. But, the initiative also serves as a means of help for those addicted.

More ...
AMANDA CLARK, GRAPHIC STAFF WRITER
Red Oak United Methodist funds school's AR program


A simple 5K run is playing a significant role in the education of Red Oak area youth.
Red Oak United Methodist Church recently donated over $3,000 to Red Oak Elementary School to cover the full cost of the school's Accelerated Reader program.
Accelerated Reader is a computer-based reading incentive program that monitors the progress of a child's reading. Currently, it's not a state-mandated program so not all schools are able to have it.

More ...
AMANDA CLARK, GRAPHIC STAFF WRITER
Hemp plant announces start of operations in Spring Hope


A Spring Hope warehouse serves as home to one of the largest hemp mills in the western hemisphere. Recently, Hemp, Inc. announced that after three and a half years and millions of dollars in investment, the processing facility is now operational and processing its first product.
David Schmitt, COO of Hemp, Inc., said it's been a long process but he was excited to see the facility moving forward.
"We're rocking and rolling now," Schmitt said.

More ...
AMANDA CLARK, GRAPHIC STAFF WRITER
PEACHTREE COMMUNITY NEWS


Peachtree folks gathered at the church for worship on a beautiful summer morning. The offertory, played by Jane May was a beautiful arrangement of "Surely the Presence of the Lord is in this Place". The Adult Choir sang "In Remembrance" under the direction of the pastor. Following the sermon by the pastor, the observance of the Lord's Table was shared.

More ...
BARBARA HARDISON
RED OAK NEWS


The Baptist Men had their breakfast meeting on Sunday, August 20.
What a great day at the park! Red Oak Baptist Church sponsored the Back to School Bash at Ennis Park on Sunday, August 20. Many families enjoyed food, games, face painting, and music. Children also received free school supplies.

More ...
SUZY PEARCE
Word for the week


Some folks portray the Christian life as a bowl of cherries or bed of roses. "Come to Christ," they say. "Your troubles will be over." As certain rental car advertisements retort, "Not exactly." Someone forgot to pit the cherries. Someone else didn't take the thorns off the roses.
Becoming a Christian does not suddenly remove all your problems. In fact, conversion to Christ can intensify those difficulties.

More ...
DENNIS PRUTOW
Rackley offers "A Layman's View"


Moving forward from last weeks thought on Christ's admonitions to the scribes and pharisees (unbelievers) in Matthew 23, consider this if you will.
God's word is truth, all of it. The main thrust of it, I believe, is that through His grace, mercy and unsurpassed love for us all. He has provided a means by which we can be reconciled unto Him (II Corinthians 5:20-21). A reconciliation which is necessary due to our sin against Him, hence the separation.

More ...
TED RACKLEY, SPECIAL TO THE GRAPHIC
Nash County Blood Drives August 2017
Thursday, August 24 from 3 until 7 p.m. at West Mount Volunteer Fire Department, 7955 West Mount Drive, Rocky Mount
Friday, August 25 from 9 a.m. until 1 p.m. at Wesleyan College, 3400 N Wesleyan Boulevard, Rocky Mount
Friday, August 25 from 12 until 4 p.m. at Rocky Mount Family Medical Center, 804 English Road, Rocky Mount
More ...

Pictured (L-R) is Wanda Tyson with Trent Mohrbutter, NCC Vice President
NCC instructors inducted as Master Instructors
Three NCC faculty members have been inducted as Master Instructors for Higher Education. April Bristow-Smith, Lane Freeman and Wanda Tyson received the Master Instructor designation which was developed to identify Nash Community College instructors who exemplify excellence in three performance standards: educational professionalism, leadership and collaboration, and responsibility for student learning.
More ...
Alumni to speak at reunion event
Four Spaulding High School graduates from the class of 1967 will serve as the guest speakers for their 50th class reunion at the CC Spaulding Alumni Association's annual banquet on Saturday, September 2.
This year's theme is "Circle of Life."
The presentation by the four graduates will cover the four phases of the last 50 years of the class of 1967.
More ...
Nash County Animal Friends' Notebook


EMPTY THE SHELTER! Everyone was promoting the "Empty the Shelters Day" with $0 adoption fees. Well, basically, everyday the adoption fee at Nash is $0. Initially, there is a $50 fee, but it is returned when the pet is spayed/neutered (S/N) in a timely manner. PLUS the S/N is FREE to adopters, thanks to donations to PAWNC, our partner! It is a Win-Win!

More ...
CAROL VIERELA, NASH COUNTY ANIMAL FRIENDS
Eclipse pics, 2
Staff of Allred Mechanical Services, Inc. in Dortches take a break to witness the eclipse Monday. Pictred, left to right, are: Sammy Young, Gina Morris, Haley Cole, Allison Allred, Christy Deaton, Thomas Allred, Ray Brewer, Tony Morris, Jared Batchelor. (Photo by Bob Bartosz)
More ...
Sunshine has become quite confusing


It was so hot one day last week, I saw chickens using potholders to pick up worms.
I took plenty of time to contemplate the sun on Monday. The Great American Eclipse of 2017 happened right before our shielded eyes, although I was disappointed that it never did get dark at 2:45. This was despite road signs and news reports to be sure to use car headlights when driving during the eclipse.

More ...
Mike Brantley
It really does take a village to raise a child


One of Corbin's favorite things about kindergarten was learning to read. Corbin loved that he was learning to read books on his own.
I'd like to think that love of reading comes naturally from me as I love to read but I believe it had more to do with the encouragement he received at school when he did read. Corbin's school had the Accelerated Reader program and it was a program that was heavily supported by the school's parent teacher association (PTA).

More ...
Amanda Clark
Statue removal is shameful


Dear Governor Cooper, We were very disappointed to read of your announcement calling for the removal of Confederate monuments. You said in an article, "Some people cling to the belief that the Civil War was fought over states' rights. But history is not on their side. We cannot continue to glorify a war against the United States of America fought in the defense of slavery. These monuments should come down."

More ...
LETTERS:
Group asks for voices of support


Dear Editor:
Last week, Governor Roy Cooper informed officials at the University of North Carolina that they may remove the University's Confederate memorial monument, otherwise known as "Silent Sam" if there is an "imminent threat" to public safety. This is in response by threats being made by leftist groups who planned to demonstrate on campus that afternoon.

More ...
LETTERS:
Backward Glances


LEGION OFFICERS -- This photo originally published in The Graphic on July 18, 1974. New officers for the 1974-75 year were installed by the legionaires of Post 110 of Nashville. In the front row, left to right, are Jerome Turner, quartermaster adjutant; Atlee Gulley, commander; E.J. Thomas, first vice commander; Richard Winstead, second vice commander. Second row: Willard Inscoe, finance officer, and W.C. Cooke, Jr., service officer. Not pictured were Walter Gray Carpenter, chaplain and Joe Braswell, sergeant at arms.

More ...
A PICTORIAL LOOK INTO THE PAST

ON THE BALL. Jenna McKenney will be a key player this season for the Northern Nash volleyball squad.

Knights Open Volleyball Sked


RED OAK -- Patricia Haggerty has never been afraid to beef up her club's non-conference schedule during her tenure as the Northern Nash High School volleyball coach.
That fact has once again been in evidence this fall as the Lady Knights have taken on long-time powerhouses Bunn and D.H. Conley as part of their first week of regular season action.

More ...
GEOFF NEVILLE, Graphic Sportswriter

GOING LONG. Northern Nash quarterback Davontae Wiggins looks to pass for the Fighting Knights during last Friday's home football meeting against non-league foe Hillsborough Orange.

THE ORANGE BOWL


RED OAK -- After a 5-7 season last fall, and a first football playoff appearance since 2010, Randy Raper's Northern Nash Knights took the field for the first time in 2017 last Friday night.
However, a fierce opponent stood in the way of a season-opening win.
Hillsborough Orange has achieved at least 11 wins every year since 2012.

More ...
CHANCE PUCKETT, Graphic Correspondent

NASH CENTRAL'S CARISHA LEONARD

FUTURE BRONCO


ROCKY MOUNT -- Rare are the track and field athletes with the versatility that Carisha Leonard possesses.
Leonard starred in the unique combination of middle-distance and jumping events during her storied career as a member of the Nash Central High School girls track and field program.
Those intangibles meant that several collegiate coaches were destined to inquire about obtaining Leonard's services on the next level.

More ...
GEOFF NEVILLE, Graphic Sportswriter
Wesleyan picked for third spot


FAYETTEVILLE -- Huntingdon College, under the direction of 14th-year Head Coach Mike Turk, and Maryville College, led by third-year Head Coach Shaun Hayes, tied atop the 2017 USA South Athletic Conference Preseason Football Coaches Poll.
The Hawks and Scots shared last year's USA South championship but it was Huntingdon who earned the Conference's automatic bid to the NCAA Division III Tournament by way of its 28-24 win over Maryville during regular season play.

More ...
Staff Reports
Central, SN set for game


NASH COUNTY -- Under past circumstances, the annual Nash Central-Southern Nash football meeting would have been held later in the regular season, and with plenty of Big East Conference standings implications at stake.
But things have changed as Nash Central has moved out of the Class 3-A Big East and into the Class 2-A Eastern Plains Conference.
That fact, however, won't dampen the rivalry spirit when the clubs collide this Friday at Firebird Stadium in the second regular season contest for each team.

More ...
GEOFF NEVILLE, Graphic Sportswriter
Mudcats claim series at home


ZEBULON -- Cody Ponce pitched into the eighth with five strikeouts and just one run allowed on three hits, both Lucas Erceg and Cooper Hummel had RBI doubles and Nate Griep earned his league leading 25th save as the host Carolina Mudcats took the rubber contest of a three -game series, 3-1, versus the Frederick Keys on Sunday at Five County Stadium in a Class A Carolina League baseball showdown.

More ...
Staff Reports
BUMP AND BLAST
Northern Nash's Katelyn Wood sends a ball to a teammate during last Wednesday evening's home volleyball contest against the Bunn Ladycats at the NNHS Gymnasium.
More ...
RUNNING TO GLORY
Northern Nash's Demario Nicholson (right) tries to pick up some yardage during last Friday's regular season football opener against Hillsborough Orange in Death Valley.
More ...
THAT'S A WRAP
Northern Nash's Bryce Miles (left0 tries to tackle Orange's Payton Wilson last Friday night.
More ...
VERSATILE PERFORMER
Carisha Leonard excelled in jumping and running events during her successful tenure as a member of the Nash Central High School track and field squad.
More ...