Subscribe/Access
Advertisements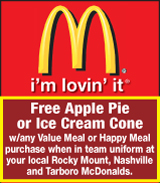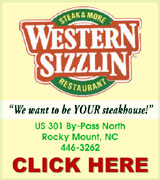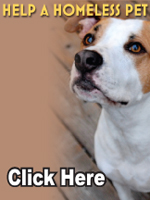 Sections
Member Options
Back

BISSETTE
Early voting ends Saturday
Just a few days remain for residents wanting to cast their vote early in the 2016 General Elections.
Three additional early voting sites opened up last Thursday and so far, over 6,500 votes have been cast at those sites. In Nashville, at the Nash County Agricultural Center, over 15,000 votes have been cast. The Nashville location was open one week earlier than the three other sites.
Early voting runs through Saturday, November 5, with all four early voting sites open from 9 a.m. until 6 p.m. on Thursday and Friday and from 9 a.m. until 1 p.m. on Saturday.
More ...
Man charged with murdering ex-girlfriend


Nash County had its first domestic violence homicide of the year on Monday, as a man allegedly shot his ex-girlfriend and her son outside her home on Primrose Place. The woman, Tonya Boyd, 43, passed away late Monday.
Rocky Mount Police have arrested and charged Brian Vincent White, 48, with attempted first degree murder, first degree murder and violation of a domestic violence protective order.

More ...
AMANDA CLARK, GRAPHIC STAFF WRITER
SNHS clerk faces charges
An audit led to a bookkeeper at Southern Nash High School being charged with nine counts of obtaining property by false pretenses.
The Nash County Sheriff's Office Investigative Division was notified on September 23 by Brian Miller, Chief of Staff for Nash-Rocky Mount Schools, of the termination of employee Marian Rudder. Rudder's termination was allegedly based on findings of deficiencies during an audit for the 2015-2016 school year. The audit was conducted by Anderson, Smith & Wike, PLLC of Rockingham.
More ...
Monster Dash helps United Way


The Fourth Annual Southern Bank Monster Dash 5K and Fun Run brought in around $8,000 for the United Way Tar River Region.
Over 70 runners participated in the 5K race with Robert Dudley, 60, of Roanoke Rapids winning first place for male overall and Jennifer Curtin, 48, of Raleigh, winning first place for female overall.
This year's event focused on first responders and medals were presented to the top runners in the first responder category.

More ...
AMANDA CLARK, GRAPHIC STAFF WRITER
VETERANS HONORED


Over 90 veterans enjoyed a meal and good company last week during an annual luncheon hosted by volunteers in Southern Nash County.
Brenda Stallings, of Middlesex, along with numerous volunteers, have hosted the Veterans Luncheon since 2008, honoring World War II, Vietnam and Korean War Veterans.
Veterans attending included Nashville's Willard Inscoe, who recently celebrated his 101st birthday.

More ...
AMANDA CLARK, GRAPHIC STAFF WRITER - 1 opinion posted
Nashville Elementary Fall Festival is Friday


Nashville Elementary School will host its annual Fall Festival on Friday, November 4.
The event is sponsored by the school's Parent Teacher Association.
This year's event will raise money for phase two of the school's playground.
Anna Joyner, the Chair of the Fall Festival, said this year's event will include the same fun, games and activities as in year's past.

More ...
AMANDA CLARK, GRAPHIC STAFF WRITER
NFD Community Day is Saturday


Nashville's Fire Department will officially celebrate 100 years on Saturday with a Community Day.
The event will take place at Glover Park from 10 a.m. until 4 p.m. on November 5.
The day will feature fun, food, games and music.
Captain Jason Edwards said Adam Stone, Meredith Davis and Ted Jones and the Tarheel Boys are scheduled to perform on Saturday.

More ...
AMANDA CLARK, GRAPHIC STAFF WRITER
MOMEYER COMMUNITY DAY
Momeyer's Fire Department hosted its Fire Prevention Community Day on Saturday with a variety of activites, including inflatables, games and food. Pictured, one-year-old Braylen Brown, of Nashville, decorates a pumpkin with help from his mom, Kimberly Mercer. Youth were able to decorate pumpkins with stickers at the annual event, which is always held around Halloween.
More ...
Former Nashville Graphic Correspondent passes away
Alda Ellen Jones of Nashville died October 27, 2016. Alda was born February 29, 1920 in Nashville.
She was a graduate of Nashville High School, Peace College, and Hardbarger Business College. After her education was completed, she worked in Raleigh at the Department of Motor Vehicles, North Carolina Prison Department, and the North Carolina Department of Agriculture. She then returned to Nashville and worked for a number of years for the Honorable Harold D. Cooley and the Cooley and May law firm.
More ...
Town of Nashville agrees to pursue state health insurance plan


The Town of Nashville is hoping to join the State of North Carolina's health insurance plan next year.
Nashville's Town Council voted on Tuesday night to pursue being included in the state health plan, which has a limited number of openings.
Participation is limited to local government agencies for which enrollment of employees and dependents will not exceed 1,000 members.
Mayor Donald Street said there are only 5,000 spots left for those wanting to be included on the state's health plan.

More ...
Amanda Clark, Graphic Staff Writer
Nash County will collect Castalia trash collection fees


At Castalia's regular monthly meeting on Tuesday, one of the final details related to the town's sale of the water system to the county was addressed. Previously, the town had billed for water and trash collection on the same statement. But now that the county is taking over the water system, the town had to determine what was the best course of action regarding the collection of the trash fees. The board voted unanimously to allow the county to be responsible for the collection of the trash fees. This way, customers should still get only one bill for both services.

More ...
Jessica A. Smith, Graphic Correspondent

Denton
Second man arrested in connection with B&E's in Southern Nash County
The Nash County Sheriff's Office has arrested a second man in connection with numerous breaking and enterings in Southern Nash County.
Steven Ray Denton, 41, was arrested on October 13 in Johnston County following a 21-hour manhunt. Denton was arrested in Kenly and brought back to Nash County.
Denton currently has 16 pending charges, dating back to February 2.
More ...
NASHVILLE POLICE REPORTS
INCIDENTS
An all other controlled substance violation, possession with intent to sell/deliver marijuana and possession of drug paraphernalia was reported on 10/25/16 at 106 W Nashville Drive
A larceny after a breaking and entering and breaking and entering a residential was reported on 10/25/16 at 600 Indian Trail
More ...
NASH COUNTY SHERIFF'S OFFICE REPORTS
A breaking, entering and larceny was reported on 10/23/16 at 309 E Castalia Road
A damage to personal property was reported on 10/24/16 at 7285 Bryant Road
A larceny of a firearm was reported on 10/24/16 at 4815 S NC 58
A simple possession of a controlled substance was reported on 10/24/16 at Highway 97 and Old Bailey Highway
More ...
PEACEMAKERS DONATION
Steve Williams (at left), Vice President of the Coopers Ruritan Club, presents a $250 donation to Jesse Lewis (right), Executive Director of Peacemakers. Lewis was the guest speaker at the July meeting of the Coopers Ruritan Club. He told the club that Peacemakers is a Christian community development center that serves the community of South Rocky Mount and surrounding areas. At the core of Peacemakers mission is the desire to empower members of the community with the knowledge and skills necessary to lead successful and sustainable lives.
More ...
Rocky Mount kicks off First Friday events this weekend
In an ongoing effort to draw more residents to downtown, the city of Rocky Mount and the Imperial Centre for the Arts and Sciences will host the second annual First Friday series of events from November to May.
The free events will take place from 6 p.m. to 9 p.m. on the first Friday of each month, excluding January. The First Friday kickoff will be held Friday, Nov. 4, featuring hay rides, live music in the Maria V. Howard Arts Center and in the Children's Museum and Science Center, along with a live band in the courtyard.
More ...
Glover graduates basic training
U.S. Air Force Airman Steven A. Glover graduated from basic military training at Joint Base San Antonio-Lackland, San Antonio, Texas.
The airman completed an intensive, eight-week program that included training in military discipline and studies, Air Force core values, physical fitness, and basic warfare principles and skills.
Airmen who complete basic training also earn four credits toward an associate in applied science degree through the Community College of the Air Force.
More ...
Bethel Heroes
Kay Puckett Freeland (left), received supplemental certificates, to honor two of her ancestors, who served the Great State of Virginia, during the War Between the States. Margie Parker Brantley (right), President of Bethel Heroes Chapter 636, UDC, presented the certificates.
More ...
Halloween Photos 2016


Mykenzie Richardson, 4, dressed as Supergirl, has her face painted by Stephanie Pridgen at Cooley Library's Halloween festivities on Monday.

More ...
Graphic photos by Amanda Clark and Jo Anne Cooper
Halloween Photos 2016
Jace Bailey trick-or-treats as Dracula on Monday at Glover Park's Haunted Walking Trail. Bailey was also celebrating his second birthday on Monday.
More ...
Halloween Photos 2016
Nashville Elementary students Noah Warren, Bryony Whitley, and Keira Knoetgen walk in the costume parade held in downtown Nashville Friday.
More ...
Halloween Photos 2016
Nashville Elementary students Nathaniel Parker, Sanai Silver, Lovelle White and Jalayseon Williams walk in the costume parade held in downtown Nashville Friday.
More ...
Halloween Photos 2016
Benjamin is all smiles with his little girl, Peyton, while visiting the Coopers Fire Department Trunk-or Treat event.
More ...
Commemoration
On a beautiful Tuesday afternoon a luncheon was held to commemorate the completion of the Tuscan Patio at Nash Community College. Chef Frank Bookhardt prepared several varieties of wood-fired pizza for the occasion. Carolyn Mansfield and Jeanne Moore of Nashville, friends of Nash Community College, were integral in the project's success. Their contributions have supported the outdoor classroom providing educational opportunities to facilitate the culinary learning experience. Mansfield is a retired nutritionist from Nash General Hospital with a special interest in helping enhance the College's culinary program.
More ...
Nash County Animal Friends' Notebook


Outdoor cats. Anytime a cat is put outside, it is in danger. Danger from the road, from attack by dogs or other cats. In particular, if the cat isn't fixed, males will fight and females will breed. The tame cat that is put outside reverts to more wild behavior to survive. Its babies will become even wilder. These non-tame cats are called ferals. Half of the animals that come into the Shelter are cats and most are feral. Many of them are ill from untreated infections. Once they are past a few weeks old, as they get older, they will become harder to tame. People get tired of having cats around and have them trapped.

More ...
Carol Vierela, NASH COUNTY ANIMAL FRIENDS
Rocky Mount Driver's License Office temporarily closes for renovations
The Rocky Mount Driver License Office has temporarily closed for equipment installation and renovations on Monday, Oct. 31. It is scheduled to re-open on Monday, Nov. 7, at 8 a.m.
The Rocky Mount office, located at 2617 N. Wesleyan Blvd., is one of 25 driver license offices across the state to undergo a new office design that will include the installation of new cubicles and ergonomic bench seating to increase customer comfort, as well as new informational posters and one additional tester.
More ...
Luke's Word for the Week


As we barrel into November, with unseasonably temperatures here in the East, I'd like to pin point something that I believe has been lost in the tradition of the Church. Last week we learned about Halloween or All Hallows Eve and its connections with All Saints Day, which is traditionally celebrated on November 1st. Now I realize that was Tuesday and it's already passed, yet I believe it's such an important day that it merits us recognizing and taking some time to focus on this holy day in the church calendar.

More ...
LUKE WHITEHEAD
PEACHTREE COMMUNITY NEWS


On a beautiful Sunday morning Peachtree folks gathered at the church for worship. Sanctuary flowers were given by Bob and Fran Bunn in honor of their granddaughter. Mary Hazel Mink's 18th birthday.
The sermon for the children by Beverly Wilson was about getting ourselves clean. She showed several different kinds of brushes and soaps that we use to clean our bodies. But to clean our mind and heart so that God can use us, we need to read the Bible. (2 Timothy 2:21)

More ...
BARBARA HARDISON
RED OAK NEWS


What a wonderful night for super heroes, princesses, movie characters and more! Lots of families enjoyed the Fall Festival and Trunk or Treat at Red Oak Baptist Church on Sunday, October 30. Approximately 20 cars were decorated and included games, candy, popcorn, and prizes for the children. They also had fun playing games in the family life center and were treated to hot dogs, chips, and drinks. Thank you to all who participated and everyone of all ages who volunteered and made this a success.

More ...
SUZY PEARCE
Nash County Blood Drives
Thursday, November 3 from 9 a.m. until 1:30 p.m. at PNC Bank, 134 N Church Street, Rocky Mount
Monday, November 7 from 2:30 until 7 p.m. at Lakeside Baptist Church, 1501 Sunset Avenue
Friday, November 25 from 1 until 5 p.m. at Golden East Crossing Mall, 1100 N Wesleyan Boulevard
Monday, November 28 from 9 a.m. until 3 p.m. at Edgecombe Community College, 225 Tarboro Street, Rocky Mount
More ...
ROTARY MEETS
Rocky Mount Rotary President, Garry E. Hodges, at left, stands with Russell Cody Waters, Ag Carolina, at right, who spoke at a Rotary meeting at the Doubletree of Rocky Mount.
More ...
Guest speaker
Don Williams, chair of the Carolinas Gateway Partnership, was the guest speaker at the recent meeting of the League of Women Voters Twin Counties Chapter. Mr. Williams discussed the positive impact of the CSX Intermodal hub on Edgecombe and Nash Counties. Pictured with Mr.Williams (L-R) is Pat Adams, local League member and LWV North Carolina vice-president, Mr. Williams, and Bettie Kirkpatrick, Twin Counties Chapter President.
More ...
Keep America Beautiful to host America Recycles Day
On Saturday, November 12, Keep America Beautiful (KAB) of Rocky Mount, Nash and Edgecombe Counties, will host a recycling event for America Recycles Day.
The local celebration will be from 10 a.m. to 1 p.m. at the Golden East Crossing Mall in the parking lot near JCPenney.
"America Recycles Day provides a free, convenient way for you to dispose of household waste safely and responsibly," said Cornelia McGee, KAB coordinator for the City of Rocky Mount.
More ...
The Perfect Voting Guide for Election Day


By the time you read this, the election will be less than a week away. The column that follows this one will be after Americans have selected a new President.
While the campaign ads will end, the bickering, unfortunately, will not. As a matter of fact, the next election cycle will begin shortly after the media gives us the obituary for whichever party loses.
As per usual, the Soapbox will not offer endorsements. Even if we did, this would be the year to abstain. With the choices we have, no one is winning on Tuesday.

More ...
Mike Brantley
Regardless of choices, voting is still important


Usually around this time, I'd be writing a little piece encouraging everyone to make sure they got out and cast their vote!
But, this year, I don't feel as confident about the election to do too much encouraging!
You should still cast your vote, definitely, but good luck with that very first one you have to vote for!
This election has really had me anxious. I have not voted yet and I keep trying to make myself go.

More ...
Amanda Clark
Backward Glances


CAREER CONFERENCE -- This photo originally published in The Graphic on May 2, 1974. Students at Northern Nash High School were given opportunities to talk with representatives of more than 40 different job fields. Dr. Ben Turner, Rocky Mount veterinarian, is pictured discussing his job with Northern Nash students Joann Hardy and Kenneth Hinson.

More ...
A PICTORIAL LOOK INTO THE PAST

Northern Nash's Jacob Richardson

Knights Defend Regional Crown


RED OAK -- Some people consider it an afterthought when Jeff Dodrill stresses the need to develop depth within his cross country program at Northern Nash High School.
After all, most eyes are focused on the top runners who cross the finish line, especially at elite-level meets.
But that's not the case if you are keeping score, as all top-five results matter.

More ...
GEOFF NEVILLE, Graphic Sportswriter

AROUND END. Southern Nash's Kendrick Bell (left) picks up yardage for the Firebirds during last Friday night's home victory against Big East Conference football opponent Rocky Mount.

SN FAMILY MATTERS


STANHOPE -- When some schools or teams talk about being a 'family', it is often simply open-ended lip service.
That's not the case with the football program at Southern Nash High School.
SNHS gridiron squad is loaded with assistant coaches who played for the Firebirds under Coach Brian Foster -- and were extremely proud to do so.
Loyalty has never been a problem at Southern Nash, so it was no surprise that the entire SNHS community has rallied behind Foster following the auto accident that seriously injured Coach Foster's wife, Kim, and oldest son, Zack -- a former football standout who graduated last year from SN.

More ...
GEOFF NEVILLE, Graphic Sportswriter

Nash Central quarterback Travis Griffin

NCHS' BIG STEP


ROCKY MOUNT -- Nash Central continues to experience a breakthrough on the gridiron this fall -- and not just with its non-league schedule.
Certainly, the Bulldogs' four triumphs against non-conference opponents raised a few eyebrows, but the true tests in Coach Chris Lee's development of the program would come later in the season against Big East Conference opponents.
A tough opening loss in the league against defending state champion Rocky Mount might have appeased some of the Nash Central faithful, but the Bulldogs' players -- at least one of them -- wasn't satisfied with the near-miss performance.

More ...
GEOFF NEVILLE, Graphic Sportswriter
Basketball league is scheduled


NASH COUNTY -- Nash County Recreation and Senior Services is offering an adult winter basketball league for ages 25-older.
Games will be played on Sundays at Spring Hope Elementary School. Contests will begin on December 4 and will continue through early February.
Registration will be through November 30. Cost is $400.
Team packages are available at the main office of the Nash County Parks and Recreation Department at 120 West Washington Street in Nashville.

More ...
Staff Reports
NCWC edged versus Averett


ROCKY MOUNT -- An 80-yard punt return and 71-yard rushing touchdown had homestanding North Carolina Wesleyan College's football team in line for a league win last Saturday, but a late surge by Averett University saw the Cougars steal a 38-34 win at Bishops Stadium.
Averett scored 17 unanswered points to open the game, thanks in part to a pair of Bishops turnovers -- the first on downs near midfield and the second on an interception in NCWC territory.

More ...
Staff Reports
Perfect Season


NASHVILLE -- Even before the campaign began, Nash Central Middle School football coach Matt Lancaster thought this could be a special season for his Trojans.
"When we started practice and I saw the work ethic we had, I thought we had a chance,'' Lancaster said. "These guys were very determined and I could tell coming in that they had really matured on the field.''
Lancaster's assessment proved to be correct as Nash Central picked up its first Nash County and Tri-County Conference North Division championships since the Todd Brewer Era earlier this decade with an unblemished 6-0 overall record.

More ...
GEOFF NEVILLE, Graphic Sportswriter
Former Knights starring for LC


LOUISBURG -- Louisburg College achieved perfection in the men's portion of the Region X Cross Country Championships.
Louisburg, which hosted the meet two weeks ago at Owens Park in Franklin County, picked up the almost-unheard of feat by finishing in the Top Five of the men's individual race in the annual event.
Louisburg even went two steps beyond that by boasting the seven highest finishers -- three of which prepped under Coach Jeff Dodrill at Northern Nash High Schoool.

More ...
Staff Reports
FANTASTIC FINISH
Nash Central's Kazelee Johnson (right) showed off a strong kick -- and qualified for the states -- during last Saturday's action at the Class 3-A East Regional Cross Country Championships.
More ...
KING OF THE BURG
Northern Nash High School alum Jermaine Jones was saluted last Saturday afternoon as the Homecoming King at Louisburg College. Jones, a sophomore, is a member of the successful LC men's cross country program.
More ...
SACK ATTACK
Southern Nash's Nathan Paris comes up with a quarterback sack for the Firebirds during last Friday night's home football victory against the Rocky Mount Gryphons.
More ...
SOUTHERN SENSATION
Southern Nash's Eron Mendoza competes in the Class 3-A East Regional Cross Country Championships last Saturday morning in Red Oak.
More ...
SUPER START
Members of the Northern Nash High School girls cross country squad sprint out of the starting line during last Saturday's Class 3-A East Regional Cross Country Championships, which were held at NN's home course at Red Oak Middle School.
More ...
TEAM UNITY AT NNHS
Members of the Northern Nash High School boys cross country team huddle up before the start of last Saturday's Class 3-A East Regional Cross Country Championships, which were held at NN's home course at Red Oak Middle School.
More ...
TREMENDOUS TURNAROUND
Second-year head coach Chris Lee has his Nash Central High School Bulldogs looking good this season on the gridiron with a 6-3 overall record.
More ...
The Drifters to perform at JPAC
On Friday, Nov. 11, at 7:30 pm, Rock and Roll Hall of Fame Inductees "The Drifters" will bring their soulful sounds to the Seby B. Jones Performing Arts Center. The Drifters, one of Rock & Roll's founding vocal groups, are once again touring the U.S.
After The Drifters began in the early 1950s, the singers had twenty years of uninterrupted hits, making them the second-most successful recording group of all time, according to Billboard Magazine.
More ...
NY Actress to direct students in RMHS production Nov. 18-19
Gryphon Theatricals will launch its first season with Thornton Wilder's timeless Pulitzer Prize winning masterpiece, "Our Town."
Set in the 1900s era of Rocky Mount, this play is performed with minimal props and sets. Audiences follow the Webb and Gibbs families in the fictional town of Grovers Corners, where human interaction arises over the political and socio-economic struggles within small town America.
The production is directed by NYC stage and screen actress and ECU Alumni, Kris Lundberg, who is a native of Rocky Mount.
More ...