Subscribe/Access
Advertisements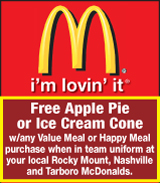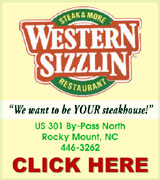 Sections
Member Options
Back
Castalia donates truck to Robeson County


Rural Nash County fire departments are reaching out and helping another department whose station flooded during Hurricane Matthew.
Castalia's Volunteer Fire Department recently donated a 1986 GMC/EEl fire engine to the Pine Terrace Fire Department in Robeson County.
The Pine Terrace Department in Lumberton lost all three of their fire engines in the flooding that occurred following Hurricane Matthew. The department's station also flooded and was reportedly condemned.

More ...
AMANDA CLARK, GRAPHIC STAFF WRITER
Nash touts record turnout for early voting


Numbers for the first day of early voting in Nash County topped any other location in the state.
Nash County Board of Elections Director John Kearney said over 2,000 came out to vote last Thursday, the first day of early voting.
"(Last) Thursday we had the highest number of voters for any one location in the State of North Carolina," he said. "I don't ever remember there being this many people coming in this facility in any one day."

More ...
AMANDA CLARK, GRAPHIC STAFF WRITER

Boys and Girls Club member Brandon Trumpler speaks during the Steak and Burger event.

Boys & Girls Club marks 50 years of service


"Oh the Place You'll Go" was the theme for this year's annual Steak and Burger event, hosted by the Boys and Girls Club. Chief Professional Officer Ron Green started the evening off by telling his desires of where he hopes to see the Boys and Girls Club go in the future.
Green unveiled a new name and logo for the organization. The organization, formerly known as The Boys and Girls Clubs of Nash/Edgecombe Counties will now be known as the Boys and Girls Clubs of the Tar River Region.

More ...
AMANDA CLARK, GRAPHIC STAFF WRITER
Monster Dash is Saturday!


The Fourth Annual Southern Bank Monster Dash 5K and Fun Run will honor local first responders and veterans at this year's event.
Stacie Shatzer, Director of Recreation and Senior Services for Nash County, said winner categories would be offered for first responders, including police, fire and EMS and active duty and retired veterans. This is the first year a separate category has been set up for first responders.
"This year we want to highlight our first responders," Shatzer said.

More ...
AMANDA CLARK, GRAPHIC STAFF WRITER
Momeyer Community Day is Saturday


The Momeyer Volunteer Fire and Rescue Department is gearing up for its second annual Fire Prevention Community Day.
The event will be held on Saturday, October 29 from 12 until 4 p.m.
The event will include food, games, pumpkin decorating, and bouncy houses. A raffle will also be held, with one raffle ticket per person being given out during the event. Five items will be given away, thanks to donations from Finch Nursery in Bailey and Bass Plant Farm in Spring Hope.

More ...
AMANDA CLARK, GRAPHIC STAFF WRITER

Southern Nash High School FFA Officers are pictured (L-R): Griffin Douglas, Emory New, Justin Daniels, Raven Colbert and Jake Tanner.

SNHS breaks ground for animal center


Construction has officially begun on Southern Nash High School's Farm Bureau Animal Center.
A ground breaking ceremony was held last week and construction began shortly after.
Currently, enough money has been raised to construct the outside of the building. Brandy Frazier, Career Development Coordinator for Southern Nash High School, said fund-raising efforts are still ongoing to complete the inside of the facility.

More ...
AMANDA CLARK, GRAPHIC STAFF WRITER - 1 opinion posted
Bark For Life set for November 5th


Bark for Life organizers are planning their last big fund-raiser before their event next weekend.
Pet's Best Friend in Rocky Mount will host Bubbles for Bark on Saturday, October 29 from 9 a.m. until 3 p.m. The event will offer baths for your four-legged friends at hugely discounted rates, said Susan Baker, owner of Pet's Best Friend who also serves as Chair for the Bark for Life event.
Baker said dogs will be offered the full pampered treatment on Saturday.

More ...
AMANDA CLARK, GRAPHIC STAFF WRITER
Nash County's Got Talent Finals are Nov. 3-4
Finalists for the 11th annual Nash County's Got Talent competition will perform on November 3 and 4 at Nash Arts, with the top three winners being selected on Friday, November 4.
Auditions were held on October 24 and 25. Callback rehearsals will be held on November 1 with the finals set for November 3 and 4 at 7 p.m.
During that time, judges will select the top three talent, who will receive prizes.
More ...
Land development plan updates are approved


Nashville's Town Council approved an updated Land Development Plan at their regular meeting earlier this month.
Planning Director Brian Hassell told council members the Future Land Use Plan was adopted in May 2011 by Town Council as part of the town's Comprehensive Plan. The Future Land Use Map is the main component of the plan, Hassell said, and is used as a guide for making decisions on rezoning applications and future development.

More ...
AMANDA CLARK, GRAPHIC STAFF WRITER
Locals collect food for youth affected by hurricane


A group of Nashville ladies recently came together to collect food for families affected by Hurricane Matthew.
Their efforts came after seeing a post on social media about families at Parker Middle School being impacted.
Ashley Hassell said she saw the post from a friend and knew she wanted to help. The post described 50 families at Parker Middle School that were affected by Hurricane Matthew.

More ...
AMANDA CLARK, GRAPHIC STAFF WRITER
Man arrested for breaking and enterings in two counties
The Nash County Sheriff's Office arrested Steven Ray Denton, 41, on charges of breaking and enterings in Nash and Johnston Counties.
Denton was arrested in Johnston County around 2:45 a.m. on October 13. He was charged with breaking and entering, larceny of a firearm and larceny of property/goods in relation to an incident that occurred in the 3000 block of Needham Road in Bailey on October 10. Denton was also charged in relation to an incident in Johnston County.
More ...
NASHVILLE POLICE REPORTS
INCIDENTS
A damage to property (vandalism), larceny and breaking and entering a motor vehicle was reported on 10/17/16 at 104 Lumber Street
A damage to property (vandalism) was reported on 10/17/16 at 1201 Eastern Avenue
An unlawful transfer/possession of copper, possession of controlled substances, possession of drug paraphernalia and possession of heroin was reported on 10/20/16 at Cross Street and S. First Street
More ...
NASH COUNTY SHERIFF'S OFFICE REPORTS
An assault with a deadly weapon was reported on 10/16/16 at 12542 Old Raleigh Wilson Road
A motor vehicle theft was reported on 10/16/16 at 10801 Baldy Hill Road
A simple physical assault was reported on 10/16/16 at 3750 Twin Oak Way
Found property was reported on 10/16/16 at 130 N Old Carriage Road
More ...
Nash County Animal Friends' Notebook


Finally, we don't have to have air conditioning, with cooler fall weather. Of course, some people don't have air conditioning at all and they suffer. Neither do some pets. Like the homeless pets that are in the Nash County Animal Control Shelter. The only thing they have is a fan that helps stir the air, but although it helps, it cannot blow directly on them, blocked by the kennel walls.
If you go in there for a little bit on a summer day, immediately you are soaked with sweat and if you stay there a while, you feel faint.

More ...
Carol Vierela, NASH COUNTY ANIMAL FRIENDS
RED OAK NEWS


Several ladies came together for the Women on Mission Fall Celebration at Red Oak Baptist Church on Saturday, October 22. They enjoyed a potluck dinner followed by a presentation by Kay Turner featuring her recent trip to Cambodia. Everyone was excited to see pictures of the children with the quilt tops several ladies from Red Oak made for them. Sue Singleton, former IMB missionary to Cambodia, also shared some pictures and stories. After the presentation the ladies worked on some dolls that will be going to Cambodia later. A special thank you to Kay and Sue for sharing their stories.

More ...
SUZY PEARCE
Luke's Word for the Week


It's coming soon. The "unofficial official" start to the holiday season here in America. The time of year where businesses start to breathe a sigh of relief as the #1 and #2 money making holidays are coming within 2 months of each other; Christmas and Halloween.
It's curious that these two are hands down the biggest money makers in our economy. One celebrates the fact that the Word (Jesus) has become flesh and dwelt among us. The other celebrates...umm...ghosts.... satan...darkness...pumpkins...candy?

More ...
LUKE WHITEHEAD
PEACHTREE COMMUNITY NEWS


The weather on Sunday was beautiful with a nip of fall in the air. Pastor Whitehouse greeted all who came to worship at Peachtree. Sanctuary flowers were given by Beverly Wilson in memory of her grandparents, John and Lottie Privette.
Beverly Wilson's sermon for the children was about bragging about themselves. She showed some wooden blocks that they often play with. She stacked them up, as she talked about what good things they do.

More ...
BARBARA HARDISON
TRUNK-OR-TREAT!
Nashville United Methodist Church will host its annual Trunk or Treat on Sunday, October 30 from 3 to 5 p.m. in the Hilliard Street Parking Lot. The event is for all elementary aged children and their families. There will be free food, games, inflatables and more. This is an annual event hosted by the church's middle school youth group as an outreach opportunity to spread the love of Jesus Christ. Pictured above is Mahala Henke waiting to give out candy at last year's Trunk or Treat.
More ...
Nash UNC Women's Center receives "Healer's Touch" statue for service
Nash Health Care recently announced that after receiving an extraordinary number of DAISY Award nominations for exceptional nursing in the last year, the entire Nash Women's Center nursing staff was recognized with the DAISY Foundation's special "Healer's Touch" statue on Tuesday, September 13, 2016.
The prestigious award was announced during a surprise ceremony at the Nash Women's Center that included speaker Tena Barnes Carraher, Vice President, Co-Founder and Southeast Program Director, DAISY Foundation.
More ...
Nash County Blood Drives
Tuesday, November 1 from 3 until 7 p.m. at Stony Hill FWB Church, 9649 Stony Hill Church Road, Middlesex
Thursday, November 3 from 9 a.m. until 1:30 p.m. at PNC Bank, 134 N Church Street, Rocky Mount
Monday, November 7 from 2:30 until 7 p.m. at Lakeside Baptist Church, 1501 Sunset Avenue
Friday, November 25 from 1 until 5 p.m. at Golden East Crossing Mall, 1100 N Wesleyan Boulevard
More ...
Speaker
Jimmy Winters, Manager of the Farmer's Market (at left), spoke at the September meeting of Micajah Pettaway Chapter of the Daughters of the American Revolution. He spoke about the Nash County Farmer's Market's past history, today's market and future plans. Pictured with Winters is Frances Powell, Regent of the Micajah Pettaway Chapter.
More ...

Pictured above (L-R) is NC Senator Angela Bryant, Gregory Richardson, Executive Director of the NC Commission of Indian Affairs and Dr. Brucie Ogletree Richardson, Chief of the Haliwa-Saponi Indian Tribe in Hollister.
American Indian Women of Proud Nation holds annual conference
The Ninth Annual Conference of American Indian Women of Proud Nations was hosted the weekend of August 5th and 6th, 2016 by the Haliwa-Saponi Indian Tribe. From all accounts, the conference was a tremendous success.
The tears rolled down Kim and Roger Richardson's faces, as both of their mothers were honored on Friday night as Women of Distinction at the Ninth Annual Women of Proud Nations Conference.
More ...
SAR PRESENTATION
Halifax Resolves Chapter President Ken Wilson recently visited Nash Central High School to speak to the AP History class of Renny Taylor. The presentation, entitled "From Mecklenburg to Halifax," covered the events in North Carolina from the writing of the Mecklenburg Declaration to the Battle of Moore's Creek Bridge and on to the adoption of the Halifax Resolves. Wilson then repeated the presentation to the combined classes of Mr. Taylor and Mr. Ryan Ruiz in the school's media center.
More ...
Pfizer receives award from Scouts


Pfizer was honored with the 2016 Distinguished Citizen Award by the Tar River District of the East Carolina Council of the Boy Scouts of America during its annual banquet on Tuesday, August 2 at the Rose Hill Conference Center.
Marty R. Nealey, Vice President and Plant Manager for Pfizer, accepted the award on behalf of his company. Pfizer was saluted for both its commitment to the Twin Counties and its contribution to the community.

More ...
Contributed
NCC Child Development Center distinguished as Shape NC site
Nash Community College's Betsy B. Currin Child Development Center has been distinguished as a Shape NC Demonstration Site.
Shape NC: Healthy Starts for Young Children is an early childhood obesity prevention program that has dramatically improved child care environments across the state. This recognition means that the Betsy B. Currin Child Development Center has improved nutrition, physical activity, and outdoor learning environments for children in a way that meets standards for healthy best practices for early childhood.
More ...
Bring out the clowns, and then take them down


Clowns have been in the news a lot lately. The news reports are endless, the stories are outrageous, bordering on fiction, and people in large part are sick of these clowns and what they're doing to this country.
(Editor's Note: We would like to clarify to readers that this column is not about the 2016 election. Well, we're pretty sure. But yes, the resemblance is remarkable.)
In case you missed it, people dressed as clowns have been spotted scaring folks in the woods, parks and other areas.

More ...
Mike Brantley
Local fairs are a win-win for everyone!


Last weekend, my family ventured to the NC State Fair. It was an adventure for sure but not one I'm likely to make again anytime soon.
I haven't been to the State Fair in a few years. When I was going, it was to take pictures of 4-H'ers showing their animals. But the schedules have gotten harder for me to make the event so now, The Graphic asks parents to submit photos of their youngsters participating in the various shows.
Typically, my dad takes the boys each year to the county fair.

More ...
Amanda Clark
Backward Glances


FHA LADIES -- This photo was found in The Nashville Graphic's November 1966 archives. We're not sure if the photo was ever published. The photo seems to be local FHA students.

More ...
A PICTORIAL LOOK INTO THE PAST

I'LL HANDLE THIS. Northern Nash's Alex Phillips (26) takes possession as teammate Charlie Rooks (23) looks on during last Thursday night's home boys soccer matchup against Big East Conference opponent Wilson Hunt.

Knights In Search Of Victories


RED OAK -- Working toward a strong finish is now the chief priority for the Northern Nash High School boys soccer team, which is destined to have the rare distinction of not qualifying for the Class 3-A State Playoffs.
Thanks to an inexperienced lineup dominated by underclassmen, the Knights have struggled, which is something that hasn't happened much during Head Coach Joe McCarthy's storied tenure in charge of the program.

More ...
GEOFF NEVILLE, Graphic Sportswriter

AND AWAY THEY GO. Nash Central's Montre' Cash (center) takes the early lead during the boys race at the Big East Conference Cross Country Championships last Wednesday at Red Oak Middle School.

NNHS IN A SWEEP


RED OAK - Big East Conference opponents received a double dose of dominance from Northern Nash at the annual league cross country championships last Wednesday at Red Oak Middle School.
Northern Nash's long control of the boys standings continued, while the Lady Knights also tok first place at the event.
NN's boys claimed a fifth consecutive team crown with 21 points to easily outdistance second-place Rocky Mount, which compiled 59 tallies.

More ...
GEOFF NEVILLE, Graphic Sportswriter

RETURN TO FORM. Nash Central Middle School's Larry Jones (right) returns a punt as part of the Trojans' home football decision last Tuesday afternoon against Rocky Mount Middle in Tri-County Conference gridiron action.

NC OFF THE MAT


NASHVILLE -- Attend a Nash Central Middle School football game, and it doesn't take long to notice how different this season's club is when compared to last year.
The Trojans have made a complete turnaround in 2016 under veteran head coach Matt Lancaster.
Nash Central is diverse on offense, stingy on offense and capable of coming up with game-changing plays in all phases of special teams.
The Trojans also have a physical, hard-hitting style that has helped Lancaster's crew roar to an impressive 4-0 start in the always-strong Tri-County Conference.

More ...
GEOFF NEVILLE, Graphic Sportswriter
Pirates' event is targeted


GREENVILLE -- East Carolina University baseball fans will get their first chance to meet the 2017 Pirates up close and personal on Saturday, Nov. 5, as ECU will host its Fall "Meet the Pirates" Event at Lewis Field inside Clark-LeClair Stadium.
With gates opening at noon, members of the Pirate Nation can come out and catch Game 2 of the Purple-Gold World Series, which will begin at 1 p.m. and is free to the public.

More ...
Staff Reports
League wraps up tennis sked


WILSON -- The top seed played true to form last Tuesday during the final day of the annual Big East Conference Girls Tennis Championships at Barton College.
Wilson Hunt's Taylor Love, the No. 1 seed, swept through a pair of matches without dropping a game en route to winning the league's singles crown.
In the semifinals, Love bested Northern Nash's Grayson Tanner by a 6-0, 6-0 score.
Love then defeated Rocky Mount High School's Katie Moss in the championship showdown by a 6-0, 6-0 margin.

More ...
Staff Reports
Wesleyan fares well at golf match


ROME, GA. -- Led by sophomore Grady Anderson and freshman Mariano Silvestri, the North Carolina Wesleyan College golf team tied for 4th-place at last week's Chick-Fil-A Intercollegiate hosted by Berry College in the Peach State.
Anderson and Silvestri tied for 15th among a field of 93 golfers, leading their Bishops to solid team rounds of 299 and 300.

More ...
Staff Reports
Bulldogs Defeat NN


After a one week hiatus due to Hurricane Matthew, both Northern Nash and Nash Central looked to knock off their "Across-the-Bridge" rival in what was an eventful homecoming night at Northern Nash's Death Valley.
The game created excitement from the opening kickoff, when Travis Smith of Northern Nash kicked off to the Bulldogs, but, the kickoff was fumbled and Northern recovered. The Knights would drive and Smith would go on to nail a 45-yard field goal to take an early 3-0 lead.

More ...
Chance Puckett, Graphic Correspondent
BALL CHALLENGE
Northern Nash's Alex Phillips (right) tries to gain possession for the Knights during last Thursday's home soccer event versus Wilson Hunt.
More ...
CATCH THE FEVER
Nash Central Middle School's Colby Peele (left) brings in a reception for the Trojans during last Tuesday afternoon's home football triumph against Rocky Mount Middle.
More ...
THE GREAT 28
Nash Central Middle School's Joshon Foster (left) picks up yardage during last Tuesday's home football victory against rival Rocky Mount Middle.
More ...
TOP TWO
Northern Nash's Daniel Belton (right) finished in first place and teammate Jordan Richardson (left) claimed second place at the Big East Cross Country Championships last Wednesday in Red Oak.
More ...
TURNING THE CORNER
(L to R) Northern Nash High School's Will Raynor and Chrishawn Richardson come out of the woods during Wednesday's Big East Conference Cross Country Championships.
More ...
WORKING TOGETHER
Members of the Big East Conference cross country community got together to help raise items for the homeless at last Wednesday's annual conference championships in Red Oak.
More ...
Rocky Mount to host rescheduled performance of "Dracula"
The City of Rocky Mount has rescheduled the performances of "Dracula."
Based on the novel by Bram Stoker and directed by Brooke Edwards, artistic and managing director for the theater at the Imperial Centre, performances of "Dracula" will take place at 7:30 p.m. on Friday, Oct. 28; Monday, Oct. 31 and Tuesday, Nov. 1.
Performances were previously postponed following the impact of Hurricane Matthew.
More ...