Subscribe/Access
Advertisements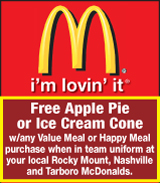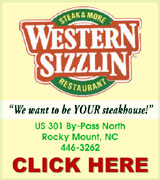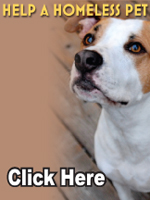 Sections
Member Options
Back
Edgecombe Co. rejects proposal


The school split issue is back in legislator's hands after Edgecombe County Commissioners turned down a compromised proposal developed last week.
Edgecombe County Commissioners voted 4-3 against the agreement on Tuesday morning.
A committee, made up of two commissioners and the board chair from both Nash County and Edgecombe County Boards, along with each county manager, met last Wednesday morning to iron out details of a proposal put together by Nash County Commissioners.

More ...
AMANDA CLARK, GRAPHIC STAFF WRITER
Early voting ends Saturday


Early voting for the Congressional Primary Election will end on Saturday, June 4.
The election is set for Tuesday, June 7.
The special election is being held due to court rulings that forced congressional district maps to be redrawn. That led the congressional primaries to be delayed.
Nash County Board of Elections Director John Kearney said Nash County was in two congressional districts but with the redrawing of the lines, is now only in District Two, which is currently held by Renee Ellmers.

More ...
AMANDA CLARK, GRAPHIC STAFF WRITER
ALL SMILES
Little Wyitt Horne enjoyed spending time with his aunt, Layla Langley, at the Nashville Fire Department's annual Reverse Raffle Friday night.
More ...
Warrenton woman killed on Hwy 58
A Warrenton woman was killed just outside of Castalia on Highway 58 early Saturday morning.
According to the NC Highway Patrol, 46-year-old Damie Allen Dudley was traveling North on Highway 58 when she entered a curve on the left and continued straight, traveling off the road to the right. Dudley's vehicle struck a ditch and tree.
Dudley was killed in the accident.
More ...

KEVIN JONES

NCHS Bulldog alumnus creates scholarship


Kevin Jones had a vision in 2014 to help graduates of Nash-Rocky Mount Schools with tuition for college.
That year, Jones created the Bulldog Alumni Community (BAC) Scholarship Fund and with the help of a few friends, raised enough money to provide scholarships to three local youth.
This year, the fund gave out scholarships to 11 youth, including one to help a aspiring nursing student.

More ...
AMANDA CLARK, GRAPHIC STAFF WRITER
Library offers dog therapy summer reading program


With summer break inching closer, Nashville's Cooley Library is preparing for its annual Summer Reading Program, which officially kicks off in July.
This year, however, the library is getting an early start by offering reading sessions with therapy dogs.
Cati Montgomery, Director of Cooley Library, said three therapy dogs will be visiting the library starting this week. The dogs will assist children who are learning and struggling readers.

More ...
AMANDA CLARK, GRAPHIC STAFF WRITER
Local men charter new Optimist Club


A group of local men have formed a new Optimist Club whose primary goal is to promote a junior golf tournament.
The Mahler Thorp International Optimist Sports Club was chartered on April 26 with 35 attending. The club is a first with Optimist International in that membership is not limited to any specific geographical area. The club will serve to help coordinate the Mahler Thorp Memorial NC East District Qualifier for the Optimist International Junior Golf Championships.

More ...
AMANDA CLARK, GRAPHIC STAFF WRITER

MAGGIE

Owner finds lost dog after three years


Maggie is home!
After a three-year stay in the woods of Nashville, Maggie, a black lab from Maryland, decided last week she was ready to return home with her owner.
Maggie disappeared from the Nash County Animal Shelter in 2013 after slipping from her collar. Animal Control Officers brought Maggie in after Richard Rewalt was taken to the hospital after becoming sick while on his way back home to Maryland from Florida.

More ...
AMANDA CLARK, GRAPHIC STAFF WRITER
Spring Hope budget doesn't project tax rate increase


Spring Hope residents may not experience tax increases for the 2016-2017 fiscal year.
Town Manager Jae Kim presented the proposed town budget at the May 2 board meeting, which projects that property tax rates will remain the same at 63 cents per $100 valuation.
The proposal sets the total budget at $1,527,150, a 7 percent decrease compared to the 2015-2016 figure. This includes the general fund and water and sewer fund.

More ...
Kendra Jones, Graphic Correspondent
Juvenile reported missing from Youth Development Center after off-campus visit
The Division of Adult Correction and Juvenile Justice reports that a juvenile placed in its custody at the Edgecombe Youth Development Center failed to return to the facility today following an off-campus visit.
The juvenile is identified as Khalil D. and was last seen at approximately 1:30 p.m., May 29, 2016, on Raleigh Boulevard in Rocky Mount. The juvenile's home county is Edgecombe County. The division has notified local law enforcement and is cooperating fully with the investigation.
More ...
Rocky Mount man charged with robbery
A Rocky Mount man was sentenced last week to 144 months in prison for robbing a Battleboro gas station.
Christopher Lee Silver, 33, was sentenced in federal prison by Chief United States District Judge James C. Dever III to 144 months imprisonment for robbery and brandishing a firearm, followed by five years of supervised release.
More ...
NASHVILLE POLICE REPORTS
INCIDENTS
An identity theft was reported on 5/23/16 at 102 Hearthstone Court
A disorderly conduct and possession of marijuana was reported on 5/26/16 on Boddie Street, at W Washington Street
A larceny was reported on 5/25/16 at L&L #14, 479 W Washington Street
More ...
NASH COUNTY SHERIFF'S OFFICE REPORTS
An indecent exposure was reported on 5/23/16 at 7468 Kingsboro Drive
A simple physical assault was reported on 5/23/16 at 1638 S First Street
A trafficking heroin by transport and possession was reported on 5/23/16 on I-95 Southbound
A larceny and damage to personal property was reported on 5/23/16 at 3714 Fluellen Drive
More ...
Local centenarian attends UNC Old Students Club luncheon
Herb Stallings of Rocky Mount, perhaps the oldest area UNC alumnus at 100 ½ years of age, attended Carolina's Annual Old Students Club luncheon on May 6, 2016. A 1937 graduate, Herb proudly wears his powder blue jacket every chance he gets in honor of his alma mater. He notes that the campus is different than in 1937 when it ended at the bell tower. He states, "It must be three to four times the size and you think you're at a different school."
Mr. Stallings is currently receiving rehab services at Autumn Care of Nash. Staff helped him get ready for his big day in Chapel Hill.
More ...
Students attend All State Band Clinic
A total of 10 students from Nash-Rocky Mount Public Schools (NRMPS) represented the district in an All State Band Clinic from Friday, April 29 to Sunday, May 1, 2016. The clinic took place in Chapel Hill.
In order to earn the opportunity to try out for All State Band, students must place in the highest seats of the Eastern District All District Band. The top students from across the entire state compete during auditions for a chance to earn a spot in the most elite instrumental ensemble in the state.
More ...
BIRTH ANNOUNCEMENT
Joshua and Jessica Sewell, of Rocky Mount, announce the birth of a son, Hayden Joshua Sewell, on April 7, 2016. He weighed 6 pounds, 9 ounces and was 21 inches long. Maternal grandparents are Elaine and Carlton Bone of Nashville. Paternal grandmother is Donna Langley White, of Bailey. Paternal great-grandparents are Thurman and Mae Langley of Rocky Mount. Mrs. Sewell is the former Jessica Bone.
More ...
Memorial Day service honors fallen


The threat of rain forced Nashville's Memorial Day ceremony indoors on Sunday but did not have an impact on those who came out to remember service men and women who have made the ultimate sacrifice.
Brigadier General John A. Byrd served as the guest speaker for the event, which is hosted by Nashville's American Legion Post 110.
Byrd serves as the Assistant Adjutant General for the North Carolina Army National Guard. He is also the Director of the North Carolina State Crime Laboratory in Raleigh.

More ...
AMANDA CLARK, GRAPHIC STAFF WRITER

Stanley Edwards, Liz Cahoon, and Randy Goodbrod roll the raffle drum and announce ticket numbers at Friday night's event.

Nashville Fire Auxiliary hosts Reverse Raffle


The Nashville Fire District Auxiliary hosts a Reverse Raffle each year as a fundraiser for the fire department. All proceeds support the Fire Department's Life Safety and Injury Prevention Program. This year's event was held on Friday, May 27th at Nash Community College.
Only 300 tickets are sold for the event. Tickets are $100 each and ticket buyers are treated to dinner and a chance to win $10,000. Other monetary prizes are also given out at the event.

More ...
GRAPHIC PHOTOS BY JO ANNE COOPER
Area medical centers receive national grant funding
Opportunities Industrialization Center's Family Medical Centers (OIC) have received a national grant from the Office of Minority Health Resource Center, said OIC's President and CEO Reuben Blackwell,
"This one-year, $35,000 grant is one of only 12 awarded nationally and focuses on conducting a social marketing campaign in Nash and Edgecombe Counties dealing with the importance of getting screened for HIV and Hepatitis B and C," he said.
More ...
Louisburg College recognizes local graduates at commencement event
Louisburg College recently celebrated its most recent graduates, honoring over 100 during a Commencement Ceremony held on May 6 in the Seby B. Jones Performing Arts Center on the Louisburg College campus.
Graduates included Abigail Ross, of Nashville, Brian Williams, Jr., of Castalia and Tyreka Nicholson, of Spring Hope.
More ...
Nash County Blood Drives for June 2016
Tuesday, June 7 from 12 until 4 p.m. at Eaton Corporation, 8171 Planer Mill Road, Middlesex
Saturday, June 11 from 11:30 a.m. until 4 p.m. at Gardner's BBQ, 1331 N Wesleyan Boulevard, Rocky Mount
Saturday, June 11 from 10 a.m. until 2 p.m. at Thorne's Chapel Baptist Church, 1624 Windsor Drive, Rocky Mount
Sunday, June 12 from 8:30 a.m. until 2:30 p.m. at Word Tabernacle Church, 421 Word Plaza, Rocky Mount
More ...
Luke's Word for the Week


One could certain argue that the Lord's Prayer, as found in Matthew 6 and made a bit more sophisticated by the early church, is one of the best known prayers in all the world. Chances are even if you didn't know Jesus as Lord and Savior and you played on a sports team growing up, you knew the prayer he taught His disciples, as it was a pre-game ritual for many teams.
It's well known still today, and for good reason.

More ...
LUKE WHITEHEAD
RED OAK NEWS


Red Oak Baptist Church will recognize the high School graduates and college graduates on Sunday, June 5 at 11:00 am.
Make plans to join in the fun at Vacation Bible School, "Submerged", July 17-22 at Red Oak Baptist Church. Each day's fun will begin at 6:00 pm and conclude at 8:30 pm. All children 3 years old through 5th grade are welcome! You may register children now at redoakbaptist.org.

More ...
SUZY PEARCE
Word for the Week


Here is great motto. Something to live by. "Depart from evil and do good; seek peace and pursue it" (Psalm 34:14). When confronted with evil, we want to lash back and get even. We want to avenge injustice and set the record straight.
A vengeful spirit is the opposite of one that seeks peace. "Never pay back evil for evil to anyone" (Romans 12:17). Remember this and avoid a lot of violence and heartache. God will balance the scales of justice.

More ...
DENNIS PRUTOW
FARM SERVICE AGENCY NEWS


Nash County is seeking nominations for the 2016 COC Election for Local Administrative Area 2 (LAA 2). The LAA consists of the following townships: Castalia, Griffins, Mannings, Nashville, and Spring Hope.
The election of responsible agricultural producers to FSA county committees is important to ALL farmers and ranchers with large or small operations. It is crucial that every eligible producer take part in this election because county committees are a direct link between the farm community and the U.S. Department of Agriculture.

More ...
SHARON TAYLOR, NASH COUNTY FSA EXECUTIVE DIRECTOR
NCC graduates first class from Emergency Dipatch Academy
The first class of its kind in North Carolina, the Nash Community College Emergency Dispatch Academy recently recognized its first graduating class. Of the six graduates, four have already begun their careers as emergency dispatchers with Nash County 911. "We have a history of being at the forefront of training, offering relevant programs with real-world applications. The Emergency Dispatch Academy prepares students for local in-demand careers," said NCC President Dr. Bill Carver.
More ...
Nash, Edgecombe Cooperative Extension to offer Food Safety Certification classes
Nash and Edgecombe County Cooperative Extension offers Safe Plates for all those who work in the food service industry. The course helps food establishments meet the requirement of having at least one supervisor certified as a food protection manager, a mandate of the NC Food Code. Safe Plates participants who pass the end of course ANSI Exam will receive a certificate required for environmental health inspections.
More ...
Times are troubling, but not new - hold your flag up!


When I saw a news story that reported that some pointy-headed "scholar" had declared the phrase, "Start a family," as offensive, I thought I felt a rant coming on. It seems that everyday some familiar phrase or word is no longer appropriate to use. This kind of stuff makes me angry.
For example, a few months ago, the national media informed us that calling residents of the 50 states "American(s)" is offensive because we are not the only country in North or South America.

More ...
Mike Brantley
Cultural traits are not so memorable
From an acknowledged curmudgeon's perspective, how a culture celebrates holidays could be a way to define that culture.
In the US of A, the birth of the Messiah is first acknowledged on the PBS program Nightly Business Report where economic indicators for the Christmas season detail the future of the big box stores. Local newscasts often focus on visits of Santa Claus to shopping centers.
Then comes Easter, which logically should be a Memorial Day of the grandest sort considering that Memorial Day celebrates the ultimate sacrifice.
More ...
Thanks to perseverance, Maggie is back home with her family


Last Thursday night, I was just getting ready to go to church with my boys when my phone made a funny noise.
It was the noise that told me I had a message. As soon as I unlocked my phone and clicked the little icon that informed me of my message, a photo popped up.
It was a photo of Richard Rewalt and his dog, Maggie. Under the photo was a message from Donna Ritterpusch that said, "Maggie is at Coat's Vet. Call me."
I wish I could have videotaped my expression!

More ...
Amanda Clark
Was letter data cherrypicked?


Dear Editor: I read with a humorous slant the comments in " letter to the editor May 26th " about how baby births reflect a sense of satisfaction in the political temperature of the US. And its [authors] idea that we reproduce more when we are satisfied.

More ...
LETTER
Backward Glances


This photo was found in The Graphic's 1966 archives. We're pretty sure it was taken in July of 1966, however we're not sure what the ocassion was. But it looks as though the meal was some good ole' North Carolina barbecue with a cold Pepsi-Cola!

More ...
A PICTORIAL LOOK INTO THE PAST

STRATEGY SESSION. Nash Central High School's Noah Shrock (center) discusses a plan of action with (l to r) Coach Willle Langley and teammate Cameron Taylor during a 2016 diamond contest.

HITS CONTINUE


ROCKY MOUNT -- Given the opportunity, Noah Shrock's love for baseball played a major factor in his decision to attend North Carolina Wesleyan College.
Shrock, a senior standout at Nash Central High School, had contemplated attending East Carolina University in a student-only capacity despite receiving diamond interest from Wesleyan and Methodist University.
But Shrock couldn't let go of the sport he loved, so he decided to sign a letter-of-intent to join the Bishops' diamond program.

More ...
GEOFF NEVILLE, Graphic Sportswriter

LET IT FLY. Tyler Barrett was outstanding for the Northern Nash Knights both on the mound and in the infield during his prep career. Barrett will play next season at Patrick Henry Community College.

Tyler's Patriot Games


RED OAK -- With Memorial Day Weekend just a few days away, it was only fitting that Northern Nash's Tyler Barrett would offer up a true display of Patriot-ism.
Barrett, a star pitcher and first baseman for the Knights, inked a letter-of-intent last Wednesday to spend the next two campaigns playing baseball for the Patrick Henry Community College Patriots.
Patrick Henry, which set a school record for victories in a season this spring, competes in Region X and is located in Martinsville, Virginia.

More ...
GEOFF NEVILLE, Graphic Sportswriter
FOSTER TABBED


STANHOPE -- Southern Nash's Zack Foster will represent Nash County on the East Team at the annual North Carolina Coaches Association's East-West All-Star Football Game this summer.
The event will be held July 20 at Jamieson Stadium on the campus of Grimsley High School in Greensboro.
Foster, a quarterback, is Southern Nash's all-time leading passer. He will continue his gridiron career at North Carolina Wesleyan College.

More ...
GEOFF NEVILLE, Graphic Sportswriter
Bulldogs' athletes honored


ROCKY MOUNT -- Luis Rolon and Mia Gibson claimed the prestigious Nash-Rocky Mount Schools Triple Crown Award at last week's Nash Central High School Athletic Awards Ceremony.
Rolon, a senior, competed in wrestling and football for the Bulldogs and will continue his gridiron career at Methodist University.
Gibson excelled in swimming, soccer and cheerleading as part of her tenure at Nash Central.

More ...
GEOFF NEVILLE, Graphic Sportswriter
Central will host campers


ROCKY MOUNT -- Nash Central High School will host a basketball camp from June 14-16 at the NCHS Gymnasium.
The event will take place from 6-8:30 p.m. each day. It is open to boys and girls who are entering grades 2-9.
Cost is $35 per camper, which includes a T-shirt and basketball.
The camp will be overseen by Nash Central High School boys basketball coach Renny Taylor.

More ...
Staff Reports
Mills On The Mark


ROCKY MOUNT -- Greg Clifton won't know what to think next spring when he makes out the opening-day lineup for his Faith Christian baseball squad -- and Luke Mills' name won't be on it.
"I've written Luke's name down on every lineup card I have ever filled out during my time at Faith,'' Clifton said.
"It will be strange not being able to do that anymore."

More ...
GEOFF NEVILLE, Graphic Sportswriter
NC State to host regionals


RALEIGH - North Carolina State University has been named one of the 16 regional hosts for the 2016 NCAA Baseball Championship.
The Wolfpack will be making its 28th postseason appearance in program history.
All five of the Wolfpack's hosting opportunities (2003, 2008, 2012, 2013, and 2016) have come under the guidance of current head coach Elliott Avent.
NC State has advanced in each of the first four.

More ...
Staff Reports
Mudcats defeated by Frederick


ZEBULON -- Frederick's Matthew Grimes struck out five and allowed just two hits over eight scoreless innings while leading the Keys to a 2-0 shutout victory against the host Carolina Mudcats on Sunday night at Five County Stadium in Zebulon in Class A Carolina League baseball action.
Grimes (7-2, 1.21) struck out five, allowed only two hits and held the Mudcats (19-29) to only four baserunners over eight scoreless innings.
He pitched around a lead off single in the first, a one-out single in the fourth and two fielding errors.

More ...
Staff Reports
Yanks score victory over Braves


ROCKY MOUNT -- The Wesley Men Yankees and Chambliss & Rabil Braves completed back-to-back games against one another last week due to an earlier rainout, with the final one going to the New Yorkers by a 10-7 count in Rocky Mount Youth Baseball action.
William Grover netted three hits, Connor Braswell tossed two shutout innings on the bump and the top four in the Wesley Men lineup were a collective 9-12 at the plate.

More ...
Staff Reports