Subscribe/Access
Advertisements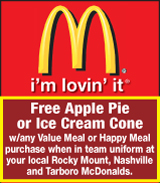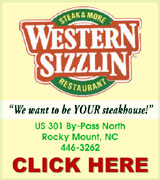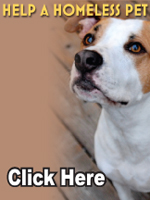 Sections
Member Options
Back
Town looks at revenue options


The Town of Nashville is looking at new ways to bring in revenues to the town's coffers but is limited due to cuts in revenues by the General Assembly
Town Council met last Thursday for a budget work session with Town Manager Hank Raper, who went over the various revenues the town is projected to receive in the coming fiscal year.
As presented, revenues totalled around $5.5 million, compared to the current budget of $4.9 million.

More ...
AMANDA CLARK, GRAPHIC STAFF WRITER
Police seek shooting suspect
Spring Hope Police are still searching for one suspect involved in a shooting on May 12 but have arrested three others.
According to police, on May 12, around 8:40 p.m., a vehicle occupied by several subjects drove to 416 West Nash Street in Spring Hope and fired eight to 10 times from the vehicle, striking two men who were standing in the doorway.
Investigation revealed that earlier that day, there was a confrontation between 29-year-old Jamie Lynn Nye, of Spring Hope, and someone at the residence.
More ...

Cadet Joi Hinton carries a flag in honor of a NC service member who was killed while serving. Northern Nash High School's AFJROTC participated in the event Saturday.

RUN FOR THE FALLEN


North Carolina has lost 243 service members in Iraq and Afghanistan since 2001.
On Saturday, local residents paid tribute to those men and women by walking or running one mile for each fallen soldier.
Each mile represented a North Carolina soldier, whose name and information was placed on an American flag runners carried for a mile.
Once the mile was finished, the fallen soldier's name was read.

More ...
AMANDA CLARK, GRAPHIC STAFF WRITER

The first baby was born at the newly opened Nash Women's Center this week. Pictured (L-R) is: Valerie Murphy, RN and Dr. Tommy R. Harris with Marwa, new baby Seleim, Yasser, Kanda and Mana Eldessouky.
Nash Women's Center opens
After over a year of construction, Nash Health Care is celebrating its new, $25 million dollar Nash Women's Center.
The center held its opening events earlier this month but just recently celebrated its first baby, who was born at the new women's center this week.
The baby, Seleim Hasson Eldessouky, was born on Monday, May 23 at 11:14 a.m. The hospital reports both baby and mother are happy and healthy.
The 47,048 square foot facility includes six labor and delivery suites, 16 mother-baby postpartum rooms, a room for cesarean sections, 12 private special-care nursery rooms, free Wi-Fi and a themed gift shop.
More ...
Leaders find common ground for school lines


Nash and Edgecombe County Commissioners came back to the table on Monday afternoon and somewhat agreed to a deal to keep the Nash-Rocky Mount School System in tact.
The meeting was a last minute effort to keep legislation from being approved that would split the school system along county lines. Nash County Commissioners unanimously voted for the split but since the vote, some commissioners have had a change of heart and asked the board to consider a final attempt at a compromise with Edgecombe County.

More ...
AMANDA CLARK, GRAPHIC STAFF WRITER
Taylor named SAR Teacher of the Year


Renny Taylor has a passion for teaching youth about the history of our country.
That passion earned him the title of History Teacher of the Year by the North Carolina Sons of the American Revolution.
The award is presented to history teachers who actively address the history of the American Revolutionary era and whose educational efforts exceed and excel above current, accepted, curriculum requirements.

More ...
AMANDA CLARK, GRAPHIC STAFF WRITER
Courthouse expansion slated for end of 2016


Construction on expansion plans for Nash County's Courthouse/Sheriff's Office is slated to begin at the end of the year but demolition could start as early as June.
Derek Hawkes, Nash County Public Facilities and Utilities Director, said engineers for the project are in the process of finishing up design plans. He added that permits are anticipated to be submitted in July.
"We're shooting for bidding out the project come early September," Hawkes said.

More ...
Amanda Clark, Graphic Staff Writer
Vehicle strikes back of ambulance on Highway 64
Nashville Firefighters and Nash County EMS workers had a close call last week, while responding to a motor vehicle accident on Highway 64.
Nash County 9-1-1 received a call about a motor vehicle accident on Highway 64 around 1 a.m. on May 18. The accident occurred around the 459 mile marker and Nashville's Fire Department responded, along with Nash County EMS and Momeyer Fire and Rescue.
Upon arrival, one vehicle was found off the roadway with an uninjured occupant, who refused care or treatment.
More ...
Credit card skimmers found in Nash County
N.C. Department of Agriculture and Consumer Services inspectors recently conducted a month long sweep at gas stations across the state looking for credit card skimmers. Inspectors visited 972 stations in 12 counties and checked 8,567 dispensers. The inspectors found three skimming devices. The devices were found in Mecklenburg and Nash counties.
Thieves can install credit card skimmers at the pump.
More ...
NASHVILLE POLICE REPORTS
INCIDENTS
A possession of an open container, driving while impaired and driving while license revoked was reported on 5/18/16 at US 64 A at Western Avenue
A possession of counterfeit money was reported on 5/18/16 at McDonald's, 501 W Washington Street
A larceny (shoplifting) was reported on 5/19/16 at Wal-Mart, 1205 Eastern Avenue
More ...
NASH COUNTY SHERIFF'S OFFICE REPORTS
A larceny was reported on 5/15/16 on Shearin Road
A larceny was reported on 5/15/16 at 4167 S NC 58
A damage to property was reported on 5/16/16 at 2498 Old White Oak Road
A tampering with a vehicle was reported on 5/16/16 on S Old Carriage Road
More ...

ROCKY MOUNT ACADEMY -- Pictured with Bobby Joe Fisher are (left to right) Gavin Ozment, Addison Huff and Griffin Hudlow.

Nash Soil and Water Conservation District 2016 Poster and Essay Contest Winners


Each year Nash Soil and Water Conservation hosts an annual awards program for poster and essay contest winners. This year's contest theme was "We All Live in a Watershed."
The poster contest is offered to Nash County Elementary Schools grades 3-5. The essay contest is offered to 6th grade students.
Winners are chosen at each grade level at each school and then move on to a county competition.

More ...
Photos and story contributed
Local author signs book at Cooley Library


Nashville's Cooley Library will host a book signing for Tillie Bell on Friday, June 3 from 4 until 6 p.m.
Bell will be reading excerpts from her book, "Down Memory Lane: Midst the Morning Glories and Maypops."
This is the second book Bell has written.
Bell wrote her first book, "Prayer Patterns, A Collection," in 2012.

More ...
Amanda Clark, Graphic Staff Writer
Nash County Animal Friends' Notebook


Sometimes I wonder who the people are that let their pets die at the Shelter. The ones who allow their dogs to roam at will because, after all, "they are in the county." There are some dogs that stick close to home. But many are looking for love in all the wrong places like many of the strays that arrive at the Shelter. That can be fixed with the spay or neuter! And we all know the only safe cat is an indoor cat! We all see too many that didn't make it, scattered like trash along the side of the roads. Sometimes they starve, because after all dogs rely on us. Really sad, isn't it?

More ...
Carol Vierela, NASH COUNTY ANIMAL FRIENDS
PEACHTREE COMMUNITY NEWS


On a beautiful Sunday morning Peachtree folks gathered for worship. Sanctuary flowers were grown and arranged by Melba and Jerry Hobgood. They gave them in honor of their great nieces, Kyli and Kyndal, whose dance groups recently won the National Dance Competition.
Beverly Wilson's children's sermon was about the 'Trinity'. She peeled a boiled egg to show that three things can be enclosed in one thing. The 'Trinity' is composed of God the Father, the Son (Jesus Christ) and the Holy Spirit.

More ...
BARBARA HARDISON
Luke's Word for the Week


I want to say thank you today. Thank you to the veterans who are in the Church triumphant and served this great country called the United States of America. I want to thank you because you gave yourself to something that you believed to be greater than just yourself, you gave yourself to a cause called freedom. A freedom earned so that I can sit in the comforts of my home here in Nashville at a computer and type these words without fear of having my Bible out on my desk. Thank you.

More ...
LUKE WHITEHEAD
RED OAK NEWS


Plans are in the works for members of Red Oak Baptist Church to go on a mission trip to minister in Webster Springs, WV through the Appalachian Coalfields Ministry developed by the NC Baptist Men. In July, the missions team will travel to West Virginia to help with sorting and distributing food and clothing to local residents.
Remember Hometown Favorites cookbooks are still available for $10 each! Great gift or keepsake! Contact Audrey or Suzy Pearce.

More ...
SUZY PEARCE
Bethel Heroes
United Daughters of the Confederacy Bethel Heroes Chapter 636 members gathered at the Confederate Monument to lay a wreath in honor of Confederate Memorial Day. Pictured on the front row (L-R) is: Homer Robbins, Toni Suiter, Margaret Sink and Kay Freeland. On the back row (L-R) is: Donna Boykins, Margaret Cobb, Margie Brantley, Helen Sharpe, Penny McLain and Edith Whitby.
More ...
Finch speaks to students at SNMS
Members of Envirothon Teams at Southern Nash Middle School recently had the opportunity to hear about bluebirds, as Dan Finch, of Homes for Bluebirds was a guest speaker.
Homes for Bluebirds is a Nashville non-profit organization dedicated to the preservation and enjoyment of bluebirds and cavity nesting birds.
Middle school student's in sixth grade science teacher, Mrs. Terri Jenkins' room, were excited about creating the handcrafted, functional bluebird houses with Finch.
More ...
RMA teacher selected for fellowship
A teacher at Rocky Mount Academy was one of six educators selected by George Washington's Mount Vernon to participate in a residential fellowship program at the Fred W. Smith National Library for the Study of George Washington.
Don Stancavish, a high school social studies teacher at Rocky Mount Academy, was chosen to participate in the Life Guard Teacher Fellows Program.
More ...
I had a liver transplant - it was cool


It seems reports of my demise were ... actually, not that far off.
I'm sure Nashville Graphic readers have been close to ripping their loincloths and screaming at the sky each week as my mug and column failed to appear on this page. That is because a major organ was removed from my body and replaced with another one.
After a lifetime of incredibly blessed health, especially for a (cough) husky man, in 2015 I survived a bout with sepsis, which either caused or made clear that I had Non-Alcoholic Fatty Liver Disease (NAFLD), a condition that is affecting more and more Americans every year. You can have it and not even know it.

More ...
Mike Brantley
Soon to be proud mom of a five-year old


In just a few more days, my first born will be five years old. Five! I can't believe it.
My emotions will be all over the place this week because he's not only turning five, he's graduating from pre-school, which means he'll be starting kindergarten in August.
It's almost impossible to take in the past five years. It seems like yesterday Corbin came into this world.

More ...
Amanda Clark
Backward Glances


This photo originally published in The Graphic on Thursday, June 16, 1966. Members of the kindergarten class at the Nashville Baptist Church are pictured with teacher Mrs. Elizabeth Robinson (center) assistant, Catherine Strickland and Rev. Joe Lister.

More ...
A PICTORIAL LOOK INTO THE PAST
Decades have a lot in common


Dear Editor: The decades of the 1950s and the 1980s share quite a bit in common.
Both periods were known for "baby booms." During the 1950s of course, America experienced the massive post World War II baby boom. There's been nothing like it before or since. It was an epic period in our history that went on and on and on. So many babies! So, so many babies. In similar fashion, although on a much smaller scale, the 1980s were another decade of babies arriving by the bunches.

More ...
LETTER
Lucas Signs With Johnston CC


STANHOPE -- The signings just keep on coming from Southern Nash's historic 2015-16 boys basketball squad.
Chris Lucas inked the latest letter-of-intent recently when he signed up to join the resurgent men's hoops program at Johnston Community College, which is located in Smithfield.
Johnston, which competes on the Region X level of the National Junior College Athletic Association, is starting back up a team after a several-year absence.

More ...
Staff Reports

CLEAR THE BAR. Nash Central High School's D'Jahe Ruffin (left) makes a race toward the finish line in the Boys 110 High Hurdles during last Friday's action at the Class 3-A State Track and Field Championships.

SUCCESS AT STATE


GREENSBORO -- When she tore her anterior cruciate ligament during the 2014-15 girls basketball season, Nash Central's Michaela Nelms wasn't sure if she would be able to compete in high school sports again -- let alone develop into one of the state's elite track and field performers.
But that is the path Nelms has taken while working hard to come back from her serious injury.
She returned to the basketball court late in the 2015-16 campaign and helped the Lady Bulldogs reach the third round of the Class 3-A State Playoffs.

More ...
GEOFF NEVILLE, Graphic Sportswriter
Mudcats split doubleheader against Wilmington


WILMINGTON, DEL. -- Max Povse struck out six and allowed just one unearned run over five innings pitched while leading the Carolina Mudcats to a 5-1 victory in game one of Sunday's doubleheader in Wilmington.
Game two, however, went to the Blue Rocks as they scored six runs on nine hits against starter Ryan Clark while defeating the Mudcats 6-4 in a Class A Carolina League baseball matchup.

More ...
Staff Reports
Nashville signups finalized


NASHVILLE -- The Town of Nashville Recreation Department is currently accepting registration for the following summer camp events:
• A Disc Golf Camp will be held June 22 from 9-11 a.m. at Glover Park. Registration deadline is May 29.
• A Tennis Camp is scheduled for June 18 from 9-11 a.m. at Stony Creek Environmental Park. Registration deadline is May 29.
• A Summer Jam will be held July 13 from 9-11 a.m. at the Nashville Elementary School Gymnasium. Registration deadline is May 29.

More ...
Staff Reports
Conference Kings


NASH COUNTY -- Wilson Fike's run through the Big East Conference tennis standings was reflected when the league released its annual All-Conference Team for the 2016 boys court campaign.
Fike's Lee Matthews was tabbed as the Big East Coach of the Year, while three of his performers made all-conference -- John Gliarmis, Walker Gliarmis and Sunny Sandhu.

More ...
GEOFF NEVILLE, Graphic Sportswriter
Wolfpack a winner versus UNC


RALEIGH -- The No. 13-ranked North Carolina State University baseball squad defeated No. 17 North Carolina 10-1 to capture the series on Saturday at home in Atlantic Coast Conference action at Doak Field at Dail Park on the NC State campus.
The Wolfpack (34-18, 15-13 ACC) took a 1-0 lead in the second when Brock Deatherage scored on a wild pitch following his leadoff triple.
Preston Palmeiro homered in the third to open a 3-0 lead. North Carolina (34-21, 13-17) scored its lone run in the fourth before NC State added two more in the bottom half.

More ...
Staff Reports
Yanks take thriller against Phillies


ROCKY MOUNT -- The Wesley Men Yankees outlasted the Hester & Tucker Phillies 11-10 in Monday night Rocky Mount Rec little league action in a game with all the ear-markings of a softball game at the company picnic.
Yankee bell-cow Mason Pilgreen smashed three home runs and batted in 7 while teammates Carson Ashman and Danny O'Brien collected 3 hits apiece, with one of O'Briens coming via the longball route.

More ...
Staff Reports
NASH SOCCER RESULTS


NASH COUNTY -- Here are recent Nash County Parks and Recreation Department Spring Soccer Scores:

More ...
Staff Reports
PERFECT HANDOFF
(L to R) Nash Central High School's Teonna Hill takes a handoff from teammate Michaela Nelms as part of the Girls 800 Relay at last Friday's Class 3-A State Track and Field Championships at Irwin Belk Track at Aggie Stadium in Greensboro.
More ...
SIDE BY SIDE
(L to R) Northern Nash's Coleman Cherry and South Johnston's Jacob Gonzalez pace each other in the Boys 1600 Race during last Friday's action at the Class 3-A State Track and Field Championships, which were held at Aggie Stadium in Greensboro.
More ...
WE ARE THE CHAMPIONS
Members of the Nash Central High School Girls 1600 Relay Team pose after winning first place at the Class 3-A State Track and Field Championships, which were held last Friday at Aggie Stadium on the campus of North Carolina A&T State University in Greensboro. Pictured are (l to r) Coach Juan Jackson, Kiera Ausby, T'Keyah Macklin, Teonna Hill, Michaela Nelms and Coach Kyle Bain.
More ...