Subscribe/Access
Advertisements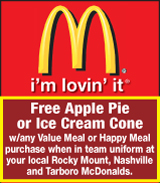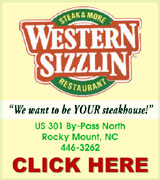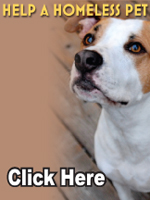 Sections
Member Options
Back

MULL

Nashville election ends in tie


Voters will have to wait until Friday afternoon to find out the winner of the unexpired term of Nashville's Town Council race, as two of the candidates were tied as of Tuesday night.
Michael Coleman and James "Butch" Mull, Jr. each received 166 votes.
Coleman received 102 votes on Tuesday during the election, compared to 112 votes for Mull. Mull received 54 votes during early voting, compared to Coleman's 64 votes. But the totals were 166 votes for each candidate.

More ...
AMANDA CLARK, GRAPHIC STAFF WRITER
School Board okays salary study


At the request of Dr. Travis Twiford, Interim Superintendent for Nash-Rocky Mount Public Schools, the Board of Education approved on Monday a comprehensive administrative salary schedule study.
Twiford said since his time here, he's noticed discrepancies among salaries.
"As we've been filling positions since I've been here, we've noticed some pretty large discrepancies in compensation for people who are in comparable positions within our district," Twiford said.

More ...
AMANDA CLARK, GRAPHIC STAFF WRITER
Nash to seek grant for drug, gang task force


The Nash County Sheriff's Office received the okay from Nash County Commissioners on Monday to apply for a grant that would fund the salary of a retired DEA agent to lead a regional drug and gang task force.
Major Dennis Wooten presented the request to commissioners on Monday, during the board's regular meeting.
The grant is through the Governor's Crime Commission and would fund a leadership position in the task force for the Seventh Judicial District, which includes Nash, Wilson and Edgecombe Counties.

More ...
AMANDA CLARK, GRAPHIC STAFF WRITER

SALUTING VETERANS -- Brenda Stallings of Middlesex hosted a special luncheon to honor area veterans last week. This is the seventh year she has organized the event. Over 90 World War II, Vietnam and Korean War Veterans attended this year's event.

Annual luncheon salutes local veterans


Over 90 World War II, Vietnam and Korean War Veterans were given red carpet treatment last Wednesday in Middlesex, as Brenda Stallings hosted the seventh annual Veterans Luncheon.
Stallings has hosted the luncheon each year with help from friends and others in the community. This year, she said over 50 volunteers helped served the veterans who came out to enjoy a catfish lunch.

More ...
AMANDA CLARK, GRAPHIC STAFF WRITER
NRMS unveils plan for low performance schools


A month after the announcement that Nash-Rocky Mount Public Schools were considered a low performing district, staff unveiled a district improvement plan to help get the district back on track.
Robin May, Assistant Superintendent of Curriculum and Instruction for Nash-Rocky Mount Schools, said they had received the information about the school district being low performing the Friday before last month's meeting so there was not enough time to prepare information for the board's meeting.

More ...
AMANDA CLARK, GRAPHIC STAFF WRITER
EMS Director earns award
Dedicated. Professional. Integrity. Leader. Innovator.
Those were just some of the words used to describe Nash County Emergency Services Director Brian Brantley in the 20 letters sent to the North Carolina Emergency Management Awards Committee endorsing him for the Colonel Philip Nichlos Waters Award.
Brantley received the prestigious award last month at the North Carolina Emergency Management Association State Conference.
More ...

Eliam Harrell, 16 months, dressed as Frankenstein for the Monster Dash on Saturday and won an award for his creative costume.

Monster Dash attracts over 200, raises money for United Way


This year's Monster Dash for United Way brought out over 200 monsters, ghouls and goblins, who raised around $6,000 in the third annual 5K run.
Sue Yerkes, Nash County Parks and Recreation Director, said the event went great and the weather was perfect. Yerkes said 221 participated in this year's event.
"I think the weather may have helped us out there," she said. "Perfect weather!"
"All in all, it was a good turnout," Yerkes added.

More ...
AMANDA CLARK, GRAPHIC STAFF WRITER
NC Highway Patrol concludes Operation Stop Arm Campaign
The North Carolina Highway Patrol ended its Operation Stop Arm campaign on Friday, October 23. The campaign, which began on Monday, October 19, was focused on promoting traffic safety around North Carolina schools, school buses and school bus stops.
According to the National Highway Transportation Safety Association (NHTSA), approximately 24 children are killed in school bus accidents in an average year. Very few of these fatalities occur on the bus. Sadly, one-third of all fatalities are a result of motorists who fail to stop for the school bus, and one-third are pedestrians who are killed as they approach or leave the school bus stop.
More ...
Rocky Mount man receives prison sentence for trafficking cocaine
A Rocky Mount man was sentenced last week in federal court for trafficking cocaine.
Chief United States District Judge James C. Dever, III sentenced Benjamine Fitzgerald Ransome, 42, of Rocky Mount on Friday, October 23 to 45 months in prison followed by three years of supervised release.
Ransome was named in an indictment filed on March 3, 2015 charging him with distribution of a quantity of cocaine base (crack); possession with intent to distribute a quantity of cocaine; possession of a firearm in furtherance of a drug trafficking crime; and possession of a firearm by a felon.
More ...
Elm City man to serve prison sentence for drug trafficking
An Elm City man was sentenced to 204 months in prison for drug trafficking.
Chief United States District Judge James C. Dever, III sentenced in federal court Terrance Lamar Carr, a.ka. Lil Bud, 23, of Elm City to 204 months in prison followed by five years of supervised release.
More ...
Rocky Mount man found guilty for trafficking heroin
A Rocky Mount man was found guilty last week of trafficking heroin.
A jury convicted William Eldridge Askew, III, of Rocky Mount, of conspiracy to possess with intent to distribute 100 grams or more of heroin and aiding and abetting the possession with intent to distribute heroin. The jury returned the verdit following a trial in federal court before United States Chief District Judge James C. Dever, III.
More ...
NASHVILLE POLICE REPORTS
INCIDENTS
A damage to property (vandalism) and hit and run was reported on 10/24/15 at S First and East Church Streets
A larceny after a breaking and entering and breaking and entering a motor vehicle was reported on 10/26/15 at 532 Westwood Circle
An uttering a forged instrument and obtaining money/property by false pretense was reported on 10/29/15 at Southern Bank, 902 S Barnes Street
More ...
NASH COUNTY SHERIFF'S OFFICE REPORTS
A driving while license suspended and possession of drug paraphernalia were reported on 10/26/15 at W Tarboro Road and Church Street
A possession of marijuana and possession of drug paraphernalia was reported on 10/26/15 at 4230 Green Hills Road
A larceny of a firearm was reported on 10/26/15 at 4285 Taylors Gin Road
A possession of heroin, drug paraphernalia and misdemeanor larceny was reported on 10/26/15 at Sharpe Road and Halifax Road
More ...
Nash County MONSTER DASH! pics, 1


Cheerleaders from Nash County Parks and Recreation gave a special surprise performance between the Monster Dash 5K and one mile run on Saturday. Over 200 runners participated in this year's event.

More ...
Graphic photos by Amanda Clark
School Board continues superintendent search
The Nash-Rocky Mount Board of Education continues to interview candidates to lead the school system, Board Chair Evelyn Bulluck reported on Monday.
Bulluck said the board had interviewed multiple candidates for the position of superintendent of schools over two days last month. The candidates were both from North Carolina and out-of-state.
"The board is in the process of scheduling another day of interviews for late November," a press release stated.
More ...
Castalia opts to continue charging fire department for water usage


A couple of financial decisions were made at the Town of Castalia's regularly scheduled board meeting on Tuesday. First, the board unanimously approved a budget amendment that would increase the recreation line item by $600, bringing the new total to $14,500.
The board also decided to continue charging the Castalia Volunteer Fire Department for its water usage. At the October meeting the board had heard from AC Daniels, chairman of the board of directors of the Castalia Fire Department.

More ...
Jessica A. Smith, Graphic Correspondent
HALLOWEEN SNAP-SHOTS, 1


Jaiden Chapman, 5, and Jshiya Chapman, 4, are all giggles as Tonja Philbeck, of Farm Bureau Insurance, tries to scare them Saturday during the Haunted Walk at Glover Park.

More ...
GRAPHIC PHOTOS BY AMANDA CLARK AND JO ANNE COOPER
HALLOWEEN SNAP-SHOTS, 2
Three-year-old twins Bentley and Drake Simpson dressed as Minions for the Haunted Walk at Glover Park. The Simpsons are from the Sandy Cross area.
More ...
HALLOWEEN SNAP-SHOTS, 3
We always knew there were super heroes at My Sister's House! Staff members find their super powers to greet trick-or-treaters during the Costume Parade in downtown Nashville. Pictured left to right are: Samantha Andelin, Dalena Raya, Cynthia Kornegay, Maria Salazar and Telisa Richardson.
More ...
HALLOWEEN SNAP-SHOTS, 4
Southern Bank of Nashville goes all western for Halloween. Pictured, left to right, are: Natalie King, Latasha Whitley, Amy Beasley, Annette Belty and Trina Williams.
More ...
Youngsters find treats in downtown, 1


Mackenzie Judd, a student at Nashville United Methodist Church Weekday School, is all smiles during the Hallloween Costume Parade.

More ...
GRAPHIC PHOTOS BY AMANDA CLARK AND JO ANNE COOPER
Youngsters find treats in downtown, 4
Teachers at the Nashville United Methodist Church Weekday School got into the Halloween spirit during Downtown Trick-or-Treating. Pictured (L-R) is Sharell Hooker and Melissa Hinkle as a football player and the Queen Bee.
More ...
Youngsters find treats in downtown, 6
Jase Moore opens his bag for a few treats while participating in the Halloween Costume Parade in downtown Nashville. He is a student at the Nashville United Methodist Church Weekday School.
More ...
Luke's Word for the Week


"Daddy..." said my son to me. "Yeah, buddy." I replied back to him.
"My pumpkin went to see Jesus last night."
This was our post church conversation this past Sunday afternoon. My son was informing me that the little pumpkin that we picked out at Island Farm in Manteo (awesome place by the way, hidden gem in the Outer Banks) was officially dead.

More ...
LUKE WHITEHEAD
PEACHTREE COMMUNITY NEWS


The color in the autumn leaves was at its peak as Peachtree folks met to worship on Sunday morning. Pastor Whitehouse greeted those present. Sanctuary flowers were given by Joan and Ray Eason in memory of her parents, Raymond and Elizabeth Eason. Special music was by David Griffin, with an introductory accompaniment by the pastor at the piano. David whistled a medley of beautiful hymns, including "Amazing Grace," "How Great Thou Art," and "What a Friend We Have in Jesus." It was beautiful and inspiring.

More ...
BARBARA HARDISON
BEULAH COMMUNITY NEWS


Sunday School began at 9:45, with Elder Earl Cary welcoming everyone, singing an opening song with Mrs. Frances Hedgepeth at the piano and making a few announcements. We then went to our classes. Church service followed at 10:45. We began by singing "God Is So Good." Benediction was given by minister Chris Matchem. He greeted everyone and we then sang, "Faith is the Victory" and "I Need Thee Every Hour." Elder Randy Goodbrod gave meditation for communion. We had our communion service followed by giving of tithes and offering.

More ...
WILMA ENROUGHTY
AVENTON COMMUNITY NEWS


Busy schedules, commitments and just sometimes just being too tired to do anything, has kept Sue Shearin, Harriet Griffin and JoJo Ricks from getting together lately....."but" everything was put aside on Friday night for a get together and catch-up time at Sue Shearin's home. There were a lot of stories, laughing and giggling, then a lot of yawning that ended the night. It was a fun; well overdo time together for these 3 "sistas'.

More ...
JOJO RICKS
RED OAK NEWS


There were lots of princesses, super heroes, goblins, animals, and more at the Family Fall Festival at the Red Oak Baptist Church Family Life Center on Saturday, October 31! Over 300 children and adults from the church and the community participated in the event. They enjoyed such games as fishing, Nerf bow shoot, Hawaiian ring toss, putt-putt, pick up ducks, ball games, corn hole, and bowling, as well as, a cake walk, face painting, and music.

More ...
SUZY PEARCE
FARM SERVICE AGENCY NEWS


Agriculture Deputy Secretary Krysta Harden recently announced that $2.5 million in grants is now available for projects to educate new and underserved farmers about more than 20 U.S. Department of Agriculture (USDA) Farm Service Agency programs that can provide financial, disaster or technical assistance to the agricultural community.

More ...
SHARON TAYLOR
Rocky Mount Evening Optimist Club news
OFFICERS -- The Rocky Mount Evening Optimist Club held its officer installation meeting on October 20th. Pictured (left to right) are: President Sam Toler, Board Member James Bowen, Secretary Cheryl Bowen, Board Member Tommy Peele, Internal Vice President Ed Taylor, Board Member Errol Warren and External Vice President Ray Goodwin.
More ...
Duke Energy provides investment


NASH COUNTY -- Duke Energy and Nash Community College (NCC) today announced a $250,000 investment from the Duke Energy Foundation. The funds will be used for Computer Numerical Control (CNC) Electrical Discharge Machining (EDM) and WaterJet training.
The funding allows NCC to procure the equipment and offer advanced training on CNC Wire EDM and WaterJet machines, filling skills gaps for employers using precision machining and cutting processes.

More ...
Staff Reports
Common courtesy is rapidly disappearing


Granted, I know I've bought some of this on myself. Since my illness earlier this year, I'll admit that my step is a little more leisurely and that I drive a bit more downtempo. So much so that I've even been criticized, goaded and mocked about my acumen behind the wheel by my own family.
I get what the leadfeet I love most are trying to tell me: they are obviously envious of my caution and expertise. Or something like that.
Apparently though, motorists of the greater Nash-Rocky Mount area is less impressed. I've had horns blow at me and I'm certain that the words being muffled from inside other autos were not words of praise or respect.

More ...
Mike Brantley - 1 opinion posted
There truly is a difference between knowledge and wisdom
These few column inches of copy are sometimes intended to impart wisdom, not just overpowering knowledge.
Knowledge, a guillotine chopper to cut picture frame moulding is sharp. Wisdom, there are two kinds of people who operate moulding choppers, those who have been cut, and those who are going to be cut.
Oh, Yogi, we miss you. It's deju vu all over again.
More ...
School split will continue to resurface


Dear Editor:
A recent letter in an area newspaper talks about fairness in the current debate over splitting the Nash-Rocky Mount Schools (NRMS) along county lines. What is fairness? To most common sensed people fairness is where everyone is treated equally. Fairness is not where you burden one group more than another or require one group to bear the burdens that belong to another group.

More ...
LETTERS TO THE EDITOR
Backward Glances


RED OAK JAYCEES -- This photo originally published in The Graphic on November 15, 1977. Officers had been elected for the newly charted Red Oak Jaycees. Displaying the club's charter are Ben Ricks (left), president, and Rudy Shearin, treasurer. Back row: Ronnie Batchelor, external vice-president; Richard Pitt, secretary; John Saunders, internal vice-president; and David Leonard, state director.

More ...
A PICTORIAL LOOK INTO THE PAST

NUMBERS NINE. (L to R) Northern Nash's Kevin McLaughlin and Nash Central's Cameron Flora raced toward the ball during last Friday afternoon's boys soccer contest.

A Tie Tops Off Soccer Season


ROCKY MOUNT -- With both squads out of the postseason picture, only pride was at stake last Friday afternoon when backyard rivals Nash Central and Northern Nash met in the final regular season boys soccer contest of the 2015 campaign.
Of course, pride is always a key intangible whenever Northern and Nash Central meet, regardless of the sport.
As expected, emotions were high for the matchup, and a huge crowd was on hand to bid farewell to the season since the Big East Conference Tournament was cancelled due to a scheduling backlog from poor weather.

More ...
GEOFF NEVILLE, Graphic Sportswriter

RUNNING WITH THE PACK. Northern Nash's Halie Huffman (center) tries to keep up with several runners during the girls race at the Class 3-A East Regional Cross Country Championships at Red Oak Middle School.

A REGIONAL REPEAT


RED OAK -- Jeff Dodrill has never been a fan of paper championships during his successful tenure as the cross country coach at Northern Nash High School.
Before cross country meets, times and standings are often crunched in an attempt to come up with a potential winner.
Utilizing that endeavor, Northern Nash was considered to be a prohibitive favorite in the boys race heading into last Saturday's Class 3-A East Regional Championships.

More ...
GEOFF NEVILLE, Graphic Sportswriter

IT'S TACKLE TIME. Southern Nash's defense teams up to tackle Rocky Mount's Nick Bynum during last Friday night's Big East Conference football showdown, which was claimed by the homestanding Gryphons by a 35-14 margin.

DUEL FOR FIRST


ROCKY MOUNT -- Southern Nash traveled to Rocky Mount last Friday attempting to defend its Big East Conference football championship, but the host Gryphons had other ideas.
Instead, Rocky Mount wrapped up its first league crown in eight years -- and the first for Coach Jason Battle -- by outlasting the Firebirds by a 35-14 margin at the RMHS Football Field.

More ...
Staff Reports

TONE SETTER. Nash Central's Allison Smith sets the ball to a teammate during Monday's semifinal matchup of the Tri-County Conference Volleyball Tourney at the NCMS Gymnasium.

Trojans shine on vb court


NASHVILLE -- Laura Thompson's first season as the head volleyball coach at Nash Central Middle School was certainly one to remember.
The Lady Trojans went undefeated during the regular season, dropping just five sets along the way en route to securing a sterling 14-0 undefeated record.
Nash Central won its division, leaving the Lady Trojans with a No. 1 seed and semifinal home match for the Tri-County Conference Tournament.
That contest was staged Monday against South Edgecombe at the NCMS Gymnasium.

More ...
GEOFF NEVILLE, Graphic Sportswriter

TOUGH TO TACKLE. Southern Nash\'s Quinton Cooley (with ball) breaks away from the Nash Central defense during last Thursday afternoon\'s Tri-County Conference football meeting, which was held at Firebird Stadium.

Cobras claw past Trojans


STANHOPE -- If you're looking for a middle school football player in Nash County with a chance to be an impact player on the next level, look no further than Southern Nash's Quinton Cooley.
Cooley, a running back who can also catch passes, helped the Cobras wrap up their 2015 schedule in strong fashion last Thursday with an impressive 38-8 decision over county rival Nash Central at Firebird Stadium on the campus of Southern Nash High School in Stanhope.

More ...
GEOFF NEVILLE, Graphic Sportswriter
Central wrestling sked released


ROCKY MOUNT -- Nash Central High School, coached by Shon Johnson, will begin its 2015-16 prep wrestling campagn on Nov. 16 at home with a tri-match versus Smithfield-Selma and Wilmington Laney.

More ...
Staff Reports
Records broken during NCWC's triumph


DANVILLE, VA. -- North Carolina Wesleyan College's football team won its third game in four weeks last Saturday, downing Averett University by a 56-51 margin in league play.
Dustin Midgett, Malik Adams, and Adrian Minondo each broke program records in the win.
Midgett set a new single-game record with 449 passing yards on the day, while his four touchdown passes moved him past former Bishop Cedric Townsend as the all-time leader with 45 in his career.

More ...
Staff Reports
Southern Nash ties with Demons


WILSON -- With the second seed out of the Big East Conference at stake for the Class 3-A Boys Soccer State Playoffs, Southern Nash went to penalty kicks to outlast Wilson Fike by a 2-1 margin in a play-in contest last Saturday at Gillette Park.
The victory put SN at the No. 2 seed, while the Demons will be seeded third.
Fike struck just four minutes in off a Preston Rhyne tally, but Southern Nash evened the score at the 35-minute mark off a goal from Cristian Salazar.

More ...
Staff Reports
Batchelor sparkles at NCWC


ROCKY MOUNT -- The women's soccer team of North Carolina Wesleyan College wrapped up its regular season last Wednesday at Scalf Field, fighting to a double-overtime draw with USA South champion Meredith College.
Versus Meredith, both teams created scoring opportunities but were turned away by fantastic goalie performances by NCWC's Vanessa Batchelor and MC's Jaisa Loch.

More ...
Staff Reports
FALL REC SPORTS UPDATE


NASH COUNTY -- Listed are updated scores from the Nash County Parks and Recreation's Fall Baseball and Softball Leaues, along with last weekend's football games against Enfield:

More ...
Staff Reports
BIG DAY IN RED OAK
Standouts were plentiful for Nash County schools during last Saturday's action at the Class 3-A East Regional Cross Country Championships at the Red Oak Middle School Course. Among the county performers were (above) Daniel Belton (Northern Nash).
More ...
HERE TO SERVE
Nash Central Middle School's Marley Winstead delivers a serve during Monday's home match versus South Edgecombe in the first round of the Tri-County Conference Volleyball Tournament.
More ...
MAKING A RUN FOR IT
Northern Nash's Mackenzie Proctor (right) tries to pass a runner during last Saturday's Class 3-A East Regional Cross Country Championships, which were held at Red Oak Middle School.
More ...
RIGHT BACK AT YA
Nash Central's Lara Wood returns the ball during Monday's matchup against South Edgecombe in the semifinals of the Tri-County Conference Volleyball Tournament.
More ...
SAVE THE DATE
Nash Central keeper Colby Carter (with ball) made several key saves last Friday against Northern Nash.
More ...
Bands to offer Motown grooves at Nash Arts
On Friday Nov. 13th two powerhouse musical groups collide on stage to produce the silky smooth sounds of Motown and R&B.
The 7th Hour Grooves Band and the Making a Difference Vocal Group will explode on stage with some of the most timeless hits ever known to the music industry. Featuring, but not limited to, songs by The Temptations, Whispers, The Intruders, The Stylistics, James Brown, Michael Jackson as well as other legendary artist.
More ...
Open Mic Night is November 20th at Nash Arts Center
Nash Arts will host its Open Mic Night on Friday, November 20th from 7-9 p.m. Admission is $7 per person, $5 for Nash Arts members and students 17 and under. The even is open to all types of performances including poetry, comedy, music and spoken word. All ages are encouraged to participate. Anyone who needs a sound check should arrive by 6 p.m. For more information call 252-459-4734.
More ...
Will West returns to Nash Arts
Modern folk, groove and pop sounds will fill the stage at Nash Arts on Saturday, Nov. 21 at 7 p.m. featuring Will West in Concert.
The son of a fiddle player, Will West grew up in eastern North Carolina. Inspired by his parent's vast record collection, he began playing guitar when he was 11 years old. First finding a love for Old-Time Blues and Heavy Metal music.
Will began to sing and write his own music during his college years at UNC Chapel Hill.
More ...
US Air Force Heritage Brass to perform at NC Wesleyan
North Carolina Wesleyan College invites the public to attend a free concert by the United States Air Force Heritage Brass of the USAF Heritage of America Band. The event will be held on Monday, November 9, at 10:00 a.m. at Wesleyan's Dunn Center for the Performing Arts.
The Heritage Brass features the diverse talents of professional airman-musicians whose commitment to excellence has earned worldwide acclaim and military distinction. From Bach to the Beatles and patriotic favorites, the Heritage Brass offers a musical experience that will appeal to audiences of all ages.
More ...