Subscribe/Access
Advertisements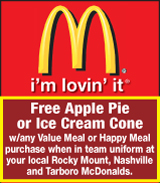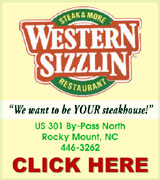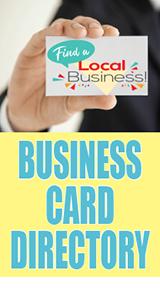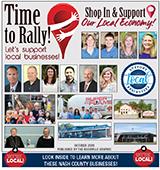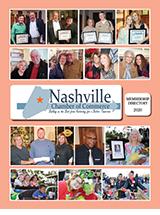 Sections
Member Options
Back
Nashville man killed during argument


An argument among friends turned deadly last Thursday night on Sixth Street in Nashville.
According to Nashville Police Chief Tom Bashore, four individuals were hanging out at a home at 628 Sixth Street. The four went inside and an argument erupted between 63-year-old Greg Richardson and another man.
Bashore said according to witnesses, Richardson walked over and struck the other man, cutting him in the eye. A fight ensued, with the two men on the ground.
"There was a fight that took place," Bashore said. "The victim had struck the other individual."

More ...
AMANDA CLARK, GRAPHIC STAFF WRITER
Police look for missing woman
Wilson Police are continuing their search for a woman reported missing last week.
Officers and Detectives with the Wilson Police Department are searching for Isabel Calvo Palacios, who was reported missing on August 4.
Palacios is a 20-year-old Hispanic female, reportedly from the Bailey area. She has brown eyes and brown hair, possibly with highlights. Palacios, known by friends and family as "Chaveli,"is 5'2" tall and weighs around 110 pounds.
More ...
ALMOST BACK TO SCHOOL TIME!
Nash-Rocky Mount Schools students will start classes August 24th. A special Back-To-School edition is inside today's Nashville Graphic which includes information and calendars. Pictured above, Ja'Kaila and Kailyn Hendricks enjoy snacks during a meet and greet held at Nashville Elementary last week. The girls are accompanied by their mother, Shelly Hendricks. Students and parents met Nashville Elementary's new principal, Quintin Mangano.
More ...
Speed limit reduced on Cedar Street


A speed limit reduction request that was tabled at July's Nashville Town Council meeting made it back to the agenda this month.
Cedar Street residents submitted a petition to Nashville's Planning Department requesting the speed limit be dropped from 35 to 20 miles per hour. The town's Technical Review Committee reviewed the request and recommended the speed be adjusted to 25 miles per hour to be consistent with the speed limit on Elm Street which runs parallel to Cedar Street.

More ...
JO ANNE COOPER, GRAPHIC PUBLISHER
Town picks contractor for sidewalk project


Nashville's Town Council adopted a $488,435.00 capital project last week for the installation and repair of sidewalks on the west side of Alston Street from Circle Drive to Circle Drive and the north side of Washington Street from First Street all the way to Walmart on Eastern Avenue, and awarded the project to BCS Contractors of Nashville.
The project has been on the table for years and has been delayed due to changes in regulations by the Department of Transportation.

More ...
JO ANNE COOPER, GRAPHIC PUBLISHER
Local NRA chapter to host fund-raiser


A local chapter for the Friends of the National Rifle Association (NRA) has formed in Nash County and is planning a fund-raiser on August 27.
The National Rifle Association (NRA) is an American nonprofit organization which advocates for gun rights.
The Friends of the NRA is strictly a fundraising organization, said Buddy Gwaltney, a volunteer with the newly formed Nash County Friends of the NRA. The group raises money to contribute primarily to local youth organizations.

More ...
AMANDA CLARK, GRAPHIC STAFF WRITER
Bailey turns 100


Monday was a big day for Addie Leigh Bailey, as she celebrated her 100th birthday.
To celebrate the milestone, friends and family hosted two parties, one on Sunday and another on Monday, August 10, the actual birthday of Bailey.
Bailey was born on August 10, 1915 and grew up in the Oak Level Community.
She attended Oak Level School and graduated from Nashville High School.

More ...
AMANDA CLARK, GRAPHIC STAFF WRITER
Stallings celebrates 100th


Each week, a group of men get together at Birchwood Country Club for a round of golf.
Recently, the group got together for a different reason; to celebrate the 100th birthday of one of their members.
The men, called the Seniors of Birchwood, or SOB's, held a breakfast honoring Herb Stallings, who turned 100 on August 4.
Stallings has been playing golf at Birchwood since 1960. Though he doesn't play anymore, he still comes out to visit the group.

More ...
AMANDA CLARK, GRAPHIC STAFF WRITER
INTERIM MANAGER
Nashville Mayor Donald Street (right) swears in Leonard Barefoot as Nashville's Interim Town Manager during the town's August 4th meeting. Barefoot is a resident of China Grove and most recently served as the interim city manager for Ayden. Nashville's interim post will be his fifth interim position since he retired as the City Manager of Sanford in 2007. Barefoot took the helm of Nashville as Preston Mitchell left for a similar position in Reidsville. Mitchell served as the town manager of Nashville for almost 10 years.
More ...
Stevens joins Nash County Extension Office
A local man has joined Nash County's Office of the NC Cooperative Extension Service.
Matt Stevens will conduct educational programs in areas of commercial horticulture, consumer horticulture and pesticide education.
Stevens brings 10 years of experience from Halifax County. He served as an assistant then associate and then moved up to a full-time Agriculture Extension Agent.
He received his Bachelor's Degree in Plant Science and Master Degree in Horticulture Science from the University of Maryland.
More ...

TEAMED UP FOR BUSINESS -- Longtime friends A.J. Whitehead (left) and Michael "Moe" Deloach are now business partners. The two recently opened Moe & AJ's Restaurant in Castalia.

Castalia welcomes Moe & AJ's Restaurant


Michael "Moe" Deloach and A.J. Whitehead are both familiar with the recipe to build a successful team and now the two long-time friends have partnered opening a new restaurant in Castalia. Moe & AJ's opened in July next to the L&L Food Store at 8909 Main Street.
Deloach, a Nash County native and Northern Nash High graduate, is a professional basketball player in Europe. Whitehead is a retired high school basketball coach from Edgecombe County and was one of the owners of D's Wingz in Rocky Mount.

More ...
JO ANNE COOPER, GRAPHIC PUBLISHER
NCC announces BLET graduates
On Tuesday, August 4th, 11 cadets graduated from Nash Community College's Center for Law Enforcement Excellence in the 42nd Basic Law Enforcement Training (BLET) Night Academy.
In his message to the graduates, Shane Guyette, Director of the North Carolina Department of Insurance Criminal Investigative Division, advised the new officers, "There is one word that is near and dear to my heart: integrity. You have been taught well," he said. "Strive to do your best every day. You stepped into a brotherhood and sisterhood better than anything you have ever experienced. And there is one common denominator - integrity. Always do the right thing."
More ...
Local woman faces embezzlement charges
A local woman was recently charged with embezzling money from a Nashville business.
Robin Freeman, 53, was charged with one count of felony embezzlement after an investigator hired by Freeman's employer found discrepancies in deposits that were being made.
According to Curtis Moore, Public Information Officer with the Nash County Sheriff's Office, Wayne Taylor, of Taylor's Exxon, hired a private investigator to look into deposits that were being made.
More ...
NASHVILLE POLICE REPORTS
INCIDENTS
A weapon was turned over on 8/3/15 at 741 Western Avenue
An exploitation of the elderly was reported on 8/6/15 at 1020 E Birchwood Drive
A larceny was reported on 8/6/15 at Wal-Mart, 1205 Eastern Avenue
More ...
NASH COUNTY SHERIFF'S OFFICE REPORTS
A larceny of a debit card was reported on 8/3/15 at 291 Cooley Road
A larceny of an open trailer was reported on 8/3/15 at 12027 E NC 97
A larceny was reported on 8/3/15 at 2178 Eastern Avenue
A call for service was reported on 8/3/15 on Essie Lane
More ...
Summertime Fun in Nash County, pics 1
UNDER THE SEA - Shane Renner, 10, checks out his BINGO card while attending a 4-H Summer Camp, "Under the Sea," which focused on the different animals that lived in the sea, including sharks. The course was taught by Program Assistant Maggie Earle.
More ...
Summertime Fun in Nash County, pics 2
Evan Johnson tries to walk through cones while wearing goggles that simulates how a person under the influence of alcohol would feel while at a Criminal Justice Camp, which was hosted by the Nash County Sheriff's Office as part of Nash County 4-H Summer Camps. After students walked the cones, they then got a chance to drive a golf cart with the goggles.
More ...
Dr. Gary Chapman to lead marriage conference at Englewood Baptist
Englewood Baptist Church will host "The Marriage You've Always Wanted" on Saturday, August 22.
The conference, led by Dr. Gary Chapman, an author of the best-selling The Five Love Languages, is not a formal, dry, marriage conference - it's a time of fun and discovery to help you build the love relationship of your dreams. Whether you're getting married in six months or you've been married 60 years, you'll get solutions you can use.
More ...
RED OAK NEWS


Red Oak United Methodist Church had a joyous celebration on Sunday, August 2! The children who were part of the first Fruit of the Spirit Summer Reading Camp were present for worship and shared some of the songs they learned during their three weeks of camp.
Congratulations to Colby and Amanda Griffin on the birth of their son, Hudson Vanhook, on August 4! Proud grandparents are Dwayne and Brenda Griffin.
Your help is needed by ROUMC for them to reach their goal of filling 50 backpacks with school supplies.

More ...
Suzy Pearce
BEULAH COMMUNITY NEWS


Sunday School began at 9:45 at Beulah Church of Christ. Earl Cary welcomed everyone and gave several announcements. This was followed by going to classes. Church service began at 10:45. After several praise hymns, Elder Kenneth Massengale gave the Communion Meditation. The communion hymn was "Whiter than Snow." Prayers were given at the table and communion was served to all baptized believers by Jim Walker, Steve Wheeler, Danny Hyde and Mickey Matthews. Elder residing at the table was Kenneth Massengale

More ...
WILMA ENROUGHTY
PEACHTREE COMMUNITY NEWS


On a bright and sunny Sunday morning Peachtree folks gathered for worship at the church. Sanctuary flowers were given by Joan and Ray Eason in memory of her father, Raymond Rackley Jr, whose birthday was Saturday. Special music was a beautiful vocal solo by Fay Vick titled, "God on the Mountain".
For her sermon to the children Beverly Wilson talked about the different foods found in the 'Food Pyramid'. She told them that bread, made from grain, is one of the most important foods and is often mentioned in the Bible.

More ...
BARBARA HARDISON
AVENTON COMMUNITY NEWS


You put fun in two categories....fun you pay for and fun that is free. Free fun to me is the best and that is exactly what Sue Shearin and JoJo Ricks showed their grandchildren, Olivia and Melissa, daughters of Thad and Orna Shearin and Carter and Easton, sons of Chason and Jennifer Ricks. The grandkids fished in the old Ricks farm pond with crickets and worms. All 4 kids enjoyed throwing the line out and reeling in their catch. One fish after another, it wasn't the size of the fish that counted but the number of fish caught that made the day!

More ...
JOJO RICKS
It's been a busy summertime for Nashville


Last week was one of those weeks that a publisher wishes it were possible to have two front pages! Not that it was a busy week for what we call hard news --such as crime or major issues. When that happens, it's easy to figure out what makes page one due to timing and the impact it has on the community.
But instead, it was a busy time for so many great things going on in Nashville!
We welcomed a new business that has "popped" into downtown, Tastebuds Popcorn. They have filled downtown with patrons, which has been good for them and for downtown. I must admit I was a bit doubtful when I heard of the company.

More ...
Jo Anne Cooper - 1 opinion posted
Congratulations to Business of the Year


Recently, Nashville's Chamber of Commerce held its annual banquet for members.
As part of the event, new officers were sworn in and there was a business recognized by the Chamber for going above and beyond.
This year, that business was Southern Bank.
Southern Bank has been in Nashville a long time and they've done a lot for Nashville.

More ...
Amanda Clark - 1 opinion posted
Political correctness has become incorrect


I remember the first time I heard the phrase "politically correct" and saw its application. I believe it was 1992. I told my wife it was a fad that would surely fade, and that good sense would stomp it out. After all, people just aren't going to participate in foolishness but so long, I thought.
And one generation later, "PC" is worse than I ever imagined. No one can say anything to anyone without processing it first to see if it is offensive. Profiteers and national media outlets are ready to yell "gotcha" at the first sniff of an "insensitive remark."

More ...
Mike Brantley - 1 opinion posted
Backward Glances


THE LIFE OF A LIFEGUARD -- This photo originally published in The Graphic on August 20, 1970. Bob Rhodes, the lifeguard at Birchwood's swimming pool, was reported as being pleased with his job, pictured above surrounded by pretty girls at a pool-side table.

More ...
A PICTORIAL LOOK INTO THE PAST
Nash County Animal Friends' Notebook


Yes, suffering in the HEAT and HUMIDITY inside a building that has very little ventilation unless you leave the doors open and use big industrial fans to move the air around. Yes, we are describing the Nash County Animal Control facility. No air conditioning where the pets are. No easy way to add it either. You cannot just stick a window unit in due to the building itself, unless you do some wiring and construction. When you put the found pets in an environment like that, if one is sick with kennel cough, for example, they ALL get sick.

More ...
Carol Vierela, NASH COUNTY ANIMAL FRIENDS - 1 opinion posted

RECORD BREAKER. Southern Nash's Zack Foster broke the school's all-time, single-season passing mark last season -- and will be looking for even better things this fall. Southern will host the Nash County Jamboree today at Firebird Stadium.

VARIETY SHOW


STANHOPE - From the standpoint of potential, this could very well be the most diverse, prolific offense the Southern Nash Football Firebirds have fielded during the Brian Foster Era.
Southern returns quarterback Zack Foster -- who broke the school single-season passing mark last fall -- along with a talented group of receivers, including East Carolina University commit Tahj Deans.

More ...
GEOFF NEVILLE, Graphic Sportswriter

THIRD YEAR IN RED OAK. Veteran head coach Randy Raper (left) returns for his third campaign in charge of the Northern Nash High School football program, which will take part in today's Nash County Jamboree in Stanhope.

Knights Looking For Respect


RED OAK -- Randy Raper has made extensive progress in his two seasons at Northern Nash -- winning nine games while helping rebuild a program that had hit a tough stretch before Raper arrived in Red Oak from Wilson Hunt.
Raper built Hunt into a Big East Conference gridiron powerhouse during his storied tenure there, and he appears to have the Knights pointed in a positive direction heading into the Aug. 21 regular season opener on the road at Corinth Holders in Wendell.

More ...
GEOFF NEVILLE, Graphic Sportswriter

Northern Nash's Stephen Whitehead

Knights on course this year


RED OAK -- Even with the loss of some talented seniors, expectations will once again be high this fall for the tradition-rich Northern Nash boys cross country program.
The Knights, who claimed the Class 3-A East Regional Championship last fall, will have an opportunity to defend that title on Oct. 31 at NN's home course on Red Oak Middle School.

More ...
GEOFF NEVILLE, Graphic Sportswriter
Red Oak schedule released


RED OAK -- Red Oak Middle School's 2015 football season will begin Sept. 17 at home against Wilson Forest Hills.
All contests will begin at 4 p.m. Admission will be $5 for adults and $3 for students.
The Tigers will play seven games in addition to taking part in the Nash County Jamboree on Sept. 9 at Rocky Mount High School.
The Tri-County Conference Championship will be held on Nov. 5.

More ...
Staff Reports
Mudcats a big winner


ZEBULON -- Keith Curcio hit a score-tying single in the sixth and Johan Camargo brought in the go-ahead run with a squeeze bunt in the eighth as the Carolina Mudcats won the finale of a three-game series 3-2 against the Nationals in front of 5,550 at Five County Stadium on Sunday night.
The Nationals (51-61, 18-24) led the Mudcats (58-55, 24-20) 2-0 into the sixth before Curcio locked it up at 2-2 with a two-out chopping single to center off left-handed reliever Jake Walsh.

More ...
Staff Reports
Scrimmage Time For NC


ROCKY MOUNT -- New coach Chris Lee has found the hunger he was looking for during Nash Central High School's first official week of football practice.
As Lee acclimates himself to NCHS after a strong six-year stint at Louisburg, he continues to see a team -- and a school -- starving for success on the gridiron.
"The kids here, the students here -- everybody wants a winner,'' Lee said. "And it's not just in football, either.
"There is a lot of talent at this school. It's just a matter of keeping everybody on the same page. There is no reason this school shouldn't be successful in athletics.''

More ...
GEOFF NEVILLE, Graphic Sportswriter
Collins named new coach at NNHS


RED OAK -- Northern Nash High School has named Mr. Bernard (Bard) Collins as its new Varsity Baseball Head Coach.
Collins is currently serving at Northern Nash High School as a Career and Technical Education Teacher and will begin his coaching duties immediately.
"We are excited about the future of the Northern Nash High School Varsity Baseball Team with Coach Collins as the leader," said Angela Miller, Director of Athletic Activities for Nash-Rocky Mount Public Schools.

More ...
Staff Reports
Northern Nash to host soccer jamboree


RED OAK -- Northern Nash will host its annual Fighting Knights Preseason Soccer Jamboree today on the NNHS campus.
The host Fighting Knights will participate in the scrimmage-style event along with Southern Nash, Corinth Holders, Wilson Hunt and D.H. Conley.
With the exception of the last match between Northern and Southern, all scrimmages will last 20 minutes.
Action begins at 4:30. Admission will be $5 per person. A full concession stand will be available.

More ...
Staff Reports
LC hires new skipper


LOUISBURG -- Louisburg College Athletic Director Mike Holloman announced Monday that Michelle Carlson will serve as the Canes' head softball coach.
"Michelle brings a lot of softball playing and coaching experience to Louisburg," Holloman said. "She has been successful as a player, head high school coach, and college assistant coach. With six years of coaching experience, I am confident that Coach Carlson will be a great addition to our coaching staff."
Carlson comes to Louisburg after three seasons as an assistant at Radford University.

More ...
Staff Reports
LET'S GET IT RIGHT
Southern Nash High School assistant coaches Buddy Williams (top right) and Brian Batchelor (bottom right) check the alignment of the Firebirds' offensive line during a recent football practice session on the SNHS campus in Stanhope.
More ...
TAKING A BRIEF RESPITE
Southern Nash High School football players (l to r) Alex Puente and Demetrius Perry enjoy a rare moment of relaxation during a recent high-paced practice session ahead of today's Nash County Football Jamboree at Firebird Stadium.
More ...
TOP KNIGHT
Northern Nash High School superfan Corey Mercer, Jr., was excited about the start of fall football practice last week. Mercer's father, Corey, is an assisant coach for the Knights, who will take part in today's Nash County Jamboree in Stanhope.
More ...
GREGORY DONALD RICHARDSON Gregory Donald Richardson, 63, of Nashville, passed away August 6, 2015. The funeral will be held Wednesday, August 19,
Gregory Donald Richardson, 63, of Nashville, passed away August 6, 2015.
More ...
JULIA DOROTHY PROCTOR
Julia Dorothy Proctor, age 61, passed away on Tuesday, August 11, 2015.
Arrangements to be announced by Wheeler and Woodlief Funeral Home & Cremation Services, Rocky Mount.
More ...