Subscribe/Access
Advertisements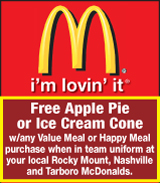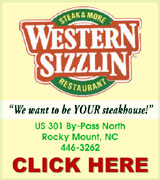 Sections
Member Options
Back
Twiford named Interim Superintendent


The first superintendent of the merged Nash-Rocky Mount School System is coming back to lead the system as its interim superintendent.
The Nash-Rocky Mount Board of Education unanimously voted on Monday night, following a two-hour closed session, to hire Dr. Travis Twiford as the interim superintendent.
Twiford was the superintendent in 1992, when the Rocky Mount City Schools merged with Nash County Schools, forming the Nash-Rocky Mount School System.

More ...
AMANDA CLARK, GRAPHIC STAFF WRITER
Town names interim manager


Nashville's Town Council voted last Friday to hire Leonard Barefoot as the town's interim Town Manager.
Barefoot is a resident of China Grove and most recently served as the interim city manager for Ayden. Nashville's interim post will be his fifth interim position since he retired as the City Manager of Sanford in 2007.
Barefoot will take the helm of Nashville as Preston Mitchell prepares to leave for a similar position in Reidsville. Mitchell has served as the town manager of Nashville for almost 10 years.

More ...
AMANDA CLARK, GRAPHIC STAFF WRITER
SUMMER READING KICKOFF
SUMMER READING - Nashville's Harold D. Cooley Library hosted a Summer Reading Kick-off on June 20 to get ready for its Summer Reading Program, which runs through the month of July. Because heroes is the theme for this year's program, the library hosted some heroes of its own at the kick-off event. Firefighters, police officers and farmers were on hand to show off their equipment and Community Services Officer Jennifer Bull painted youth's faces at the event.
More ...
Police arrest alleged purse snatcher
Nashville police have arrested a Battleboro man in connection with wallets stolen out of purses at Wal-Mart.
Officers responded to a larceny of a purse at Nashville's Wal-Mart on June 29, where a female victime told officers her wallet was missing from her purse. While investigating, a second victime reported her wallet was also missing.
Credit cards, cash, debit cards, social security cards, drivers licenses and other personal items were missing from the purse as well.
More ...
Locals injured, killed in racing accident
Four people were killed and three others injured after an accident during a street race on Sunday.
Two of those killed and two of those injured are listed as Nash County residents.
The accident happened on Simon Road, near Buck Road in Johnston County, near the Nash County line on Sunday night.
According to the North Carolina Highway Patrol, the accident occurred around 10:30 p.m. when two cars were racing and one veered off the road and hit a crowd who had come out to watch the pre-arranged race.
More ...
Town offers former library to My Sister's House


My Sister's House is considering relocating to the former Nashville Library facility at Alston and Church Streets.
Nashville Town Manager Preston Mitchell told council members at the regular board meeting last Tuesday night that he had spoken with Cynthia Kornegay, the Executive Director of My Sister's House, about the organization renting the top floor of the former library building, which the town owns. Mitchell said it was initially proposed to rent the top part of the two-story building for $1,000 a month.

More ...
AMANDA CLARK, GRAPHIC STAFF WRITER
Nashville Fire Dept. receives grant funding


Nashville's Fire Department will soon be purchasing 22 self-contained breathing apparatus.
Nashville Fire Chief Randy Goodbrod said the department was notified last month that it had received an Assistance to Firefighters Grant (AFG) totaling $150,700. Of that amount, the Town of Nashville has to contribute five percent, or $7,176.
The money will be used to purchase 22 new self-contained breathing apparatus, which will replace the current ones that are 13 years old.

More ...
AMANDA CLARK, GRAPHIC STAFF WRITER
County stands firm on Internet Cafe policy


Nash County Commissioners denied a request to reduce the required separation between Internet Sweepstakes Cafes and residences.
The request was brought to commissioners last Monday morning during their regular meeting. Joseph R. Bass, Jr. requested the current 500-feet separation distance be reduced to 385 feet.
Nancy Nixon, Nash County Planning Director, told commissioners that because the request was a text amendment, if approved it would be allowed throughout Nash County and in all zoning districts where Sweepstakes Cafes were allowed.

More ...
AMANDA CLARK, GRAPHIC STAFF WRITER
Municipal elections filing ends Friday


Three have filed to run for one seat on Nashville's Town Council.
On Monday, Michael Coleman joined Marguerite Bishop and James "Butch" Mull, Jr. in running for the unexpired term seat on Nashville's Board.
Coleman previously announced he had planned to run for the seat.
So far, no one has filed to challenge incumbents Charles Taylor and Louise Hinton or Mayor Donald Street, who have all filed for re-election
Seats in other municipalities also have incumbents filing without challengers so far.

More ...
AMANDA CLARK, GRAPHIC STAFF WRITER
Local man spots large black bear in yard
Jerome Johnson, who resides on Robertson Road between Spring Hope and the Macedonia Community, said he didn't watch any fireworks on the Fourth of July, but what he saw when walking outside the morning after was just as exciting.
Upon stepping outside early Sunday morning, he found a large black bear on his property. "It was a picture perfect creature," he said, "I couldn't believe my eyes."
More ...
Sheriff's Department ranks to change


Nash County Commissioners approved a request from Sheriff Keith Stone to restructure the ranks within the sheriff's department.
Stone proposed a rank restructuring plan to commissioners, which was considered at their regular meeting last Monday. Based on the plan, the salaries of the employees will not change but the titles, or ranks, will.
Stone told commissioners he was trying to bring the department's rank system more in line with others.

More ...
AMANDA CLARK, GRAPHIC STAFF WRITER
NASHVILLE POLICE REPORTS
INCIDENTS
A child abuse (non-assaultive) was reported on 7/6/15 at 104 E Green Street
A larceny (shoplifting) and aid and abet was reported on 7/7/15 at Wal-Mart, 1205 Eastern Avenue
An escape from custody or resist, obstruct or delay and obtaining money/property by false pretense was reported on 7/8/15 at Wal-Mart, 1205 Eastern Avenue
More ...
NASH COUNTY SHERIFF'S OFFICE REPORTS
A breaking and entering and felony larceny was reported on 7/6/15 at 2335 Hermitage Road
A breaking and entering and larceny after a breaking and entering was reported on 7/6/15 at 3911 E Old Spring Hope Road
A felony larceny was reported on 7/6/15 at 600 S. Halifax Road
A felony larceny was reported on 7/6/15 at 4892 Crabtree Lane
More ...
Nash Central Alumni Association names Evans to its Wall of Fame
A new face was added to the Nash Central High School Alumni Association's Wall of Fame.
Mary O. Evans, of Milwaukee, Wisconsin was inducted onto the Wall of Fame during the Nash Central Senior High School Alumni Association's annual banquet, held on Saturday, May 23.
Evans is a member of the Upper East Coast Chapter of the Nash Central Senior High School Alumni Association. Her induction on the Wall of Fame was based on several of her prestigious achievements over the years.
More ...
Southern Bank and Trust Bank aids five-year Captial Campaign
Southern Bank and Trust Company has committed a significant contribution to the Carolinas Gateway Partnership during the current five year Capital Campaign and Mike Bryant, Executive Vice President and Area Executive for the West Region of the Bank will join the Partnership's Executive Committee.
During a presentation held at the Carolinas Gateway Partnership offices in Rocky Mount, Bryant presented a check for $25,000 to Don Williams, newly elected chairman of the Carolinas Gateway Partnership as well as to Frank Harrison, Past Chairman of the Partnership.
More ...
Donation
My Sister's House recently received a $5,000 donation from Waste Industries. Pictured (L-R) is Crystal Slone, the Tri-East General Manager with My Sister's House Executive Director Cynthia Kornegay. "This type of funding is critical to the continued direct services we provide in our community," Kornegay said of the donation. "Waste Industries' commitment to the victims and their families is extraordinary."
More ...
Barnes, Ray wed
Kristi Elizabeth Barnes and F. Keegan Ray were united in marriage on Saturday, May 16, 2015 at the North Carolina State University College of Textiles in the Centennial Textiles Complex Courtyard in Raleigh. The ceremony was officiated by the Rev. Louis Suprenant.
The bride is the daughter of Mr. and Mrs. Donnie Barnes, of Rocky Mount.
She is the granddaughter of Mr. and Mrs. Donald Barnes of Rocky Mount and Mrs. Imogene Tyson and the late Charles Tyson of Rocky Mount.
More ...
ENGAGED
Mr. and Mrs. Phillip Luther Johnson of Rocky Mount announce the engagement of their daughter, Dana Stewart Johnson, of Holly Springs, to Brandon Yates Howell, also of Holly Springs. He is the son of Mrs. Mabel Howell and the late Mr. Bill Howell, of Rocky Mount. The wedding is planned for October 10, 2015 at the Imperial Center, Rocky Mount.
More ...
UNC Pembroke announces honor students for 2015
UNC Pembroke recently announced Chancellors and Honors lists for the Spring Semester 2015.
Students are eligible for the Chancellor's List if they achieve a minimum semester quality point average of 3.7 while passing at least 12 semester hours of course work; none of the 12 hours may be Pass/Fail.
More ...
Meyers graduates from basic military training in San Antonio
Air Force Airman Christopher J. Meyers graduated from basic military training at Joint Base San Antonio-Lackland, San Antonio, Texas.
The airman completed an intensive, eight-week program that included training in military discipline and studies, Air Force core values, physical fitness, and basic warfare principles and skills. Airmen who complete basic training earn four credits toward an associate in applied science degree through the Community College of the Air Force.
More ...
Williams is named to Dean's List at University of Maine
The University of Maine recognized 2,163 students for achieving Dean's List honors in the spring 2015 semester. Of the students who made the Dean's List, 1,710 are from Maine, 377 are from 31 other states and 76 are from 22 countries other than the U.S.
Cynthia Williams, of Nashville, was among those named to the Dean's List.
More ...
NFD SMOKE ALARM PROGRAM
Nashville's Fire Department performed its new "getAlarmed, Smoke Alarms" program for the Westwood Circle and Park Avenue Communities on June 27 and July 11. The program was made possible through a FEMA grant which has allowed the department to receive many smoke alarms and carbon monoxide alarms. The grant is an ongoing grant each year but the department has to complete at least 500 home safety inspections to receive the grant. Fire fighters will be in other neighborhoods over the next few months and is encouraging Nashville residents to let the fire department perform a home safety inspection in their home.
More ...

Dr. J. Reid Parrott, Jr., center, is pictured with sons Ben, left, and Jake, right.
Parrott honored with Long Leaf Pine Award
Nash Community College President Emeritus Dr. J. Reid Parrott, Jr. was honored with the Order of the Long Leaf Pine Award on Thursday, May 14, 2015 during a Kiwanis meeting at Benvenue Country Club in Rocky Mount. Phil Kirk, of the North Carolina Chamber of Commerce, recognized Parrott for his remarkable career and service to the State of North Carolina.
Dr. Parrott earned his Bachelor of Science degree in Social Studies in 1960 from East Carolina University and then began his educational career as a teacher in the Wayne County, Lenoir County and Kinston City School Systems.
More ...
NFL football player to speak at local event
Anyone who has heard the name Jason Brown knows the talent, prestige and fame of the former University of North Carolina at Chapel Hill football player and NFL superstar. On Thursday, September 17 at 7:00 PM, Brown will be the keynote speaker at the Peacemakers of Rocky Mount annual fundraiser at Word Tabernacle Church located at 821 Word Plaza in Rocky Mount. For more information, visit facebook.com/peacemakersrm or call 252-813-9813.
A native of Henderson, NC, Brown attended UNC-CH on an athletic scholarship, graduated in 2005 and was drafted by the Baltimore Ravens.
More ...
SCHOLARSHIPS
Momeyer Ruritan Club recently awarded scholarships to local students. Pictured, left to right, are recipients: Devon Carter, NC State University; Lauren Wells, Campell University; and Kendall Parker, East Carolina University. Presenting the scholarship (pictured far right) is Stuart Parker, chairman of the scholarship committee.
More ...
GIVING BACK
BEULAH CHURCH GIVES TO MY SISTER'S HOUSE - Beulah Church of Christ recently held a yard sale to benefit My Sister's House. The yard sale brought in $500, which was presented to My Sister's House Executive Director Cynthia Kornegay. Pictured (L-R) is Kornegay, Mary Lee Bass, Team Leader of the Ministry Teams of Beulah Church of Christ, and Tonya Slocum, who serves on the Board of Directors for My Sister's House. Kornegay said the funds would be very helpful to the organization.
More ...
BEULAH COMMUNITY NEWS


Everyone was welcomed to Sunday School on Sunday Morning by Elder Earl Cary. Mrs. Frances Hedgepeth played opening songs and we also sang happy anniversary to Steve and Julia Wheeler. Earl put money in the birthday bank also in celebration of his five year old grandson. Several announcements were given. Vacation Bible School will begin July 24th through the 26th. Friday the time will be from 6 p.m. until 8 p.m. Saturday it will be from 10 a.m. until 2 p.m. There will be a closing program on Sunday, the 26th followed by a potluck luncheon after church to finish up the VBS program.

More ...
WILMA ENROUGHTY
RED OAK NEWS


The campers and chaperones from Red Oak Baptist Church returned home safely following a great week at CentriKid in Lynchburg, VA. Participants included Nate James, Amy Cary, Spencer Cary, Ashton Sykes, and Caleb Camp.
Nate James, Associate Pastor, brought the morning message at Red Oak Baptist Church on Sunday, July 12. Special music was presented by Madison Davis, granddaughter of Charles and Brenda Davis.

More ...
Suzy Pearce
PEACHTREE COMMUNITY NEWS


On a beautiful summer morning Peachtree folks gathered for worship at the church. Sanctuary flowers were arranged and given by Beverly Wilson in memory of her father, John Beverley Privette. The Adult Choir sang "Lead me Lord", under the direction of the pastor.
Pastor Whitehouse's sermon was titled "Does God Satisfy You?" It was based on scripture found in Genesis 45. This scripture relates the story of God's intervention in Joseph's life. We must be willing to forgive others, and not dwell in the 'swamp of bitterness'.

More ...
BARBARA HARDISON
AVENTON COMMUNITY NEWS


Stan, Garrett and Logan Ricks along with grandma JoJo recently took Garrett to the Shriners Hospital for Children in Greenville, South Carolina for reevaluation. You never stop praying; hoping or searching for help and answers when you have a special needs child. It's not an option, you just do until you can't do anymore, then you rest up, get up and do some more. Folks, I cannot praise the Shriners and the Shriners Hospitals enough. They are an awesome organization!!

More ...
JOJO RICKS
Nash County Blood Drives for July 2015
Tuesday, July 21 from 12:30 until 5 p.m. at the Whitakers Volunteer Fire Department, Whitakers
Wednesday, July 22 from 9:30 a.m. until 3:30 p.m. at Honeywell Corporation, 3475 Wesleyan Boulevard, Rocky Mount
Thursday, July 23 from 2:30 until 5:30 p.m. at Draka Elevator Products, 2151 N Church Street, Rocky Mount
Monday, July 27 from 3 until 7 p.m. at Momeyer Baptist Church, 4967 Momeyer Way, Nashville


More ...
Superintendent deal was handled badly


Let me preface this column with there are ALWAYS two points of view to every situation.
If there has ever been a time for a governing board to address the public with specific reasoning behind its actions -- the time is now.
The eruption of anger and dissatisfaction regarding the recent decision to indirectly boot out the Nash-Rocky Mount School Superintendent, in my opinion, is mostly due to school board members leaving a huge window open for assumption.

More ...
Jo Anne Cooper
Working for the common good, creating milestones
LIFE, may have been TIME, once devoted a page or two in each issue to Milestones. Dying, having a birthday, or getting married were the most commonly reported milestones.
Getting a driver's license is a milestone. Back in the day, 99 percent of pre-puberty males in Pamlico County knew how to drive a car long before they enrolled in driver's ed. I learned how not to ride the clutch on Burton Farm Road. It was a dirt road then, under the radar of the highway patrol. Boddie-Noel purchased the land and the farm is now Arlington Place. Upscale homes and cottages have replaced tobacco barns.
More ...
Nash County could benefit from running of the bulls


Most of us are familiar with the old expression about eating oysters: it was a brave man who first had the idea to taste one. Oh, how he was rewarded. If you ever had steamed oysters or shrimp at the old Atlantis restaurant in Rocky Mount, you know what I mean.
But in contrast, one has to question the man who came up with the running of the bulls in Spain.
You've seen the film footage: a bunch of fools running through what appear to be already quite unsanitary and unsafe streets while being chased by what appear to be a herd of Schlitz Malt Liquor beer bulls.

More ...
Mike Brantley - 1 opinion posted
Backward Glances


A FISHY PROBLEM -- This photo was originally published in The Graphic June 16, 1981. David McIntyre, a seventh grader at W.L. Greene Middle School, and a friend, sixth-grader Rachel Sasser, were struggling with getting a seven-foot-four-inch papier mache Atlantic Mako shark into a Volkswagen so David could carry it home. The shark was made by Mr. Gall's seventh grade science class.

More ...
A PICTORIAL LOOK INTO THE PAST
Nash County Animal Friends' Notebook


NOT for BOARDING!!
Buddy was surrendered to the Nash County Animal Control Shelter because his owner was going to leave town for a few weeks and wasn't able to board him. In order words, he risked his dog dying or at the least, he put another dog in danger of dying due to space being needed. What a shame that this person didn't have any family, any friends that could help him out. There was space in boarding too! We know, because we had to board him to save a life.

More ...
Carol Vierela, NASH COUNTY ANIMAL FRIENDS

WINHAM A WINNER. Nash Rec's Gabe Winham swims toward a triumph as part of IM competition during last Thursday's meet versus Birchwood.

VICTORY LAPS


NASHVILLE -- Nash Rec appears to be peaking at the right time as the Sharks prepare to defend their Nash-Halifax Swim League Championship.
The Sharks improved to 3-0 overall on the summer season with a team victory last Thursday at backyard rival Birchwood Country Club.
Nash Rec, coached by Wendy Wilson, was a 634-150 winner to finish off a two-match season sweep over the Barracudas.
Nash Rec has had four contests this season, but one of them -- a much-anticipated event against Roanoke Valley -- was shortened due to poor weather and will not count toward the final standings.

More ...
GEOFF NEVILLE, Graphic Sportswriter

HIGH AND TIGHT. Nash County All-Star batter Trenton Weeks takes an inside pitch during last Thursday's action at the Statewide Athletics Committee 12-Under Baseball Tournament, which was held at Ennis Park in Red Oak.

All-Stars Sharp At The SWAC


RED OAK -- Despite a spirited effort, it wasn't meant to be for the Nash County All-Stars at the recent Statewide Athletics Committee 11-12 District Tournament at Ennis Park.
The host Nash County contingent got off to a good start last Thursday against the Purple and Gold from Tarboro.
But the Tarboro opponent rallied to secure a 9-4 victory over the All-Stars -- an outcome that sent Nash County into the loser's bracket of the tournament.

More ...
GEOFF NEVILLE, Graphic Sportswriter
NN coach heading to R'side


RED OAK -- A self-professed small-town person at heart, Leonard Allen couldn't resist the temptation of taking over one of the top baseball programs of that ilk in North Carolina.
Allen, who spent the last two years in charge of the diamond squad at Northern Nash, has accepted a similar position at Williamston Riverside High School in Martin County.

More ...
GEOFF NEVILLE, Graphic Sportswriter
Myrtle Beach tops Mudcats


MYRTLE BEACH, S.C. -- After falling 9-0 to the Pelicans in last Saturday's resumed game, the Carolina Mudcats bounced back with a 2-1 win on Sunday evening at TicketReturn.Com Field behind another quality start by Blair Walters and run scoring hits from Connor Lien and Sal Giardina.
Saturday's suspended contest in the Class A Carolina League resumed on Sunday and remained 1-0 through the fifth before the Pelicans rallied for five runs in the sixth.

More ...
Staff Reports
Baseball camp is targeted


LOUISBURG -- Louisburg College will host a Youth Baseball Camp from July 27-30 at Frazier Field on the LC campus in Franklin County.
There will be two different age groups:
• Ages 6-12 from 9 a.m.-Noon each day
• Ages 13-18 from 1-4 p.m. each day

More ...
Staff Reports
NCWC athletes honored


FAYETTEVILLE -- The USA South Athletic Conference has released its 2014-2015 Academic All-Conference Team, and North Carolina Wesleyan College has announce that a program-record 93 Battling Bishops have garnered recognition, marking the second straight year that NCWC has eclipsed its own program-high mark.
A student-athlete must have earned a 3.0 GPA in each of the two semesters of a given year to be eligible.

More ...
Staff Reports
Elon announces starting times


ELON -- Elon University Athletics hasrevealed the previously unannounced game times for four of its home football games along with its road contests at Gardner-Webb, Richmond and Maine.
The Phoenix's home opener against North Carolina A&T on Sept., 19 will begin at 6 p.m. Elon will recognize its five-member Sports Hall of Fame class at halftime of that contest.

More ...
Staff Reports
ABBY ON THE MOVE
Nash Rec's Abby Wilson surges through the pool during her club's road swim meet last Thursday evening against the Birchwood Barracudas in Nashville.
More ...
NASHVILLE SWIM STARS, 1
A STAR-STUDDED DISPLAY. Plenty of local pool talent was evident last Thursday evening when Nash Rec traveled to Birchwood Country Club for a Nash-Halifax Swim League Meet. Nash Rec won the team portion of the meet to remain undefeated for the campaign. Among the competitors were (above) Rebekah Baker, with some help from teammate Peyton Currin.
More ...
NASHVILLE SWIM STARS, 2
A STAR-STUDDED DISPLAY. Plenty of local pool talent was evident last Thursday evening when Nash Rec traveled to Birchwood Country Club for a Nash-Halifax Swim League Meet. Nash Rec won the team portion of the meet to remain undefeated for the campaign. Among the competitors were (above) Berkeley Miller.
More ...
SWAC SENSATIONS
The Nash County 12-Under All-Stars competed in the Statewide Athletics Committee Baseball Tournament last week at Ennis Park in Red Oak. The club played well overall and reached the second round of the annual event. Pictured are (back, l to r) Coach Al Harper, Trenton Weeks, Coach Scott Williams, Jadel Davis and Coach Eddie Coble; (middle, l to r) Montrell Scott, Zack Coble, Cooper Strickland, and Carson Beckham; (front, l to r) Trey Mizzelle, Austin Harper, Zyshone Pearce, Aiden Carter, Dalton Bobbitt and Mason Cone. Not pictured are Preston Curtis, Skyler Proctor and Coach Sam Weeks.
More ...
Rockin' Classic Auto and Motorcycle Expo is July 25
For the fourth consecutive year, the Rockin' Classic Auto & Motorcycle Expo is set to cruise into the City of Rocky Mount. On Saturday, July 25, 2015 from 10 a.m. to 3 p.m., it's your opportunity to check out restored period vehicles along with "tricked out" cars and motorcycles. Area residents and visitors can enjoy the congregation of impeccable cars and motorcycles in historic Downtown's Douglas Block.
Throughout the day, cars will be showcased.
More ...