Subscribe/Access
Advertisements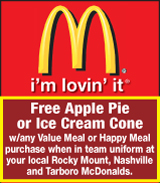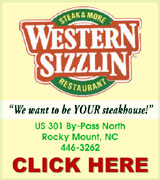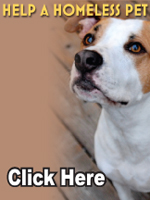 Sections
Member Options
Back
School Board mulls facility mergers
Nash-Rocky Mount Schools will move forward with planning a consolidation of seven of its schools into three, board members agreed on Monday night.
Board members met on Monday at Red Oak Elementary School, one of the schools featured in consolidation plans, to discuss the school system's Capital Improvement Plan, which is in the process of being created. More ...
Amanda Clark, Graphic Staff Writer
Shooting sends one to hospital
An altercation at an evening cookout led to a Nashville man being shot in the leg.
According to the Nashville Police Department, 26-year-old Anthony Lurvene Ruffin, of Rocky Mount, was at a cookout in the Richardson Court area when he had an altercation with an unknown person. Ruffin left the cookout after the altercation and as he was leaving, said he felt threatened by a group of unknown subjects in the area. More ...

Nashville man charged with sex crimes
A Sandy Cross man is facing 32 felony charges of sexual exploitation and sex offenses with a child.
According to the Nash County Sheriff's Office, 49-year-old Mark Awalt was arrested after one of his victims came forward and told officers about a sexual assault that took place.
Captain Pat Joyner said the Sheriff's Office began investigating and arrested Awalt on April 12. More ...
Amanda Clark, Graphic Staff Writer

RELAY FOR LIFE. Pictured is Sara Arnold as she participates in the Survivor Lap.

Nash County holds Relay for Life
Celebrations and memories were a big part of this year's Relay for Life, which was held Friday and Saturday at the Rocky Mount Athletic Complex.
The event began on Friday evening with its traditional survivor and caregiver walk, a walk that honors those that have survived cancer. As part of the walk, survivors walk a lap around the track while Relay teams and others cheer the survivors on. More ...
Amanda Clark, Graphic Staff Writer
Concealed weapon permit requires appointment
Nash County residents wanting to apply for their concealed weapons permit will have to make an appointment, starting May 1.
The appointment only system will hopefully reduce the wait time for the permits, said Lt. David Wooten, of the Nash County Sheriff's Office. More ...
Amanda Clark, Graphic Staff Writer
Middlesex mulls budget
Middlesex Commissioners continued to plug away at the FY 2013-2014 budget on Monday morning during a special budget work session.
Mayor and Town Administrator LuHarvey Lewis told commissioners there were still two unknowns in the $1.27 million budget, including insurance rates and sewer rates, but he hoped to have those figures in place for the board soon. More ...
Amanda Clark, Graphic Staff Writer
RED OAK FIRE
Red Oak, Battleboro and Salem Fire Departments battled a house fire for several hours at 5530 Red Oak-Battleboro Road. The call came in around 1:30 a.m. on Sunday, April 28 and as firefighters arrived, flames were showing through the structure. According to Red Oak Fire Chief Bryant Fisher, the home was vacant at the time of the fire and no one was injured in the fire, which is still under investigation. More ...

Library Ladies Luncheon
TEA MA'AM? –– Nashville Police Chief Tom Bashore (far right) serves a glass of tea to Hilda Evans (far left) during the Cooley Library Ladies Luncheon, which was sponsored by the Friends of the Library. Pictured behind Bashore and Evans is Nashville Mayor Donald Street. More ...

NASHVILLE POLICE BRIEFS
INCIDENTS
A burglary - forcible entry and larceny from a motor vehicle was reported on 4/22/13 at 621 Washington Street
A larceny was reported on 4/22/13 at 410 Indian Trail
A criminal damage to property (vandalism) was reported on 4/22/13 at 910 S. First Street More ...

NASH SHERIFF'S OFFICE REPORTS
An attempted overdose was reported on 4/22/13 on Cedar Tree Drive
Narcotics violations were reported on 4/22/13 at 9935 LA Green Farm Road
A harassing phone calls was reported on 4/23/13 at 1315 Newcastle Court
An arson of an abandoned residence was reported on 4/23/13 at 400 E. Hornes Church Road More ...


RICHARDSON

Recent drug bust includes Nash County residents
Over 500 grams of cocaine was seized and three arrested following a month long drug investigation by the Nash County Sheriff's Office.
The Nash County Sheriff's Office arrested Donald Dewhite Garris, Jr., of Halifax, Robert Mack Richardson, of Whitakers, and Natalie Lynch, of Roanoke Rapids, on April 19 for trafficking cocaine in Nash and Halifax Counties. More ...

LOWES HEROES
Lowes of Rocky Mount helped spruce up the inside of the Nashville Boys and Girls Club last month. Eight employees of Lowes donated their time to replace ceiling tiles and paint several rooms inside the club as part of the Lowes Heroes Project. Lowes partners with different community organizations each year to help in areas where needed, said Freda Johnson, the HR Manager for Rocky Mount Lowes. More ...

Turner prepares for second mission trip
In a few weeks, Kay Turner will embark on her second mission trip to Cambodia in just a year.
Turner went on her first trip in July 2012. She stayed for two months in Kompong Thom, Cambodia, where she helped teach children English and also taught them about Christ.
The experience was one that Turner said she enjoyed so much, she wanted to go again. More ...
Amanda Clark, Graphic Staff Writer
4H Quad Pods
The Nash County 4H Quad Pods participated in the Wilson County Livestock Show and Sale. The Junior Team finished second place. Luke LaHay finished first and Emmett LaHay finished third in the senior skillathon. Grace LaHay finished second in the junior skillathon. Grace was first in steers and oral reasonings. More ...

DEPC hosts "State of the Child" luncheon
The Down East Partnership for Children wrapped up its "Week of the Young Child" celebrations with the annual "State of the Child" luncheon on Friday.
This year the partnership is celebrating 20 years of serving children and families in the Twin Counties.
As part of the event, there were several who spoke about their experiences with Down East Partnership, including Benton Moss, who attended the partnership as a young child. More ...
Amanda Clark, Graphic Staff Writer
Friends of Library host Ladies Luncheon
Roy Cooper, III, NC Attorney General, serves Sylvia McCollum (at right) during the Ladies Luncheon. McCollum's husband, Lee McCollum, was also one of the celebrity servers. More ...
Graphic photos by Amanda Clark
Felton recieves alumnus award
Nash Community College has selected Steven D. "Steve" Felton of Rocky Mount as the recipient of the 2013 Nash Community College Outstanding Alumnus Award. The award recognizes the achievements of past graduates and provides inspiration for current students of Nash Community College. Felton was recognized and presented an honorary degree by NCC President Dr. Bill Carver during a ceremony on Wednesday, April 17. More ...

Roger Taylor earns Hallmark VII Award
Local resident Roger G. Taylor, a financial professional with AXA Advisors, LLC and affiliated with the Raleigh office, has earned the company's Hallmark VII Award. Taylor was presented with the award during a Branch Awards event in February and will received National recognition at conferences in March and April.
"Earning the Hallmark 7 Award is a testament to Roger's personal commitment to his clients and symbolizes excellence in the profession," said John Erwin, executive vice president of AXA Advisors Raleigh office. More ...

Shanna Bottoms earns Centurion Award
Local resident Shanna Bottoms, a financial professional with AXA Advisors, LLC and a member of Roger G. Taylor and Associates, has earned the company's Centurion Award. Bottoms was presented with the award during a Branch Awards Banquet in Raleigh earlier this month, and receives National recognition for this achievement at a conference in this month. More ...

50TH WEDDING ANNIVERSARY
Mr. and Mrs. Ronnie Dickens of Nashville celebrated their 50th wedding anniversary on March 3, 2013 with their immediate family. A dinner was hosted by their children and spouses at Texas Steakhouse in Rocky Mount with a reception that followed at the Dickens' home.
Ronnie and Peggy were married on March 3, 1963 at Lebanon United Methodist Church in Garysburg, NC. More ...

ENGAGED
Lynn and Steve Moore of Nashville announce the engagement of their daughter, Laura Wimberly Moore of Raleigh, to Ronald Scott "Trey" Braswell III of Nashville, the son of Mary Lou and Scott Braswell of Rocky Mount.
The wedding will take place Aug. 10, 2013 at Nashville United Methodist Church. More ...


Pictured above are second and third grade winners of Coopers Elementary School's Eco Fair.

Coopers Elementary School hosts Eco Fair
Over 160 Coopers Elementary School students recently participated in the school's Eco Fair. The Eco Fair helps the Coopers community become more aware of Earth Day and how to take care of the earth by recycling.
Students were asked to take any items that could be recycled and reuse them in a new or different way. Students turned trash into treasure. More ...


Allie O'Leary works on a project at Eco Fair at Nashville Elementary.

Nashville Elementary School Eco Fair
Nashville Elementary School recently held its Eco Fair, which helped students learn more about ecology. The Nashville and Nash Central High School Ecology Clubs, led by Rachel Owens, partnered together. NCHS students led six sessions on the night of the Eco-Fair such as paper making, bird feeders & planting seeds, pollution and composting, and reusing household items. There also was a small group of fifth graders who led a session on Recycling. More ...

GRILL RAFFLE
The Nashville Lions Club is raffling off a grill, thanks to a donation from Wal-Mart. The drawing will be held during the Blooming Festival on May 11. Tickets are available for $1 each or seven tickets for $5 or 14 tickets for $10. The Lions Club will be selling tickets at the festival at their booth. More ...

DAUGHTERS OF THE AMERICAN REVOLUTION
The DAR Micajah Pettaway Chapter met March 21, 2013, 10:30 a. m. in Braswell Memorial Library's Wiley Room. Regent Dottie Barrett welcomed everyone and led the DAR Ritual with Acting Chaplain Martha Sink's assistance. More ...
DEE LONG
PEACHTREE COMMUNITY NEWS
On the last Sunday in April, Peachtree folks gathered for worship. The sanctuary flowers were given by the Reid Vick Family in memory of their parents, Reid and Avis Vick, and their children- Randall, Cleon, Furman and Linda Vick Nozolino. Pastor Whitehouse led in the observance of the Lord's Table, with the assistance of the deacons. More ...
BARBARA HARDISON
MOUNT ZION FWB CHURCH NEWS
We enjoyed studying God's Word in Sunday school today. For the call to worship, our choir sang "This is the Day." Pastor Aycock welcomed everyone to worship and prayed the prayer of invocation.
Algie Jones Jr. led the congregation in singing "Love Divine" and "The Nail Scarred Hand." More ...
ROSALENE BASS
RED OAK NEWS
Girls, moms, and leaders had a wonderful time at the GA Mother/Daughter Overnight Camp at Camp Mundo Vista near Asheboro on April 26-27! Campers represented several churches including White Oak, Red Oak, Sunset Avenue, Proctors Chapel, Englewood, Sharpsburg, Corinth, West Edgecombe, Rock Creek, and Hickory in addition to Shiloh Baptist Church from Monroe. More ...
SUZY PEARCE
The family's baby runt is growing up
As birthday season draws to a close at my house this week, it should be an interesting time.
Lowell, the baby of the family, turns six. We knew he wasn't going to be a lolly-gagger from the minute he was born when he almost came on before Dr. V could make it to the room. Labor was so fast, and his mother so sedated, she suggested she go ahead and have another while we waited. However, Lowell had a lot to say over the next few minutes, which ended that conversation. Medicine has only come so far, you know? More ...
Mike Brantley
Think before you text, tweet or post!
In a world full of technology, I would be remiss not to remind you to watch what you put online, for goodness sake!
You see, technology is great. It allows you find things uber fast. You can connect with long lost friends, keep up with family states away and send a message to someone in seconds, which means, you don't have time to really think about what you say before you hit send. More ...
Amanda Clark
Nashville's 17th Blooming Festival is next weekend!
I can't believe we're quickly approaching the 17th annual Nashville Blooming Festival. It seems like just yesterday 20 or so folks were sitting around a table, at what used to be Pizza Village, throwing around ideas of starting a festival in Nashville to take up where the Harvest Festival left off decades ago.
Some folks have retired from the committee, however some of the people who were initially involved in the planning process 17 years ago are still working hard each year to organize the event. More ...
Jo Anne Cooper
Backward Glances
OUTDOOR WOODSMEN –– This photo originally published in The Graphic May 4, 1967. These Boy Scouts of Nashville Troop 76 were building a fire in a grill to cook a meal during the Eastern Carolina Boy Scout Camporee. More ...
A PICTORIAL LOOK INTO THE PAST
Nash County Animal Friends' Notebook
EGADS! -- As I write this there are FIVE kennels (of 16) at the Shelter taken up with Bite Quarantines (BQ). BQs happen when an animal bites/scratches a person and the skin is broken. There is the risk of rabies. If rabies made the animal do that, then they are already breaking with the disease and will die within 10 days. More ...
Carol Vierela, Nash County Animal Friends
Rocky Mount's Downtown Live! begins May 16 at Imperial Centre
If you attend Rocky Mount's Downtown Live!, you have probably seen Margaret Cobb or Ernestine Harden enjoying the Summer Music Series. "It's great, and we need it all the time," says Harden. "We really and truly enjoy it."
Cobb accompanies her group, Dancing Friends, to the event which extends throughout the entire summer. More ...

JAMES E. (JAY) BRYANT
James E. (Jay) Bryant, 67, passed away Wednesday, April 24, 2013 at Vidant Medical Center. He was born in Wilson County on October 5, 1945 to the late Wade and Undine Murray Bryant. More ...

ORBIN FAIRCLOTH
ROCKY MOUNT - Orbin Faircloth, age 80, passed away on April 24, 2013. He was born in Nash County on April 27, 1932. He was predeceased by his parents Sola Parrish Faircloth and William Jeff Faircloth, his wife of 50 years Josephine Faircloth, step-daughter, Donna Weeks, step-son, Jamie Barrow, sister, Mable Faircloth Edwards, brother, Jeff Faircloth, and son-in-law, Kenneth Wayne Patterson all of Rocky Mount. More ...

ELMO JACKSON GODWIN
CASTALIA –– Elmo Jackson Godwin, 43, passed away, Saturday, April 20, 2013. He was born March 25, 1970 in Nash County to the late Ollie and Annie Mae Winstead Godwin. More ...

DEBRA GAIL HOWELL
Debra Gail Howell, 58, passed away Thursday, April 25, 2013. She was born in Nash County on July 26, 1954 to the late Albert Lee Toler and Mary Elizabeth Wheeler. More ...

SUZANNE MAUK YATES
ROCKY MOUNT –– Suzanne Mauk Yates, age 71, died April 24, 2013. Formerly of El Campo and Portland, Texas, she was born on December 15, 1941 in Houston, Texas. She was preceded in death by her parents, Charles Edward Mauk and Mary Sue Mauk, step-mother Mary Louise Mauk and special friend Patrick Leary. More ...

JERRY THOMAS SATTERWHITE
Jerry Thomas Satterwhite, age 48, passed away April 23, 2013. Born in Burlington on June 5, 1964, he was the son of Charles Ray Satterwhite and the late Geraldine Kearney Satterwhite. More ...

MINNIE RUTH AYERS PEELE
Minnie Ruth Ayers Peele "Bunchy", 76, passed passed away on April 28, 2013. She was preceded in death by her parents, Eddie and Dorothy Ayers. More ...