Subscribe/Access
Advertisements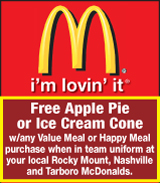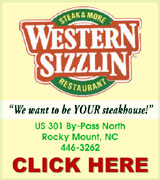 Sections
Member Options
Back

NASH COUNTY 4H–– Sandy Hall (left) stands with Taylor Tyson (right) who was named the Nash County 4H'er of the Year. Tyson has been in 4-H since she was five.

Tyson is 4H'er of the year
Taylor Tyson has been a part of Nash County 4-H since she was five years old.
Her 4-H resume includes a lengthy list of activities, including service as a club officer, county council officer and serving Nash County at the NC County Commissioner Youth Summit. On Sunday, Tyson added one more thing to her 4-H resume: 4-H'er of the Year. More ...
Amanda Clark, Graphic Staff Writer
Dickens convicted of Medicare Fraud
A Nashville woman was sentenced to 60 months in prison and ordered to pay $1.7 million in restitution after being convicted of defrauding Medicare.
Donna Dickens, 55, pled guilty to health care fraud on December 6, 2011. Dickens owned and operated Dickens Health Care Supplies in Nashville. More ...

PUMPKIN FESTIVAL QUEENS
The 41st Annual Spring Hope Pumpkin Festival was held this weekend, with most events held on Saturday. The day turned out to be perfect for a festival, with temperatures in the 80's. This year's festival concluded with fireworks. Organizers hope fireworks will become an annual tradition to conclude the Spring Hope Pumpkin Festival. Pictured above, Grace Ann Ray, the Little Miss Pumpkin Queen, waves to the crowd during the annual Pumpkin Festival Parade. More ...

Middlesex adds fee for public record research
The Middlesex Board of Commissioners are asking that residents place yard waste in separate containers to make pickup easier on public works employees.
Last month, at the board's regular meeting, Commissioner Dale Bachmann, who also serves as the town's Utility Supervisor, said it was hard, and very time consuming, for town employees to pick up grass clippings and pine cones off the ground. More ...
Amanda Clark, Graphic Staff Writer
Boone turns 100
Ruth Boone would rather take exercise classes and spend her time walking around the courtyard of the Sterling House than playing BINGO and cards. Her family says being active is what has given Boone such a long, healthy life.
Now that she's 100, Boone doesn't have any plans to stop her daily walks or exercise classes. More ...
Amanda Clark, Graphic Staff Writer
Castalia board votes to sell town property
Castalia commissioners voted in a closed session last Tuesday to sell a small piece of the town's property to one of the town's residents. The move came last Tuesday, October 2, 2012, in a closed session held during the regular monthly business meeting.
During the meeting, the town held a public hearing on another issue related to obtaining grants for park construction. More ...
Amelia Harper, Graphic Correspondent

GLISSON

Glisson named to Hall of Fame
If you open a dictionary and look up the word "Lionism," you may find Don Glisson there.
Glisson loved to talk about the Lions Club. He served in Nashville's Club up until his death and was an active member, even while his health was failing.
Last week, Glisson was honored for his dedication to the Lions Club by being named to the Lions Club Hall of Fame. More ...
Amanda Clark, Graphic Staff Writer
Operation Medicine Drop is a success
North Carolinians turned in approximately 8.5 million doses of old prescription and over-the-counter drugs during Operation Medicine Drop events on September 29, Attorney General Roy Cooper announced recently. That beats the previous record of approximately 7.7 million doses collected during a week of drug take back events held in March. More ...

NASH COUNTY SHERIFF'S OFFICE INCIDENT REPORTS
A damage to personal property was reported on 10/1/12 at 4609 Red Road
A breaking, entering and larceny to a residence was reported on 10/1/12 at 10759 Gaskill Farm Road
A simple affray was reported on 10/1/12 at 222 W Washington Street
A recovered stolen vehicle was reported on 10/1/12 at 8633 Red Oak Blvd More ...

Demolition
Demolition took place last week on Boddie and Court Streets leaving the block vacant of the old Acme Cleaners buildling (above photo). More ...

4-H Agricultural Awards
Maryanna Bennett (at right) received the Nash County 4-H Agricultural Award. Pictured with Bennett is Sandy Hall (at left), Nash County Extension Agent for 4-H Development. More ...

Economic assessment to be conducted for I-95
An economic assessment for I-95 began last week. This study is in response to questions raised from citizens during previous public outreach efforts performed by the North Carolina Department of Transportation regarding the economic impact of tolling I-95 in North Carolina. More ...

Man charged with misuse of 911
A local man was charged with misuse of the 911 system after making a prank call during his late night birthday party.
According to The Nash County Sheriff's Office, deputies were dispatched to a breaking and entering in progress in the 2700 block of Corinth Road, Nashville early Sunday morning, September 23. More ...

Lucas, Creedon united in marriage
Mary Leigh Lucas and Bryce Joseph Abalos Creedon were married on June 30, 2012, at four o'clock in the afternoon at Calvary Baptist Church in Rocky Mount.
Reverend Brandon Dees performed the ceremony. More ...

ENGAGED
Mr. and Mrs. Alan Roberson of Kernersville announce the engagement of their daughter, Carol Anne Roberson to Brad Oakes of Wake Forest. He is the son of Mr. and Mrs. Robert Oakes, Jr. of Nashville. The wedding will take place on Dec. 8, 2012 at Kernersville Moravian Church, Kernersville. More ...

Honored
Shakeerah McCoy, a transition care nurse manager with the Care Management Department at Nash Health Care, was recently honored by the Nash Health Care Board of Commissioners with the Excellence in Performance Improvement award. This was in recognition of her contribution to the re-admission reduction efforts at Nash Health Care. More ...

Columbiettes organized to assist Knights of Columbus
The Columbiette Auxiliary of Father James Schomber Knights of Columbus Council #4600 has been organized at Our Lady of Perpetual Help Catholic Church under the leadership and hard work of Cherie Meyer.
The idea of a ladies organization to work with the Knights of Columbus was conceived by Monsignor J. Francis McIntyre in 1939. More ...

EDGECOMBE-NASH RETIRED SCHOOL PERSONNEL
The Edgecombe-Nash RSP met Tuesday, September 11, 10:30 a. m. at Braswell Memorial Library. President Mary Williams welcomed everyone to the first meeting of the year, and Rev. Raymond Privott asked members to remember the "Ground Zero" 9-11 victims in prayer.
More ...
DEE LONG
FARM SERVICE AGENCY
The sign-up period for the 2011 crop year Supplemental Revenue Assistance Payments (SURE) program will open Oct. 22 and end June 7, 2013. The SURE program authorizes assistance to Nash County farmers and producers who suffered crop losses caused by natural disasters occurring through Sept. 30, 2011.
More ...
SHARON TAYLOR
N-RMS Board seeks input on student reassignment plan
The Nash-Rocky Mount Board of Education is inviting parents and community members to weigh in on student reassignment recommendation plans set forth by the Student Reassignment Committee. The school board is also seeking feedback on how the public feels about the committee's process. More ...

Nash County Health Department offering flu vaccines
It's that time of year again! Health officials with Nash County Health Department are planning to provide community flu and pneumococcal vaccination clinics starting October 18th at various sites within Nash County.
Residents can get a flu shot from the health department drive-thru clinics or walk-in clinics- no appointment necessary. More ...

MOUNT ZION FWB CHURCH NEWS
Ronald Bass welcomed everyone to Sunday school. We had 76 in attendance. Today, being the first Sunday in the month, we recognized those with a birthday this month. Candy was given to the lucky ones. Those with wedding anniversaries were recognized also. More ...
ROSALENE BASS
PEACHTREE COMMUNITY NEWS
On a stormy morning, Peachtree folks met at the church for worship. Pastor Whitehouse chose as his sermon topic, "How to Be a Lover." It was based on scripture from Luke 7: 40-49. It tells the story of Jesus attending a meal at the home of Simon, the Pharisee. Jesus was not shown the customary honor of having the dust washed from his feet by the host.
More ...
BARBARA HARDISON
BEULAH COMMUNITY NEWS
Thank everyone who came to the fish fry on Friday night. We always look forward to having fellowship with all of you and really appreciate your support.
Another big event is coming up this week-end! Please make a note in your mind and also on your calendar. More ...
WILMA ENROUGHTY
RED OAK NEWS
Several ladies from Red Oak Baptist Church participated in the monthly Adopt-a-Dorm Bible Study at Fountain Correctional Center in Rocky Mount on Monday, Oct. 1. Barbara Sue Edwards led the study along with Karen Girona, Audrey Pearce, Suzy Pearce, Marion Hawkins, Jean Mellor, and Marilyn Boone. More ...
SUZY PEARCE
Move away from the Redskins quarterback
Don't tell me I don't understand pain and suffering and sports. I have a Heath Shuler #5 jersey hanging in my closet. I won more games at quarterback in the 1990s with it than he did.
And so, when I saw the replay Sunday of the hit that put Redskins quarterback Robert Griffin III (a.k.a. RGIII) into la-la land, I have to ask that you not forgive my outrage, just understand it. More ...
Mike Brantley
Please consider adopting a pet from the animal shelter!
October is here and you know what that means.
It's Adopt-a-Shelter-Dog month. October is also Pit Bull Awareness Month.
What can you do to recognize these two special things? Well, you can go to your local shelter and adopt a pit bull. If you can't do that, then maybe you can help an animal rescue organization pull a pit bull from the shelter. More ...
Amanda Clark
Nash County Animal Friends' Notebook
WHO Let the Dogs OUT?? Was it you? Your neighbor? Or did they escape looking for love in ALL the wrong places. It is incredible how many people do NOT look for their lost pets at the Animal Control facility.
Just last week, we had THREE purebred German Shepherds. Lucky, the owner of two was there the very next day to claim. More ...
Carol Vierela, Nash County Animal Friends
Backward Glances
This photo was submitted by Mr. Lee Roy Jones of Nashville. A group of children are pictured in front of the old Nashville Baptist Church which is Nash Arts Center today. We believe the photo was taken in 1940. More ...
A PICTORIAL LOOK INTO THE PAST

GOODY GOES FOR GLORY. Nashville's Raymond 'Goody' Bullock (with ball) tries to shake a tackle during last Saturday's home football victory.

2 MORE TO GO
NASHVILLE -- Just two opponents now separate the Nashvile Hornets from varsity perfection this season in the Eastern North Carolina Football League.
Nashville has also yet to have a close game en route to five consecutive victories -- a trend that continued last Saturday at home against the SouthWest Edgecombe Cougar Cubs. More ...
GEOFF NEVILLE, Graphic Sportswriter

HERE'S YOUR WINNER. Nash Central's Michaela Williams crosses the finish to take first place in the girls event at last Thursday's Big East Conference Cross Country Meet at The Dawg Pound.

County's finest on display
ROCKY MOUNT -- Wilson Fike had five girls finish in the Top 10, but Nash Central had the top runner during last Thursday's latest Big East Conference Cross Country Meet.
Nash Central hosted the event on its on-campus 3.1-mile layout, which begins on the band practice field and winds around the school before ending at The Dawg Pound Football Field. More ...
GEOFF NEVILLE, Times Sportswriter

KALEY IN THE CLUTCH. Kaley Price has enjoyed an outstanding season at No. 2 Singles for the Nash Central girls tennis squad, which has wrapped up its third consecutive Big East Conference team crown under Coach Susan McCarthy.

Central Celebrates Senior Day
ROCKY MOUNT -- 'A Reflection On Perfection' could have been the theme for Nash Central High School's girls tennis team during last Thursday's Senior Day Ceremony against Southern Nash.
As part of the festivities, players wrote messages in chalk to each other on the court. NC head coach Susan McCarthy even scripted a few words for her team, which has rewarded her with three consecutive Big East Conference Girls Tennis Championships. More ...
GEOFF NEVILLE, Graphic Sportswriter
Northern wins over Gryphons
ROCKY MOUNT -- Northern Nash High School's volleyball squad closed out regular season action in style last Thursday with a road victory against Big East Conference foe Rocky Mount.
The Lady Knights werre winners in four games -- 26-25, 25-18, 23-25 and 25-17.
Northern Nash will carry a 13-7 overall and 6-4 league mark into the Big East Conference. More ...
Staff Reports
HIGH SCHOOL GRID SCORES
NASH COUNTY -- Listed are last Friday night's scores from North Carolina High School Athletic Association football action: More ...
Staff Reports

CARRYING THE LOAD. Nashville's Shemar Henderson (left) heads upfield during last Saturday's Eastern North Carolina Football League rookie game versus SW Edgecombe.

Rooks Making Progress
NASHVILLE -- Beyond the click of the time clock, the scoreboard is turned off during action at Eastern North Carolina Football League Rookie Level games.
That's because the emphasis is on development -- and not the final score -- in the ENCFL's youngest age group. More ...
GEOFF NEVILLE, Graphic Sportswriter
Wilson Hunt in top spot in Big East Conference
WILSON -- When 6-0 Rocky Mount traveled to 6-0 Wilson Hunt last Friday night, one of these high school football teams was going to head home defeated.
That team turned out to be Rocky Mount as the Warriors posted a 28-7 beating on the upstart Gryphons.
Hunt, the Big East champion the last three seasons, unleashed a powerful running attack on the Gryphons as it recorded 330 yards on the ground -- led by senior Josh Joyner, who tossed in 230 yards Friday night. More ...
CHARLES ALSTON, Graphic Correspondent
Wesleyan enjoys big athletics weekend
ROCKY MOUNT -- North Carolina Wesleyan College celebrated its 2012 Homecoming last Saturday, and the day was full of notable highlights.
A pair of USA South soccer wins coupled with Commissioner Rita Wiggs' halftime presentation at the Bishops' football game made for an exciting day, while the Department of Athletics annual Hall of Fame inductions capped off a memorable night in Rocky Mount. More ...
Staff Reports
Nash County takes on Enfield Warriors
STANHOPE -- Last Saturday, the Nash County Rookie Firebirds entered their fourth game of the Eastern North Carolina Football League season against the Enfield Warriors.
Each game they have improved on different aspects of the game and that's exactly what we want to do at this age group.
More ...
Staff Reports
QUICK STARTERS
Members of the Nash Central High School girls cross country team get off to a fast start during last Thursday afternoon's latest Big East Conference Cross Country Meet, which was hosted by the Bulldogs near The Dawg Pound at Nash Central. More ...

OFF THEY GO
Members of the Southern Nash High School girls cross country squad leave the starting area during last Thursday's Big East Conference event at Nash Central High School. More ...

NASH CO. SOCCER RESULTS
NASH COUNTY -- Here are recent results from the Nash County Parks and Recreation Department's Fall Soccer Season: More ...
Staff Reports
Chune claims conference award
FAYETTEVILLE -- The USA South Athletic Conference has released its weekly awards for October 8.
North Carolina Wesleyan College has announced that freshman Malick Chune has been honored by the league as the Rookie of the Week. More ...
Staff Reports
BREAKAWAY THREAT
Nashville's D.J. Brown (with ball) escapes a SouthWest Edgecombe tackler during last Saturday's Eastern North Carolina Football League game at The Hornets Nest. More ...

ARM TACKLE
Nashville's Kendrick Bell (left) tries to run as a SouthWest Edgecombe player grabs his arm during last Saturday's varsity football matchup at Glover Park. More ...

BARBARA BAKER WOODS
Barbara Baker Woods, 66, born September 1, 1946 in Macon, Georgia passed away on Friday October 5, 2012 at her home. More ...

CLARENCE WESLEY MEDLEY
Clarence Wesley Medley, 71, passed away on October 6, 2012. He was born in Edgecombe County on April 9, 1941 to William Luther and Liz Mae Medley. Clarence was preceded in death by his parents, Brothers, Jack and Robert Medley, one sister, Marie Coppedge. More ...

WILLIAM "SAMMY" FRED JOYNER JR.
William "Sammy" Fred Joyner Jr., age 73, passed away Wednesday, October 03, 2012. Born in Nash County on November 17, 1938, he was the son of the late William Fred Joyner Sr. and Mollie Collins Joyner. He was also preceded in death by his daughter, Tina Carol Hardison Minton; sisters, Ruth Joyner Oakley, Pearl Joyner Faircloth and Judy Carol Joyner; and brothers-in-law; Alvin Bone and Bobby Skinner. More ...

ANTHONY EUGENE GOMES
ROCKY MOUNT –– Anthony Eugene Gomes, 79, died September 16, 2012. Funeral services were Monday, October 8, 2012 at Our Lady Perpetual Help Catholic Church at 3:30 p.m. Father Mears officiated. Burial was at Gardens of Gethsemane. Vigil was Saturday from 4 to 5:30 p.m. at Stokes Mortuary Chapel.
More ...

JANIE JONES
Rocky Mount- Janie Jones, 55, died September 27, 2012. Funeral services were Monday, October 8, 2012 at Stokes Mortuary Chapel at 11 a.m. Rev. Dwight Johnson officiated. Private burial only.
More ...