Subscribe/Access
Advertisements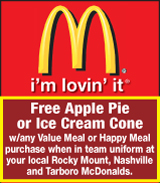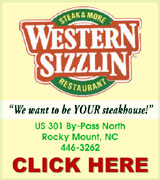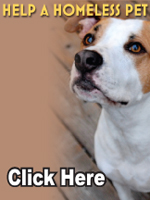 Sections
Member Options
Back
Bailey man assaulted
A Bailey man reported being assaulted early Saturday morning while driving down Bryant Road in Middlesex.
According to Captain Pat Joyner, of the Nash County Sheriff's Office, 24-year-old Eric Hinton was driving down Bryant Road around 3 a.m. on July 21 when he saw a blue light behind him. When Hinton pulled over, a man walked up to his car, hit him in the face and took money from him. More ...
Amanda Clark, Graphic Staff Writer
Student reassignment planning continues
So far, the favored attendance zone plan for Nash-Rocky Mount Schools (NRMS) middle schools is to use six campuses with a clean feeder system into the four high schools. The committee working on attendance zones met last Tuesday to discuss middle and elementary schools and took an initial mock vote to indicate which plan they are leaning toward. Only 16 of the committee's 32 members were in attendance. More ...
Michele A. Cruz, Graphic Correspondent

Volunteer Nan Ricks (at left) paints a football on seven-year-old Cameron Wilkins' face Saturday at Youth Day. Face painting was one of many activities offered at the annual event.

Celebrating Youth Day
The rain held off on Saturday for the seventh annual Nashville Athletic Youth Day.
Close to 100 youth came out to participate in a variety of activities.
Lena Sessoms, one of the organizers for the event, said she was happy the weather held up and that the numbers increased for this year's event. More ...
Amanda Clark, Graphic Staff Writer

SHEARIN

Two nabbed for B&E at Northern Nash High
Two former Northern Nash High School students were charged with breaking into the school last week.
Deputies with the Nash County Sheriff's Office responded to the school around 9 p.m. last Wednesday, July 18 in reference to an activated alarm.
When deputies arrived at the school, they found 20-year-old Walter Lee Shearin and 22-year-old Julie Wallace, both of Rocky Mount, inside the media center at Northern Nash High School. More ...

Dortches Ruritans mark 60 years
The Dortches Ruritan Club recently celebrated 60 years of service to the community at a special anniversary celebration.
The Dortches Ruritan Club is well known in the community for many things, including being the driving force behind helping to incorporate the Town of Dortches. More ...
Amanda Clark, Graphic Staff Writer
NPD Chief "Mick" settles in
Glenn "Mick" Reed has just about settled in his new position as Nashville's Interim Police Chief.
Reed was selected to serve in the interim position to give the Town of Nashville time to seek a permanent replacement for Bill Creech, who had served as the town's chief for eight years.
Reed said he was told about the position by the North Carolina Chief's Assocation and got in touch with Town Manager Preston Mitchell to get more information. More ...
Amanda Clark, Graphic Staff Writer
NASHVILLE POLICE BRIEFS
ARRESTS
Steve Allen Cobb - 7/16/2012 - charged with larceny
Linda Howington - 7/18/2012 - charged with simple assault
George Lee Williams - 7/18/2012 - charged with driving while intoxicated, child abuse (non-assaultive) and driving while license revoked More ...

NASH SHERIFF'S OFFICE INCIDENT REPORTS
An assault with a deadly weapon with intent to kill was reported on 7/17/2012 on the 8100 block of Seven Paths Road
A larceny of copper wire was reported on 7/17/2012 on the 5200 block on West Mount Road
A damage to personal property was reported on 7/18/2012 at 2367 N. Browntown Road More ...

Youth Day
Nashville's Youth Day was held on Saturday at Glover Park in Nashville. Around 100 youth came out to participate in a variety of activities. The event is hosted by the Brooklyn Community Watch. Pictured above, volunteers Tammy Gibson (far left) and Ron Gibson (far right) turn the rope so Kennedy Evans and Chassidy Evans can try their hand at jump rope. More ...

Nash receives award for financial reporting
Nash County has again received the Certificate of Achievement for Excellence in Financial Reporting, Finance Director Lynne Hobbs reported to Nash County Commissioners at their last meeting on Monday, July 9.
This is the 21st year that Nash County has received the award for its comprehensive annual financial report. The award was presented to Hobbs by the Government Finance Officers Association of the United States. More ...

4-H Art Camp
Shawn Trice (at right) shows his artwork to Traci Dixon, Nash County Extension Agent for Community and Rural Development on July 12 during the reception for the 4-H Art Camp. More ...

Wilson man dies in motorcycle accident
A Wilson man was killed on Friday night after running his motorcyle into a tractor trailer.
According to a spokesperson with the North Carolina Highway Patrol, a tractor trailer was traveling south on Old Bailey Highway around 6:15 on Friday night, July 20. The tractor trailer was making a right turn into Barnes Farm Pak, when a motorcycle, driven by 56-year-old Larry Keith Walston collided with the back of the tractor trailer. More ...

Nash Weight Loss Center honors over 70 patients
The Nash Surgical Weight Loss Center recently recognized more than 70 patients for moving toward their weight-loss goals. The ceremony marked a milestone for the center, which has been named both a Blue Distinction Center of Bariatric Surgery and a Bariatric Surgery Center for Excellence. Patients represented a total weight loss of 8,143 pounds. More ...

CERTIFICATE PRESENTATION
Margie Parker Brantley was presented with three supplemental certificates for three men who are related to her by blood lineage that served in the War Between the States. Bethel Heroes 636 United Daughters of the Confederacy presented the certificates at their July meeting. Brantley is the great-granddaughter of William Henry Rose who served in Company D47th Reginment NC Infantry. More ...

NRMS Superintendent hosts open houses for community
Superintendent Anthony Jackson continued his series of Community Open Houses on Thursday, July 12, 2012 in the Rocky Mount City Council Chambers.
Jackson met with nearly 100 members of the community, explaining the student reassignment process since it began. More ...

CHECK PRESENTATION
The West Mount Fire Department Ladies Auxiliary fundraiser presents a check for $6,000 to the fire department to purchase equipment. Pictured (L-R) are: Pat Joyner, Jan Howell, President Debbie Sherrick, Assistant Chief Buck Pittman, Gladys Winstead and Trish Pittman. More ...

UPDATE
N. C. Wesleyan College President Jim Gray, center, presented to Rocky Mount Kiwanians an update on a new expanded tennis center and long-term projections for a sports stadium. He was accompanied by Michael Pratt, left, and Eddie Coats, right, from the NCWC Office of Institutional Advancement at a weekly luncheon on June 28. More ...

ENGAGED
Dennis and Sue Staton of Spring Hope and Laura Smith of Nashville announce the engagement of their daughter, Jamie Michelle Staton, to Michael William Valentine, son of Craig and Joyce Valentine of Rocky Mount. The wedding will take place on October 20, 2012 at Proctors Chapel Baptist Church in Rocky Mount. More ...

Johnson, Vester unite in marriage
Heather Lea Johnson and Charles Logan Vester were married Saturday, July 7, 2012 at the historic Jordan Springs in Stephenson, Va. The officiating minister for the 4 p.m. non-denominational ceremony was Mr. George Kempf.
The bride is the daughter of Wayne and Karen Johnson of Latrobe, Pa. More ...

NCC Dean appointed to Historic Preservation Commission
Rocky Mount City Council unanimously appointed Nash Community College's Dean of Instruction, David Michael Latham, to the Historic Preservation Commission during their June 25, 2012 meeting. Latham will serve a four-year term expiring June 30, 2016. More ...

GRADUATE
Marisa Jeanine Spaulding Miller recently graduated from Kennesaw State University with an MBA in Finance. She is a 1995 graduate of Rocky Mount Senior High and the University of Virginia. She is the daughter of Mary Ward, of Rocky Mount. (Contributed photo) More ...

MILITARY BRIEF
Navy Petty Officer 1st Class Montrel A. Worsley, son of Tarsha R. Williams of Sharpsburg, and Stoney L. Worsley, of Mechanicsville, Md., and fellow Sailors aboard the aircraft carrier USS Enterprise (CVN 65) formed a Coalition of Sailors Against Destructive Decisions (CSADD) committee. More ...

Southern Bank plans to open call center in Rocky Mount
Southern Bank has announced plans for locating its Customer Care Call Center in downtown Rocky Mount. The center will be located on the 2nd floor of the Franklin Street office of the Bank and is scheduled to be fully operational September 17, 2012. More ...

Johnson retires from Rocky Mount Chamber of Commerce
Shearin A. Johnson, 32-year veteran with the Rocky Mount Area Chamber of Commerce, has elected to retire from the organization effective August 1, 2012.
Johnson most recently served as the Interim CEO of The Chamber and prior to that time was Chief Operating Officer involved in every phase of the organization's operations. More ...

AWARDED
Reach Out Rocky Mount's 2012 Fun Run for Charities awarded the Nash Community College Foundation $39,761.49 during a ceremony at the Booker T. Washington Theatre on July 17, 2012. The NCC Foundation received $33,745.05 in gifts and a $6,016.44 match by Reach Out Rocky Mount. The Foundation will use the funds to assist deserving students with scholarships. More ...

UDC sponsors Sesquicentennial Lecture Series on July 28
The North Carolina Division of the United Daughters of the Confederacy Sesquicentennial Committee is sponsoring lectures throughout the state during each year of the observance. The War Between the States Sesquicentennial Lecture Series began in 2011 on May 20 which was the date North Carolina left the Union in 1861 under Gov. John W. Ellis. The lectures are free and open to the public. More ...

PEACHTREE COMMUNITY NEWS
This was an exciting week for the children at Peachtree as they attended Bible School every night. The theme for the week's lessons was "Bug Zone- Transformed by Our Big God." The director was Fran Bunn and there were many adults who gave of their time and talents to lead and teach. The church hostesses served dinner every evening, as well as a snack. More ...
BARBARA HARDISON
RED OAK NEWS
Dorothy, Audrey, and Suzy Pearce and Madgie Macklin enjoyed a visit from Madgie's nephew, Johnny Shearin and his friend, Penny Heid, on Wednesday, July 18. They had traveled from Tampa, FL, where they live, and visited other family members in Tennessee and South Carolina before coming to North Carolina. The visit was brief but they all had a great time together.
More ...
SUZY PEARCE
MOUNT ZION FWB CHURCH NEWS
Robert Tyner welcomed everyone to Sunday School. Our attendance has been down for the last two weeks. Only 71 present Sunday. I am waiting for us to get back in the eighties or nineties or even better, 100 plus. I enjoy studying the Bible in Sunday School. I loved it when I first began attending and I still love Sunday School. More ...
ROSALENE BASS
BEULAH COMMUNITY NEWS
We had a really great celebration at Beulah Fellowship Hall on Saturday night. There was a large turn out of family and friends to celebrate the 65th anniversary of Lula Bell Daniels Walker and Jim Walker. They were married in July, 1947. They are a really great Christian couple who have set a good example for a lot of friends. More ...
WILMA ENROUGHTY
Lloyd named DSS employee of month
Shelia Lloyd has been selected as Nash County Department of Social Services Employee of the Month for June 2012.
Lloyd has been with the agency for 13 years and is a Public Information Assistant IV for the Services departments. More ...

Laura Thompson graduates
Laura Keith Thompson, of Kinston, graduated from Union Presbyterian Seminary in Richmond, VA in June 2012. Laura received her Masters of Divinity and was awarded "The James D. Simpson Memorial Faithful Servant Award." More ...

Morris receives promotion
Vera Morris, of Cary, was recently promoted as the new Property Manager at Phillips Swift Creek in Cary. Morris has served the last eight months as the Assistant Property Manager and has worked in property management for over 12 years. More ...

MILITARY NEWS
Navy Petty Officer 3rd Class Kevin R. Covington, son of Patricia C. Covington of Rocky Mount and Donnie R. Covington, of Rocky Mount, and fellow Sailors aboard the aircraft carrier USS Enterprise (CVN 65) formed a Coalition of Sailors Against Destructive Decisions (CSADD) committee. More ...

Jamie Thompson graduates
Jamie Lee Thompson of Kinston graduated from Union Presbyterian Seminary in Richmond, VA in June 2012 with a Masters of Theology. Jamie will be serving as pastor of Brooks Frizzell United Methodist Church and Mount Herman United Methodist Church, both located in Maury. More ...

Do we need to politically vette a chicken sandwich?
Okay, I think we all need to grab a paper bag — preferably one that smells like a delicious chicken sandwich — put it over our mouths, and breathe in-and-out until we all calm down.
Because I have to tell you, when politics starts to encroach on a man's waffle fries, fried chicken sandwich and milkshakes, things are officially out of hand. More ...
Mike Brantley
Lennox fuels a fight against breed specific legislation
Two weeks ago, something happened in Northern Ireland that gained the attention of lots of people around the world, especially animal lovers.
Lennox, who was deemed a vicious pit bull, was killed on direct orders from the Belfast City Council.
Lennox's story is a long one. It spans over two years, beginning with the day Lennox was taken from his family. More ...
Amanda Clark
More gun control isn't the solution
The recent shootings in an Aurora, Colorado theater have gun control fanatics again bringing out their knee jerk reaction for gun control.
The shootings at the theater in Aurora were planned to the smallest detail by a deranged killer. No amount of gun control would have prevented the killer from obtaining the guns and ammunition needed to accomplish his mission of inflecting as much carnage as possible in the shortest period of time. More ...
Letters to the Editor:
Backward Glances
TROJAN ATHETES AWARDED –– This photo originally published in The Graphic June 9, 1977. These Nash Central Junior High students were awarded for their outstanding achievements in athletics during the 1976-77 school year. More ...
A PICTORIAL LOOK INTO THE PAST

SPLASHING AROUND FOR NRST. Nash Rec's Tanner Morris competes in a race during last Thursday afternoon's Nash-Halifax Swim League showdown against Westridge at the Nash Rec Pool in Nashville.

THE BEST FOR LAST?
NASHVILLE -- Nash Rec's long-time dominance in the Nash-Halifax Swim League will be put to the test Saturday.
Nash Rec is expected to compete with Roanoke Valley and Westridge for the team crown at the annual N-HSL Championships, which are slated to begin at 8:30 a.m. at the Harrison Family YMCA in Rocky Mount. More ...
GEOFF NEVILLE, Graphic Sportswriter

HURRY UP!. Birchwood Country Club Swim Team members (l to r) Anna Scott Wingfield, Bethany Williams and Bailey Williams encourage a teammate in the pool during last Thursday evening's meet.

Birchwood Wraps Up Sked
NASHVILLE -- Roanoke Valley is expected to be a contender this weekend for the Nash-Halifax Swim League Championship -- a fact that was accentuated last Thursday night in the regular season finale.
That's when Roanoke Valley surged to an impressive victory in a tri-match against Benvenue and host Birchwood Country Club. More ...
GEOFF NEVILLE, Graphic Sportswriter
Weekend races at Co. Line
ELM CITY -- Due to the rainout from last Saturday, the schedule has been changed for July 28 at County Line Raceway.
Armbands are only good for July 28.
No armbands will be honored after this date.
The Barnes Equipment Late Model division will return running their Twin 20s.
More ...
Staff Reports
BIRCHWOOD HIGHLIGHTS, 1
Among the competitors during last Thursday's swim meet between Benvenue Country Club, Roanoke Valley and host Birchwood Country Club was (above) Birchwood's Sara Joyner. More ...
Graphic photos by Geoff Neville
BIRCHWOOD HIGHLIGHTS, 2
Among the competitors during last Thursday's swim meet between Benvenue Country Club, Roanoke Valley and host Birchwood Country Club was (above) Birchwood's Rocco Catalano. More ...

I'M GONNA MAKE IT
An excited Maddie Girouard is getting close to the finish line for Birchwood during its home swim match last Thursday evening in Nashville. More ...

NASH REC HIGHLIGHTS, 1
Among the Nash Rec performers from last Thursday's home swim meet against Westridge was (above) a Nash Rec swimmer. More ...
Graphic photos by Geoff Neville
FURIOUS FINISH
A Nash Rec swimmer speeds to the conclusion of an IM event as part of last Thursday afternoon's home meet against Westridge in Nash-Halifax Swim League action. More ...

Nats promote Goodwin
NASH COUNTY -- Last summer, former Rocky Mount High School baseball player Brian Goodwin signed with the Washington Nationals as the 34th pick (supplemental round) of the Major League Baseball Draft.
As a reward, he received a signing bonus worth $3.8 million.
The upstart National League East leaders seem to have most of their young talent performing well ahead of schedule. More ...
CHARLES ALSTON, Graphic Correspondent
Season closes for Post 58
WINTERVILLE -- Rocky Mount Coleman-Pitt Post 58 head baseball coach Hank Jones was hoping its game 1 loss to Pitt County 39 in their Area I East semifinal playoff series would be a wake-up call to play better.
But Post 58 seemed to have slept right through a ringing alarm as Post 39 posted a sweep of Post 58 in a 12-3 loss at Pitt Community College last Tuesday evening. Pitt County won the series 2-0. More ...
CHARLES ALSTON, Graphic Correspondent
Nash native among honorees
FERRUM, VA. -- For more than 40 years, Ferrum College has honored the memory of the "Marshall 8," who include seven members of the College's 1968 National Junior College Athletic Association (NJCAA) National Championship Team, as well as late Marshall University Head Coach Rick Tolley, who previously served at the College as Hank Norton's assistant football coach. More ...
Staff Reports
Hillcats have way with Mudcats
ZEBULON -- The Carolina Mudcats stumbled out of the gates, allowing six runs over the first five innings, and fell to the Lynchburg Hillcats 7-4 in front of 2, 876 on Sunday afternoon at Five County Stadium in a Class A Carolina League baseball showdown.
Carolina drops to 17-13 in the second half, and 49-51 overall. More ...
Staff Reports
SARAH CARR EVANS STRICKLAND
Sarah Carr Evans Strickland, 89, passed away Monday, July 23, 2012. She was born March 9, 1923 in Franklin County to the late Albert C Carr and Bettie Lee Breedlove Carr. She preceded death of her parents, husband James Aaron Evans and husband Albert C. Strickland. Also her son Tonnie Evans, two brothers; A.J. Carr and Eagene Carr, three sisters; Amanda Bishop, Mary Evans, and Bessie Evans. More ...

RUTH SHEARIN COPPEDGE
Ruth Shearin Coppedge, 91 passed away Sunday, July 22, 2012. She was born August 11, 1920 in Nash County to the late Jimmy and Edna Shearin. She was preceded in death by her husband, William Dueard Coppedge; step daughter, Frances Stallings; step son, Fred Coppedge; step grandchild, Brandon Roberson; brothers, Raymond, Joe, Buck and Horace Shearin; sisters, Mary Etta Davis and Lula Bell Sykes. More ...

RACHEL B. WHITLEY
Rachel B. Whitley passed away July 21, 2012. She was born on June 8th in Nash County to Jonah and Sallie Davis Boykin; Rachel was one of ten children.
More ...

RUTH H. "EDITH" ARRINGTON
NASHVILLE - Funeral services for Ruth H. "Edith" Arrington, 75, who died Wednesday, July 18, 2012 were Sunday, July 22 at 2 p.m. at Social Union Baptist Church with Rev. Nathaniel Bunn officiating. Burial followed at Oakland Cemetery. More ...

ESTHER BRASWELL MORGAN
ROCKY MOUNT - Funeral services for Esther Braswell Morgan, 89, who died Thursday, July 19, 2012 were Tuesday, July 24 at 1 p.m. at Union Hill Baptist Church with Rev. Thomas McCullers officiating. Burial followed in the church cemetery. More ...

VIVIAN ARRINGTON
ROCKY MOUNT -Mrs. Vivian Arrington, 66, of Rocky Mount, died on Sunday, July 15, 2012, at Nash General Hospital in Rocky Mount. More ...

MASTER JA'KARI KHALIL MCBRIDE
ROCKY MOUNT - Master Ja'Kari Khalil McBride, five months, departed this earthly life on Wednesday, July 18, 2012, at Nash General Hospital in Rocky Mount. More ...

IRENE MEDLIN RICH
CASTALIA - Ms. Irene Medlin Rich, 82 passed away Saturday, July 21, 2012. She was born in Nash County, October 1, 1929 to the late James Percy and Lillian Wells Medlin. She was preceded in death by her husband, John Titus "J.T." Rich; son, John Wayne Rich, Sr.; brother, Willard Medlin; sisters, Mabel Medlin and Alice Matthews. More ...