Subscribe/Access
Advertisements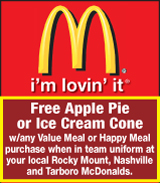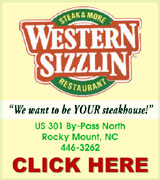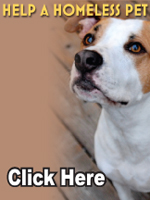 Sections
Member Options
Back

MEMORIAL DAY HONOR - Charles Johnson and Carroll Brown (L-R) salute as The National Anthem is sung during Memorial Day services in Rocky Mount on Monday.

MEMORIAL DAY
Nash County residents celebrated Memorial Day on Sunday and Monday with services in Nashville and Rocky Mount.
Services in Nashville were moved inside on Sunday evening due to the rain.
Bob Simpson, who is a member of American Legion Post 110, who sponsors the annual Memorial Day service, was the guest speaker for the event. More ...
Amanda Clark, Graphic Staff Writer
Spring Hope struggles with budget
Spring Hope Commissioners will leave staffing at the town's police department as is, it was decided at a special budget work session last week.
At the board's regular meeting earlier this month, Town Manager John Holpe told commissioners that the police department's budget was running around $35,000 more than what was in the current budget. More ...
Amanda Clark, Graphic Staff Writer
Nash looks at education budgets
Nash County Commissioners met with Nash Community College and Nash-Rocky Mount School officials last week to discuss their proposed budgets.
Nash County's proposed $85.4 million budget for 2012-2013 includes a two percent reduction for all areas in the county's budget, including schools. More ...
Amanda Clark, Graphic Staff Writer
Spring Hope seeks new auditor
The Town of Spring Hope will put out bids for a new auditor, after discovering its current auditor's CPA license was suspended.
Town Manager John Holpe told commissioners at a recessed meeting last week that Gerrelene Walker had called him recently to tell him that her license had been suspended. Walker has served as the town's auditor for several years. More ...
Amanda Clark, Graphic Staff Writer

Coppedge gets ready to try out his new ride, after being presented the car last Thursday at LBJ Chevrolet in Nashville.

Southern Nash student wins Chevy
For the second year in a row, a Southern Nash High School senior was handed the keys to a brand new Chevrolet Cruze as part of the Chevy Drive for Perfection initiative.
Tracey Coppedge was one of over 200 youth eligible in the Raleigh area who were eligible to win a Cruze. To be eligible, students must have 98 percent or better attendance at their schools. More ...
Amanda Clark, Graphic Staff Writer
Red Oak man builds memorial garden
Each day that John McAuliffe steps into his backyard, he is reminded of the countless years of service his family has given to their country.
McAuliffe and his wife, Lynn, of Red Oak, have built a memorial garden in their backyard to serve as a tribute to family members that have served in the military. More ...
Amanda Clark, Graphic Staff Writer
NASHVILLE POLICE BRIEFS
ARRESTS
Carlton Maurice Bullock - 5/22/2012 - charged with misuse of 911 system
Kenneth Otto Moore - 5/23/2012 - charged with failure to appear for driving while license revoked
Jeremy Ray Drake - 5/23/2012 - charged with failure to appear for simple possession of marijuana More ...
Staff Reports
Man sentenced to prison for distributing drugs
A Rocky Mount drug dealer was sentenced to 132 months in prison for conspiring to distribute cocaine.
United States District Court Judge Terrence W. Boyle sentenced Willis Lamont Edwards, 28, to 132 months in prison in federal court last week.
A Federal Grand Jury returned a criminal indictment on May 4, 2011. More ...

SCHOLARSHIP
Nashville BPW Scholarship Committee Chairperson and treasurer Shirley House presents Logan Hayley Williams the 2012 Hazel A. Valentine Scholarship. Williams is a Senior at Nash Central High School and plans to attend East Carolina University. More ...

PET FOOD DONATION
Nash Central Middle School's Valentine Community Builders Club recently donated pet supplies and money to Nash County Animal Friends as part of a "Donate for Rescue Animals" project. More ...

RELAY FOR LIFE DONATION
Jo Anne Cooper, Publisher of The Nashville Graphic, presents Jerry Pappas of Nash County's Relay for Life a donation to the American Cancer Society from the proceeds of the annual Relay for Life publication The Graphic publishes each April promoting the local event. More ...

Baines completes admin course
James M. Baines, Director of Public Utilities for the Town of Nashville, has successfully graduated from the 2011-2012 Municipal Administration Course of the School of Government at the University of North Carolina at Chapel Hill. More ...

NCDOT awards $2.9 million to preserve local bridges
N.C. Department of Transportation Secretary Gene Conti has awarded a contract for preservation work on 12 bridges in Halifax, Nash and Northampton counties.
The $2.9 million contract was awarded to G.A. & F.C. Wagman Inc. of York, Pa. Work can begin anytime between June 1 and March 1, 2013, with construction completed no later than 240 days after the start date. More ...

MILITARY BRIEFS
Air Force Reserve Airman Joquay D. Howell graduated from basic military training at Lackland Air Force Base, San Antonio, Texas.
The airman completed an intensive, eight-week program that included training in military discipline and studies, Air Force core values, physical fitness, and basic warfare principles and skills. More ...

NURSING GRADUATES
Nash Community College recognized 30 Associate Degree Nursing graduates during its 36th pinning ceremony Friday, May 11, 2012. More ...

McNair, Richardson unite in marriage
Olivia McNair and James "Bay" Richardson were united in marriage May 12, 2012 at the O.D. Moore Building in Nashville. The officiating minister for the 3 p.m. ceremony was Pastor Michael McKnight.
A program of nuptial music was presented by D.J. Derek and soloist, James William. More ...

HISTORIC STONEWALL EVENT
Stonewall Manor will host its Annual Spring Civil War Living History/Reenactment event the weekend of June 1-3. The grounds will once again be decorated by lovers and educators of Civil War history from across the state including Latham's Battery 13th N.C., Reilly's Battery, Edenton Bell Battery, NC Naval Squadron, Olde South Blacksmiths, Mallet's Battalion Provost Guard & music by the Tar River Dulcimers. More ...

Dunn graduates class valedictorian from South Aiken Christian School
Daniel Louis Dunn graduated as class valedictorian from South Aiken Christian School on May 24, 2012.
Dunn is active in his church band, sports and is an avid outdoorsman and Eagle Scout.
He was the recipient of the Celebration of Character Award in 2011 and 2012, which was presented by the City of Aiken, South Carolina. More ...

Harrelson recives "40 under 40" award
Lee Harrelson, P.E., Leed AP, was recently named as one of the 2012 "40 UNDER 40" award winners by Consulting-Specifying Engineer magazine. The May, 2012 issue highlights the 40 young professionals in the building industry throughout the U.S. who were selected on the basis of their extraordinary achievements and their "commitment to excellence" in all facets of their lives. More ...

DAUGHTERS OF THE AMERICAN REVOLUTION
The annual Silver Tea of the DAR Micajah Pettaway Chapter was in the home of Toni Suiter in April.
After Regent Dottie Barrett welcomed everyone, refreshments were served by hostesses Toni Suiter, Chairman, Margaret Barnes, Meg Cooke, Jeannine Hicks, and Verna Graff-Gessaman. The highlight of this meeting was honoring young Good Citizens and Good Citizenship winners in local schools.
More ...
DEE LONG
Recognized
DAR recognized local students recently. Pictured (L-R) is: Victoria Dickens, G. W. Bulluck School; Lonneke Selman, Faith Christian School; Ann Sumner Thorp, Rocky Mount Academy; D'Nasia Downey, Baskerville Elementary School; Julie Anna Bailey, Nashville Elementary; Georgia Morris, Benvenue Elementary; Nikeya Edwards, Williford Elementary; and Emily Grimm, M B Hubbard Elementary. More ...

MOUNT ZION FWB CHURCH NEWS
Robert Tyner welcomed everyone to Sunday School. We had 81 in attendance. Allie Farmer read the Bible verse.
Our choir sang "Whisper a Prayer" for the call to worship. Pastor Bogle welcomed everyone and asked all veterans to stand and be recognized. More ...
ROSALENE BASS
PEACHTREE COMMUNITY NEWS
Folks gathered at Peachtree on Sunday morning for a Memorial Day worship service. A brief video of Memorial Day scenes was shown, followed by the pledge of allegiance to the flag. Recognition was given to all of those present who had served in the varied branches of military service. More ...
BARBARA HARDISON
Nash County 4-H to offer summer workshops, camps
The Nash County 4-H Program is looking forward to another exciting summer, jam-packed with outstanding workshops and camps.
Registration will take place on Friday, June 1 beginning at 8am until 5pm through Friday, June 15th at the Nash County Ag Center in Nashville. More ...

FARM SERVICE AGENCY
Nash County farmers have a critical deadline to consider. Nash County USDA Farm Service Agency (FSA) Executive Director Sharon Taylor reminds producers that Friday June 1 is the fast-approaching deadline for Supplemental Revenue Assistance Payments (SURE), the Direct and Counter-Cyclical Program (DCP) and the Average Crop Revenue Election Program (ACRE). More ...
SHARON TAYLOR
Story Time for Earth Day
Town of Nashville Public Works Director Larry Williams (right) and staff member Chris Aycock help out at the Story Time for Earth Day celebration at Nashville's Harold D. Cooley Library. More ...

new computers
Library customers Brian Booth and Ronda King enjoy the new computers and upgraded software furnished by the Friends of the Harold D. Cooley Library. More ...

Retiring employees
Retiring employees (left to right) Gertrude Cross, Red Oak Middle School; Evelyn Bulluck, School Board Chairperson; Eula Modlin, Cedar Grove Elementary School; Dorothea Williams, Benvenue Elementary School and NRMPS Superintendent Dr. Anthony Jackson. More ...

PFLAG reception
PFLAG Rocky Mount (Parents, Families and Friends of Lesbians and Gays) hosted a reception May 12 in partnership with Theater of the American South. The social, held at the Boykin Cultural Center in Wilson, celebrated the work of playwright Tennessee Williams. More ...

Jack Laughery Ride for Knowlege draws crowd
The Fifth Annual Jack Laughery Ride for Knowledge was held at Rocky Mount Harley-Davidson on Saturday, May 19, 2012 raising $8,000 for the Helen & Jack Laughery Honorary Scholarship Fund.
The annual event serves as a tribute to Jack Laughery, the former Chairman and CEO of Hardee's Food Systems, Inc., along with his wife Helen and their love of motorcycling and support of higher education.     More ...

Mohrbutter will return to United Way Tar River Region
Cummins-Rocky Mount Engine Plant (RMEP) and United Way Tar River Region announced jointly that Ginny Mohrbutter will be returning to her position as Executive Director for the non-profit entity, leaving her role as Community Engagement Leader at RMEP, effective June 15, 2012. More ...

Nash County Blood Drives - June 2012
Thursday, June 7 from 12 until 5 p.m. at Outback Steakhouse, 210 Gateway Boulevard, Rocky Mount
Monday, June 11 from 3 until 7 p.m. at First Baptist Church, 200 South Church Street, Rocky Mount
Tuesday, June 12 from 3 until 7 p.m. at the Harrison Family YMCA, 1000 Independence Drive, Rocky Mount
Wednesday, June 13 from 2 until 6 p.m. at Arlington Baptist, 1500 Bethlehem Road, Rocky Mount More ...

Technology is not all its cracked up to be
There is a big lie floating around out there. A big lie being told to the world every day.
It has nothing to do with politics, religion or even taxes.
It is the big lie of technology.
We all use "technology" every day to "make our lives easier." We are told that every person under 25 is a "technology expert." And, we are constantly told that more technology is on the way. More ...
Mike Brantley
Celebrating one year of parenting
Today, I can officially say I have a one-year-old.
Corbin is celebrating his big day today, hopefully at the NC Zoo if the weather will cooperate. But either way, I can promise you we are celebrating.
We had his first birthday party with my family this weekend. I have a lot to learn in planning little kid's parties. More ...
Amanda Clark
Kudos to Nashville leaders for implementing new fee structure
Nashville's Town Council recently decided that Internet sweepstakes cafes will have to pay an annual privilege license fee of $2500 plus $500 per machine. Bingo parlors will now have to pay a fee of $5200.
Beside the fact that I'm not real thrilled this was all voted on in a work session rather than in a regularly scheduled monthly meeting, I'm really glad our council is taking this step which I believe is beneficial to Nashville. More ...
Jo Anne Cooper
150 years of USDA still benefitting Nash County citizens
On May 15, the U.S. Department of Agriculture (USDA) celebrated the 150th anniversary of its founding. When President Lincoln signed legislation establishing a Department of Agriculture, he declared its purpose should "acquire and to diffuse among the people of the United States useful information on subjects connected with agriculture."
More ...
Letters to the Editor:
Now is the time to say enough is enough
It's not the amount (3 cents) of the proposed Rocky Mount property tax increase that's the problem. Its the continuation of the tax and spend attitude on the part of our public officials. Tucked away in the "public sector." they are immune from the ravages of our current recession / depression, and are bound and determined to rob and plunder the working class of all that they can get. More ...
Letters to the Editor: - 1 opinion posted
Backward Glances
Members of the Northern Nash 1975 track team participated in the state finals of the Junior Olympics held at N.C. State in Raleigh. Pictured left to right are James Freer, Sam Brake, Mike Davis, Chris Evans, who qualified to compete in the 880 yard run at the Regionals, and Oliver Marshmon who qualified to travel to Georgia to run in the 220 yard dash. More ...
A PICTORIAL LOOK INTO THE PAST
Nash County Animal Friends' Notebook
Sorry. Nash County Animal Friends (NCAF) cannot help you. We cannot make it simple or easy to get rid of cats, dogs, kittens nor puppies. We cannot find rescues or adopters for your pets that you need to rehome nor the babies they have. We cannot take your pet either. More ...
Carol Vierela, Nash County Animal Friends

CAUGHT IN A RUNDOWN. Bunn's Jaylan Williamson (sliding) managed to avoid this rundown during last Thursday's game against Nash Central.

SUMMER OF FUN
ROCKY MOUNT -- Who says the season ended for the Nash Central High School baseball squad with a first-round loss in the Class 3-A State Playoffs?
The Bulldogs are back at work again -- and it didn't take a long time.
Several current and future Nash Central performers are in action this summer for an assorted group of teams. More ...
GEOFF NEVILLE, Graphic Sportswriter
Southern standouts honored
STANHOPE -- A star-studded group of student-athletes was honored at the recent Southern Nash High School Athletic Awards Ceremony.
Four Firebirds took home top honors, while one squad was saluted as the 'Team of the Year'.
That club was the Southern Nash softball squad, which tied for the regular season championship in the Big East Conference. The Ladybirds were tabbed as the 'Team of the Year', and a huge ovation ensued. More ...
GEOFF NEVILLE, Graphic Sportswriter

BEST IN THE BIG EAST CONFERENCE. Southern Nash senior Mariah Gray has been selected as the Big East Conference Softball Player of the Year. Gray helped the Ladybirds to share of the league's regular season championship.

Gray Days In The Big East
STANHOPE -- The forecast was mighty Gray this season for Southern Nash's softball opponents in the Big East Conference.
Mariah Gray was a dominant performer for the Ladybirds -- both on the mound and at the plate.
Gray played a huge part in Southern Nash's success as she helped the Ladybirds earn a share of the Big East Conference Regular Season Championship. More ...
GEOFF NEVILLE, Graphic Sportswriter
Campers welcome at NNHS
RED OAK -- Head Coach Grover Battle will host the annual Northern Nash Lady Knights Basketball Camp from June 11-14 at the NNHS Gymnasium.
The camp will run from 5:45-8:15 p.m. each day. Girls 4-12 are invited to participate. Cost is $25 per person.
Each camper will receive a T-shirt, and insurance will be provided. More ...
Staff Reports
Post 58 opens with a victory
SALISBURY -- A rain out in its home opener and a postponed road game the next day meant that Rocky Mount Coleman-Pitt Post 58 had to start its 2012 American Legion baseball season 181 miles away at Catawba College at perennial Legion state power Rowan County Post 342 Sunday evening.
Post 58 made the three-hour ride worth it as it returned with an 11-5 victory. More ...
CHARLES ALSTON, Graphic Correspondent
East-West Game roster is finalized
GREENSBORO -- Nash Central's Terri Cash will serve as an assistant coach and Rocky Mounty's Alexus Cooper and Tia Hudgins will be on the roster for the East Team at the annual North Carolina Coaches Asssociation East-West Girls Basketball All-Star Game. More ...
Staff Reports
Northern Nash HS salutes top athletes
RED OAK -- Northern Nash saluted its athletes during the recent Spring Sports Awards Ceremony -- and also handed out its top honors for the 2011-12 school season.
Myrick Clark was tabbed as the Girls Athlete of the Year, while the boys award went to DaShawn Taylor. More ...
GEOFF NEVILLE, Graphic Sportswriter
NC State set to host regional tournament
RALEIGH -- North Carolina State University earned the top seed in the NCAA Baseball Tournament Raleigh Regional, and will be joined by two-seed Vanderbilt, three-seed UNC Wilmington, and four-seed Sacred Heart this weekend at Doak Field on the NC State campus. More ...
Staff Reports
THAT'S A NO-NO
Dawson Sikes pitched a no-hitter for the Nash Central Bulldogs during last Thursday evening's Babe Ruth 13-Under home baseball game versus Bunn. More ...

Eagles Enjoy Solid Year
ROCKY MOUNT -- Under the leadership of Coach James Westcott, the 2012 Rocky Mount Academy Lady Eagles Varsity Soccer Team had its best season in six years this spring.
They posted a 9-4-2 record and earned a spot in the NCISAA state playoffs.
"This year's team, I believe, is the best team RMA has had," Westcott commented. More ...
Staff Reports
NC STATE GAMES BASEBALL ROSTER
NASH COUNTY - Here is the Region 3 Roster for the upcoming North Carolina State Baseball Games, which will be held June 13-17 in Winston-Salem: More ...
Staff Reports
State Games will have county flair
NASH COUNTY -- The Region 3 roster for the upcoming North Carolina State Baseball Games will have a decided Nash County flair.
Three of the 20 members of the squad are county standouts -- Rocky Mount's Jeremy Johnson, Faith Christian's Chase Roupp and Northern Nash's David Williams. All of those performers recently completed their junior seasons. More ...
GEOFF NEVILLE, Graphic Sportswriter
BW Holt to coach football at RMA
ROCKY MOUNT -- Rocky Mount Academy announced last Friday that retired Rocky Mount High School football coach BW Holt is the new head of RMA's football program and will coach the varsity team.
"We are pleased to announce that Mr. Holt has signed with us to head up our football program and coach the varsity team. To the people of Rocky Mount, Coach Holt certainly needs no introduction. More ...
Staff Reports
ECU reaches regional
GREENVILLE -- The East Carolina Universitybaseball team will make its 26th NCAA Regional appearance and 12th in the last 14 years after earning a No. 2 seed at the Chapel Hill Regional in this year's NCAA Baseball Championships, which will be held at Boshamer Stadium on the campus of the University of North Carolina. More ...
Staff Reports
NCWC's Tingle takes USA South honor
ROCKY MOUNT -- The NCAA Woman of the Year Award honors student-athletes for their collegiate achievements in service, leadership, athletics and academics.
The USA South Athletic Conference's 2012 Woman of the Year and nominee for the NCAA award is North Carolina Wesleyan College senior volleyball player Mackenzie Tingle. More ...
Staff Reports
Mudcats' loss skid continues
ZEBULON -- The Winston-Salem Dash earned a series sweep of the Carolina Mudcats with an 8-3 win in front of 5,351 on Sunday afternoon at Five County Stadium in a Class A Carolina League baseball event.
The Mudcats dropped to 22-26 with their fifth straight setback.
Winston-Salem remained in first place with a 28-19 record. More ...
Staff Reports
NASH COUNTY REC REPORT
NASH COUNTY -- Here are updated results from the Nash County Parks and Recreation Department's Spring Sports Season: More ...
Staff Reports
RM hosts awards ceremony
ROCKY MOUNT - Rocky Mount High School celebrated its student athletes with its annual athletic banquet last Thursday evening at the school's main gym -- the last one ever to be held on the campus.
Athletic Director Mike Gainey served as Master of Ceremonies, but he and wife, girls basketball coach Pam Gainey, were shocked early on in the proceedings when they were both honored with the third annual Dudley Whitley Award. More ...
CHARLES ALSTON, Graphic Correspondent
STATE BASEBALL PAIRINGS
CHAPEL HILL -- The pairings and the schedules are set for the 96th annual North Carolina High School Athletic Association State Baseball Championships.
This year, the 1-A and 4-A best-of-three championship series will be held at the Durham Bulls Athletic Park, and the 2-A and 3-A finals will be played at Five County Stadium in Zebulon -- home of the Carolina Mudcats.
More ...
Staff Reports
STATE SOFTBALL PAIRINGS
RALEIGH – The pairings and the schedules are set for the North Carolina High School Athletic Association State Fast-Pitch Softball Championships.
This year, there is a change in the finals format, as the championships are best-of-three series between the Eastern champion and the Western champion, both of whom won best-of-three regional series. More ...
Staff Reports
ELLA MAE BRASWELL
BATTLEBORO –– Ella Mae Braswell, 71, of Battleboro, died on Tuesday, May 22, 2012, at the Service Leageue of Greenville in Greenville. More ...

BILLY RAY SANDERS
Billy Ray Sanders, 58, passed away on Thursday, May 24, 2012. He was born November 30, 1953 in Franklin County to the late James Edward and Vera Mae Williams Sanders. Billy is preceded in death by one brother James Sanders and two sisters Brenda Sanders and Wanda Sanders. More ...

LOIS VAN CROCKER DAVIS
Lois Van Crocker Davis, age 86, passed away Friday, May 25, 2012. Born in Nash County on July 09, 1925, she was the daughter of the late Walter Crocker and Emma Qualls Crocker. She was also preceded in death by her husband, Willie Eunis Davis, daughters, Lois Faye Davis McKeel and Judy Davis Sellars; and grandson, Timothy Gray McKeel. More ...

DAISY MARIE GRAY
ROCKY MOUNT - Ms. Daisy Marie Gray, 38, of Rocky Mount, died on Friday, May 25, 2012, at Service League of Greenville in Greenville. More ...

DANIEL LEE PRIDGEN
Daniel Lee Pridgen, age 79, passed away Saturday, May 26, 2012. Born in Nash County on June 08, 1932, he was the son of the late Robert Lee Pridgen, Sr. and Ada Ward Pridgen. More ...

MILTON RAY "MAN" TAYLOR
ROCKY MOUNT - Funeral services for Milton Ray "Man" Taylor, 58, who died on Sunday, May 27, 2012 will be Thursday, May 31 at 12 noon at Pleasure Hill Baptist Church with Rev. Larry Jones officiating. More ...

HORACE LINWOOD HEDGEPETH
Horace Linwood Hedgepeth, 76, passed away on May 28, 2012 at Nash General Hospital. He was born March 22, 1936 in Red Oak to the late Corine Aycock Hedgepeth and Clyde William Hedgepeth. More ...

DAVID EARL MATTHEWS SR.
David Earl Matthews Sr., age 88, passed away on Tuesday, May 22, 2012. Born in Nash County on October 02, 1923, he was the son of the late William Ed Matthews and Miley Bass Matthews. More ...