Subscribe/Access
Advertisements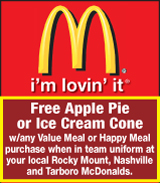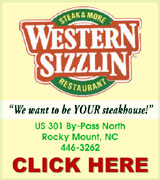 Sections
Member Options
Back
Sheriff's Office starts Nixle program
Nash County residents can now sign up to receive important messages from the Nash County Sheriff's Department.
The Sheriff's Department recently joined The Nixle Community Information Service, which allows the department to send community information directly to residents using the latest technology. More ...
Amanda Clark, Graphic Staff Writer
Red Oak sewer near completion
The Red Oak sewer system is scheduled to be completed by early February, Red Oak Mayor Alfred Wester announced Monday at the town's regular business meeting. Town commissioners signed into effect a series of documents preparing for the service to begin including a joint interlocal cooperation agreement with the county, sewer policies and procedures, a new sewer ordinance, and sewer fee schedule. More ...
Amelia Harper, Graphic Correspondent
SIDEWALKS
Demolition of sidewalks in downtown Nashville has begun as part of the Downtown Redevelopment Project. Demolition and construction of sidewalks and underground utilities is projected to be ongoing during the winter months, weather permitting.
More ...

Argument leads to holiday shooting
A New Year's Eve argument led to one Spring Hope man being shot and another arrested.
According to Spring Hope Police Chief Tim Denton, 27-year-old Benjamin Reshon Hicks and 22-year-old Christopher Jerome Howard reportedly got into an argument on Friday, December 31 around 2 p.m. The argument quickly escalated and Hicks allegedly shot Howard in the leg. More ...
Amanda Clark, Graphic Staff Writer
Auditions set for "Life Goes On" at Nash Arts
Auditions for "Life Goes On" will soon begin and Director Jim Singleton is hopeful this year's production will be just as entertaining as the last production which was done around nine years ago.
"Life Goes On," written by North Carolina Judge James Ragan, III, is a comedy about a judge who dies just 30 days before his survivor benefits begin. The story tells the scheme his friends develop to keep him "alive" for more days. More ...
Amanda Clark, Graphic Staff Writer
Nashville Board plans annual budget retreat
Nashville's Town Council started 2011 off with a light agenda on Tuesday night but next week things will pick up as the board plans to meet for it's annual two-day budget retreat.
A budget retreat is scheduled for next Wednesday and Thursday, January 12 and 13. The retreat will be held on Wednesday, January 12 beginning at 9 a.m. and on Thursday, January 13 beginning at 2 p.m. More ...
Amanda Clark, Graphic Staff Writer
Sheriff continues search for Battleboro murder suspect
The Nash County Sheriff's Office is continuing its search for 32-year-old Jorge Alfredo Urias Sanchez, who is accused of first degree murder in the deaths of two Battleboro men whose bodies were found in a field off a rural road outside of Red Oak.
The remains of 51-year-old Juan Rodriguez and 29-year-old Fermin Jiminez, both of Battleboro, were found on September 7 on Quarter Road by men riding four wheelers. More ...
Amanda Clark, Graphic Staff Writer
Divers retrieve stolen vehicle from reservoir
Nashville police expect to soon arrest the suspect accused of stealing an SUV from a Nashville home and dumping it in Sapony Creek.
According to Lt. Joey Corbett, of the Nashville Police Department, the SUV, a Nissan Pathfinder, was stolen from Tonya Court on Friday, December 31. The owner of the vehicle had left her residence for a few hours when the vehicle was stolen. More ...
Amanda Clark, Graphic Staff Writer
NASHVILLE POLICE REPORTS
ARRESTS
Frederick Joyner - 12/10/2010 - charged with larceny, all other larceny/by employee
Brandon Shane Reams - 12/14/2010 - charged with failure to appear for failure to return rental property and obtaining property by false pretenses More ...

NEW OFFICERS
The West Mount Ruritan Club installed new officers for 2011 recently. Pictured above (L-R): is Calvin Jones, President; Robbie Causeway, Vice President; Bob Alford, Secretary, Lester Weaver, Treasurer, Ed Joyner and David Winstead, both Directors. Not pictured is Mike Armstrong, Director. More ...

Christmas pony
Nash Central Middle School teacher Karen Vick brought her pony to the school on Tuesday, December 21. The pony was led through the building and students were allowed to pet it. Pictured in front of the pony (L-R) is: Alyssa Cockrell and Amanda Batts, who dressed as elves and helped lead the pony. On the back row (L-R) is Tim Finn, who played Santa, James Lynch, a former student who handled the pony, teacher Karen Vick and Mark Cockrell, Principal at Nash Central Middle.
More ...

Red Oak to purchase lights for park
The W.B. "Bill" Ennis, Jr. Memorial Park in Red Oak will be illuminated by spring, Red Oak commissioners decided at Monday's town meeting. After months of exploration and deliberation, the town voted to purchase lighting materials from Musco, Inc. in order to light the four ball fields in the park. The contract will run $238,000, an estimated $10,000 less than the price last quoted by the company. More ...
Amelia Harper, Graphic Correspondent

Robinson

Rocky Mount bank robbers arrested
The Rocky Mount Police Department has arrested two men in connection with an armed bank robbery at First South Bank.
The armed robbery occured on Thursday, December 23 at around 1:50 p.m. at the First South Bank, located at 300 Sunset Avenue. More ...

Local leaders share resolutions
Some local leaders have made resolutions for the New Year while others say they generally don't make resolutions.
Nash County Sheriff Dick Jenkins said his number one resolution is generally to lose a few pounds but this year, he's made a new one. More ...
Amanda Clark, Graphic Staff Writer
MOUNT ZION FWB CHURCH NEWS
We had 104 in attendance in Sunday school. A good way to begin the new year. Our choir sang "Coming Again" for the call to worship. Algie Jones Jr. led the service while Pastor Rogerson prepared for a baptismal service. The congregation sang "How Great Thou Art". Kenneth Parker prayed the prayer of invocation. More ...
ROSALENE BASS
PEACHTREE COMMUNITY NEWS
Happy New Year! 2011 is here, ready or not. Hope your resolutions are intact. A small group gathered at Peachtree on New Year's Eve, to ring in the New Year. The weather and road conditions kept many away, but those who attended reported a fun evening. More ...
BARBARA HARDISON
BEULAH COMMUNITY NEWS
I hope everyone had a great Christmas and the New year will be really happy for you. We really had some beautiful snow! I hope all of you were careful and none of you had accidents while playing,walking, or driving in it. As for us older folks I think a lot of us are glad to see the snow going away. More ...
WILMA ENROUGHTY
RED OAK NEWS
Kim and Josh Joslin and their children, Hayley and Matt, of Martinsville, Indiana spent Christmas weekend with Kim's father, Ted and Janie Shanks and grandparents, Eileen and Roger Shanks. On Monday morning they motored over to Brevard, NC to visit Kim's sister and brother-in-law, Angela and Kyle Wilson before returning to Indiana. More ...
SUZY PEARCE
Farm Bureau Federation
The Annual Meeting of the North Carolina Farm Bureau Federation was held December 5-7 at the Sheraton Four Seasons and Joseph S. Koury Convention Center in Greensboro. Nash County Farm Bureau President Greg Bunn was recognized among his peers at the Presidents' and Agents' Luncheon.
More ...

EPHESUS NEWS
Student Pastor Dan Crumley led our worship service on Sunday with pictures and stories of his recent mission trip to the Republic of Moldova. He told us of children there that have no hope and what is being done about it. He reminded us that we should strive to shift our vision from self-centered to God-centered, and adjust our thinking from locally to globally. More ...
DEBBIE PHILLIPS

NAI PLUS CLASS – Pictured left to right are Terry Bunn of Rocky Mount, Emily Horne of Battleboro, Shirlene Lynch of Rocky Mount, Camilla Martin of Spring Hope and Hattie Mills of Spring Hope.

NCC announces Nurse Aide I and II graduates
Nash Community College is pleased to announce the following Nurse Aide I and II graduates. The Nurse Aide I class introduces basic nursing skills required to provide personal care for patients in a health care setting. Nurse Aide I graduates are eligible to take the National Nurse Aide Assessment Program (NNAAP or NACES) Examination. The Nurse Aide II class prepares students to perform more complex skills for patients regardless of the setting.
More ...

NCC announces Nurse Aide I and II graduates, 2
NAI CLASS – Pictured, row 1, left to right are Valerie P. Jones of Rocky Mount, Celisa Gorham of Nashville, William Washington of Whitakers, Chanequa Hines of Whitakers, and Aviance Hines of Bunn. Row 2 - Left to Right: Charray Blount of Rocky Mount, Amy Sampson of Zebulon, Morgan O'Neal of Zebulon and Susan Reason of Rocky Mount.
More ...

Famous Soap Box predictions for 2011
It's that time you've all been waiting for – tax season has officially begun.
It is also that time of year that is much anticipated and actually causes a temporary paper shortage in Nash County – the Soapbox Predictions for 2011. More ...
Mike Brantley
Just one New Year's resolution for 2011
I went back to last year around this time and looked up the New Year's resolutions I had so publicly broadcast on this space. I wanted to see what resolutions I had actually kept.
I was quite excited to learn that last year, I had refused to make any resolutions but regardless, I did write down three things I wanted to accomplish in 2010. More ...
Amanda Clark
It's time to make changes at our shelter
It is time to realize that 87.2% kill rate at the Nash County Animal Shelter is unacceptable (2009 figures). This is one of the highest kill rates in North Carolina! Why so many? Several reasons, but the biggest reason is because the Shelter isn't very adoption friendly. Why do I say that? Because they are not open when most adopters can come.
More ...
Letters to the Editor:
Budget cuts should be done item by item
The North Carolina General Assembly has a major opportunity during the 2011 session. The opportunity is the reduction of the spending of the State of North Carolina for the 2011 – 2012 budget years. How they go about the reduction is currently in question. Many want an across the board cutting where everything is cut by a given amount, this is tantamount to using a hatchet to fall a large tree. More ...
Letters to the Editor:
Backward Glances
This photo was originally published in The Graphic January 26, 1961. Snow had fallen in Nashville on the Saturday prior. Rex Paramore, Brack Griffin and Cliff Joyner pose for the camera while pitching a few snow balls.
More ...
A PICTORIAL LOOK INTO THE PAST
Getting Back To Work
NASH COUNTY -- With the holiday break now in the past, Nash County's winter sports squads will return to action this week to begin the second half of their respective seasons.
Here's a look at the upcoming schedule for each school: More ...
GEOFF NEVILLE, Graphic Sportswriter
NC Wesleyan drops tough home matchup
ROCKY MOUNT -- North Carolina Wesleyan College's youthful women's basketball team again fell just short in an upset bid on Monday night, dropping a 73-67 decision to Ferrum College to open the 2011 portion of their schedule.
The Bishops, who forged a 17-point second- half lead on a Shanice Goree layup with 14:35 remaining, watched as Ferrum put together a 22-4 spurt over the next six minutes to take a one-point lead that they would not relinquish. More ...
Staff Reports
Basketball camp scholarships are available
WAKE FOREST -- Wake Electric is providing all-expenses paid scholarships for one deserving young woman to attend the Kellie Harper Basketball Camp at North Carolina State University in Raleigh and one young man to attend the Roy Williams Basketball Camp at UNC-Chapel Hill this summer. More ...
Staff Reports
Southern Nash's 2011 baseball schedule released
STANHOPE -- Southern Nash High School's 2011 varsity baseball season will begin March 1 with a home game against the Southern Vance Runnin' Raiders in Stanhope.
First pitch is slated for 4 p.m. at the SNHS Baseball Field.
SNHS' complete ledger is as follows (home games are listed in CAPS): More ...
Staff Reports
Nash Rec to conduct signups
NASH COUNTY -- The Nash County Parks and Recreation Department has scheduled the following series of events:
• The Nash Dash is a 12-week session for youngsters in grades K-8. Registration is through Jan. 21.
Cost is $15 per person. The late registration fee will be $25.
The event will be held at Ennis Park in Red Oak. More ...
Staff Reports
First United Methodist to host Madrigal Dinner
Many people think that Christmas ends on December 25, but that is actually the 1st day of Christmas. Christmastide culminates on January 6, the 12th night of Christmas. According to the scriptures, the wise men (kings) traveled westward from the Orient for 12 days, following the star of Bethlehem that appeared when Jesus Christ was born. The Twelfth Night is a celebration of the kings' arrival also known as Epiphany. More ...

DONALD "DON" LOUIS BASS
Donald "Don" Louis Bass, 54, passed away, Monday, January 3, 2011. He was born May 29, 1956 in Nash County. Don was the son of the late Glen and Mozelle Lamm Bass. More ...

RAEFORD HEADRICK HEDGEPETH
RED OAK - Raeford Headrick Hedgepeth, 84, passed away, Thursday, December 30, 2010. Raeford was born in Nash County, August 22, 1926 to the late Arthur and Maggie Hedgepeth. He was preceded in death by his brothers, Venoy, Clifton, Cecil and Paul Hedgepeth; great-grandson, Brandon Ibrahim. More ...

OSEPH LEROY FREEMAN
ROCKY MOUNT - Mr. Joseph Leroy Freeman, 60, of Rocky Mount, departed this life on Saturday, December 25, 2010. More ...

VIVIAN HUNTER GARCIA
ROCKY MOUNT - Vivian Hunter Garcia died December 23, 2010. Funeral was at Stokes Mortuary Chapel on Thursday, December 30 at 1:30 p.m. with the Rev. Dwight Johnson officiating. Burial was at Pine View Cemetery. Viewing/visitation was held on Tuesday, December 28, 2010 from 3 until 7 p.m. at Stokes Mortuary.
More ...

EFFIE WILLIAMS
ROCKY MOUNT - Mrs. Effie Williams, 81, of Rocky Mount, died on Wednesday, December 29, 2010.
More ...

CHRISTINE PITTMAN
ROCKY MOUNT- Christine Pittman, 65, died December 27, 2010. Funeral arrangement to be announced. Arrangements by Stokes Mortuary, Inc.
More ...

GLORIA JEAN WILLIAMS COLEY
Rocky Mount - Mrs. Gloria Jean Williams Coley, 59, of Rocky Mount, died on Tuesday, December 28, 2010 at Nash General Hospital in Rocky Mount. More ...

TOMMYE JOHNSON WHEELESS
Tommye Johnson Wheeless, 78, passed away, Friday, December 31, 2010. She was born June 25, 1932 in Granville County. Tommye was the daughter of the late Daniel Sloan and Bertha Grace Johnson. More ...

JOHNNIE MAC BATCHELOR
Johnnie Mac Batchelor, 61, passed away Thursday, December 30, 2010. He was born in Halifax County on May 27, 1949, the son of the late Wiley Ranger Batchelor and Doris Parker Batchelor. More ...

WILLIAM CHARLES HONEYCUTT
William Charles Honeycutt, 57, passed away Thursday, December 30, 2010. He was born June 10, 1953 Wilson County, North Carolina. He is preceded in death by his parents, Edgar and Mary Honeycutt, and W.L. (Bill) Carter. More ...