Subscribe/Access
Advertisements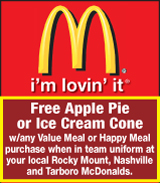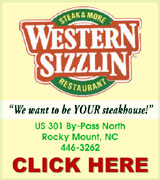 Sections
Member Options
Back
Red Oak opts out of COG
In a surprising move, the Red Oak Town Council decided to decline renewal of their membership in the Upper Coastal Plains Council of Government for the coming fiscal year. The move came Monday when Mayor Alfred Wester, for the first time in his career as mayor, was forced to cast a tie-breaking vote and decided to forego membership. More ...
Amelia Harper, Graphic Correspondent
Council okays ordinance amendment for internet cafes
Nashville's Town Council approved a text amendment on Tuesday night that will allow internet cafes to locate in certain areas of the town, but with strict regulations.
A hearing was held on the issue last Wednesday night. Nashville Mayor Donald Street said such businesses are popping up all over the county and state and towns are having to look at their ordinances.
More ...
Amanda Clark, Graphic Staff Writer
Nashville Council meets with state legislators
Nashville Council members met with Senator A.B. Swindell and Representative Randy Stewart last Wednesday morning to discuss several issues facing the town.
One such issue was internet cafes. Internet cafes are popping up all over municipalities in North Carolina. In Nashville, only one such business has located in town but Nashville Mayor Donald Street said there are several more asking to come. More ...
Amanda Clark, Graphic Staff Writer
Dozier's Plow Day
People came from all over to participate in Jimmy Dozier's Plow Day on Saturday, April 3. Plow Day, which practices NC Heritage, was held on East Old Spring Hope Road just outside of Nashville. As part of the event, there were wagon rides, horse rides, antique cars, old farm equipment, tractors and hit and miss engines. Rocky the Trick Mule also performed with Sally the dog. Pictured above, Kenneth Edwards of Seven Springs works his horses while plowing a field.
More ...

Rep. Lucy Allen resigns
Area Democrats have begun vying for the chance to replace Lucy Allen in the General Assembly.
Gov. Bev Perdue offered Allen a position on the North Carolina Utilities Commission last Friday, announcing the appointment this week.
On Thursday, Allen was preparing to write her letter of resignation as the House representative for Franklin, Nash and Halifax counties, effective April 12 — when she will be appointed to the Utilities Commission. More ...
CAREY JOHNSON, Special to The Graphic
County approves rezoning
Nash County Commissioners went against the Planning Board's recommendation and approved a rezoning request for a family to rezone close to six acres from agriculture to rural commercial.
The request came from Phillip L. Murray and Bryan Keith Murray, who own Murray Farms just outside of Spring Hope. More ...
Amanda Clark, Graphic Staff Writer
Tyre honored by NC 4-H
A Red Oak woman was one of two North Carolina 4-H volunteers recognized for leadership excellence to 4-H.
Barbara High Tyre was surprised with the Achievement Hall of 4-H Leadership Award during a Volunteer Leaders Conference in February at Research Triangle Park. Tyre said she did not know she had even been nominated for the prestigious award until a week before the conference. More ...
Amanda Clark, Graphic Staff Writer
Missing Nashville woman found safe
A Nashville woman who was reported missing late last week was found safe in Virginia.
A Silver Alert was issued for 69-year-old Mary Jane Evans on Thursday morning, after her family reported her missing. She was last seen on Wednesday night at her Indian Trail home in Nashville.
"They all went to bed around 11 p.m. and when they got up she was gone and the truck was gone," said Lt. Joey Corbett, with the Nashville Police Department. More ...
Amanda Clark, Graphic Staff Writer
Nashville PD Traffic Unit holds checkpoint
The Nashville Police Department's Traffic Unit held a checkpoint on Friday, March 26 that resulted in several arrests, including one of a man who had a .32 blood alcohol level.
The checkpoint was set up in front of Lowes Foods last Friday night. According to Officer G.E. Lane, who is one of two officers on the Traffic Unit, the checkpoint is one of at least four the department will have this year. More ...
Amanda Clark, Graphic Staff Writer
Heavy rains cause wastewater spills
During heavy rains that occurred last weekend, two Nash County towns had wastewater spills.
House Bill 1160, which the General Assembly enacted in July 1999, requires that municipalities, animal operations, industries and others who operate waste handling systems issue news releases when a waste spill of 1,000 gallons or more reaches surface waters. More ...

50TH ANNIVERSARY
Billy and Sandra Lamm, of the Sandy Cross Community, celebrated their 50th wedding anniversary on March 20, 2010 at Macedonia Baptist Church Fellowship Hall with a reception hosted by their childre. The Lamm's have four children; Craig Lamm, Lisa Joyner, Jeffrey Lamm and Susan Turner. They have four grandchildren; Lindsey Joyner, Jennifer Joyner, Jeffrey Lamm and Ashleigh Lamm and one great grandchild; Katelynn Lamm.
More ...


Congressman Bob Etheridge (far right) talks with the Nash-Rocky Mount Schools Superintendent Rick McMahon (center) and Board Member Joe Edge (far left) during a visit to Middlesex Elementary School last week.

Nash Board approves financing for Middlesex Elementary School
Nash County Commissioners approved a resolution last Wednesday that will pave the way for renovations to Middlesex Elementary School.
The emergency meeting was held last Wednesday morning following a ground breaking ceremony for the new Rocky Mount High School, which commissioners approved funding for in January of this year. The Middlesex Elementary School renovations were approved in September 2009.
More ...
Amanda Clark, Graphic Staff Writer
MILITARY NEWS
Army Spec. Calvin Parker Jr. participated in the 35th U.S. Army Culinary Arts Competition at Fort Lee, Petersburg, Va.
This year's competition featured more than 160 military chefs from around the globe in more than 40 culinary categories. The competition included cold hors d'oeuvres, field cooking, ice carving, and is rated the largest culinary competition in America. More ...

NC 4-H Leadership Team Award
The Nash County 4-H Extravaganza Committee won the NC 4-H Leadership Team Award. Pictured (L-R) is Dr. Theron McKinney giving the award to Sandy Hall, Andrea Peede and Cathy Dickson. Other team members not pictured are Harriett Medlin, Sharon Tyson, and Marlene Strufe
More ...

Recognition
Melissa Hartsell (at right) received the Northeast District Adult Volunteer recognition and 4-H Volunteer Bronze Level ACE Recognition Award.
More ...

North Carolina Farm Bureau Federation
The Annual Meeting of the North Carolina Farm Bureau Federation was held December 6-8 at the Sheraton Four Seasons and Joseph S. Koury Convention Center in Greensboro. Nash County Farm Bureau President Mr. Greg Bunn was recognized among his peers at the Presidents' and Agents' Luncheon. Farm Bureau President Larry Wooten presented each winning County President with a limited edition Case knife.

More ...

Peachtree Community News
The Peachtree Church Family and Community were saddened by the passing of Karen Edwards on Tuesday afternoon, March 30. She had been an inspiration to many people, by her positive attitude as she confronted and fought against her illness. Sympathy is extended to her husband, Lawrence, and her family and to the many others who share in this loss. Her funeral service was held on Thursday at Peachtree Church, followed by her burial in the church cemetery. More ...
BARBARA HARDISON
Mt. Zion FWB Church News
Some of our people enjoyed a Sunrise Service held outside this morning. I couldn't make it, but Earl did. Breakfast was served afterwards.
More ...
ROSALENE BASS
Ephesus Community News
Easter "Son" Rise Service began as the early morning sun peeked through the trees at Spencer's Trace and was observed as a time of remembrance of the great sacrifice Jesus made for us on the cross and his resurrection. As the service came to a close, we all sang "Because He Lives".
More ...
BY DEBBIE PHILLIPS
Relay for Life News & Events
Spirit Night: Southern Angels have Living Faith Relay for life team is holding a spirit night on Tuesday, April 6 at Smithfield's Chicken and BBQ in Nashville from 5 until 8 p.m. Twenty-five percent of all sales goes to Relay for Life. More ...

New members inducted into ADK
Alpha Delta Kappa is an international honor sorority for women educators. The sorority was chartered in Jefferson City, Missouri and has its headquarters in Kansas City, Missouri. This sorority promotes excellence in education and recognizes outstanding women educators. More ...

Beulah Community News
We want to thank everyone for the great turn-out at the monthly fish fry on Friday night. It was really nice and was great to see you all. It was the beginning of a great holiday. On Sunday morning at 6:30, about forty people helped begin the Easter celebration by attending Sunrise service at the Beulah Church of Christ. Daniel West, minister welcomed everyone and we sang "He Arose" followed by prayer. More ...
WILMA ENROUGHTY
YOUTH OF THE YEAR
The Boys and Girls Club of Nash/Edgecombe Counties hosted its annual Youth of the Year celebration on Thursday, February 25 at Nash Community College. Mercedez Haywood (pictured above center) was recognized as the Youth of the Year.
More ...

Taubenheim named new director at Coastal Plain
Toby Taubenheim, M.S. MHA has been named the program director for Coastal Plain Hospital, a facility of Nash Health Care. Taubenheim previously served as the director of behavioral health services for Rutherford Hospital and has extensive experience in both the clinical and administrative facets of behavioral health care. Taubenheim earned two master's degrees, one in marriage & family therapy and a second in health care administration. More ...

Twin County Hall of Fame is accepting applications
The Twin County Hall of Fame is accepting Nominations thru April 30, 2010 for its 2010 Induction.
The goal of Twin County Community Pride, Inc (TCCP) is to honor citizens of Nash and Edgecombe Counties who have made broad and lasting contributions to the betterment of the community or who have brought recognition to the community through their accomplishments.
More ...

Faculty Roast planned at NCC
The Nash Community College Alumni Association announces its first ever faculty roast. On April 22, 2010, Nash Community College will roast retired nursing instructor Jo Anne Rodri.
Rodri joined the Nash Community College faculty in 1980 and has shaped many nursing students' careers. She officially retired in 2005 and returned to the classroom as an adjunct instructor and continues to leave her special imprint on the nursing program and Nash Community College. More ...

Nash native recognized as NC Wildlife Officer of Year
The National Wild Turkey Federation has recognized Master Officer Philip A. Lucas as North Carolina's Wildlife Law Enforcement Officer of the Year.
Lucas, a Nash County native, has been with the N.C. Wildlife Resources Commission for nine years. He is currently stationed in Franklin County. More ...

KIWANIS TERRIFIC KIDS
Cedar Grove Elementary School celebrated its Terrific Kids and Citizenship Awards for the last six weeks on March 12. Nashville's Kiwanis Club sponsors the Terrific Kids program. One student from each class is chosen by their classroom to receive a Terrific Kid and Citizenship Award, which is based on excellent character traits.
More ...

Contributed photo MERIT BADGE COURSE
Souteastern Freight Lines of Rocky Mount hosted Boy Scout Troop 587 of the West Edgecombe Ruritan Club on February 20 for a truck transportation merit badge course. Of the 23 that attended, 15 boy scouts earned their merit badge in truck transportation. The boys learned the basics in trucking and what it takes to run a trucking company such as Southeastern. There are 10 requirements for the course which includes everything from day to day operations to a tour of the facility and the shop. James Tolston and Robert Bone, both of Southeastern, taught the course.
More ...

RMA Odyssey of the Mind teams place at regional competition
The two Odyssey of the Mind teams representing Rocky Mount Academy performed very well in the recent regional competition held at NC Wesleyan Dunn Center. Competing against public and independent schools in the area, RMA's Sixth Grade team took first place, and the Third Grade team took third place. More ...

Life according to Kent, in his own words
(Editor's Note: Due to innovations from the Apple Co., Mike's son, Kent will be writing this week's column, in essay form. He will celebrate his fifth birthday within days of this issue.)
How to be 5 years old
By Kent Brantley More ...
Mike Brantley
Springtime in Nash County is busy!
Nashville's Recreation Department hosted its first Easter Egg Hunt Monday and I think the staff had about as much fun watching the kids as the kids did finding the eggs!
I was out in the middle of the field of eggs with my camera waiting for them to turn the children loose with their baskets and I truly believe I felt the ground shake as they all began running towards me! I began snapping photos as fast as I could, but they were really fast! I managed to get some photos and they managed to clean up over 2,000 eggs in a matter of minutes!
More ...
Jo Anne Cooper
Local student spends time with Nashville Graphic staff
I recently interned at the the local Nashville paper, The Nashville Graphic, and I really enjoyed my time at The Graphic. I learned about what a career as a journalist is like and my brief internship at The Graphic has altered my ideas of what a career as a journalist is really like. I thought that journalists were always stressed. I got this idea that journalists, editors, and people who work to produce newspapers were always stressed. I saw that the staff at a newspaper company are not that stressed.
More ...
Changing Perspectives, By Jonathan Kim
Backward Glances
Jay Matthews (far right) was the winner of the Pinewood Derby race held by Nashville's Cub Scouts in 1967. This photo was first published in The Graphic May 4, 1967. Jim Glover (left) came in third and Wes Vanhook (second from left) placed second.
More ...


NASH CENTRAL MOUND MASTER. Pitcher Jeremy Sloop has been strong on the hill early in the 2010 season for the Nash Central High School baseball squad. NC is playing today at the Tarboro Classic.

SOLID START FOR NC
ROCKY MOUNT -- Nash Central High School's baseball team had never entered a contest with rival Rocky Mount on a higher note.
The Bulldogs were 7-1 on the season and riding a seven-game winning streak when the Gryphons came to Dawg Pound last Tuesday for their respective Big East Conference opener. More ...
CHARLES ALSTON, Graphic Correspondent

SEASON OF EXCELLENCE FOR THE LADY CANES. Nash County resident Megan Murray is enjoying a solid campaign as a freshman first basebaman for the Louisburg College softball team. Murray attended Southern Nash High School.

Murray Makes Mark For LC
LOUISBURG -- Nash County has a rich history of sending fast-pitch standouts to compete for the Louisburg College softball program.
And Southern Nash's Megan Murray is adding her name to that impressive list during the 2010 season.
Murray isn't the first Ladybird to attend Louisburg -- talented performers such as Brandy Winstead, Sherry Boone and Kym Lamm, among others, have traded SN's blue and red uniform to wear the same colors at LC.
More ...
GEOFF NEVILLE, Graphic Sportswriter
Bulldogs to play in Tarboro
TARBORO -- The Nash Central High School Bulldogs will be in action over Spring Break as part of the annual Tarboro Baseball Classic at Municipal Stadium in Edgecombe County.
In addition to the Bulldogs, the other clubs in the eight-team field are Rocky Mount Academy, SouthWest Edgecombe, St. Maria Goretti, Tarboro, Jefferson Forest, Lawrence Academy and Roanoke Rapids. More ...
Staff Reports
Slam sends NC Wesleyan to win
ROCKY MOUNT -- Senior Greg Viggiani blasted two home runs, including a walk-off grand slam in the bottom of the ninth, to lift his North Carolina Wesleyan College baseball squad to a 9-5 USA South Conference victory over Ferrum College last Friday afternoon at Bauer Field on the NCWC campus.
More ...
Staff Reports
Pirates drop league series against Tulane
GREENVILLE -- Jeremy Schaffer's two-run home run in the seventh inning proved to be the game winner as Tulane took Game Two of the Saturday doubleheader 7-5 from East Carolina University and walked away with the Conference USA baseball series 2-1 at Lewis Field inside Clark-LeClair Stadium. More ...
Staff Reports
MAKING SACRIFICES AT LC.
Every member of the Louisburg College softball squad is expected to know how to bunt -- including Nashville resident Megan Murray.
More ...

TAKING A GOOD LOOK
Nash Central High School's Mike Narron watches a pitch sail by during the Bulldogs' home baseball game last Tuesday versus Rocky Mount.
More ...


Blaine Hale helps his little sister Jillian find Easter eggs.

Local kids enjoy Easter Egg Hunt
About 50 children turned out at Nashville's Easter Egg Hunt Monday hosted by The Town of Nashville's Recreation Department. Over 2,000 eggs were put out for children to find. The event started at 10 a.m. followed by a special Easter story time at Cooley Library. Recreation Director Jim Glover and staff were pleased with this year's turnout and were already making plans for next year's event.
More ...


Wally Overman and Frank Joyner rehearse.

The Abbrev's reunite for RELAY!
After a 45-year hiatus, members of the Abbrev's are picking up their guitars and microphones to perform a benefit concert for the American Cancer Society.
Members of the group are from Nash County. The original members lived in the same Rocky Mount neighborhood and got together to form the rock and roll band. More ...
Amanda Clark, Graphic Staff Writer
ORA LEE SHERROD ABERNATHY
NASHVILLE - Ora Lee Sherrod Abernathy, 75, passed away, Saturday, April 3, 2010. She was born September 11, 1934 in Nash County. She was the daughter of the late Sammie and Sadie Mae Worrell Sherrod. She was preceded in death by her husband Rev. Cecil Abernathy. More ...

LUCILLE MYRICK PIERCE
NASHVILLE - Funeral services for Lucille Myrick Pierce, 88, who died Thursday, April 1, 2010, will be Friday, April 9 at 1 p.m. at Social Union Baptist Church. Burial will follow in the New St. John Cemetery with Rev. Nathaniel Bunn officiating. More ...

NAOMI WHITLEY NORWOOD
NASHVILLE - Funeral services for Naomi Whitley Norwood, 86, who died Friday, April 2, 2010 were at 3 p.m. Tuesday, April 6, at Union Hill Baptist Church. Burial followed in the Oakland Cemetery with Rev. Thomas E. McCullers officiating. More ...

VALARIE RICHARDSON
NASHVILLE - Funeral services for Valarie Richardson, 48, who died Saturday, March 27, 2010, were at 1 p.m. Friday, April 2, at Pine Chapel Baptist Church. Burial followed in Oakland Cemetery with Rev. Robert Hedgepeth officiating. More ...