Subscribe/Access
Advertisements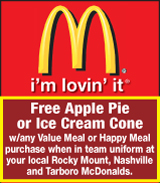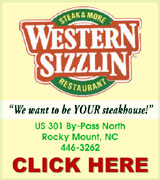 Sections
Member Options
Back
Castalia appoints new commissioner
At a special called meeting Monday night, Castalia commissioners appointed Gustaf Sjoberg as a town commissioner to fill the seat left vacant by Eva Rice, who resigned town months ago. Sjoberg had run for the post of commissioner in the recent municipal elections, but had come in last, garnering only 10 votes (9.4%) of the votes cast.
The decision caused a degree of controversy in an already complicated board upheaval. Castalia will be losing three of its five commissioners at the end of this year as the two incumbent commissioners did not run for reelection as their terms expire. The seats currently occupied by Commissioner Russ Sigmund and by Commissioner Freda Roberts will be filled by newly-elected commissioners Clarence Bender who received 29 votes (27.3%) and write-in candidate Jeanette Evans who received 27 votes (25.5%). More ...
Amelia Harper, Graphic Correspondent
SALUTING VETERANS
Students at Spring Hope Elementary School honored local veterans last Tuesday at the school's annual Veterans Day Luncheon. Around 20 veterans attended the luncheon, eating lunch with the students. The luncheon is offered each year by Hope Murray, the Cafeteria Manager at the school.
Pictured above is Pharrell Davis.
More ...


Mullins

Two arrested for string of break-ins
A Middlesex couple was slated to make their first appearance in court on Friday after investigators say the duo went on a multi-county crime spree, stealing jewelry from as many as 20 houses, including a handful of homes in Franklin County.
Investigators arrested Richard Phillip Mullins, 36, and Lindsey Marie O'Hara, 28, of N.C. 231 on Tuesday after investigators tightened a probe that began with reports of home break-ins in several counties, including Franklin, Nash, Wake, Johnston and Wilson counties.
More ...
CAREY JOHNSON, Special to The Graphic
NHCS looks at Middlesex facility progress
Nash Health Care Systems is closer to expanding its health care coverage to the southern end of the county.
In March 2008, Nash County's Board approved a sales contract with Nash Health Care Systems for 59.83 acres located in Middlesex.
After studying the area and the needs of the area, the hospital is now looking at building a facility that will provide primary urgent care to the Middlesex and surrounding areas. More ...
Amanda Clark, Graphic Staff Writer
Nashville to buy land for Town Hall parking
Nashville's Town Council approved the sale and purchase of land behind the new town hall facility at its regular meeting earlier this month.
The land comes at a price tag of just under $70,000 and will be used for additional parking at the Nashville Town Hall Facility.
The land backs up to the new town hall and fronts on Boddie Street. The land is being sold by Ruby Tunnell. Currently, a house sits on the property at 404 Boddie Street. More ...
Amanda Clark, Graphic Staff Writer
Nash Board identifies top goals at retreat
Nash County Commissioners pulled together its top goals and priorities for the coming years and also hit on a few key issues during an all-day retreat on Friday.
The retreat, held at Wordsworth Farm on the Edgecombe County side of Rocky Mount, provided an opportunity for commissioners and department heads to meet and review existing goals and also to set new ones for the future. The retreat was also an opportunity for commissioners to relay their concerns to County Manager Bob Murphy and other department heads. The retreat was facilitated by Chris Aycock, of The Aycock Group. More ...
Amanda Clark, Graphic Staff Writer
Toy ministry to help families during Christmas
A local church is hoping to use its ministry to ensure families in need have a happy holiday season.
Castalia Baptist Church is hosting its first Christmas Family Toy Ministry. The ministry will help families in financial crisis with toys for their children during the Christmas season.
Though this is not the first time the church has gotten involved in helping needy families at Christmas, it is the first time the church has worked more on its own.
More ...
Amanda Clark, Graphic Staff Writer

Anna Deans, President of the Community and Rural Development Council and a member of the Nashville Willing Workers, lights a candle in remembrance of those who have passed away.

Community and Rural Development Banquet
The Community and Rural Development Council hosted its annual banquet on Friday night at the Nash County Agricultural Center in Nashville.
The banquet represents the joining together of seven community groups in Nash County, which make up the Community and Rural Development Council, in a setting of achievement and fellowship. These groups work hard during the year to establish programs and set goals that will enhance the lives of Nash County residents. The council's goal is study the social, cultural, and educational environments in Nash County then to formulate plans, activities or programs that would address these identified needs. The committee was formed in 1983 by the Agricultural Extension Service in order to help better serve the needs of Nash County. More ...


Colonel John K. Love, center, was the keynote speaker for the Veterans Day Memorial last Wednesday. Pictured with Love is Marjorie Love (far left) and Vince Tesoro (far right), Chair of the JVC.

JVC honors veterans with special ceremonies
The Joint Veterans Committee (JVC) of Nash and Edgecombe Counties honored veterans in two separate ceremonies last week in honor and recognition of Veterans Day.
On November 10, the JVC gave a barbecue dinner for approximately 140 troops of the 849th Quartermaster Company, which is deploying to Afghanistan in January. Rocky Mount City Councilman WB Bullock, Vice Commander of American Legion Post 110 James Ervin and Chaplain Jim Boehm were the guest speakers.
More ...

FOUR GENERATIONS
Pictured are four generations of the Long family. Thelma Hyde Long of Nashville (seated) holds her great-grandson Zachary James Long who is 4 1/2 months old. Seated to the far right is her son, Tony Long. Seated to the far left is Tony's son and Thelma's grandson Brad and his daughter Kaytlyn. Zachary is also Brad's son.
More ...

Spring Hope native inducted into Chowan Hall of Fame
MURFREESBORO - The Chowan University community will come together on Saturday to induct the newest members of the Jim Garrison/Chowan University Hall of Fame. This year's class marks the 24th class to be inducted. This year's class includes five members that have had major impacts on Chowan University and the athletic programs that they represented during their playing and coaching careers. More ...

ENGAGED
Mr. and Mrs. Charles Craig Price of Nashville announce the engagement of their daughter, Christy Nicole Price to Robert Matthew Pannell, the son of Mr. and Mrs. Roger Franklin Pannell of Rocky Mount. The wedding will take place on May 15, 2010 at Ocean Isle Beach.
More ...

ENGAGED
Mr. and Mrs. Carlton Lee Glover of Elm City announce the engagement of their daughter, Jennifer Lee Glover, to Christopher Wayne Jenkins, the son of Mr. and Mrs. David Wayne Jenkins of Elm City. The wedding will take place on January 16, 2010 at Ephesus Baptist Church.
More ...

MILITARY NEWS
Air Force Reserve Senior Airman Aaron M. McClure has arrived for duty at Seymour Johnson Air Force Base, Goldsboro, N.C.
McClure, a heavy equipment operator with seven years of military service, is assigned to the 567th Red Horse Squadron.
He is the son of Tina and stepson of Tony W. Ward of Sharpsburg.
The airman is a 2002 graduate of Southern Nash Senior High School. More ...

Coopers Elementary Honor Roll
A - HONOR ROLL
THIRD GRADE:
Tanner Long, Olivia Irvin, Chandler Padgett, Adam Jose-Reyes, Jacob Rhodes, Summer Joyner, Collin Tadlock, Jubie Moss, Adam Abdelhadi, Bryan Joyner, Makayla Maloney, Jordan Parsons-Lamm, Will Speight, Jonathan Ellis, Sharon Jones, Kaylee Mills, Lance Morgan, Jacob Ngo, Aaron Parker, Nathan Reason, Hunter Robinson, Anna Speight, Trey Whitley, Kourtney Whitley, Makayla Williams, Caleb Brayboy, Braxton Curtis, Beth Seagroves, Abby Tyson
More ...

Spring Hope Elementary Honor Roll
First Grade Grade Level Achievers
Mrs. Finn - Mallory Bass, Mason Cone, Cristian Espiritu, Camille Hall, Brooke Lucas, Landon Nall, Anna Strickland, Michelle Vargas, Blake Wood
More ...

Beulah Community News
Any of you ladies who were not at the Ladies Retreat on Saturday really missed a great time. We had a great speaker, Amy Carroll from Holly Springs. She is a member of Proverbs 31 Ministries. The theme was "Chick flicks: "Lessons From The School of Sisterhood". Registration began at 9:00. The welcome was given at 10:00 by Amy West. We had song service and special music by Mindy Bone with her mother, Bonnie Matthews at the piano. Amy West used sign language while Mindy sang. Bre Matchum and Mindy also led songs in which all the ladies participated. More ...
WILMA ENROUGHTY
Ephesus Community News
The beautiful sunshine brought everyone to God's house to worship together on Sunday. We are thankful for the many visitors and extended families that joined us and hope that you will come again.
Scott Strickland announced it was his and Lisa's 22nd wedding anniversary. It was also special because it had been Scott's parents' (C.A. and Peggy Strickland) wedding anniversary, as well as his grandparents' wedding anniversary. Scott, we join you and your family in celebration of this special date. More ...
DEBBIE PHILLIPS
Castalia Baptist News
Feast for Friends -- what a great way to spend Thanksgiving! This is Castalia's annual Thanksgiving Day service starting at 8:30am for anyone who would like to come and take part in a season of thanksgiving for the many blessings they have received in the past year. More ...
KATHY FREEMAN-ROBLES
Peachtree Community News
Sunday dawned as a beautiful sunny day. The sun was so welcomed after a rainy, blustery week. The rain was a blessing, as most of the area has been in a drought.
Pastor Whitehouse conducted a beautiful, believer's baptismal service at the beginning of the Sunday morning worship service. The baptismal candidates were Amy Bass, Brandon Bass and Dara Frienden. The Adult Choir sang, "He Touched Me".
More ...
BARBARA HARDISON
Red Oak Community News
The Women in Action of Red Oak Baptist Church met on Tuesday, Nov. 10 at the home of Jeanette and Hazel Hill. They enjoyed the time together with a hot dog supper, monthly missions program, and mission action. They contributed filled shoeboxes for Operation Christmas Child.
More ...
SUZY PEARCE
Mt. Zion FWB Church News
Our choir sang "Sanctuary" for the call to worship. Jason Modlin welcomed everyone and prayed the invocation. Hymns of worship were "To God be the Glory" and "Come, Ye Thankful People, Come." Prayer concerns are Brother Elza Manning, still in the hospital, the other sick and shut ins. Ami Modlin's mother fell and broke her shoulder. Bob Watkins prayed the morning prayer. We worship through giving. Ushers, Andy Jones and Tim Bass received the tithes and offerings. Andy prayed the offertory prayer. We all sang the doxology in praise to God. Bobby and Kim Farmer were in charge of children's church. Thank you. More ...
ROSALENE BASS
Certificate of Appreciation
Lt. Wegel presents a Certificate of Appreciation to James Ervin following a meal provided by the JVC to soldiers in the 849th Quartermaster. The unit is preparing for a deployment to Afghanistan. More ...

Sign Team Dancers
The Sign Team Dancers of Union Hill Missionary Baptist Church perform Friday night during the Rural and Community Development Banquet.
More ...

Correction
Correction: In last week's edition of The Nashville Graphic, we inadvertently mislabeled a picture that ran on page 1. The photo says sixth graders at Southern Nash High School held a reception for veterans. It should have said sixth graders at Southern Nash Middle School. We apologize for the error and any inconvenience this may have caused.
More ...

The mystery behind Black Friday
As regular readers of this column know, there are many things I do not understand.
The Holiday Season often brings up a great many of these mysteries.
For example, I have never understood why turkeys usually only go on sale at Thanksgiving. You would think that would be the one time of year (or maybe two, counting Christmas) that a retailer could actually get full price for a bird. After all, folks are going to have their turkey on the fourth Thursday in November every year. More ...
Mike Brantley
Getting a handle on the holiday timeline
Sometime in the midst of the Halloween season this year, I became confused.
As I walked down the aisles of stores in the area, I noticed Christmas decorations already up, right beside or pretty close to the Halloween stuff.
My first reaction was to get out my trusty Blackberry to make sure it really was October. My next reaction was to sigh.
The holidays have come fast enough this year without having to push it on us in October. That's two months early!
More ...
Amanda Clark
We are slaves to those we owe
The American people have been asleep for years while our elected officials spent our tax dollars like drunken sailors. 12 TRILLION plus ($12,000,565,227,451.96) has been charged to our CREDIT CARD as of November 12, 2009 and our debt is growing 3.6 billion per day. Mind boggling! September of '08 we were startled out of our slumber by President Bush and the TARP Bill (bank bailout) costing us $700 billion dollars. NC Congressmen Etheridge, Price, Watt, & Miller voted for this Credit Card expenditure. On the heels of the Tarp came the Auto Industry Financing Bill $14 Billion dollars. NC Congressmen Etheridge, Price, Watt, & Miller voted to add this to our Credit Card debt.
More ...
Letters to the Editor: - 1 opinion posted
Our "silly season"
There are those among us that think the debate over the current health care legislation could lead us to "a silly season". I contend that we are in "a silly season" already. Our silly season started way before September 2008 but was brought to the forefront by actions that took place in September 2008 and thereafter.
What started our silly season? It is all the spending that has gone on over the last seven (7) years. The silly season has really been highlighted by the enormous spending bills since September 2008. More ...
Letters to the Editor:
Backward Glances
We found this photo in the 1974 Graphic archives. It was filed with Spring Hope photos, so we're suspecting it was taken somewhere in that area. More ...
A PICTORIAL LOOK INTO THE PAST

ROOM TO RUN. Southern Nash High School's Trendell Lynch finds some open field for the Firebirds during Monday night's road victory at Erwin Triton in the opening round of the Class 3-AA State Football Playoffs.

SN WINS BIRD BATTLE
ERWIN -- After using a dose of trickery to obtain their first touchdown, the Southern Nash Firebirds went back to their preferred style of football to wrap up a postseason victory Monday at Erwin Triton.
Power. Power. And more power.
With their season on the line, the Firebirds took the lead for good on a drive late in the third quarter.
Then, with a chance to clinch the conquest, Southern Nash methodically marched downfield before converting a pair of clutch fourth-downs en route to the score that put the game away. More ...
GEOFF NEVILLE, Graphic Sportswriter

THERE GOES GRANT. Nash County's Grant Jones breaks through the line on his way to a nifty gainer during last Saturday afternoon's road victory over Northern Alamance in the Statewide Athletic Committee Football tournament quarterfinals.

NC Waltzes Into Semifinals
ELON -- In an attempt to continue to go where few area youth football teams have gone, the Nash County Firebirds did exactly that last Saturday afternoon.
As part of their continued run through the Statewide Athletic Committee Football Playoffs, the Firebirds made the long journey to Northern Alamance for a quarterfinal matchup.
Given the success of Western Alamance High School -- the program Northern feeds into -- it was expected that this would be a difficult contest for the undefeated Nash County contingent.
More ...
GEOFF NEVILLE, Graphic Sportswriter
Swimming campaign will begin
NASH COUNTY -- The Big East Conference will begin its 2009-10 swim season today at the Rocky Mount YMCA.
Action is scheduled to start at 4 p.m.
This year's league competitors will be Southern Nash, Nash Central, Northern Nash, Rocky Mount, Wilson Fike and Wilson Hunt.
The complete Big East Conference swim schedule is as follows (all events will be held at the Rocky Mount YMCA):
More ...
Staff Reports

Southern Nash's John Johnson fires a pass while running back Sextus Vane prepares to block.

JV Team Claims Crown
STANHOPE -- Success isn't just coming to the Southern Nash High School football program on the varsity level.
Southern Nash Middle boasts several promising youngsters, and the Nash County youth club is two victories away from a state championship.
Then there's the SNHS junior varsity squad, which went undefeated as part of a historic campaign in 2009. More ...
GEOFF NEVILLE, Graphic Sportswriter
Transfers to spark RM hoops team
ROCKY MOUNT -- Before this past summer, Rocky Mount High School head boys basketball coach Mike Gainey was wondering who was going surround his senior standout forward Tashawn Mabry.
After all, graduation hit his program pretty hard, including losing four-year starter and point guard Alonzo Sharpe.
More ...
CHARLES ALSTON, Graphic Correpsondent
RM wins at home versus S. Central
ROCKY MOUNT -- Rocky Mount's football team hadn't lost a first-round playoff game since 2003 and its 2009 senior class wasn't about to see the streak end last Friday night.
The Gryphons, playing in one of the few NCHSAA playoff games contested Friday in the northeastern part of the state that was drenched by remnants of Tropical Storm Ida, managed to dispatch visiting South Central 24-20 in the 3-AA proceedings at the Rocky Mount Athletic Facility. More ...
CHARLES ALSTON, Graphic Correspondent
NC Wesleyan finishes off league title
DANVILLE, VA. -- For the second time in program history, the Battling Bishops of North Carolina Wesleyan can call themselves USA South Conference Football Champions.
NCWC secured its second undefeated league title in the past three seasons with a dominating 49-27 victory at Averett University last Saturday. More ...
Staff Reports
COPPEDGE ON THE CORNER
Southern Nash's Tracey Coppedge (with ball) makes his way upfield during the Firebirds' road conquest Monday night at Triton in the Class 3-AA State Playoffs.
More ...

Marching Knights finish strong
The Northern Nash Marching Knights completed their 2009 season by competing on consecutive weekends, at Cary Band Day on October 31st and in Annapolis Maryland at a USSBA National Competition on Nov. 7th. In both events they were entered in Class 5A against some of the best bands in the country. The Knights learned how to handle pressure and unexpected circumstances in Cary. Although they did not have an ideal performance, they stayed strong and put forth a solid show receiving a superior rating at their final North Carolina Music Education Sanctioned event. As they traveled to Maryland, they were determined to finish the season in a positive manner, and they definitely succeeded.
More ...

BESSIE BLOUNT
ROCKY MOUNT - Bessie Blount, 95, died Sunday, November 8, 2009 at Nash General Hospital in Rocky Mount. More ...