Subscribe/Access
Advertisements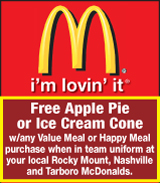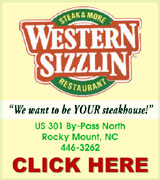 Sections
Member Options
Back
Teen charged with attempted murder
A teenage girl was charged with attempted murder after allegedly setting her home on fire.
Nashville's Fire Department responded to a house fire on Vernon Street on October 15. Fire Chief Tim Pope said when fire personnel arrived, they found a working house fire that was about 25 percent involved. Firefighters contained the fire to a back bedroom with significant smoke and heat damage throughout the house.
"The initial investigation found the cause and origin to be suspicious," Pope said.
More ...
Amanda Clark, Graphic Staff Writer

Tommy Rogers

Voters choose Rogers - Taylor
Nashville voters re-elected incumbent Tommy Rogers to the Town Council Tuesday and also chose a new face, Larry Taylor, to its board. Four contestants ran for the two at-large seats open on the council.
According to the Nash County Board of Elections' website at press time, only 9.82% of the Nashville's 3,800 registered voters cast their vote Tuesday.
"I'm looking forward to the next four years," said Rogers, More ...

CURIOUS TRICK-OR-TREATORS
Clara Danforth and Blaine Hale watch the festivities at Cooley Library's annual Halloween Bash, held last Thursday, October 29. The festivities included games, prizes, stories and face painting.
More ...

Nashville loses another top cop
Nashville's Police Department has another opening to fill, as Sgt. Ala Alzer resigned from the department, citing personal issues.
Alzer has been with the Nashville Police Department for seven and a half years. He said his decision to leave was based on many reasons. However, Alzer added, he wasn't forced to resign.
"I wasn't fired or forced to resign," Alzer said. "I resigned for personal issues." More ...
Amanda Clark, Graphic Staff Writer
George's BBQ Sauce may build at business center
Nashville's Town Council approved the appropriation of $74,592 to aid two businesses in locating in the town.
One of the businesses is already a successful and local company. George's Barbecue Sauce, who is currently operating just outside of town on Womble Road, is looking to expand its business.
Nashville's Town Council approved on Tuesday night giving the company eight acres of land in Nashville's Business Park.
More ...
Amanda Clark, Graphic Staff Writer
Flat Stanley travels to the White House
He's been to Hawaii. He's been to Disneyland. And now, Flat Stanley has spent some time in the White House.
Flat Stanley, a character in a children's book, returned to second graders at Nashville Elementary last week via an envelope postmarked from the White House and President Barack Obama.
During the last school year, second graders in Diane Day's class learned about Flat Stanley and his adventures. More ...
Amanda Clark, Graphic Staff Writer
Write-in candidate is top vote getter in Castalia race
Write-in candidates were popular in Castalia this election, as a write-in was the top vote getter for the commissioner seats and for the mayor's race, earned 31 percent of the votes.
A write-in candidate, who is not known at this time, received to 45 (42.45%) of the votes in the Commissioner's race in Castalia.

More ...
Amanda Clark, Graphic Staff Writer
OLCAFA requests board drop its annexation plans
The Oak Level Community Against Forced Annexation, or OLCAFA, asked Rocky Mount leaders to void its plans to annex the Oak Level community at the board's regular meeting last Tuesday afternoon.
The request was made by Charlene Moore, a resident of the Oak Level community and one of the leaders of OLCAFA. Moore asked that Rocky Mount City Council members adopt a resolution that essentially voids the proposed annexation. Moore, reading from the proposed resolution, said because the City of Rocky Mount had recently been declared to be among the top 10 most impoverished municipalities in the United States and because the city could not afford the forced annexation of the Oak Level community and could also not afford a lengthy court battle, it should "nullify and void the proposed annexation of the Oak Level Community." More ...
Amanda Clark, Graphic Staff Writer
Firefighters save Nashville woman from house fire
Nashville Firefighters pulled an elderly woman from her bedroom window Sunday night after her home caught on fire.
Nashville's Fire Department responded to a house fire at 613 Cockrell Road on Sunday night, around 11:45 p.m. When firefighters arrived, Chief Tim Pope said heavy smoke was coming from the home. Firefighters found 85-year-old Mozella Battle at the window of her bedroom. More ...
Amanda Clark, Graphic Staff Writer
Parents ask NRMS Board for more help in classrooms and on buses
Parents of students in the Nash-Rocky Mount Schools (NRMS) system addressed the board at their Monday night meeting to ask for help.
The first three ladies — Maggie Pearson, Cynthia Cooper, and Andrea Cooper — reported that there are not enough teachers at Pope Elementary School. "Thank you for giving us two more teachers," Person said, "but we still need a little more help. Our children deserve so much more than what they're getting."
More ...
Michele A. Cruz, Graphic Correspondent
Nashville PD begin e-policing initiative
Nashville's Police Department is offering those that live, work or visit Nashville the opportunity to sign up for a service that will provide weekly police reports via email or text message.
The "Stay Informed" initiative officially began last week. Community Services Officer George Bottoms is heading up the project, which will provide police reports on a weekly basis to those that want to receive it.
More ...
Amanda Clark, Graphic Staff Writer
Joyner named captain at NFD
Nashville's Fire Department recently promoted Chris Joyner as Captain of the "A" shift.
Joyner has been with Nashville's Department for around three years but has been in fire service for 24 years.
Joyner started part-time with Nashville in 2006. In 2008, he went to the career staff as a fire engineer.
Joyner has also served 18 years with the Coopers Fire/Rescue Department, where he currently serves as Chief.
More ...
Amanda Clark, Graphic Staff Writer
GIANT GRAPE
Luke Edwards of the Momeyer Community found this huge Scuppernong grape on a vine at his grandparent's house, Teck and Becky Bass. Pictured above he compares it to the size of a golf ball and it's almost as big! Luke is 8 years old and attends Spring Hope Elementary. He is the son of Beth and Tim Edwards.
More ...

AUTHOR VISITS
Lucia Peel Powe spoke to Nashville's Book Club at Cooley Library on October 1. Powe is the author of Roanoke Rock Muddle, a book set along the banks of the Roanoke River. Pictured Powe (at left) signs a copy of her book for Betsy Robertson (at right).
More ...

Halloween in Nashville
Jennifer Allen (left) gives candy to Ryan Anderson Friday morning during Nashville Elementary's annual Costume Parade, which goes to downtown businesses.
Each year, kindergartners participate in the parade, dressed in their best halloween costume.
More ...

Swindell appointed Vice-Chair of JOBS Commission
North Carolina high school students will receive comprehensive education to maximize their employment potential upon graduation with the help of a newly-created commission, Senator A.B. Swindell said
The new Joining Our Businesses and Schools (JOBS) Commission was created during the recent legislative session. It will be a three-year effort to establish partnerships between public schools, community colleges, and private businesses to develop an educational curriculum that will help graduates prepare to enter the workforce and gain skilled employment. Senator Swindell was appointed Vice Chair of the Commission, which is chaired by Lieutenant Governor Walter Dalton. More ...

4-H CITIZEN'S ACADEMY
Nash County provided a 4-H Mini Citizen's Academy this summer for 4-H Summer Interns. Patsy King headed the academy up. 4-H Summer Interns have to provide 30 hours of volunteer service to the 4-H Summer workshops, attend the Citizen's Academy, conduct a community service project, complete a leadership project record book and attend one optional activity hosted by 4-H this summer. As part of the Academy, the students learned about different aspects of county government. Pictured on the back row (L-R) is: Samuel Overman, Coy Herbet, Rebecca Peede, Taylor Joyner, Superior Court Judge Quentin Sumner, Morgan Tyson, Aaron Hartsell, Kayla Hartsell and Maryanna Bennett.On the front row (L-R) is Morgan Gay, Amanda Dickson and Courtney Hyman.
More ...

S&A named as top media company
A Nashville native's company was selected for its Inc. 5000 list of fastest-growing private companies in America.
S&A Cherokee, a full-service communications and media company, was selected by Inc. magazine for its Inc. 5000 list of fastest-growing private companies in America. S&A Cherokee is the only North Carolina company represented in the Media category and ranks 28th nationwide among all media companies. More ...

Mt. Zion FWB Church News
Brother Bob Watkins welcomed everyone to Sunday school and reported 97, including 2 visitors present. We welcome our visitors and invite them any time they can come. All those with a birthday in November were recognized, given a gift and we sang Happy Birthday for them. All those having a wedding anniversary this month were also recognized and given a gift. Brother Bob asked all the little girls to assist him in giving out the gifts. Zachary Tyner read the Bible verse for today. Thank you. More ...
ROSALENE BASS
Castalia Baptist News
Castalia Baptist enjoyed a Church Family Halloween Event at Charlie & Mary Nell Collins' home last Saturday complete with cake walk, horseshoes, hay ride, bonfire, hot dogs and much more. More ...
KATHY FREEMAN-ROBLES
Ephesus Community News
Pastor David Eidson led prayer and blessed the gift boxes donated for Operation Christmas Child, a project of Samaritan's Purse. He reminded us this is the only present many children will receive.
More ...
DEBBIE PHILLIPS
Red Oak Community News
Balloons, balloons, and more balloons filled the air at Nash Grove Manor in Nashville on Thursday, Oct. 29. The Adult II Sunday School Class of Red Oak Baptist Church gave out balloons to the residents of Nash Grove to let them know we are thinking of them. Members participating were Richard Davenport, Donna Davenport, Phyllis Petty, Audrey Pearce, Suzy Pearce, Phil Davenport and Vickie Davenport.
More ...
SUZY PEARCE
Beulah Community News
Even with the rainy day on Sunday, we had a great service at Beulah Church of Christ. We had lots of smiles and a good attendance. We do have great fellowship, friendly faces and inspirational services. We'd like to invite everyone to come and join us on Sunday at 9:45 for Sunday school and 11:00 for church. Daniel West, our minister brings us some great sermons every Sunday. More ...
WILMA ENROUGHTY
Peachtree Community News
Sunday's weather was dreary and rainy making it a perfect day to be inside church worshipping the Lord. The people of Peachtree came together on time even though the time changed during Halloween night. More ...
BEVERLY WILSON
Soapbox soccer support?
There comes a time when all opinion writers are faced with the prospect that they might have gotten it wrong on something.
Now before you jump to the wrong conclusion and think the Soapbox Staff is turning around on insignificant issues such as politics, government spending or global warming, we're not. It is far more important — we're talking about sports, and more specifically, soccer. More ...
Mike Brantley
No such thing as a one-sided coin
Last week's letter to the editor regarding the new gun shop in downtown left me with mixed feelings. Actually I have opinions on both sides and this entire ordeal has brought up some issues from the past.
The letter published last week mentioned the tragedy of Nash County buying up all the property on the block where the gun shop is located.
More ...
Jo Anne Cooper

FANTASTIC FIREBIRD. Southern Nash High School senior offensive lineman Phillip Dobbins will represent the Firebirds at the annual Shrine Bowl of the Carolinas Football Game in December in Spartanburg, S.C. (Graphic photo by Geoff Neville)

SHRINE SELECTION
STANHOPE -- Southern Nash's tradition of developing tough offensive linemen has continued this season, as the Firebirds have been able to run the ball at will against the majority of their opponents.
At every up-front spot in his lineup, SN veteran coach Brian Foster has a standout he can rely on.
And few can match the talents of senior Phillip Dobbins.
More ...
GEOFF NEVILLE, Graphic Sportswriter

HANDOFF. Rocky Mount High School quarterback Collins Cuthrell hands the ball off to back Marquavis Alston during last Friday night's Big East Conference football game against Southern Nash. The host Gryphons rallied for the victory.

RMSH Rallies To Top Firebirds
ROCKY MOUNT -- This hasn't been a stellar season for Rocky Mount High School senior running back Jordan Ford.
Ford led the team in rushing with over 1,100 yards last season, and much was expected of him for his senior campaign.
The big numbers haven't been there this season for Ford, but he still knows how to electrify a crowd and he did it twice last Friday night in the Gryphons' Big East Conference battle with Southern Nash. More ...
CHARLES ALSTON, Graphic Correspondent
Nash Co. reaches playoffs
STANHOPE -- Nash County's varsity team wrapped up Eastern North Carolina Football League action last Saturday with a 48-12 victory over the North Edgecombe Little Warriors.
The Firebirds, who were the league champs, closed with an impressive 8-0 worksheet.
Scoring for Nash County were Clinton Whitaker, Daron Harris, Jaquay Mitchell, Hunter Bailey and Cameron Rhodes. Whitaker also led the team in tackles. More ...
Staff Reports

Brandon Yarborough of the St. Louis Cardinals' organization instructs youngsters on the fine art of catching during last Saturday's Nashville Cardinals All-Skills Baseball Camp.

Faith hosts baseball clinic
ROCKY MOUNT -- Rain didn't stop the diamond parade during last Saturday's Nashville Cardinals All-Skills Baseball Camp.
The event was held at Faith Christian School, and organizers hope it will become an annual event.
The Nashville Cardinals 11-under Travel Team hosted the clinic for youngsters ages 7-12. Over 50 kids participated, including all 12 members of the Cardinals' squad.
More ...
Staff Reports
NC double dips at regionals
GREENVILLE -- Nash Central High School scored a rare double-dip during last Saturday's Class 3-A Cross Country East Regionals at H. Boyd Lee Park in Pitt County.
The Bulldogs and Lady Bulldogs both rolled to team victories in preparation for this Saturday's Class 3-A State Finals near Winston-Salem. More ...
Staff Reports
NC SHRINE BOWL ROSTER
SPARTANBURG, S.C. -- Listed is the North Carolina roster for the 2009 Shrine Bowl of the Carolinas Football Game, which will be played Dec. 19 at 1 p.m. at Gibbs Stadium on the campus of Wofford University: More ...
Staff Reports
Haywood sparks Bishops
FAYETTEVILLE -- Senior Bryan Haywood set a new single-game rushing record last Saturday afternoon with 203 yards on the ground to help lead North Carolina Wesleyan College to a 42-32 victory on the road at Methodist University.
Haywood averaged over eight yards per carry and tallied three touchdowns for the Battling Bishops, who amassed 525 yards of offense on the day. More ...
Staff Reports
RM duo reaches tennis finals
GREENSBORO --Rocky Mount High School girls tennis doubles team of Lindsay Thomas and Kate Gray fell in the NCHSAA Class 3-A girls doubles state championship match last Saturday to Chapel Hill High duo Tori Helpingstine and Hannah Kimbrough 6-1, 6-2.
Due to rain in the Triad area Saturday, the matches were moved from the Burlington Tennis Center to Greensboro's Piedmont Indoor Tennis Center. More ...
CHARLES ALSTON, Graphic Correspondent
LINE LEGEND FOR THE FIREBIRDS
Southern Nash High School lineman Phillip Dobbins has verbally committed to continue his football career at Elon University. Dobbins will play in the Shrine Bowl of the Carolinas Football Game, which will be held in December at Gibbs Stadium on the campus of Wofford University in Spartanburg, S.C.
More ...

Mitchell Gold speaks at recent event sponsored by PFLAG
Rose Marie Walston had no idea the pain her son had experienced throughout life until it was too late. In just his 30's, Walston had to bury her son after he overdosed on drugs.
Walston's son was gay.
The Nashville resident told her "coming out" story to over 100 people at Nash Arts at an event sponsored by the Rocky Mount Chapter of Parents, Families and Friends of Lesbians and Gays, or PFLAG. More ...
Amanda Clark, Graphic Staff Writer
OSCAR HARRISON COGGIN
Oscar Harrison Coggin, 76, passed away on Thursday, October 29, 2009. He was born January 11, 1933 in Halifax County. He was preceded in death by his loving wife of 50 years, Vanette B. Coggin. More ...