Subscribe/Access
Advertisements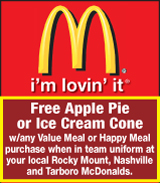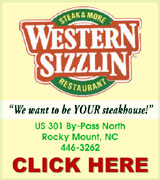 Sections
Member Options
Back
CASTALIA FOURTH OF JULY
Castalia celebrated the Fourth of July by hosting its annual festivities, including a car show, parade and a firework's show. Pictured above are members of the Sudan Shriners Fire Brigade unit during Castalia's Fourth of July Parade. The Fire Brigade unit is based out of New Bern and was one of several Sudan units who participated in this year's parade.
More ...

Nashville Fuel Doc robbed
Nashville Police are looking for a man who robbed the Fuel Doc on Barnes Street last Sunday morning.
Joey Corbett, an Investigator with Nashville's Police Department, said that at around 7:15 a.m. on Sunday, June 28, a man with a mask covering his face walked into the Fuel Doc armed with a revolver.
"It just so happened that the store clerks were working on their deposits from the day before so they had their money out where he could get to it," Corbett said. More ...
Amanda Clark, Graphic Staff Writer
Election filing begins
Thirty-four seats are up for grabs in upcoming municipal elections throughout Nash County, including two on Nashville's Town Council. Filing will end on July 17 at noon.
By 1 p.m. on Monday, Tommy Rogers, an incumbent on Nashville's Town Council, had filed for re-election. The seat currently occupied by Jacquelyn Wright is also available. Wright was appointed to the seat after her husband Frank Wright passed away in November of 2008. More ...
Staff Reports
Nashville Board accepts new Emergency Operations Plan
Nashville's Town Council approved an Emergency Operations Plan on Tuesday night that will better guide town officials in the event of an emergency.
The plan, which was developed through collaborative efforts between the Town of Nashville and Nash County Emergency Services, "establishes a comprehensive framework of policy and guidance for local disaster preparedness, response, recovery and mitigation operations." The plan details the town's capabilities, authorities and responsibilities.
More ...
Amanda Clark, Graphic Staff Writer
Nashville Athletic Youth Day set for July 18
Youth ages five to 18 will have plenty to do next Saturday, as the Brooklyn Area Community Watch presents the fourth annual Nashville Athletic Youth Day.
The all-day event, set for Saturday, July 18, will feature many different athletic activities, including 3-on-3 basketball, tag football, relay and track and field events and kick ball. In addition, there will be activities for the younger kids, including an egg on spoon game, bingo and frisbee. More ...
Amanda Clark, Graphic Staff Writer
Nashville man releases album
Adam Stone will always think of Nashville, North Carolina as home. But for now, Stone has his site set on another Nashville; Nashville, Tennessee.
Stone, who has been singing for as long as he can remember, released an album, "Right Time, Right Now," that he hopes will get him to Tennessee.
"This is the latest one and in my opinion the best quality to date," Stone said. "It's pretty much a country influence with some older rock and roll influences." More ...
Amanda Clark, Graphic Staff Writer
South Korean Judges visit Nash County Courthouse
Rachel M. Joyner, Nash County Clerk of Superior Court was host to five South Korean Judges on Tuesday, July 7.
"My staff and I were greatly honored to have been chosen to handle the task bearing such enormous weight in providing direction to judges from another country," said Joyner. "Our wish is that we adequately met the challenge."
The judges, Sangyeon Kim, Hwan-seung Yang, Jeong Mo Ban, Byungcheol Choi and Guen Yoon, visited the Nash County Courthouse to observe civil and criminal court trials and to learn about our jury system. Korean Courts have only recently introduced jury trials and the judges chose North Carolina and Nash County in particular in their search for various court procedures to implement in South Korea. More ...

Glover takes JV football coaching job at RMA
Nashville's Recreation Director has taken a position coaching football at Rocky Mount Academy but said he won't be leaving his position in Nashville.
Jim Glover, who has worked with the town for 13 years, said he has accepted a position coaching JV Football at Rocky Mount Academy. The position would be part-time.
"I've been hired to coach the 9th and 10th grade JV football," Glover said. "I'm looking forward to it."
More ...
Amanda Clark, Graphic Staff Writer
Four arrested and charged with breaking into cars
The Nash County Sheriff's Office has arrested four men and charged them with breaking into nine cars in Castalia.
According to Lt. Pat Joyner, of the Nash County Sheriff's Office, the breaking and enterings were reported on June 26 around 6:30 a.m. Joyner said all nine cars were located in the same neighborhood in Castalia.
"They just went around that neighborhood and broke into the cars," Joyner said. "They were all unlocked." More ...
Amanda Clark, Graphic Staff Writer
Castalia July Fourth
David Braswell was named the Patriotic Citizen of the Year at the Castalia July Fourth festivities. Pictured, Braswell rides in the parade Saturday.
More ...

Nashville Recreation summer programs
Nashville's Recreation Department is offering numerous athletic programs and camps. Participants are encouraged to bring a snack and drink. Registation is required for all participants. No registration fee. For more information call 459-9697. Registration forms are available at the Nashville Town Hall at 200 W. Washington Street or www.townofnashville.com/recreation.html
Programs and camps are as follows: More ...

COTTON BLOOM
Nellie G. Vick, of Nashville, holds the first cotton bloom found on the Vick Farm, just outside of Nashville. The Nashville Graphic has held a long-time tradition of offering a free one-year subscription for the first bloom of the season brought to the newspaper.
More ...

Red Oak Park to host baseball tournament
"Praise the Lord, the park is about finished!" commented Red Oak Mayor Alfred Wester at the regular town business meeting held on Monday, July 6. The end comes just in time as the park is slated to host its first big tournament beginning July 16.
Twelve teams from the Eastern Division of the Statewide Athletic Committee will compete in the baseball tournament scheduled for July 16-20, said Sue Yerkes, the Nash County Parks and Recreation Director. Though the teams are not charged for the use of the field, Yerkes said, there will be a gate fee of $3 for adults and $1 for children 12 and younger. A concession stand will also be open and run by the county. Both gate fees and concession profits will go to the county. More ...
Amelia Harper, Graphic Correspondent
Nash 4-Hers participate in District Activity Day
Thirteen 4-Hers from Nash County attended 4-H District Activity Day in Hyde County on Wednesday, June 24, bringing home both gold and silver medals.
As part of the event, youth had to give presentations and were judged and critiqued on those presentations. Nine of the Nash County 4-Hers won gold medals and two won silver medals. More ...

Barton announces 2009 grads
Two hundred and thirty Barton College seniors received diplomas on Sunday, May 24, during the school's 107th annual commencement exercises.
Participating in the ceremony were students who completed their baccalaureate degree requirements in December 2008 and May 2009, as well as candidates who expect to fulfill requirements over the summer.
The Class of 2009 at Barton College includes Nash County residents: More ...

Locals receive degrees from ASU
Rocky Mount residents were among those receiving degrees from Appalachian State University during the Spring 2009 Semester. A total of 292 graduate students and 1,449 undergraduate students received degrees during ceremonies held in May in the Holmes Convocation Center. More ...

Benefit hunt raises funds for Relay for Life
Family and friends of Johnny Sullivan held a benefit hunt in his memory June 26 and 27 in Creedmoor. Proceeds in the amount of $835 were donated to Relay for Life.
Sullivan passed away in 2008 in an automobile accident. He was the owner of Powerhouse Kennels. Prior to his death, annual fox hunts were held to raise funds for Relay for Life.
More ...

Alexandria Denise Stone recognized
Alexandria Denise Stone of Spring Hope was recently recognized as a member of Sigma Alpha Lambda, a National Leadership and Honors Organization at the University of North Carolina at Chapel Hill. Sigma Alpha Lambda is dedicated to promoting and rewarding academic achievement and providing members with opportunities for community service, personal development and lifelong professional fulfillment. Congratulations to Alexandria Denise Stone. Alexandria also earned Dean's List honors at UNC - Chapel Hill during the Spring 2009 semester.

More ...

Military News
Air Force Airman Nicholas W.L. Rogers graduated from basic military training at Lackland Air Force Base, San Antonio, Texas.
The airman completed an intensive, eight-week program that included training in military discipline and studies, Air Force core values, physical fitness, and basic warfare principles and skills.
Airmen who complete basic training earn four credits toward an associate in applied science degree through the Community College of the Air Force. More ...

Castalia Baptist News
Castalia Baptist had the most people ever in VBS last week; the most ever in the adult class; the most laughs ever and the most fun ever. The fun didn't stop with VBS though, on the 4th we all gathered in the Fellowship Hall to cook ham and sausage biscuits, hot dog and chili cheese fries, even that was the most fun ever! Whether it was riding through the crowds selling food and drinks or just for fun as many as the kids did, as well as a few adults, it was great to meet so many new people and have them in our backyard. More ...
KATHY FREEMAN-ROBLES
Mt. Zion FWB Church News
Dean Alton Wester greeted us at the door and gave us a bulletin. Betsy Coppedge taught the ladies Sunday School lesson on God's rules for living, a good lesson that we need to live by today. Brother Bob Watkins welcomed us to Sunday School. We had 85 in attendance with one visitor. We sang happy birthday to all those having a birthday in July. Brother Bob had some of the young boys pass out gifts to those having a birthday. All those celebrating a wedding anniversary this month were also recognized and received a gift. Brenda Watkins read the bible verse for the day. Mrs. Nancy Matthews is not able to attend Sunday School nor church anymore but she will be 98 on July 28. Happy Birthday this month Miss Nancy. More ...
ROSALENE BASS
Ephesus Community News
Welcome back youth and their leaders who just returned from M-Fuge mission trip in Charleston. They showed a video of their trip and each shared their personal testimony of this wonderful mission experience. They were refreshed and excited about God working in their lives and the lives of others. Those attending were Alexis and Dalton Barrett, Michaela Bauer, Rachel Bissette, Meredith Eidson, Jarrett Hagler, Cassie Hill, Lawrence and Sally Sandifer, Jackson Wall, and Pastor David Eidson. More ...
DEBBIE PHILLIPS
Peachtree Community News
On Sunday morning the Bicentennial Patriotic Worship Celebration was held at Peachtree. The Southern Nash Senior High Air Force ROTC presented the colors. This was followed by the pledge to the flag. Master Sergeant Scott Redding, ROTC instructor, presented to the church a flag which had flown over the United States capital in April. This was given to Peachtree Church in commemoration of its 200th year celebration. Pastor Gene Whitehouse accepted the flag on behalf of the church. A video of the "Stars Spangled Banner "was shown. More ...
BARBARA HARDISON
Lacey graduates from NCSU
Beth Ledesma Lacey, daughter of Doneva Chavis-Battle and Mark Lacey, received the Batchelor of Arts degree in Pscyhology and African American studies from North Carolina State University during Spring Commencement, held on May 9, 2009.
Beth was a member of the Northern Nash High School graduating class of 2005, where she excelled in basketball, earning MVP (Most Valuable Player) two consecutive years. More ...

Local FFA members receive state recognition
Tiffany Alford of the Southern Nash FFA chapter received the 1st place State Agri-Entrepreneurship Award for her business of selling top-quality pine shavings to local businesses and horse owners. Tiffany received a certificate and a monetary award of $150 at the 81st North Carolina FFA State Convention held at the Raleigh Convention Center. She will now move to the national level to complete with the other state winners. More ...

Nash residents graduate from PharmD program
Eleven of 13 graduates from the UNC/ECSU PharmD Partnership Program are expected to remain in North Carolina to work as pharmacists. That's good news for a state with a shortage of pharmacists and a growing population that needs their services.
Two of those graduates are from Nash County.
Lindsay McCray Page, of Rocky Mount and Allison Morgan Williams of Middlesex, both graduated from the University of North Carolina at Chapel Hill/Elizabeth City State University Pharm D Program. More ...


Mary Sue Keel serves Sophie Atkins and Chelsey Joyner a tasty treat.

PRINCESS TEA PARTY
More than 80 young girls attended a Princess Tea Party hosted by Nashville United Methodist Church on June 28.
Organizers say the goal of the event was to help the young girls find their king, who is Jesus Christ. More ...

UPCOMING BLOOD DRIVES
NASH COUNTY -- Here are upcoming Nash County Blood Drives:
Thursday, July 9 from 3 until 7 p.m. at Wal-Mart, 1205 Eastern Avenue, Nashville
Monday, July 13 from 4 until 8 p.m. at St. Paul Baptist Church, 2423 Hunter Hill Road, Rocky Mount
Wednesday, July 15 from 2 until 6:30 p.m. at Sunset Avenue Baptist Church, 3732 Sunset Avenue, Rocky Mount More ...
Staff Reports
Tough week for politics and Hollywood
Boy, it's been a tough couple of weeks for famous people.
It's been so bad, I'm not sure why anyone would want to even be famous. Maybe that is why we have such characters in Hollywood, sports and politics — all the qualified folks don't want the jobs.
Makes me remember my old line about politics, "I'm not sure I want anyone who wants to be President, to be President."
It's time for the Soapbox to have its say. Let me warn you, it's not going to be pretty. More ...
Mike Brantley
If you're not happy with your leadership, now is the time to change it
Filing for municipal elections began on Monday and there are many available seats on boards throughout the county. If you don't like the job representatives in your town are doing, now's the chance to do something about it.
I think now, more than ever, citizens throughout the state are tired of what's going on in local government, or more specifically, not knowing what's going on in local government. It seems like each and every day, a new investigation pops up in North Carolina, investigations into deals made by our leaders. It's embarrassing. More ...
Amanda Clark
Why are we laying off teachers?
I was listening to a radio show yesterday when the host asked, "Why are we laying off teachers?"
I was struck to think how easily we forget. Laying off teachers is not about teachers, it is about an American Congress that put in place procedures that literally broke our economy and that of many other countries. Economies of countries are fragile and anything that changes them has a cause and effect relationship. It is like baking a cake; put in all the ingredients and bake according to the directions and "presto" you have a cake. But leave out some of the important ingredients and all you have is a mess. More ...
Letters to the Editor:
Annexation bill isn't getting fair hearing
We, the citizens of North Carolina, have been hoodwinked again in regard to Senate Bill 494.
Why are persons who have been elected to represent the common man refusing to allow a proper hearing and vote on this bill? All that we, the people of this state, want is a vote, a voice in the annexation of our homes and property.
We now have no such voice nor any form of recourse outside of the court system. This is not the way that our founders intended for the laws to be used. We do not take this matter lightly, nor do we forget easily. More ...
Letters to the Editor:
Annexation vote is not a vote
I understand the vote option in the House Bill H524, to be a 'we don't have a prayer' vote provision. How this fits into reality with forced annexations/city invitations to join their planning, please see the example using the town of Cary as an example: The Town of Cary is a medium sized city.
Medfield Estates, a community of 400 homes, would have to collect 13,000 signatures (from registered voters only*) to force a vote, and then mount a campaign to convince city residents to vote against the annexation of our neighborhood. The forms to collect petition signature would have to be obtained from the Town of Cary BY a registered voter* only. (*yes, that is what the amendment says) More ...
LETTERS
Backward Glances
This photo was originally published in The Graphic August 1, 1974. These youngsters were among 24 4-H'ers who were leaving for a week at Mitchell 4-H Camp near Swansboro. Two adult leaders, Mrs. Janice Palich and Mrs. Rosalyn Keck, and Fred Belfield, Extension Agent, accompanied the group. More ...


POWERFUL FORM. Christopher Powell of Nash Rec pulls away from the competition on his way to the finish line during last Thursday evening's road swim matchup against Westridge in Rocky Mount.

A RIVALRY REVISITED
ROCKY MOUNT -- For the second consecutive week, Nash Rec has scored a victory over rival Westridge in a Nash-Halifax Swim League showdown.
Last Thursday, Nash Rec wrapped up the season sweep with a 526-352 decision at the Westridge Pool
Results from the event were as follows: More ...
GEOFF NEVILLE, Graphic Sportswriter
Price Squads Tangle With Foes
SNOW HILL -- The Price Junior Tennis Blue and Red Teams out of Nash County participated in the Down East Jamboree on June 30 and July 1 at Greene Central High School.
There were nine teams in the tournament.
The Price Junior Tennis Blue Team placed 3rd overall and the Red Team placed 5th.
Participants for the Blue Team for Doubles on June 30 were: More ...
Staff Reports

PRICE TEAM SINGLES WINNER. Bryson Williams was a Singles winner for the Price Junior Tennis Blue Team during recent action at the Down East Jamboree. For more on the tournament, see story and photos on pages 9 and 11. (Photo Submitted)

Bulldogs will open Aug. 17
ROCKY MOUNT -- Nash Central High School's 2009 boys varsity soccer season will begin Aug. 17 with a road match against Bunn.
Central's first home event will be Aug. 19 versus Smithfield-Selma.
NC's complete schedule is as follows (home matches are listed in CAPS): More ...
Staff Reports
Birchwood topped at Roanoke Valley
ROANOKE RAPIDS -- One week after scoring a team victory, Birchwood saw Roanoke Valley extract a bit of revenge during last Thursday's rematch.
Host RV evened the score between the clubs with a 486-337 decision in a Nash-Roanoke Swim League event at the Roanoke Rapids Aquatic Center.
Birchwood won't have far to travel this Thursday for the squad's next contest -- a road meeting right up the street against Nash Rec.
Last Thursday's results were as follows: More ...
Staff Reports
RMHS selects Schock
ROCKY MOUNT -- Even though he left Nash County five years ago, Dickie Schock has always kept a close eye on the football program at Rocky Mount.
After all, Schock spent one season at RM (2003-04) under B.W. Holt, his long-time mentor.
When Holt announced his retirement earlier this summer, Schock was quick to apply for the lofty tasking of replacing the legendary Holt. More ...
GEOFF NEVILLE, Graphic Sportswriter
Post 58 surging in playoffs
RED OAK -- The scoreboard at Northern Nash's baseball field is getting a real workout by Nash County Post 58's baseball team this summer.
Last Monday night, the run explosion continued for the squad in its second-round opener of the American Legion Area 1 East playoffs with visiting Edenton Post 40. It opened the best-of-five series with a whopping 25-6, seven-inning romp of the boys from up U.S. 17 North. More ...
CHARLES ALSTON, Graphic Correspondent
A tough weekend for Mudcats
ZEBULON -- Casey Coleman pitched eight strong innings to become the league's first nine-game winner as Tennessee shut out Carolina 6-0 at Five County Stadium on Sunday night in a Class AA Southern League diamond contest.
Coleman (W, 9-3) surrendered just two singles over eight frames, whiffing four to lead the Smokies (8-6) to their third straight win.
Tennessee touched Carolina starter Tom Cochran for three runs in the first as Tyler Colvin drilled the first of his three extra-base hits, a two-run homer to right for a 2-0 lead. More ...
Staff Reports
County Line open this Saturday
ELM CITY -- After taking one week off in observance of Independence Day, County Line Raceway is ready to open its gates for another week of great dirt track racing.
 With the week off, drivers and crews have had extra time to work on their cars and get them set up to come back strong. 
The June 27 show was one of the greatest of the year with the grandstands full of spectators looking for some action, and action is what they saw.  This week, all classes will receive Double Points.  With some of the closest points battles of the year, this could make or break in the Championship standings.  More ...
Staff Reports
BLUE TEAM JULY 1 SINGLES
Members of the Price Junior Tennis Blue Team who participated in Singles on July 1 were (back, l to r) Jonah Richardson, Michael Brackett and Bryson Williams; (front, l to r) Randi Price, Elizabeth Thompson and Kaley Price.
More ...

NCWC promotions released
ROCKY MOUNT -- John Thompson, North Carolina Wesleyan College's Athletic Director and Head Men's Basketball Coach, will be using his talents campus-wide as Vice President, Athletics, the College has announced.
In his new role, Thompson will join Wesleyan's primary advisory and leadership group, the President's Council. He will continue as Head Men's Basketball Coach.
In announcing Thompson's promotion, Wesleyan President James A. Gray III said, "John has been with Wesleyan for 14 years, serving for the past 11 as both Director of Athletics and Head Coach, Men's Basketball. His contributions have been major, and I expect John will be a great addition to my senior team." More ...
Staff Reports
ELIZABETH BRYANT
ROCKY MOUNT - Elizabeth Bryant, 63, died Tuesday, June 30, 2009 at Nash General Hospital in Rocky Mount. More ...

MARY ELIZABETH BATTLE
ROCKY MOUNT - Mary Elizabeth Battle, 70, died Tuesday, June 30, 2009 at Pitt County Memorial Hospital in Greenville. More ...