Subscribe/Access
Advertisements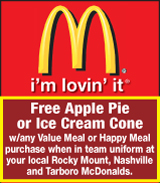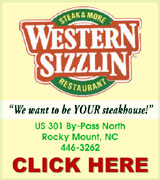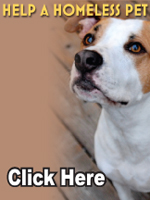 Sections
Member Options
Back
Education cuts hinge on stimulus funds
The Nash-Rocky Mount School System is waiting on information regarding its share of the stimulus funds before it makes any drastic cuts.
Superintendent Rick McMahon told board members at the regular board meeting on Monday night that although the county should receive its share of the stimulus money, there's not any information on where, or what, it can be spent on. More ...
Amanda Clark, Graphic Staff Writer
Town phases in freeze to combat falling revenues
Nashville Town Manager Preston Mitchell gave council members some insight into the town's financial status during last week's regular council meeting.
Mitchell said though the town is in pretty good shape, it is taking steps to combat decreasing revenues.
"We seem to be in better financial shape than most other local governments," Mitchell said. "However, we are trying to be proactive." More ...
Amanda Clark, Graphic Staff Writer
Nashville Chamber names Beasley Citizen of the Year
Nashville's Chamber of Commerce has a hard time keeping secrets from Amy Beasley. But last week, chamber member Jo Anne Cooper revealed a big secret that chamber members had kept from Beasley for several weeks; she was the Distinguished Citizen of the Year.
Cooper told those in attendance that Beasley jumped head first into her volunteering duties, taking over as chair of the Blooming Festival Parade after Elizabeth Berry left. Cooper said Beasley was handed a binder of info on the parade and that was it. Beasley has been in charge of the parade ever since. More ...
Amanda Clark, Graphic Staff Writer
Bailey seeks more recreation options from Nash County
Residents of the Bailey area spoke to Nash County Commissioners on Monday and requested more recreational opportunities for the area. Residents also asked for more opportunities for senior citizens.
Paul Taylor, who pastors a church in the Bailey area, told commissioners that out of all the places he has lived, he has never seen a lack of recreational services like there is in Bailey. More ...
Amanda Clark, Graphic Staff Writer
Greene retires from Nash County
The Nash County Health Department said goodbye to one of its longtime employees, as Barbara Greene retired after 15 years with the county.
Greene, who's last day was on Friday, February 27, said so far, she has enjoyed her retirement, adding that it hasn't sunk it that she won't have to go back to the place she spent the past 15 years.
"So far so good," Greene said. "I feel like I'm on vacation right now." More ...
Amanda Clark, Graphic Staff Writer
Nashville man arrested on outstanding drug warrants
A Nashville man was arrested last week for oustanding drug warrants.
The Nash County Sheriff's Office arrested Glenn Edward Whittington without incident on March 5. Whittington was charged with three counts of trafficking in opium and maintaining a dwelling for a controlled substance. More ...

Nashville man charged for B&E's
A Nashville man is wanted in connection with several breaking and enterings in town.
Nashville saw an increase in breaking and enterings in mid-February. According to Joey Corbett, Investigator with the Nashville Police Department, 22-year-old Mark Johnson has been charged with one count of breaking and entering and one count of larceny for one of the incidents, which occurred at 212 N. Boddie Street on February 23, 2009. More ...
Amanda Clark, Graphic Staff Writer - 1 opinion posted
New policy set for fire departments
Nash County's Board of Commissioners have made recommendations that will better monitor the finances of county fire departments after a local fire department treasurer was recently charged with embezzling over $100,000 from the department.
During the board's meeting last month, Chairman Robbie Davis requested Finance Director Lynne Anderson meet with County Manager Bob Murphy and Commissioner Wayne Outlaw to develop a policy that would prevent anything like that from happening again. Davis said he felt Outlaw would be helpful because of his experience in community organizations. More ...
Amanda Clark, Graphic Staff Writer
Nash County native is inducted into Central Indiana Business Hall of Fame
North Carolina State University alumnus and Nash County native Bill Culpepper Jr. was inducted on Feb. 19 into the 2009 Central Indiana Business Hall of Fame. The Hall of Fame was established in 1989 by Junior Achievement of Central Indiana Inc. "to honor the champions of free enterprise and to present business role models from the past and present to the youth of our community," according to the Hall of Fame press release announcing the 2009 laureates. More ...

Scout to build shelter at Glover Park for Eagle Scout project
Glover Park's walking trail will soon have a place for walkers to stop and rest, thanks to the efforts of a Nashville teen.
As part of his Eagle Scout project, Matt Braswell will build a 10 by 10 shelter, along with benches, along the walking trail at the park. Braswell told Nashville's Town Council last week that he chose the project because he wanted to give back to his community.
"I wanted to do something for the town and for the recreation department just because I played a lot of sports out there and thought it would be a good way to give back," Braswell told council members. "I don't think there's anything like that around the track." More ...
Amanda Clark, Graphic Staff Writer
Relay for Life News
All meetings are held at the Family Medical Center of Rocky Mount - Time: 6-6:30 p.m.; Accounting & New Teams 6:30-7:30 p.m.; Regular Meeting - 7:30- 8 p.m.
More ...

Raleigh historian speaks to Nash Central Middle students about Tuscagee Airmen
Leonard Hunter, a Vietnam Veteran and member of the Wilson V. Eagleson Chapter of the Tuskegee Airmen of North Carolina, spoke to students at Nash Central Middle School February 27 as part of the school's celebration of Black History Month.
Hunter told students of his experiences in the military as an African American. Hunter spent 25 years in the Air Force.
He also told the history of the Tuskegee Airmen, who were America's first black military airmen. The Airmen were trained at Tuskegee Army Air Field in Tuskegee Alabama to become pilots. Hunter said, initially, the government didn't think black men were smart enough to fly, adding that the Tuskegee experiment was expected to be a failure. More ...
Amanda Clark, Graphic Staff Writer
Local communities approve new cable provider
Four local municipalities have approved cable contracts with Windjammer Communications, Katherine Rice of Action Audits, announced at the Castalia business meeting on Tuesday, March 3. Castalia approved the contract, as did Red Oak, Dortches, and Whitakers.
The contract with Windjammer represents the last link in a long chain of problems that the communities have faced in the past few years. Time Warner had purchased the franchises from the bankrupt Adelphia, but never lived up to promises of improved infrastructure and development. Now Windjammer has purchased some of Time-Warner's rural franchises at pennies on the dollar and is offering hope that these communities may see improvements in service. More ...
Amelia Harper, Graphic Correspondent
Pack 76 holds annual Blue and Gold Awards Banquet
Nashville Cub Scout Pack 76, sponsored by the Nashville United Methodist Church, held its annual Blue and Gold Awards Banquet on Friday, February 20.
In addition to the many awards that were handed out, the scouts were also presented a 2008 Quality Unit patch. Scouts that participated in the Scouting for Food can food drive also received a Good Turn for Aerican patch during the banquet.
Scouts who received awards are listed below. More ...

Retires
Dr. William L. Tomlinson retired January 31, 2009 after 50 years of dedicated service in the Christian Ministry. Dr. Tomlinson has pastored Arlington Baptist Church in Rocky Mount for the past 21 years. During those years, Dr. Tomlinson witnessed the 100th Anniversary of Arlington Baptist Church. The church hosted a reception for the Tomlinson family to celebrate his 21 years at the church. The Tomlinsons were also presented with a plaque, mantle clock and a monetary gift by the church members. Pictured is Dr. Tomlinson and his wife, Jane, who live in Rocky Mount.Dr. Keith Harper will be serving as Interim Pastor while the church searches for a new Pastor.
More ...

Nash County Blood Drives for March 2009
Monday, March 16 from 3:30 until 7:30 p.m. at St. John Missionary Baptist Church, 4987 Red Oak Road, Red Oak.
Tuesday, March 17 from 8 a.m. until 2 p.m. at Nash Central High School, 4279 Nash Central High School Road, Rocky Mount. More ...

Mt. Zion FWB Church News
Assistant Superintendant, Robert Tyner welcomed us to Sunday school. We had 72 in attendance with 2 visitors. Some of our members were traveling, others were out sick. Robert gave the quarterly financial report. He presented perfect attendance rewards and pins to Bobby Farmer and Zachary Tyner. They had perfect attendance for the year 2008. Congratulations to both of you for your dedication to Sunday school. More ...
ROSALENE BASS
Red Oak Community News
The North American Mission Study was held on Sunday, March 1 at Red Oak Baptist Church. A soup and sandwich supper was offered prior to the study. Proceeds were contributed to the Annie Armstrong Easter Offering. The theme, "Live With Urgency: Sowing Together for Harvest", was emphasized in each session through activities, videos of North American missionaries, and prayer. Marilyn Boone led the preschool study, Audrey and Suzy Pearce led the children's study, Shane Murray led the youth study, and Richard Davenport led the adult study. Please remember to give to the Annie Armstrong Easter Offering so that people in Canada, The United States, and it's territories will hear the gospel. More ...
SUZY PEARCE
Ephesus Community News
On Wed., March 4, we had our monthly fellowship meal and business meeting. There was a good turnout for this meal and meeting. We were reminded by the Pastor Search Committee that Rev. David Eidson would be presenting a trial sermon on Sun., March 15, at 11 a.m. The date for voting of the church to extend the call will be on Sun., March 29, after the 11 a.m. service.
More ...
DEBBIE PHILLIPS
Beulah Community News
Attention: Mark your calendar! This Saturday night, March 14 at 6 p.m., the Jenkins Family will be bringing a Gospel Music Event at Beulah Church of Christ. Everyone is talking about how great they are. Please come and join us at Beulah on Saturday night at 6:00! More ...
WILMA ENROUGHTY
Peachtree Community News
The arrival of March was heralded by a proverbial "LION". On Sunday, March 1, it rained all day. Late that night it started snowing and snowed off and all day Monday and into the night. It was the largest snow of the winter. The school children enjoyed a vacation from school and a day to play in the snow. By Friday it was all forgotten. We had a beautiful and sunny week-end. That's why North Carolina weather is so delightful! More ...
BARBARA HARDISON
Natural Health Center announces new leadership
The board of the Quigless Natural Health Center (QNHC) of Tarboro recently elected new officers. Newly-elected officers include President Michele A. Cruz, of Nashville, Vice President Lizzie H. Lowe, of Rocky Mount, and Secretary/Treasurer Dr. James W. Winslow, of Tarboro. More ...

Nashville's Town Council needs some sunshine!
National Sunshine Week is March 15-21. It is a national initiative to build awareness and educate the public about the importance of open government and the freedom of information act, everyone's right to view public records.
And from my observance of Nashville's Town Council recently, they could use a little sunshine.
One of the most important benefits that comes from hearing an open discussion, such as one that town council members should engage in prior to making a decision at an OPEN PUBLIC meeting, is that we, the community, can at least hear why a decision goes the way it does. More ...
Jo Anne Cooper - 1 opinion posted
An update on the Brantley kids
Probably the most frequently asked question I get these days is: "When did you get so much gray hair?"
Usually before I can answer, the next statement that follows is, "Oh, yeah, what are your kids up to?"
This kind of encounter lets me follow the corporate world of 2009 — I get to downsize my discussions and hope for a bailout. That is because the first question is answered immediately, saving me the cost of a response. More ...
Mike Brantley
Chamber award recipients are most deserving of recent honor
If there's two people that deserve to be recognized for their community spirit and volunteerism it's Amy Beasley and Ray Goodwin.
I met each of them early on in my career here at The Graphic. I remember this big, scary cop coming through the doors of The Graphic in just the first week or two of my being here. Jo Anne introduced him to me and he immediately began to grill me in his Maine-ish accent. I admit, I was scared. He asked me all sorts of questions that almost made me feel like I was about to go on a date with his best friend. My first impression of Ray Goodwin was that he was not a man to mess with. More ...
Amanda Clark
SN RIGHT ON TRACK
STANHOPE -- Here's how young the Southern Nash High School boys track and field squad will be this season:
Before Monday's opening match, SN head coach Brian Batchelor wasn't overly concerned about times and distances.
Instead, Batchelor was preoccupied with some of the basics that most coaches take for granted, such as making sure his athletes put on their uniforms correctly, reported to their event stations at the right time and make qualifying handoffs during relay races. More ...
Geoff Neville, Graphic Sportswriter
Williams Making Mark At Peace
RALEIGH -- It hasn't taken long for Melissa Williams to adjust to the rigors of college fast-pitch softball.
Williams, the former Northern Nash standout catcher, has excelled this spring as a freshman for the Peace College Lady Pacers.
Two weeks ago, Williams was saluted as the USA South Athletic Conference's Rookie of the Week. More ...
Staff Reports
All NEW-6 teams are selected
ROCKY MOUNT -- Trey Sumler's star-studded season continues with yet another honor for the Nash Central High School boys basketball senior.
Sumler, a wing who averaged 23.6 points per outing this winter for the Bulldogs, has been selected as the NEW-6 Conference's Boys Co-Player of the Year. Sumler shares the award with Wilson Fike's Jeremy Atkinson.
Sumler helped the Bulldogs reach the Round of 16 of the Class 3-A State Playoffs, where they were edged in the final minute by defending state champion Kinston. More ...
Geoff Neville, Graphic Sportswriter
Northern court club wins three
RED OAK -- Northern Nash High School started its boys tennis schedule last weekend with a trio of matches.
The Knights opened last Wednesday with an 8-1 team decision over South Central at home. Last Thursday, Northern Nash, also at home, defeated Tarboro by a 5-4 score.
The successful week closed last Friday with an 8-1 home conquest against Warren County. More ...
From Staff Reports
Making An Early IMPACT
CARY -- This win had Rocky Mount head baseball coach Pat Smith smiling afterward.
That's a rare sight, indeed.
What had Smith showing his pearly whites was seeing his Gryphons post a 5-2 victory over High Point Wesleyan Christian last Saturday in one of the late contests of the fourth Annual IMPACT Baseball Invitational held at the USA Baseball Training Facility.
Eighteen teams played in nine games throughout the day. More ...
Charles Alston, Graphic Correspondent
NC Wesleyan takes comeback baseball victory
ROCKY MOUNT -- Junior Joel Creef ripped a three-run game-tying double in the sixth and senior Zollie Woodlief blasted his third home run of the season in the seventh inning to lead North Carolina Wesleyan's baseball squad to a come-from-behind 7-6 win over Christopher Newport on Sunday afternoon at Bauer Field.
The victory secured a series split for the Bishops, who dropped an 11-5 decision to the Captains last Saturday. More ...
Staff Reports
NC Wesleyan wins 1,000th
ROCKY MOUNT -- With a 12-10 victory over Piedmont College on Monday afternoon at Bauer Field, the North Carolina Wesleyan baseball program has earned the 1,000th win in its storied history.
Senior Luke Williford helped the Bishops do so by blasting his second three-run homerun in the past four games, this one erasing a 10-9 Lion lead in the seventh inning and proving the final margin of victory for NCWC. Wesleyan (6-10) is now 1000-622-7 during its 46-year history. More ...
Staff Reports
NEW-6 coaches make diamond predictions
NASH COUNTY -- Rocky Mount is the coaches' pick to win the 2009 NEW 6 Conference baseball championship.
In a poll of the league's coaches taken a week before the start of the regular season, the Gryphons got five first-place votes and 25 total points (five points for first place, four points for second, etc.; no coach may vote for his own team).
That may not be a surprise. After all, the Gryphons (27-6 in 2008), skippered by Pat Smith in his seventh season, return six starters from a squad that won the NCHSAA 3-A championship. More ...
Charles Alston, Graphic Correspondent
Pirates fall to Georgia Southern in tourney finale
STATESBORO, GA. -- Griffin Benedict pounded out a career-high five hits with two home runs and six RBI to pace Georgia Southern to an 14-4 win over No. 20 East Carolina in the championship game of the 2009 Holiday Inn Eagle Invitational Sunday afternoon at J.I. Clements Stadium.
Griffin highlighted an 8-run seventh inning with a pair of home runs to give the Eagles a 14-4 advantage.
Matt Murray improved to 1-0 on the season after allowing two runs on six hits with six strikeouts. More ...
Staff Reports
Nash Arts Schedule
Speakeasy unplugged
Saturday, March 14th, 7 p.m.; $20 general admission / $15 Nash Arts members. Refreshments included in ticket costs More ...