Subscribe/Access
Advertisements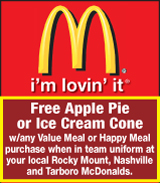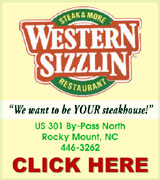 Sections
Member Options
Back
Rocky Mount says "yes" to annexation
Residents of the Oak Level community didn't get their Christmas wish last week as Rocky Mount's City Council moved forward with plans to annex around 1,700 acres into its city limits. But the fight isn't over.
Betty Edmondson, President of the Oak Level Community Against Forced Annexation, said the group's attorney was called immediately after the vote last Thursday and a petition for review will be filed.
Edmondson added she was not surprised at the council's decision.
"We knew what the vote would be," she said. "It's not over. We will file the appeal for review." More ...
Amanda Clark, Graphic Staff Writer - 2 opinions posted
NHCS cuts costs by over $10 million
Since implementing its Strategic Performance Improvement (SPI) initiative earlier this year, Nash Health Care Systems has cut costs by over $10 million.
The SPI was the hospital's plan to help reduce costs and put Nash Health Systems back in good financial shape.
The hospital lost over $400,000 in operational costs in 2007. Jeff Hedgepeth, Public Relations Director, said 2008, and 2009, should be better years financially for the hospital. More ...
Amanda Clark, Graphic Staff Writer

The final scene of Rock Creek Baptist Church's "Living Christmas Scenes" depicted Mary and Joseph with the baby Jesus after he was born. (Graphic photo by Amanda Clark)

Local church tells Christmas story through "Living Scenes"
For the past 10 years, Rock Creek Baptist Church has given a Christmas card to the community in the form of "Living Christmas Scenes."
The special event started 10 years ago and depicts the birth of Jesus through five scenes. Reverend Sylvia Sutter, Ministry of Music for Rock Creek, said the church started "Living Scenes" as a way to provide outreach to the community. Pastor Emeritus David Pope, who was pastor of the church when "Living Scenes" first began called the event the church's Christmas card to the community. Current pastor Blake Dempsey said the story of Jesus' birth is perhaps one of the best sermons a person may ever hear. More ...
Amanda Clark, Graphic Staff Writer
Nashville receives grant for I&I study
The Town of Nashville was recently notified by the Rural Economic Development Center that it had received conditional approval for an inflow and infiltration study grant.
The $19,900 planning grant includes a match from the town and will be used to study the town's sewer lines. The town was awarded during the first round. More ...
Amanda Clark, Graphic Staff Writer
State, local scores drop on EOG tests
New end of grade (EOG) tests for the 2007-08 school year in Reading, Algebra II, Biology, Chemistry, Physical Science, and Physics made meeting annual yearly progress (AYP) out of reach for Nash-Rocky Mount Schools (N-RMS), as well as for most school systems in the state. Only two of 28 N-RMS schools met AYP last school year — Bailey and Middlesex elementary schools — meeting 100 percent of their target goals. As a system, N-RMS fully met 357 of 449 target goals (or 79.5 percent). More ...
Michele A. Cruz, Graphic Correspondent
Nashville man honors great grandfather with special grave marking ceremony
When Nashville resident James Henry began researching his genealogy, he a discovered a history far more than what he expected.
Henry, 62, began searching his family history in April of this year to see what health problems existed. Henry's parents divorced when he was five and he didn't see his dad much after the divorce.
"I always wanted to check to see on my father's side," Henry said. More ...
Amanda Clark, Graphic Staff Writer
Local company adds jobs
SePRO Corporation is adding jobs at its Watson Seed Farm Road site near Whitakers. "Within the next 18 months, we plan to hire 11 full-time employees to work in our new formulation facility," says CEO Bill Culpepper. Since 1994, SePRO has operated an aquatics research and technology campus near Whitakers, but is expanding to add product formulation for east coast customers. Locally, SePRO has used aquatics products in the Tar River Reservoir and Lake Gaston to reduce hydrilla. More ...

NASHVILLE POLICE BRIEFS
ARRESTS
Calvin Lamont Alston - 12/07/08 - charged with breaking and entering and larceny
Rhonda Lynn Willis - 11/30/08 - charged with larcey/shoplifting
Michael Levon Jones - 11/30/08 - charged with expired registration, operating a vehicle with no insurance and driving while license revoked More ...

LETTERS TO SANTA
Dear Santa,
I thank you for the toys. I know we will have a good Christmas this year. What I want is shoes, a bike and a Xbox 360. It's OK if you don't get it. I will stilll have the best Christmas ever.
Sincerely, Anthony, age 7


Dear Santa Clause,
Please let people know if they put money in the red pots in from of Wal-Mart It helps buy toys for children who don't have money I always give my dollar. Please bring oil for my Pa Pa grass to heat his house because his leg hurts. I would like a big doll house and a real horse. Thank you.
Love, Victoria Tharrington, age 5 More ...

Garner selected to attend National Congress
A Nash County 4-H'er was selected to attend National 4-H Congress which was held in Atlanta, Georgia at the Hyatt Regency Atlanta November 28 through December 2 and included 1,100 delegates.
Ashley Garner was selected to represent North Carolina 4-H at this event based on her participation in North Carolina 4-H's Application, Resume and Interview process. Twenty youth from across the state of North Carolina were chosen to participate in this all expense paid trip. Ashley is the president of our Nash County 4-H Youth Council, and a member of the Quad Pods 4-H Club, 4-H Exchange Club, and Lucky Spurs 4-H. Also, she was recently chosen to be a member of the North Carolina 4-H Livestock Judging Team. More ...
1 opinion posted
Military News
Army National Guard Pvt. Aldo D. Garcia Cruz has graduated from basic infantry training at Fort Benning, Columbus, Ga.
During the nine weeks of training, the soldier received training in drill and ceremonies, weapons, map reading, tactics, military courtesy, military justice, physical fitness, first aid, and Army history, core values and traditions. Additional training included development of basic combat skills and battlefield operations and tactics, and experiencing use of various weapons and weapons defenses available to the infantry crewman. More ...

Mt. Zion FWB Church News
Our choir sang "Emmanuel/His Name is Higher" for the call to worship. Pastor Rogerson welcomed everyone and prayed the invocation. Hymns of Christmas were "Angels From the Realms of Glory" and "Silent Night". Jason Modlin prayed the morning prayer. Prayer concerns are Etta Jones, Margie Matthews, Ann and Adam Taylor, Dan Taylor and all other sick and shut ins. Ushers received the tithes and offerings. Everyone sang the doxology and greeted one another. More ...
ROSALENE BASS
Beulah Community News
Sunday morning we had several visitors at Beulah Church of Christ. Elizabeth Stewart came with her daughter and son-in-law, Nita and Don Williard. Carolyn Hunt Matthews from Richmond, Va. attended. She is the daughter of the late Lucilla and Ellis Hunt. La Rue Hambrick from Jacksonville visited Mickey and Bonnie Matthews and their family and attended with them. More ...
WILMA ENROUGHTY
Peachtree Community News
On Christmas Eve, Dec 24 all churches are invited to attend an 11:00 p.m. service at Peachtree Church. It will be a service of Candles, Carols and Communion. Pastors of three churches will be serving the elements of Communion. The service will conclude with the singing of "Silent Night" and a silent departure by candlelight. It will be a fitting way to usher in Christmas morning. More ...
BARBARA HARDISON
Brooklyn Community News
Mr. Frank Wright was a well known figure in the community and the state of North Carolina. He worked diligently to bring the community together for the betterment of the citizens of Nashville. Mr. Wright donated his time to help improve the Nashville Boys and Girls as he realized the importance of investing in our youth. His door was always open to give advice and assist when possible. He will be greatly missed, but we must all work to keep his vision and dream alive. More ...
LENA SESSOMS
Ephesus Community News
My, what a blessed week we have had at Ephesus! On Monday evening the Women on Mission, their families, and guests celebrated Christmas with dinner, fellowship, games, and singing. Miss Pam and Mr. Phil organized all the fun and had all of us making a joyful noise before the night was over. On Wednesday evening we had our Christmas Talent Show which included: More ...
DEBBIE PHILLIPS
Red Oak Community News
Congratulations to Brent and Ashton Fisher on the birth of their son, Thomas Reed, born on Dec. 18! Proud grandparents are Sandra Griffin, Steve Jones and Dwight and Cheryl Fisher. Mildred Griffin is the great-grandmother. More ...
SUZY PEARCE
ENGAGED
Mr. David Joyner, Sr., of Sharpsburg, and Ms. Janet Joyner, of the Coopers Community are pleased to announce the engagement of their daughter, Amanda Rose Joyner to William Donald Edgar, Jr., of Rocky Mount. He is the son of Mr. and Mrs. William Edgar, Sr., of Fayetteville. The wedding will take place on February 28, 2009 at 5 p.m. at Mount Herman Missionary Baptist Church in Rocky Mount. More ...

'Twas the night after Christmas. . .
With apologies to Clement Clarke Moore...
Twas the night after Christmas, when all through our place,
It looked like a tornado had hit our space..
The stockings were hanging from the ceiling fan without a care,
It was obvious that three children hepped up on sugar lived there. More ...
Mike Brantley - 2 opinions posted
Housing must be part of new economic stimulus package
Dear Editor:
With our nation in the midst of it's worst economic crisis since the Great Depression, Congress must be willing to take bold and decisive action to spur a housing and economic recovery. Unless we are able to halt the slide in home prices, the nation's housing and economic woes will continue to grow even worse. This is why a robust housing component must be an integral part of the new economic stimulus package under consideration by the incoming Obama Administration and new Congress. More ...
Letter to the Editor:
NN'S BUDDY SYSTEM
ROCKY MOUNT -- Long-time friends and former cohorts Rick Ruffin and Gerald Melton used to trade strategies when both were coaching basketball at Southern Nash.
During that time in the late 1990s, Ruffin (boys) and Melton (girls) experienced plenty of success at SN before Melton moved to Franklin County to become the head boys coach at Bunn.
A few years later, Ruffin also switched jobs, becoming in charge of the boys program at Northern Nash. More ...
Geoff Neville, Graphic Sportswriter
Injury Hinders Barnes At Shrine Bowl
SPARTANBURG, S.C. -- Rocky Mount senior offensive lineman Whit Barnes had an unforgettable experience leading up to last Saturday's 72nd Annual Shrine Bowl of the Carolinas at Wofford College's Gibbs Stadium.
But it's the game itself he would probably like to forget.
His fellow Tar Heels teammates used their defense to get a 16-3 halftime lead. But the Sandlappers scored 21 straight points in the second half to corral a 24-16 victory for South Carolina. More ...
Charles Alston, Graphic Correspondent
Nash Co. standouts selected
NASH COUNTY -- When you dominate a league like Rocky Mount did this past fall, it should come as no surprise that the great majority of its players would be recognized when All-Conference honors were handed out.
The NEW 6 Conference's six coaches met last week and voted for their best and the Gryphons took the lion's share of the slots on the first team. More ...
Charles Alston, Graphic Correspondent
Pirates are ranked 31 nationally
GREENVILLE -- The East Carolina University baseball team has been ranked No. 31 in Collegiate Baseball Newspaper's Fabulous 40 pre-season NCAA Division I baseball poll.
The Pirates, who finished with a 42-21 overall record in 2008, made its ninth NCAA Regional appearance in the last 10 years advancing to the regional finals against Coastal Carolina. More ...
Staff Reports
Bulldogs On Top Again
ROCKY MOUNT -- Nash Central's dominance of NEW-6 Conference boys action this swim season continued during the league's latest event last Thursday at the Rocky Mount YMCA.
The Bulldogs compiled 126 points to outlast Wilson Fike, which closed with 113 tallies. Hunt (a non-conference participant) was third at 88 points, followed by Rocky Mount (80), Tarboro (36), Southern Nash (26) and Northern Nash (19). More ...
Staff Reports
NCHS girls outlast Southern in overtime
ROCKY MOUNT -- Southern Nash tickled the nets for six points during a wild 31-second span at the close of the final period during Monday's opening-round girls matchup against Nash Central at the Nash County Holiday Basketball Tournament.
The Ladybirds' late heroics would force overtime, but Southern wouldn't score again until a buzzer-beating trey at the end of the extra session. More ...
Geoff Neville, Graphic Sportswriter
Central Holds Court
ROCKY MOUNT -- With Rocky Mount's boys out of the way this season, it's one more reason Nash Central could win the annual Nash County Holiday Basketball Tournament in their own gym.
The defending champion Gryphons, who won the title last year at Nash Central, are in Raleigh this Christmas for the GlaxoSmithKline Invitational. Rocky Mount's tournament title propelled it to the NEW 6 Conference tournament crown. More ...
Charles Alston, Graphic Correspondent
Mabry moves up RM's all-time basketball list
ROCKY MOUNT -- There's no doubt that Tashawn Mabry would have rather gotten a win over Goldsboro last Thursday night than pass a former Rocky Mount basketball icon on the the school's all-time scoring list.
The junior forward scored a game-high 35 points and hauled down 14 rebounds in the Gryphons' 89-87 loss to the Cougars. More ...
Charles Alston, Graphic Correspondent
KELLY PERDUE PELLUM
NASHVILLE – Kelly Perdue Pellum, 32, passed away suddenly on Tuesday from injuries sustained in an automobile accident. More ...

BOLLIE "MARSHALL" BRAZIEL
ROCKY MOUNT - Bollie "Marshall" Braziel, 85, passed away, Saturday, December 20, 2008. He was born May 18, 1923 in Nash County. Marshall was the son of the late, Joe Percy and Mary Cockrell Braziel. More ...

JOHN RUFUS SHAMBLEY
NASHVILLE - John Rufus Shambley, 57, passed away Friday, December 19, 2008. The funeral service was on Monday, Dec. 22 at 2:00 p.m. at Union Hill Baptist Church with the Rev. Thomas McCullers officiating. Burial followed in the Shambley Family Cemetery. More ...

CHARLIE L.COLEY
HOLLISTER - Charlie L. Coley, 54, passed away Thursday, December 18, 2008. The funeral service was on Sunday, Dec. 21 at 2:00 p.m. at Pleasant Grove Baptist Church with the Rev. Ricky Battle officiating. Burial followed in the Pleasant Grove Church Cemetery. More ...

SALLIE B. HOLDER
WHITAKERS - Sallie B. Holder, 88, passed away Sunday, December 21, 2008. The funeral service was Tuesday Dec. 23 at 2 p.m. at Pine Chapel Baptist Church with the Rev. Robert Hedgepeth officiating. Burial followed in the church cemetery. More ...

GREGORY S. THOMAS
CASTALIA – Mr. Gregory S. Thomas, 46, passed away Saturday, December 20, 2008. Funeral services will be held Saturday, December 27, 2008 at 1:00 p.m. at the Bunn Chapel Baptist Church. Burial will follow in the Thomas Family Cemetery. The Rev. Wayne Hines will officiate the services. More ...

MARGARET W. PERRY
LOUISBURG – Margaret W. Perry, 73, passed away Sunday, December 21, 2008. Funeral services will be held Saturday, December 27 at 11:00 a.m. at the Mt. Moriah Baptist Church. Burial will follow in the church cemetery. The Rev. Bishop Ralphel Holloman will officiate the services. More ...