Subscribe/Access
Advertisements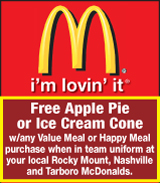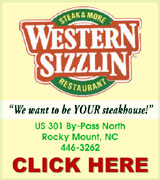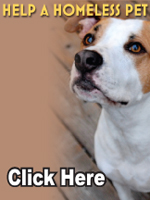 Sections
Member Options
Back
PAWS for a CAUSE
The first annual Paws for a Cause event was more than a success, it was a dream come true.
Susan Lamar, whose idea it was to have the event, along with husband Wardlaw, said the event far outweighed her expectations.
"It was so much fun," Lamar said. "When we started this dream, we didn't know what to expect." More ...
Amanda Clark, Graphic Staff Writer
Nashville Council looks at changes for B-2 district
Taking recommendations from its Planning Board, Nashville's Town Council will move forward with looking into several changes for the B-2 Central Business District.
During the Planning Board's meeting last Wednesday, Chair Patsy King asked Planning Director Gene Foxworth about changing the setbacks for the B-2 District. King questioned the change following a rezoning request for a .64 parcel of property next to LaMama's on Washington Street. The request was to rezone the property from A-1 (Agricultural district) to B-2 (Central Business District). Though the rezoning request was approved by both the Planning Board and Town Council, the developer of the property would have to abide by the setback request if it receives approval. More ...
Amanda Clark, Graphic Staff Writer
Nash Health Board plans SPI retreat
The Nash Health Care Board of Commissioners will hold a retreat in Pinehurst November 7 through 9 to further discuss the systems Strategic Performance Improvement, or SPI, initiative.
CEO Larry Chewning told commissioners at the monthly meeting Thursday that the retreat would be an opportunity to discuss the hospital's mission and vision and see if the 2006 plan was consistent with the hospital's current goals. More ...
Amanda Clark, Graphic Staff Writer
N-RMS requests renegotiation of high school design fees
With a vote of 10-1, the Nash-Rocky Mount Schools (N-RMS) board asked the administration to renegotiate for a lower design fee from Oakley Collier Architects (OCA), in partnership with Fanning Howey (FH). They plan to review the requested revised fee proposal for the new high school at their Oct. 20 work session. More ...
Michele A. Cruz, Graphic Correspondent
Pumpkin Festival
The 37th Annual Pumpkin Festival was held this past weekend in Spring Hope. Sponsored by the Spring Hope Chamber of Commerce, festivities included a Farmer's Market, the traditional recipe contest, kid's pumkin decorating contest, a parade and lots of musical entertainment. Pictured above, Spring Hope Queens ride down E. Nash Street during the parade on Saturday, including the 2008 Pumpkin Queen Ms. Marcy Baker (at far right). More ...

Nash Arts plans Haunted Walk
Nash Arts is getting in the Halloween spirit as it will host its first ever "Haunted by the Arts" ghost walk.
The event will be held on Saturday, October 25 from 6:30 until 11 p.m. and will begin with a walk through downtown Nashville. Other events will include a hay ride as well as haunted stories.
"We're going to have ghost stories and other haunted surprises," Shelly Gray, Office Manager at Nash Arts. More ...
Amanda Clark, Graphic Staff Writer
My Sister's House to sponsor annual art sale
My Sister's House will sponsor its second annual art sale, Phenomenal Women, this Friday, October 10 from 7 until 9 p.m. at Nash Arts.
Phenomenal Women, a fundraiser and celebration of women, is held in conjunction with Domestic Violence Awareness Month. The event will feature art in various formats including handmade jewelry, pottery, photography and a selection of paintings and drawings presented in acrylics, oils, pencil and watercolors. The event is open to the public and a donation for entry will be accepted at the door. More ...

Red Oak water deal is close to approval
Red Oak Commissioners had hoped to be able to announce progress on the water and sewer issue at Monday's regular business meeting. However, a last minute change in plans on the Rocky Mount City Council agenda delayed the discussion. More ...
Amelia Harper, Graphic Correspondent
Easley appoints Powell
Gov. Mike Easley has appointed Randy Dale Powell, of Rocky Mount to the North Carolina Statewide Independent Living Council. More ...

Four-year-old boy hit by car at Pumpkin Festival
A four-year-old boy has been upgraded to good condition after being hit by a car at the Spring Hope Pumpkin Festival.
According to Spring Hope Police Chief Tim Denton, the child, Joseph Woolard, of Winston-Salem darted across the road while at the carnival area and was struck by a car on S. Pine Street. More ...

Community Day set in Bailey
Nash County Emergency Services presents "Mount Pleasant Community Day" on Sunday, October 12 at the Mount Pleasant Rescue Building in Bailey. More ...

NASHVILLE POLICE BRIEFS
ARRESTS
Lorenzo Fox - 9/30/08 - charged with failure to appear
Randolph Foster - 10/04/08 - charged with failure to appear for expired tags More ...

Gloria Cox honored for service to Nash DSS
The Nash County Department of Social Services held their annual foster parent banquet September 23, 2008, at West Haven Presbyterian Church. The banquet is held each year to honor foster parents for their hard work. Foster parents open their homes to children of abuse and neglect who, for a variety of reasons, can not stay with their biological parents. While the foster children are in foster care, the agency works to reunite them with their families. More ...

Nashville man promoted to VP
Southern Bank is pleased to announce the promotion of Brad Herakovich to Vice President in its Commercial Banking Unit in Rocky Mount.
A native of Blacksburg, Virginia, Herakovich has over twenty years in the financial services industry. He is a graduate of the University of Virginia in Charlottesville, where he earned a Bachelor of Science Degree in Finance. More ...

Tri-County Horse Show set
The Halifax County 4-H Horse Complex is the place to be on Saturday, October 11, at 9:30 am to get close to horses and to be amazed by a mule. The Tri-County Horse Show is being sponsored by the Halifax County Horse / Livestock Council and REINS (Regional Equine Information Network, a program of Cooperative Extension). The show includes fifty great classes for saddleseat, hunt seat, western, and the always popular Trail, Barrels, and Poles. Proceeds from the show will benefit 4-H Equine / Livestock projects and Equine Educational Seminars. More ...

Nash celebrates National 4-H Week
Nash County 4-H is reaching out to military families and volunteers as part of National 4-H Week, which concludes on Saturday, October 11.
National 4-H Week is held each year to salute the contribution of 4-H to our society and promote 4-H. To celebrate National 4-H Week and the 99th birthday of 4-H, Nash County 4-Hers have a special event planned for Friday, October 10. More ...

Benefit set for October 25
The Eighth Annual Daylon and Logan Jones Benefit is set for October 25 and is looking for team, hole and food sponsors.
The benefit will sponsor the Jones family of Nashville and the Muscular Dystrophy Association. More ...

MILITARY NEWS
Navy Seaman Apprentice C. D. Edwards, daughter of Denise L. and stepdaughter of Laris L. Davis of Rocky Mount, recently completed U.S. Navy basic training at Recruit Training Command, Great Lakes, Ill. More ...

Mt. Zion FWB Church News
Last week Rev. Rex Edwards preached the word of God in power and love. I wish you could have heard each message. Sunday night he preached on Jonah's and our rebellion. Monday night's message was "God is Able". More ...
By ROSALENE BASS
Red Oak Community News
The North Roanoke Baptist Association Fall Meeting was held on Tuesday, Sept. 23 at West Edgecombe Baptist Church. Rev. Bill Grisham, First Baptist Church, gave the evening message. Rev. Marty Childers, IMB South American Region Mission Team Coordinator and former missionary to South America, also shared interesting information during the meeting. More ...
By SUZY PEARCE
DAR
The Daughters of American Revolution MICAJAH PETTAWAY CHAPTER met September 18, 2008 in the home of Martha Lamm for a 10:30 A. M. tea. Chapter Regent Margaret Barnes welcomed everyone including prospective members. Then she led the Rituals and U. S. flag pledge. More ...
By DEE LONG
Peachtree Community News
The autumn weather was perfect for the Pumpkin Festival in Spring Hope on Saturday. It was fun greeting all of the friends who came by the Peachtree booth. Thanks to all of those who patronized our crafts, goodies or jewelry sales. More ...
By BARBARA HARDISON
Beulah Community News
On Sunday morning we had a guest speaker. We did not separate and go to our regular classes. Everyone really enjoyed meeting together with Mike Wesner from Campus Christian Fellowship. He shared with us how the ministry is accomplished for the kingdom on university and college campuses. Our Steve Haggerty was also with him. More ...
By WILMA ENROUGHTY
Ephesus Community News
Rev. Jimmie Sides' message on Sunday was "Very Sorrowful", taken from Matthew 26:14-38. What a great blessing, Jesus died for our sins that we could have eternal life with him if we repent of our sins. Communion was observed on Sunday morning. This was to be world communion. More ...
By LOTTIE LOU DICKENS
Issue resolved thanks to local postmaster
A couple of months ago, I related a story in this space of an insurance claim I filed with the U.S. Post Office and how I was getting what is referred to in technical terms as "the runaround."
Well, I have another chapter to add to the story and fortunately for me, it seems to be the last chapter with a happy ending. More ...
Mike Brantley
Hospital board retreat should stay in Nash County
When I read Amanda's coverage of the recent board of director's meeting of Nash Health Care Systems, the somewhat cynical side of my personality prevailed as I learned the board is planning to hold a retreat 113 miles away from Rocky Mount. More ...
Jo Anne Cooper
Late Night With Central
ROCKY MOUNT - Last Thursday night's football showdown between Bunn and Nash Central was billed as a unique contrast in styles.
Bunn's power football against Central's big-play abiltiy.
But despite their differences, the clubs were as evenly matched as possible, moving through regulation and three overtime sessions before a winner was determined in the hard-fought event. More ...
Geoff Neville, Graphic Sportswriter
Earlier Soccer Loss Avenged By 'Dogs
STANHOPE -- Nash Central got off on the wrong foot -- literally -- in NEW-6 Conference boys soccer action with an early-season loss against Southern Nash.
But the Bulldogs, given a second chance, put their best foot forward during last Wednesday's rematch between the rivals. More ...
Geoff Neville, Graphic Sportswriter
Northern stopped vs. Hunt
WILSON -- The Northern Nash Lady Knights closed regular season tennis action Monday with a 9-0 road loss against Wilson Hunt.
Scores were as follows: More ...
From Staff Reports
Nash Central goes 0-3 for volleyball week
RED OAK -- With the NEW 6 Conference volleyball tournament just around the corner, Nash Central had a chance to knock off league co-leader Northern Nash on the road last Thursday.
But an upset was not forthcoming as the Bulldogs fell 3-1. Northern remained tied with Rocky Mount with one match left in the regular season. More ...
Kent Wheeless, Graphic Correspondent
Gryphs Get Job Done
HENDERSON -- All season, Rocky Mount head coach B.W. Holt wanted to see his team in a tight situation and how it would responded to a little adversity. He wanted a test for his squad before entering NEW 6 Conference play.
Northern Vance passed out a serious test to the Gryphons, and they made a passing mark, but it was far from an "A." More ...
Charles Alston, Graphic Correspondent
Baseball players to receive rings
ROCKY MOUNT -- Get your hot dogs and popcorn before halftime this Friday night at the Rocky Mount-Northern Nash football game.
You may not want to miss the goings-on at intermission.
Before the bands take the field, a very special ceremony will take place. More ...
Charles Alston, Graphic Correspondent
Central Shows The Way
STANHOPE -- Two trends continued during last Wednesday's weekly NEW-6 Conference Cross Country Meet at Southern Nash.
Northern Nash's Zack Brantley continued his dominance of NEW-6 boys individual races, while Nash Central remained undefeated this season in the boys team standings. More ...
Geoff Neville, Graphic Sportswriter
NC Wesleyan dropped at Maryville College
MARYVILLE, TENN. -- The Maryville College football team snapped the Battling Bishops' 12-game USA South winning streak (since 2005) with a 37-24 win last Saturday afternoon at MC's Honaker Field in East Tennessee.
Maryville tailback Rommel Hightower rushed for 128 yards and a touchdown, while MC's defense forced three interceptions as the Scots improved to 3-2 on the season, 2-0 in league play. More ...
From Staff Reports
Heat remain undefeated road victory in Raleigh
RALEIGH -- The '93 Rocky Mount Area Youth Soccer Association Heat remained undefeated after securing a hard fought 4-3 victory over the Capital Area Soccer League (CASL) Spartan United Black on Sunday at the WRAL Soccer Center.
The Heat conceded an early goal, but soon evened the match when Sydney Browder pushed the ball to the right corner and fired a cross to Kasey Cooke, who deftly flicked her shot past the CASL keeper and into the net. More ...
From Staff Reports - 1 opinion posted
Buffaloe shines at full-contact event
NEW YORK -- Christian Buffaloe, the 8-year-old son of local Kyokushin Karate Instructor Kenny Buffaloe, former Nash County resident recently became 1st Place Champion in the "Kyokushin Karate Full Contact Children's Tournament" in New York City.  More ...
From Staff Reports
Liles wraps up crowns
ELM CITY -- Neal Sykes from Holly Springs claimed his third Late Model victory this season at County Line Raceway last Saturday night. Britches Liles of Bailey took the win of the Thunder & Lightning Division.
Also celebrating wins were Gary Whitley of Stantonsburg taking the Pure Stock V-8 checkered flag, Victor May from Zebulon in the Super Stock Four Cylinder, Michael Webb of Elm City in the Pure Stock Four Cylinder and Austin Holcombe of Elm City in the Cadets. More ...
From Staff Reports
Dale Watson to perform at Nash Arts
Some say he's put the "C" back in Country Music, but Dale Watson prefers to call his own genre of music Ameripolitan.
During the time he released his latest album, "From The Cradle To The Grave," Watson was quoted saying, "I've been trying to come up with a name the best describes this music that me and folks similar do. When folks ask, I hesitate, down right embarrassed really, to say country. I didn't used to be that way, but with the change in country, the term doesn't mean the same as it used to. If you say traditional, or old, or western swing most folks think 'retro' and dismiss it without hearing it. I wanted a name that didn't say country anything and didn't give anyone a preconceived idea. I came up with Ameripolitan. I even put it in Wikipedia defined as: Original music with 'prominent' roots influence." More ...
Contributed
JOHN IVAN BAKER
LOUISBURG - John Ivan Baker, 71, passed away on Sunday, October 5, 2008 at his home after a brief illness. He was born January 10, 1937 in Nash County. He was the son of the late William Neat and Nellie Jordon Baker. More ...

BETTY ROSALIE THURSBY
ROCKY MOUNT - Betty Rosalie Thursby, 87, of Rocky Mount passed away on Wednesday, October 1, 2008. She was born August 6, 1921 in Akron, OH to the late Ernest and Bertha Bowman. She is preceded in death by her beloved husband of 65 years, Robert Francis Thursby and sister, Fern Starn. More ...

WILLIAM DRAKE FREEMAN
CASTALIA - William Drake Freeman, 82, of Castalia, NC passed away on Monday, September 29, 2008 in the Nash Health Care Systems after a brief illness. He was born on April 12, 1926 in Nash County, NC. More ...

DELLA COBB THORPE
ROCKY MOUNT - Della Cobb Thorpe, 88, wife of the late Benton Thorpe passed away on Wednesday, October 1, 2008. She was born November 4, 1919 in Wilson County. Her father was Charles Clifton Cobb and her mother was Lula Evans Cobb. More ...

VARINA M. HARRIS
NASHVILLE – Varina M. Harris, 58 passed away Wednesday, October 1, 2008. She was born in Vance County February 24, 1950 to the late John Moss and Valista Manning Moss. More ...

COASTON COTTON
ROCKY MOUNT - Coaston Cotton, 87, passed away on Tuesday, September 30, 2008 at Guardian Care of Rocky Mount. More ...