Subscribe/Access
Advertisements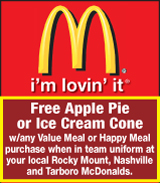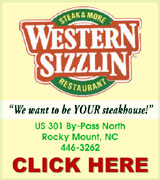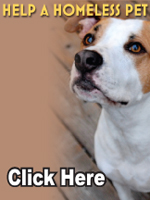 Sections
Member Options
Back
Citizens speak out that rezoning was handled improperly
Residents of Stone Ridge Subdivision in Nashville are upset about the way town officials handled a rezoning request.
A formal letter of complaint was sent to Town Manager Preston Mitchell with copies to Mayor Donald Street, Planning Chair Patsy King and Vice-Chair James McBride. More ...
By Amanda Clark, Graphic Staff Writer
BACK TO SCHOOL
The 2008-09 school year has now begun. Local home, public, and private tuition schools are bustling with activity and learning, serving over 20,000 students.
The Christian Homeschool Association of Rocky Mount (CHARM) held its Beginning of the Year Party last Thursday night at Nashville United Methodist Church to welcome new and returning families into the group and to officially kick off the new school year. The first school day of the year for home schools varies, usually anytime between June and September. CHARM serves about 300 students in 120 families in Nash and Edgecombe counties. More ...
By Michele A. Cruz, Graphic Correspondent

Mendoza

Nash couple nabbed for drug trafficking
A Nash County couple were arrested and charged last week for their role in a major drug trafficking ring.
Gavino Mendoza, 35, and his wife, Martine Hernandez Uribe, 31, both of Rocky Mount were arrested last week as part of a year-long joint investigation between the Nash County Sheriff's Office, North Carolina State Bureau of Investigation, Beaufort County Sheriff's Office, North Carolina Highway Patrol, More ...
By Amanda Clark, Graphic Staff Writer
Castalia plans public hearing for new park
Members of the Castalia Park Committee met on Tuesday, August 21 in order to discuss the upcoming public hearing and grant application for a proposed town park. Nash County Recreation Director Sue Yerkis, who is on the committee, said that grant application to the state would be due in early February. However, the town will not learn if it has been awarded the grant until May or August of 2009. More ...
By Amelia Harper, Graphic Correspondent
NCC to purchase burn lab for fire training
The Town of Nashville and the Nashville Fire District Auxiliary recently contributed $10,000 towards a burn laboratory that Nash Community College will use in its fire training programs.
During an Appreciation Banquet held at the college for former and current Nashville firefighters, the department was also recognized by the college for its partnership and support of the college's Public Safety and Health Services Department. More ...
By Amanda Clark, Graphic Staff Writer
NASHVILLE POLICE BRIEFS
ARRESTS
Randy Colegrove - 8/19/08 - charged with simple assault
Tyrell Sherrod - 8/24/08 - charged with resisting a public officer and communicating threats More ...

Nash County 4-Her meets legislators
Local 4-H'er Ashley Garner recently met with Senator A. B. Swindell to discuss issues concerning youth in our area, during the 2008 North Carolina 4-H Citizenship Focus Conference held in Raleigh. This event is sponsored by North Carolina's Touchstone Cooperatives and the NC 4-H Development Fund. More ...

Nash native to hold book signing
Juanita Wells will hold a book signing at Braswell Memorial Library on Saturday, September 13 from 11:00 a.m. to 1:00 p.m. in the Youth Services Storytime Room. Written for elementary age students, her novel, A Husband For Mama, describes many events that were taken from stories told to her by her mother and grandmother. Both were longtime residents of Rocky Mount. More ...

Little Miss Princess competes in pageant
Cassidy Logan Ferrell Little Miss Princess of Nash County and the daughter of Mr. and Mrs. Glenn Ferrell of Rocky Mount recently competed in the Princess of North Carolina Scholarship Pageant at the Paramount Theatre in Goldsboro. She received a special acheivement award. The Princess of North Carolina pageant gave away scholarships and prizes. More ...

Local student receives honors scholarship at Barton College
Sara E. Clifton of Nashville, a transfer student from Midland College, is the recipient of a Transfer High Honors Scholarship at Barton College. The renewable scholarship will cover $3,000 of tuition for the year.
Clifton is the daughter of Marcia and Jimmie Brooks of Nashville. She will enter Barton College in the fall semester and plans to major in nursing. More ...

Fire Marshal investigates arsons
The Nash County Fire Marshal's Office and the Nash County Sheriff's Department is investigating two arsons that occurred outside of Nashville.
According to Fire Marshal Chris Bissette, abandoned residential structures have been set on fire on Arrow Road and Dozier Road, just outside of Nashville. The fires occurred on August 7 and August 17. More ...
By Amanda Clark, Graphic Staff Writer
Mt. Zion FWB Church News
Thanks to Brother Elza Manning for bringing me a tape of the morning message, because I wasn't able to go today. Elza carries tapes to all the sick and shut-ins every Sunday. Thank you, Elza. More ...
By ROSALENE BASS
Peachtree Community News
Pastor Whitehouse was back in the pulpit on Sunday morning, after an absence to have eye surgery. He chose as his sermon topic "It's Going to Cost you Everything". This was based on the scripture passage from Romans 13: 8-10. He emphasizes that Love is God's medicine for the world. Christians are to bring God's love into the darkest corners of life. The choir sang "Heaven Came Down" directed and accompanied by Jane May, Music Director. More ...
By BARBARA HARDISON
Ephesus Community News
Bonila Barlow came into the Christian fellowship of Ephesus Baptist Church on Sunday morning during the worship hour. We welcome her as she grows in her Christian life serving God. More ...
By LOTTIE LOU DICKENS
Beulah Community News
We had another great sermon Sunday morning on "In God's Peace", brought to us by our minister, Daniel West. We had a special in song by the choir which was enjoyed by all. Amy West was leader of the Junior church. Mildred Catlett brought the flowers for Sunday service. More ...
By WILMA ENROUGHTY
Brooklyn Community News
Another successful youth day was held on July 19, 2008. We would like to thank all the churches, organizations, volunteers, N.C. State and A&T State University Cooperative Extension, 4H Club and all the committee members for their help in making this day a success. More ...
By LENA SESSOMS
Red Oak Community News
The Women in Action Missions Group of Red Oak Baptist Church met on Tuesday, Aug. 19 at the home of Jeanette and Hazel Hill. Everyone enjoyed the sandwich supper, fellowship, and study. Members collected school supplies for students at Swift Creek Elementary School and made plans for the coming months. More ...
By SUZY PEARCE
Local group to celebrate National Stitch-In-Public Day
The Embroiderers' Guild of America, Inc. will celebrate National Stitch-In-Public Day on Wednesday, September 3. Embroiderers, quilters, and knitters will shine a light on their crafts by stitching together in public spaces such as coffee shops, parks, malls – anywhere they can be seen. More ...

NRMS seeks applications for reduced meals
Nash-Rocky Mount Public Schools is accepting applications from parents/guardians interested in securing free & reduced breakfast and lunch benefits for their children during the 2008-2009 school year. An application packet is sent home with every student on the first day of school. More ...

From the coast to the mountains in 10 days
You see in commercials and tourist brochures all the time about what a unique state we have.
Cheerleaders for North Carolina like to point out the mountains and the beaches, all just a few hours apart. Well, in about a 10 day stretch I got to see one end of the state to the other, mostly in the course of work. More ...
Mike Brantley
I was really checking to see if anyone was paying attention
Last week, I was doing an experiment on how many Graphic readers actually read the cutlines that go with photos. Cutlines are the text below a photo that explains who everyone is and what they are doing.
In last week's edition, I intentionally messed up the cutline, saying the guy with Roy Williams was Phil Ford instead of Buck Williams. I expected to get several phone calls over the next few days letting me know of my mistake but was only told of my error twice. So, in conclusion, I have discovered that either Graphic readers don't read the cutlines, or no one knows what Phil Ford or Buck Williams looks like. More ...
Amanda Clark - 1 opinion posted
Fellow chamber member and friend will be missed
Last week, members of the community and the Nashville Chamber of Commerce lost a dear friend.
Beth Mills, who was only 46 years old, passed away Tuesday, August 19, after a two-year battle with cancer.
Beth has served on the board of directors of The Nashville Chamber of Commerce and as vice-president. She also served on several committees and was one to always make sure details were taken care of. More ...
Jo Anne Cooper
RMSH Marching Band reunion is in October, please spread the news
Dear Editor:
On October 4, 2008 the 1979 - 1989 Rocky Mount Senior High Marching Band, which, under the direction and tutelage of John C. Sykes, Jr., enjoyed an enviable record of excellence in music and marching during a magical era that was vicariously enjoyed by the entire community, will be honored at a reunion of band members, instructors and band boosters. The reunion of the outstanding young people, their instructors and the boosters who participated in the program that brought such honor and recognition to the community is long overdue, but plans are underway, and the reunion will take place. More ...
Letter to the Editor:
'Birds Are Ready
STANHOPE - With a young, unproven team, there's always a bit of uncertainty heading into the first high school football game of the regular season.
Especially when the opponent is a tradition-rich, senior-laden squad that has already played one contest -- and posted a shutout victory. More ...
By Geoff Neville, Graphic Sportswriter
Wesleyan nabs the top spot
ROCKY MOUNT -- The USA South Athletic Conference has released its fall coaches polls, and North Carolina Wesleyan has announced that the Bishop men's soccer team has been tabbed the preseason favorite.
Coming off a record-setting 18-2 season and an NCAA Sweet 16 appearance in 2007, head coach Jason Kilby's squad has also gained respect nationally with a #9 ranking in the NSCAA preseason poll. More ...
From Staff Reports
Southern Strong Early In Season
STANHOPE -- It hasn't taken long for the Southern Nash boys soccer team to flash its much-improved talent level this season.
Last Tuesday, the Firebirds, coached by Jeremy Perry, were tied at halftime against a strong Franklinton club, only to fall by a 4-2 margin. More ...
By Geoff Neville, Graphic Sportswriter
Northern defeated by Hunt
RED OAK -- After picking up two road victories to start the season, the Northern Nash girls tennis squad returned home Monday to tangle with the Wilson Hunt Lady Warriors.
Hunt picked up a convincing 8-1 decision. Northern Nash's lone conquest came courtesy of Lauren Gaither at No. 6 singles. More ...
From Staff Reports
Mudcats win extra-inning contest
HUNTSVILLE, ALA. -- Alberto Concepcion drilled a two-strike pitch for a game-winning home run in the 10th inning as first-place Carolina reduced its magic number to three with a 6-5 victory over Huntsville on Sunday night at Joe Davis Stadium in a Class AA Southern League baseball contest.
The Mudcats (38-24) blew a 5-1 lead in the ninth only to have Concepcion hit his first Mudcats' home run since July 5. More ...
From Staff Reports
Nash County clubs open prep football campaigns
ROCKY MOUNT -- This looked way too easy for Rocky Mount.
The Gryphons, entertaining 4-A East Forsyth, racked up 527 yards of total offense and rode a one-time 43-0 lead to a 43-14 victory over the visiting Eagles last Friday night.
RM head coach B.W. Holt was heard to say this was the best-played season opener for the Gryphons since he arrived six years ago. More ...
By Charles Alston, Graphic Correspondent
Nashville photographer gets National Loan Print
DAYTONA BEACH, FL — Nashville photographer Mike Brantley had one of his prints chosen for the Loan Collection at the Professional Photographers of America (PPA) International Print competition held in Florida this month.
Brantley's print, "Crouching Photographer, Hidden Dragonfly," a fine art nature print also captured First Place in the North Carolina competition and was selected for the state Loan Collection in the spring. More ...

STACI JO MORGAN
SPRING HOPE - Staci Jo Morgan, 17 months, passed away, Thursday, August 21, 2008. She was born March 1, 2007 in Nash County. More ...

JAMES "JAKE" RAY GREENE
NASHVILLE - James Ray Greene, 62, passed away, Tuesday, August 19, 2008. He was born February 14, 1946 in Johnston County. He was the son of the late Raeford Cecil and Patsy Baker Greene. He was preceded in death by a grandson, Bryan "Spud" Radford. More ...

ANNIE BEATRICE JOYNER RICHARDSON
SPRING HOPE - Annie Beatrice Joyner Richardson, 77, passed away August 15, 2008. Funeral services were conducted on Thursday, August 21, 2008 at 1:00 p.m. at Bunn Chapel Baptist Church, Nashville. Burial was at Spring Hope Memorial Gardens. More ...

FRED ROGERS, JR.
NASHVILLE - Fred Rogers Jr., 89, passed away on August 18, 2008. Funeral service was Saturday, August 23 at 2:30 p.m. at Union Hill Baptist Church, Nashville. Burial was in the Rogers Family Cemetery, Nashville. More ...

LEON C. WEAVER
ROCKY MOUNT - Leon Weaver, 97, passed away Monday, August 18, 2008. He was born April 14, 1911 in Nash County to Samuel Budzelious Weaver and Mary Lillian Gardner Weaver. Mr. Weaver was preceded in death by his wife of 63 years, Elsie Daughtridge Weaver. More ...

WALTER MERCER
BATTLEBORO - Walter Mercer, 69, passed away on Tuesday, August 19, 2008 at Nash General Hospital. A funeral service was held at 2:00 p.m. Saturday at Mount Olive Baptist Church, Rocky Mount. The Rev. George E. Battle Sr. was the eulogist. Interment followed immediately after the service at Gardens of Gethsemane. More ...

ADDIE MAE BOOTH
ROCKY MOUNT - Addie Mae Booth, 93, passed away on August 15, 2008. Funeral service was Friday August 22, 2008 at 11:00 a.m. at Ebenezer Baptist Church, Rocky Mount. Burial followed in the St. Hope Missionary Baptist Church Cemetery, Spring Hope. More ...

POLLIE SPIVEY JONES
CASTALIA - Pollie Spivey Jones, 93, passed away on August 19, 2008. Funeral service was Saturday, August 23, 2008 at 10:00 a.m. at Cedar Rock Baptist Church, Castalia. Burial followed at Cedar Rock Baptist Church Cemetery. More ...