Subscribe/Access
Advertisements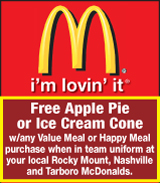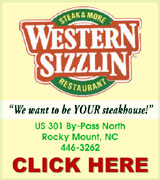 Sections
Member Options
Back
Meetings to give info on sales tax
A quarter-cent sales tax could generate an additional $2.8 million in revenue, if Nash County residents approve the additional tax in a referendum vote on May 6.
Three meetings are scheduled for this week for Nash County residents to receive more information about the tax. The Building for Education Committee hopes the meetings will not only educate but encourage residents to show up and vote for the referendum. More ...
By Amanda Clark, Graphic Staff Writer
Yarborough found guilty, receives life
Nezar "Sam" Anthony Yarborough will spend life in prison after a Nash County jury convicted him of first degree murder last week.
The jury deliberated for a little over an hour before handing down the guilty verdict to Superior Court Judge Quentin Sumner. More ...
By Amanda Clark, Graphic Staff Writer - 1 opinion posted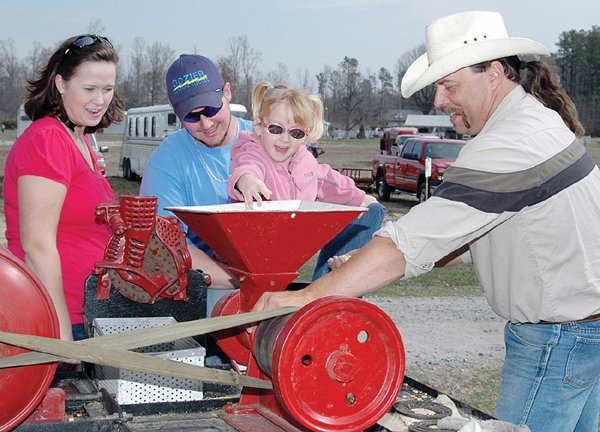 Rob Deen, of Oak City, at right, shows four-year-old Elissa Dozier how to use the Hit and Miss Saturday during Jimmy Dozier's Plow Day. Pictured holding Elissa is her father, Jeremy Dozier and at far left is mom Shannon Dozier.

Dozier's Plow Day
The fields around Jimmy Dozier's house on Old Spring Hope Road looked a little different Saturday. Instead of one tractor quickly moving up and down the rows to plow, teams of horses pulled plows up and down the field nearly all day to do what it takes a tractor to do in one hour. But in the end, the job still got done.
The work was all a part of Jimmy Dozier's Plow Day, a day Dozier said celebrates North Carolina's heritage. More ...
By Amanda Clark
Nashville author to read from latest book
Dawn Wilson, a local author, and former Nashville Graphic writer, will read from her latest novel, "Leaving the Comfort Cafe, " this Saturday, March 29 at 9 a.m. at Via Cappuccino in Rocky Mount.
The novel centers around a redneck waitress who turned down an Ivy League scholarship to work at The Comfort Café in a small Carolina town. The book is published by The Wild Rose Press, a traditional publisher of romance novels in both print and electronic formats. More ...

Nash County Elvis to perform at Nash Arts
He looks familiar. The long sideburns and the jet black hair.
On some nights and most weekends, Alvin Smith even sounds like him. And when wearing the sparkling, long jump suits, he is a stunning replica of the King, Elvis Presley, himself.
On April 5, Smith will perform in a special "Tribute to Elvis" concert at Nash Arts. More ...
By Amanda Clark, Graphic Staff Writer
Water leak closes road
A water leak prompted town officials to shut down a portion of Washington Street last week.
Larry Williams, Public Works Director for the Town of Nashville, discovered the leak after he noticed water had been showing up short. Williams said he began looking checking out storm drains and found a busted pipe under the street right under the stop light at Washington and Barnes Street. The water was going below La Mama's and hitting an old, abandoned storm sewer. More ...
By Amanda Clark, Graphic Staff Writer
Freddie Pierce speaks to NCMS students
Certified Speaking Professional Freddie Pierce spoke to students at Nash Central Middle School on March 6.
Pierce spoke on the topic "Champions Through Choices," which discussed how the choices you make today affect you in the future. More ...

Shaw University to hold annual Heritage Banquet April 4th
Friends and supporters of Shaw University are getting their ethnic attires ready and their appetites whetted for the elaborate "Parade of Culture" and delicious banquet food at the 5th annual Heritage banquet on April 4, 2008, 7:00 p.m. at the McCarter Center, 225 South Glendale Avenue in Rocky Mount. The colorful attires fill the center with scenes to cherish and remember. Many of the dresses and outfits are flown directly from Africa for this occasion. Last year's affair, which celebrated our colleges and universities, filled the center. This year is expected to attract even more as Shaw "Honors Its Pioneer Teachers." More ...
Contributed
Brown graduates
Robin Jean Brown, of Battleboro, was one of 512 students to graduate from Western Carolina Unversity on December 15.
Brown received a Bachelor of Science degree in Public Safety and Security Management and graduated Cum Laude. More ...

BIRTH
CORA PAYTON WHITLEY
Damian and Susan Whitley of Battleboro announce the birth of a daughter, Cora Payton, on Dec. 3, 2007 at Nash General Hospital in Rocky Mount. She weighed 8 pounds, 1 ounce and was 20 inches long. She has a 3-year-old brother, Cullin. More ...

ENGAGEMENT
Carl and Colleen Hauert of Plankinton, S.D., announce the engagement of their daughter, Stephanie Cly Hauert of Nashville to Allen Ray Bolin, son of Ray and Paulette Bolin of Rocky Mount. A May 17 wedding is planned at St. John's Lutheran Church in Dimock, S.D. More ...

Spring Hope to shut down water system Thursday night
Spring Hope residents will be without water Thursday night through Friday morning so public works employees can fix a water line.
According to Leon Parks, of Public Works, the water line needs to be repaired where a valve isn't working. "We can't stop it," Parks said. "(So) we're going to have to shut it down." More ...
By Amanda Clark, Graphic Staff Writer
NASH COUNTY RELAY FOR LIFE NEWS
The ACS CAN bus will be traveling coast to coast in 2008, bringing your cancer message to the candidates. Your generous donation can help us visit all 48 contiguous states, hundreds of cities, and tens of thousands of people. We have asked the bus stop here in Rocky Mount. We need your help. More ...

National Boys & Girls Club Week: March 30 - April 5, 2008
BOYS & GIRLS CLUBS OF NASH/EDGECOMBE COUNTIES
Boys & Girls Club of Nash/Edgecombe Counties will join more than 4,000 Boys & Girls Clubs across the country in celebrating National Boys & Girls Club Week, March 30-April 5, 2008. The week is meant to celebrate the positive impact the Clubs bring to their communities and invite local residents to visit and learn more about the programs being offered to children ages 6-18. These programs fall into five core areas – character and leadership; education and career; health and life skills; the arts; and sports, fitness and recreation. More ...

Local chapter of Daughters of American Revolution meet
The Micajah Pettaway Chapter of the North Carolina Society Daughters of the American Revolution met Thursday, February 21, 2008, 2:30 p.m. in the home of Pris Sykes. Celia Baggett, Mae Brake and Kay Freeland were other hostesses. More ...
Contributed By Dee Long
Beulah Community News
I hope everyone enjoyed a great Easter weekend. At Beulah, we had a really beautiful sunrise service. The sun was coming over the trees, you could still see the moon in the west. Daniel West, our minister, gave us a great talk on the meaning of Easter, after everyone who attended had joined in singing an Easter song. The men from Beulah cooked a great breakfast outside but the weather was a little chilly so we ate inside the fellowship hall. We all really enjoyed the service, fellowship and food. Thank you to all who participated. More ...
By WILMA ENROUGHTY
Mt. Zion FWB Church News
We had an Easter sunrise service at 7 this morning. I was unable to get out that early, but I understand it was a good service. They had doughnuts and coffee afterwards and a time of fellowship. Sunday school was at 10 as usual and worship service at 11. More ...
By ROSALENE BASS
Red Oak Community News
The Nash County WMU Spring Meeting was held at Sharpsburg Baptist Church on March 11 at 10:30 a.m. The luncheon meeting began with the Nash County WMU chairman, Jackie Robbins, calling the meeting to order with a delightful greeting to all the smiling faces attending. The Rev. Billy Webb gave the opening prayer and led the group in a special reading in unison. Sue Brinkley provided the prelude. Secretary Carolyn Sykes called the roll and asked for reports from the churches. The morning and afternoon special music was presented by Sue Brinkley. More ...
By SUZY PEARCE
Peachtree Community News
The Easter celebration began at Peachtree Baptist Church with a Good Friday service on Friday evening. Pastor Whitehouse brought a message on the topic "Christ's Companions at Golgotha." This was based on the scripture passages from Philippians 2: 5-11 and Luke 23: 32-33. The choir presented a special selection, "Via Dolorosa" with a solo by Karen Edwards. More ...
By BARBARA HARDISON
March Madness, my favorite time of year
Well, already, it's the end of March, which means two things. Number one, the year is going by way too fast. And, number two, it's March Madness time, which really means one thing: UNC basketball. More ...
Amanda Clark
It's time to complain to our elected officials about health benefits
Dear Editor,
After reading an Associated Press article in the Rocky Mount Telegram, it talks about health care benefits to be taken away from millions of Americans.
The people who will lose health care benefits include hundreds of thousands of poor children, disabled and the elderly. More than 10 million people would lose dental care, access to specialists, brand-name prescription drugs or other benefits. More ...
Letter to the Editor:
SN Rolls -- Again
STANHOPE -- The No. 1-ranked team in the North Carolina High School boys tennis rankings resides right here in Nash County.
And the Southern Nash Firebirds have no interest in letting go of their lofty court perch. More ...
By Geoff Neville, Graphic Sportswriter
Firebirds On Fire
STANHOPE - When Bunn and Southern Nash tangled earlier in the season, they played as tightly as possible to a tie.
It wasn't nearly as dramatic this time around during last Thursday afternoon's rematch under windy conditions at the SNSH Soccer Field. More ...
By Geoff Neville, Graphic Sportswriter
Battle retires at NN
RED OAK -- It looks like Grover Battle is ready for some rest, at least for a little while.
The Tarboro native and longtime Northern Nash girls basketball coach has tendered his retirement papers to the Nash-Rocky Mount Schools system. More ...
By Charles Alston, Graphic Sportswriter
NCWC takes 2 versus Ferrum
ROCKY MOUNT -- The Battling Bishop baseball squad of North Carolina Wesleyan completed a two-game sweep of Ferrum College last Saturday afternoon, downing the Panthers by an 11-6 score at Bauer Field on the NCWC campus.
Wesleyan managed at least two runs in each of the fourth, fifth, sixth, and eighth innings, while starter Ben Moore did the rest on the mound. With the win, Moore moved to 6-1 on the season, 4-0 in USA South play. More ...
From Staff Reports
Northern triumphs on court
RED OAK -- Northern Nash's boys tennis squad soared to a 9-0 home victory over Wilson Fike last Thursday in a NEW-6 Conference court matchup.
Results from the event were as follows: More ...
From Staff Reports
ECU's Pirates drop series vs. Houston
GREENVILLE -- Blake Kelso collected a game-high four hits and Bryan Pounds drove in three runs as the University of Houston walked away with an 8-5 victory and a 2-1 series win over No. 23 East Carolina in Conference USA play Sunday afternoon at Lewis Field inside Clark-LeClair Stadium. More ...
From Staff Reports
NEW-6 baseball kicks off
NASH COUNTY -- When Nash County's high school baseball teams finally hit the field today for their NEW 6 Conference openers, they'll all be coming off at least a one-week break. Some have been off the diamond for as many as nine days (Rocky Mount, Southern Nash). More ...
By Charles Alston, Graphic Sportswriter
Historic Cherry Hill Plantation holds annual spring concerts
The second of three spring concerts at Cherry Hill Plantation will feature pianist Mayron Tsong who was one of the youngest musicians to complete a Performer's Diploma in Piano from the Royal Conservatory of Toronto at age 16. Dr. Tsong's Cherry Hill concert is scheduled for 3 p.m., April 6. More ...

MARY ELIZABETH JACOBS
August 4, 1918 – March 20, 2008
Mary Elizabeth Jacobs, 89, passed away peacefully, Thursday, March 20, 2008. She was born August 4, 1918, in Nash County. She is preceded in death by her husband, Carl E. Jacobs. Mary was a longtime devoted Christian, and a faithful member of the Elm Grove Baptist Church. More ...

JAKE RICHARDSON
NASHVILLE – Jake K. Richardson, 84, died Sunday, March 16, 2008. Funeral services were held March 21 at Union Hill Baptist Church with the Rev. William Vaughter officiating. Burial followed in Forest Hill Cemetery. More ...