Subscribe/Access
Advertisements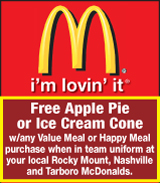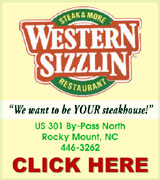 Sections
Member Options
Back
Nashville to unveil Pedestrian Plan
Nashville's Town Council will hold a public hearing on a proposed Pedestrian Plan Wednesday night.
The Pedestrian Plan was put together by a Steering Committee, with the help of the Upper Coastal Plain Council of Government. The plan, if approved by council, will then go before the North Carolina Department of Transportation for approval. The plan will then be used as a guide for the Town of Nashville. More ...
By Amanda Clark, Graphic Staff Writer
Police investigate double homicide
Rocky Mount Police are investigating a double homicide in which one of their own was found shot to death in her home.
Police were sent to the home of Leona Johnson on Friday, December 21 morning after Johnson failed to show up for work. Johnson was a secretary in the Uniform Operations Division of the Rocky Mount Police Department. When officers arrived at 1247 Compass Creek Drive, they noticed the rear door of the home had been smashed. When officers entered the home, they found three people inside the residence. Johnson, along with Deborah Scriven, were both deceased and a third victim, Devin Scriven was found with serious injuries. Devin was transported to Pitt County Memorial Hospital where he was in critical condition. More ...
By Amanda Clark, Graphic Staff Writer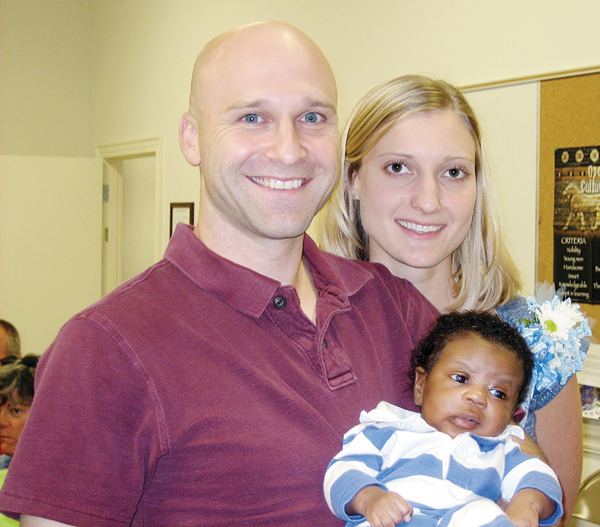 Jim and Rachel Upchurch with their son Isaiah Timothy, who they adopted in August. (Contributed photo)

Couples find adoption
In a matter of days, Jeff and Claudia Hadley became parents.
The Nashville couple had tried for almost a year to adopt a baby. After a failed adoption in April 2006, the couple had all but given up hope.
"We were devastated," Claudia said.
Then, Madison came along. More ...
By Amanda Clark, Graphic Staff Writer - 1 opinion posted
Battleboro man is found dead
A Battleboro man reported missing was found dead less than a mile from his home.
Donald Melvin, 77, of Battleboro was reported missing by family members late Thursday evening, December 20. The first ever North Carolina Silver Alert was issued for Melvin on Friday, December 21. More ...

American Idol to perform at Dunn Center
This year's Boys and Girls Club Youth of the Year event will be slightly different than in year's past as an American Idol winner will grace the stage with a performance.
Ruben Studdard, the 2003 winner of American Idol, will perform at the Dunn Center of the Performing Arts in Rocky Mount on Thursday, January 31 as part of the Boys and Girl's Club Youth of the Year celebration.
Since Idol, Studdard has three top 10 hits under his belt, including Flying Without Wings, Sorry 2004, and Superstar. More ...

Burning ban still in effect
A burning ban is still in effect for Nash County and North Carolina.
An open burning ban was reinstated in October because of the state's dwindling water supplies as well as dry forest and fuels and high winds. More ...

Couple named Outstanding Cooperators of the year
Sue and Brent Leggett of Nashville have been selected as the Cooperative Council of North Carolina's Outstanding Cooperators of the Year for 2008. They were selected from among nine North Carolina couples attending the Council's annual Cooperative Leadership Conference in North Myrtle Beach, SC. More ...

Former Nashville Graphic editor wins national award
Clifton Barnes, a Rocky Mount native and former sports editor of the Graphic, has won a national award for best new Web site by DC area-based Communications Concepts through its 2007 Awards for Publication Excellence competition.
The Web site, www.cb3media.com, was one of four new sites honored and the only one based in North Carolina. More ...

Local students win DOT poster contest
Two local students were announced as winners of the 2007 Work Zone Safety Poster Contest for the Department of Transportation. Close to 2,000 entries were received from school-aged children across the state. More ...

NCC accredited by National Association for the Education of Young Children
On November 6, Nash Community College's Betsy B. Currin Child Development Center (CDC) celebrated accreditation by the National Association for the Education of Young Children (NAEYC). "Achieving this accreditation means that we are one of the first programs in the country to earn the mark of quality represented by the reinvented, more rigorous NAEYC Accreditation system," said Center Director, Letha Worsley. "We are honored to be among such a distinguished group." Currently, only approximately 8% of the child care programs in the United Sates hold this accreditation. More ...
Contributed
BIRTH
Amber and Patrick Rogers of Rocky Mount announce the birth of a daughter, McKenna Leigh Rogers, on Oct. 28, 2007. She weighed 8 pounds, 3 ounces and was 20 inches long. More ...

Mt. Zion FWB Church News
Thank God, our pastor is home from the hospital and mending. He is still weak, but getting a little stronger each day. Thank you for your prayers on his behalf. More ...
By ROSALENE BASS
Beulah Community News
Happy New Year to everyone! I hope you had a good Christmas and had a chance to be with family and friends as you celebrated the birth of Jesus. More ...
By WILMA ENROUGHTY
Ephesus Community News
Rev. Dougald McLaurin's message on Sunday was "Christmas Child/Eternal Savior." The song message on Sunday was "The First Noel/Pachebel Canon" with the adult choir, DJCs and Michaela Bauer playing the flute. More ...
By LOTTIE LOU DICKENS
Toppling tyranny
We love freedom. We love to do what we want to do, pursue the careers we want to pursue, run with the friends we choose, and preach the ideas we hold dear. It's all part of the freedom we love to celebrate. It boils down to a freedom of personal choice. More ...
By Dr. Dennis Prutow
Peachtree Community News
2007 will be remembered by everyone as the year of the drought. It will be remembered by the folks at Peachtree as the year that the church was rebuilt. Of the many events that occurred, this is the one that stands out. More ...
By BARBARA HARDISON
Preserving history
The Trailblazers Club is a local group of children and teens who are members of the Christian Homeschool Organization of Rocky Mount that have formed a club through the Tarheel Junior Historical Association. The historical association encourages the study of local and state history by North Carolina's youth, students from grades 4-12. More ...

Annual Soapbox predictions for new year
It is that time when we all get excited about a fresh start, a chance to undo mistakes and improve our lives — both the NFL playoffs and ACC conference play get underway soon.
Plus, we will ring in a New Year — 2008.
That can only mean one thing — that it is time for the annual Soapbox Predictions. As you know, the Soapbox staff spends countless minutes looking into a theoretical cubic zirconia ball to foresee what will happen next year. As far as you know or care to remember, every single thing we predicted last year came true in 2007. More ...
Mike Brantley
My resolutions for 2008
It's hard to believe another year has flown by and already, it's 2008. But honestly, I'm glad. Last year wasn't my favorite year and I'm hoping 2008 will be much better.
But nonetheless, since it is a new year, I am dedicating this column to my New Year's Resolutions. Everyone's got them and this year, I've decided to have several resolutions so that when I don't follow through on most of them, I can look back and say, well at least I did some of them! More ...
Amanda Clark
Parent had good reason to be frustrated
I received a phone call last week from a very frustrated parent who was justified in his emotions.
It seems that just about the time parents were arriving to pick up their children at Red Oak Middle School, law enforcement was involved in some type of incident. This parent questioned what was happening but said he was brushed off with a reply that it was a private matter. More ...
Jo Anne Cooper
SN's ROCKY DIS-MOUNT
ROCKY MOUNT - Rocky Mount's Montrell Battle and Tashawn Mabry combined for 43 points to help the Gryphons blow out Southern Nash 82-46 last Thursday in the boys semifinals of the Nash County Christmas Tournament played at Rocky Mount High.
Rocky Mount faced Northern Nash for the tournament title last Friday evening, but due to early holiday press deadlines, the account of that matchup will run in next week's edition of The Graphic. More ...
By Charles Alston, Graphic Sportswriter
Rocky Mount surges past SN; Lady Knights winners
ROCKY MOUNT -- When Rocky Mount head girls basketball coach Pam Gainey got a look at Southern Nash during warmups for their semifinal matchup in the annual Nash County Christmas Tournament Thursday at Rocky Mount High, she was amazed at the size of the Ladybird players.
"Most of the them can look me straight in the eye," joked Gainey.
She expected a tough, physical game with Southern, and she got it. More ...
By Charles Alston, Graphic Sportswriter
Southern will open Feb. 25
STANHOPE -- The Southern Nash Firebirds will begin their 2008 baseball season Feb. 25 at home against Bunn.
Jeff Flowers' squad will open NEW-6 Conference play March 26 at Nash Central.
The Firebirds' complete diamond schedule is as follows (home games are listed in CAPS): More ...
From Staff Reports
NASH ARTS NEWS
Nash Arts welcomes Americana Music sensations Will Kimbrough and Amy Loftus on Jan. 17th at 8pm (7pm reception). Amy Loftus will be opening for Will Kimbrough. Tickets are $25 for non-members and $20 for members. Call (252) 459-4734 for tickets and information.
Nash Arts is located at 100 E. Washington Street in Nashville. More ...

DAVID MCMILLAN
ROCKY MOUNT – David Milo "Peter Ball" McMillan, 52, died Monday, Dec. 24, 2007 at Nash General Hospital. Funeral services were held on Dec. 29 at Light of Peace Missionary Baptist Church with Elder Reginald Silver officiating. Burial followed at Pineview Cemetery in Rocky Mount. More ...

DOROTHY CLIFFORD
ROCKY MOUNT – Dorothy Clifford, 66, died Tuesday, Dec. 25, 2007 at Nash General Hospital. Funeral services were held Dec. 30 at Ebenezer Missionary Baptist Church with Dr. Thomas L. Walker officiating. Burial followed at Gardens of Gethsemane. More ...

JESSIE JOHNSON
ROCKY MOUNT– Jessie Lee Johnson, 65, died Monday, Dec. 24, 2007 at Kindred Hospital. Visitation was held Dec. 29 at H.D. Pope Funeral Home in Rocky Mount. More ...

PAMELA SINGLETARY
MIDDLESEX – Pamela Singletary, 48, died Saturday, Dec. 22, 2007. Funeral services were held Dec. 28 at the William Toney's Funeral Home chapel in Zebulon. Burial followed in Middlesex Memorial Garden. More ...

SHAWN LUCAS
RALEIGH – Shawn Ronell Lucas, 33, died Sunday, Dec. 23, 2007, at UNC Hospital in Chapel Hill. More ...

TENIA LOUISE BULLOCK
ROCKY MOUNT – Tenia Louise Bullock, 39, died on Friday, Dec. 21, 2007. Funeral services were held Dec. 26 at Ray of Hope Christian Center in Whitakers. Burial followed in Pineview Cemetery. More ...

VIRGINIA HARPER
CASTALIA – Virginia Davis Harper, 89, died Saturday, Dec. 22, 2007. Funeral services were held Dec. 29 at Castalia Missionary Baptist Church. Burial followed in Oakland Cemetery, Nashville. More ...

CLARENCE WILLARD MANNING
MOMEYER – Clarence Willard Manning, 85, passed away on Tuesday, December 25, 2007 at Wake Medical Center. He was born on April 30, 1922 in Nash County. He was the son of the late Rance and Ada Matthews Manning. He is preceded in death by four sisters, Alcie Matthews, Alvarhada Bass, Nancy Ella Murray and Salome Hendricks, three brothers, Luther, Edgar and Monroe Manning. More ...