Subscribe/Access
Advertisements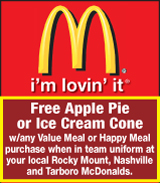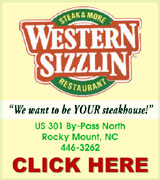 Sections
Member Options
Back
County okays annual budget
NASHVILLE - Nash County's Board met last Wednesday morning to discuss the county's proposed $86 million budget. Commissioners accepted the budget as presented, except for adding an additional $40,000 to Nash Community College's pot. More ...
By Amanda Clark, Graphic Staff Writer
Renovation on schedule for library's new location
NASHVILLE - Renovation on Joyner's Supermarket is underway and in a few more months, Nashville's Library will relocate to the new 6,000 square foot facility. In the meantime, the Friends of the Library are on a mission to raise money to help furnish the interior and exterior of the building. More ...
By Amanda Clark, Graphic Staff Writer
New high school top priority for school board
ROCKY MOUNT — The Nash-Rocky Mount Schools (N-RMS) Board of Education discussed its agenda for the next meeting at a work session held at Pope Elementary School in Rocky Mount Monday night. Key topics of the board's plans are continuing work on the new high school project and debate over revising the system's policy for use of tobacco products. More ...
By Michele A. Cruz, Graphic Correspondent
The NASH named Center of Excellence
NASHVILLE - Nash County's Senior Center had plenty to celebrate Friday as they were certified as a Center of Excellence, the highest level a center may receive.
The certification process takes place every three years. The NASH received their initial certification in May 2004. A task force of six came out to the NASH Friday morning and looked over three years worth of documentation. More ...
By Amanda Clark, Graphic Staff Writer
Nash native's latest book is third on the South
A Nash County native has published a book about growing up in the south during the Jim Crow era.
Clyde Pulley's book, "Brothers in Distant Worlds," was published in May 2006 and deals with issues of race and color. It is his third book on the South. More ...
By Amanda Clark, Graphic Staff Writer
Stewart announces campaign for House
ROCKY MOUNT-Former Nash County Commissioner, Randall C. "Randy" Stewart has announced his candidacy for election to the North Carolina House of Representatives. Stewart plans to seek election in District 25, which will be an open seat next year. More ...

Local students honored at Academy Awards program
Students from the Nash/Rocky Mount Public Schools Academy Program were honored at the first annual "Academy Awards" on Thursday, May 3, 2007. Debra H. Allen, NRMPS Academy Coordinator welcomed approximately 350 parents, students and guests to the Business and Industry Center at Nash Community College. More ...

Elephants with credit cards; gas and babies
With a newborn in the house along with two other children, it only seemed appropriate that this week's Soapbox column reflected my previously documented short attention span.
With that being said, here are the observations and thoughts — in no particular order — for the week: More ...
Mike Brantley
Contact your legislators about tax increase
For the past 78 years, our dealership has been doing business in North Carolina. For the past 18 years, our customers have been paying a 3% car tax on the purchase of new and used cars. More ...
Letter to the Editor:
The NASH is Center of Excellence
Friday morning, six people stopped by the NASH, Nash County's Senior Center here in Nashville. They spent all morning looking over three years of documentation. In the end, they certified the NASH as a Center of Excellence. It's definitely a very high honor for the Center but certainly isn't a surprise. More ...
Amanda Clark
Carter's Country
RED OAK -- Northern Nash baseball player Mike Williams had a date to take someone to Nash Central's prom last Saturday night.
But a passing cold front and the rain that came with it Friday evening became the culprit of several things. More ...
By Charles Alston, Graphic Correspondent
Playoffs continue for clubs
RED OAK -- Home cooking is getting to taste pretty good to the Northern Nash Knights.
They got to stay home for the second straight North Carolina High School Athletic Association 3-A playoff game last Tuesday and handed Union Pines a 3-0 loss. With Southern Alamance's win over Southern Nash, the Knights earned yet another home contest for the third round. More ...
By Charles Alston, Graphic Correspodent
SNHS' Howard signs to play with Livingstone
STANHOPE -- Jerry Howard is used to being overlooked.
When he came to Southern Nash High School, critics told SN football coach Brian Foster that Howard would be difficult to work with.
As it turned out, Howard, a running back, was the NEW-6 Conference Player of the Year as a junior before missing five games his senior season because of an injury. More ...
By Geoff Neville, Graphic Sportswriter
BB camps scheduled for NCWC
ROCKY MOUNT: The North Carolina Wesleyan College John Thompson Basketball Development Camps will be held on the following dates: More ...
From Staff Reports
Northern Nash announces
RED OAK -- Northern Nash High honored its 2007 winter and spring athletes with a banquet Monday evening. More ...
By Charles Alston, Graphic Correspondent
RM hosts athletic banquet
ROCKY MOUNT -- Rocky Mount High School honored its 2007 winter and spring athletes with an awards ceremony last Monday evening in the school's auditorium. More ...
By Charles Alston, Graphic Correspondent
Pirates ready for C-USA Tournament
IRVING, TEX. -- After winning the regular season Conference USA championship for the second straight season, top-ranked Rice will be the No.1 seed at the 2007 Conference USA Championship, which begins today at Clark-LeClair Stadium in Greenville. More ...
From Staff Reports
A Bear of a night for the Carolina Mudcats
JACKSONVILLE, FLA. -- Ryan Bear homered and drove in four runs, with Brett Hayes adding a two-run shot as Carolina snapped a personal six-game losing streak against Jacksonville, downing the Suns 9-4 on Sunday afternoon at the Baseball Grounds in a Class AA Southern League diamond matchup. More ...
From Staff Reports
Four Sisters Gallery showcases Self-Taught Visionary Art
ROCKY MOUNT - North Carolina Wesleyan College has a world-class and unique permanent collection of contemporary art fashioned by individuals from the Coastal Plain who outside of mainstream art channels may have been called in retirement to be making things to pass the time, called by God to make visual testimony, called by some crises to find productive therapy, or called by the muse of curiosity to see what creative potential they have. More ...